@chris_najdek
Cnajdek27@gmail.com
Washington D.C.
In his latest Twitter rant President Trump has stopped blaming democrats such as former presidents Clinton and Obama for the laws allowing immigrant children to be separated from their parents at the border and has now blamed Jesus Christ and his father for the latest political and social fiasco to loom over our country.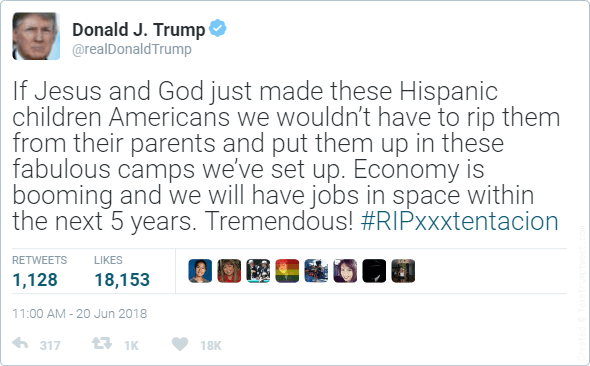 "If Jesus and God just made these Hispanic children Americans we wouldn't have to rip them from their parents and put them up in these fabulous camps we've set up. Economy is booming and we will have jobs in space within the next 5 years. Tremendous! #RIPxxxtentacion"
This isn't sitting to well with just about every human being who read this. Even Vice President Pence tweeted a response:
"WTF?!?! #RIPxxxtentacion"
Rachel Maddow responded by trying to cry. More on this story as it develops.