The co-main events at this Saturday's UFC 220 PPV eerily reflect one another. Both the Heavyweight headliner and the Light Heavyweight precursor involve tough-as-nails, working man's champions known for their granite chins and humble – if not outwardly humorous – public personas.
Furthermore, both title holders – in the dual absences of their division's rightful champions – have huge chips on the shoulders, and a frenzied need to validate themselves against top-tier competition.
Then there are the challengers – both foreign "heels," so to speak. Each is a journeyman fighter who – through some great cosmological fluke – have found themselves undefeated in the Octagon and on a collision course with the company's two most hard-hitting title holders.
And best of all, all four men have heavy hands and are known for knocking dudes' heads off. In fact, each of them are pretty much expected to win all their fights by thunderous knockout.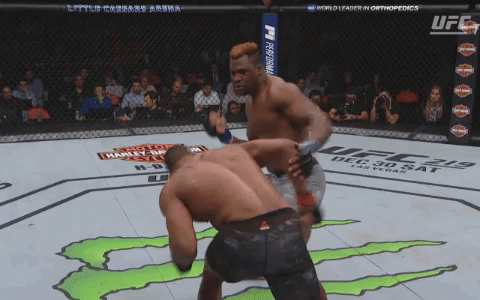 These two upcoming championship fights aren't going to be about finesse or technique – they're going to be about sheer power, plain and simple, and that makes the upcoming PPV an absolute can't miss event.
Who'd thunk that Stipe Miocic, of all people, would have an opportunity to set the new UFC benchmark for consecutive Heavyweight strap defenses? For that matter, who'd ever thunk he would've knocked out four former Heavyweight title holders in succession … and in less than five minutes each time, to boot … in his pathway to Saturday night's showdown with Francis Ngannou?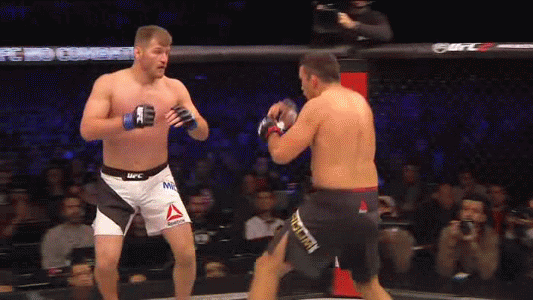 It's a Yank-by-way-of-Croatia going toe-to-toe with a Frenchie-by-way-of-Cameroon for the undisputed title of baddest mofo on planet Earth. This very well could be the single manliest fight in the history of mixed martial arts.
In one corner you've got a dude who fights infernos for fun and in the other, it's only the man with the hardest punch ever recorded in human history. This thing is basically The Juggernaut vs. The Thing in real life, and the likelihood of the bout ending in anything other than someone's head flying into the 14th row is approximately 0.000008 percent. This is destined to be the human equivalent of the 1896 Crush, Texas train collision – only this time around, there may not be as many survivors.
Not that the co-main between Daniel Cormier and Volkan Oezdemir is anything to scoff at. Indeed, one assumes that each of these men could probably wipe out 90 percent of the UFC's current Heavyweight roster.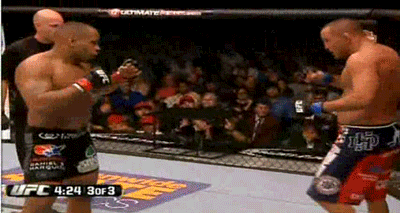 Of course, Cormier has the better wrestling pedigree and the far more impressive resume (who else has wins over Alexander Gustafsson, Dan Henderson and Anthony Johnson on two separate occasions?), but Oezdemir's unholy right hand is truly from beyond this world. In his last two outings he put probable title eliminator fodder Jimi Manuwa and Misha Cirkunov to sleep in less than a minute. Even more amazing, he doesn't seem to drop people by monstrous clubbing blows, but eerily precise surgical strikes to just the right spot on his enemy's noggin. Sometimes, it looks like Oezdemir merely touches his foes and they start going into convulsions.
The challengers to the throne – what, with their explosive, terror-inducing knockouts – represent perfect diametric foils to the reigning, defending champions. Cormier and Miocic are both cagey vets who – despite having heavy firepower themselves -tend to use a more a mixed repertoire in the cage. We all know Oezdemir and Ngannou can hit as hard as Thor's hammer, but do they have the cardio to last a full 25 minutes?
In a ground battle, is their respective takedown and sub defense skills developed enough to avoid getting drubbed? The challengers unquestionably have more than a striker's chance on Saturday, but in virtually every other metric, you'd have to give the (hypothetical) edge to Cormier and Miocic.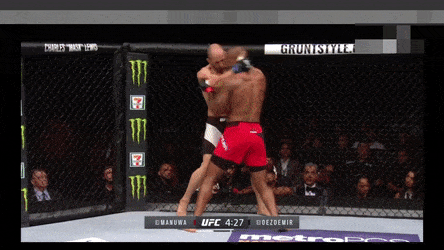 And that's the dynamic that makes UFC 220's two title tilts such thrilling and titillating fare. One punch – thrown from either direction – is all it takes to decide both fights. Cormier could clip and finish Oezdemir, or Oezdemir could tag Cormier in the clinch and put him to sleep.
Likewise, no one would be surprised if Ngannou turned Miocic's lights out, but by that same token, nobody would be surprised if Miocic blasted Ngannou's face off, either.
For all the technical ability in the world – all of the skill and class and expertise and experience and leverage – none of it is a match for good old fashioned force.
This Saturday night, we're guaranteed a lot of mass, a lot of acceleration and – as governed by Newton's second law of motion – a whole hell of a lot of the single most exciting variable in combat sports: power, and considering the four men on the bill, maybe enough of it to generate Boston's electricity grid 'til morning comes.