@MichaelCoughlin
United Center
Chicago, IL, United States of America
It's that time of the year month week where the UFC on Fox Results actually take place and are shown to you via tubes and such.  From Chicago.  Did I make a heat joke yet?  I did?  Damn.  It's hot out.  As is common at this point, the Quick and Dirty Results are below all of the ramblings of me.
See, I AM here.  WHO IS YOUR NEW GOD NOW!?!?!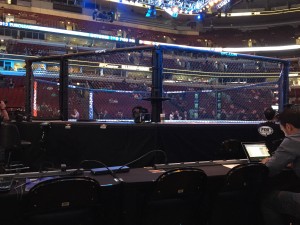 Of course, check out the rest of our coverage, the UFC's preview show, our poetic preview, Five Star Radio breaking down the fights themselves, the How Did We Get Here series, and so on.
UFC on FOX Chicago SUPER DUPER Prelims on UFC Fight Pass, 4:15ET/3:15/2:15/1:15
1. Zak Cummings vs. Dominique Steele
Zak and Porno is how I'll probably address these two.  Though Steele isn't really that tough to type.
ROUND ONE
Zak out early awing with his jab to the head and body and BOOM  drops Porn Star with a right.  Steele Viagras up to his feet but he's hurt.  He's rocked.  Zak just teeing off on him.  This is brutal.  Should be stopped.  Oh, and then it was.  That was quick and violent.
OFFICIAL RESULT: Cummings d. Steele, R1, KO
Really no excuse for not giving the guy named Cummings the porn name…
2. Jessamyn Duke vs. Elizabeth Phillips
ROUND ONE
Phillips with a lot of head movement early.  She's landing her right hand well, having connected several times on the human female Scarecrow.  Right now, it's Phillips and her speed that's winning as she's getting off 2-3 shots before Duke can respond.  Duke with a nice kick to the head, Phillips responds by trying a takedown, Duke hips her way on top, Phillips scrambles, Duke trying for an armbar but Phillips fights out.  Those long-ass egs are a bitch to deal with when you're inside someone's guard.  Duke attempting a sweep but is elbowed.  Phillips passes to side control and doing  a good job controlling a bucking Duke.  Mount.  Pouding.  Duke turns.  More pounding from the back.  Herb Dead is looking at this a bit closer now.    Phillips with a triangle body lock, going for a choke, but Duke fights out with 15 seconds to go.  Good round of fun!
HG SCORE: Phillips 10-9
ROUND TWO
Phillips is ducking her head straight down when she punches and while she's landing she's begging to be knee'd.  Duke has had enough after a minute of getting punched in the face and clinches up, looking for a trip.  Duke now locks in a guillotine.  With her skinny arms it's close but Phillips escapes, mounts, and now has the back.  Duke looks exhausted,  They roll and Phillips ends up in Duke's half-guard(ed.com).  Duke doing well to tie her up.  Phillips to the 1/4 mount now.  Takes the back but drops to the side instead for balance so she can punch a bit.  Or maybe Duke smelled better in that spot?  Phillips dives on a guillotine but Duke is using it to escape – and does.  Duke falls back for a leg lock with 15 seconds remaining.  No dice.
HG SCORE: Phillips 10-9
ROUND THREE
They're in a phonebooth (look it up, young kids) trading.  Both landing.  Neither giving an inch.  Phillips continues to put her head down.  Duke landing some good straight right hands from a bit of distance now.  Duke with a throw. Phillips looking for a sweep but Duke going for the guillotine.  Phillips is fighting this thing with all she's worth and gets out!  What a struggle.  On their feet and Phillips eats a knee.  Both tired both still fighting.  Crowd applauds the effort.  Duke just kicks her right in the womb then lands a right hand.  Now Phillips looks gassed and Duke has found a second wind.  Knees to the body by Duke inside the clinch.  These two are having a Mother Love Boning war!  Duke trips her down and has a minute to finish.  Phillips turtles.  Phillips is pure defense.  25 seconds to go.  Duke going for the rear naked choke.  It looks damn close.  Ten seconds.  Duke falls back for an armbar and misses it by maybe one second!  Probably won't get a 10-8 but almost.  A tie perhaps??
OFFICIAL RESULT: Phillips d. Duke, dec
DAMN good fight.  "First round was 10-9, what the fuck kind of bullshit is that?" says an exasperated Josh Barnett.  
I've also been informed that there may be a UFC first: Phillips had a nip slip.
3. Andrew Holbrook vs. Ramsey Nijem
Striker vs grappler deal here.  And Holbrook has never seen round two in his 10 fight career.  Wil he gas?  I don't know.  That's why we watch these things.
ROUND ONE
Nijem circling and throwing isolated strikes when Holbrook of all people initiates a takedown.  He doesn't get it.  Nijam gets one though, with ease.  Holbrook looking for a guillotine but nope!  Nijem to side control and Holbrook stands off a butterfly guard.  Clinching now and Holbrook lands a weird looking flying knee.  Nijem steps back and lands a series of punches.  Now he's working the body before scoring another easy takedown.  Big right hand and elbows by Nijem.
HG SCORE: Nijem 10-9
ROUND TWO
Nijem out like a house of ice early and blasting Holbrook; some of these are doing real damage and then an easy takedown from Nijem.  Nijem behind and Holbrook is rolling for a kneebar.  Scrambled sees Nijem on top but he fails to take the back and Holbrook spins into Nijem's guard half way through the round.  Nijem using an underhook to escape but Holbrook countering with a d'Arce choke.  It's in deep.  Real deep.  Nijem is out cold.  NO HE'S NOT!  My bad.  He's out and now gets a takedown.  Holbrook reverses.  Nijem looks a bit out of it.  Holbrook teases a guillotine before landing a brutal knee to the body of Nijem as Nijem sits against the fence.  But it seems to have awoken Nijem as he springs up and gets a takedown.  Good round.  Close round.
HG SCORE: Holbrook 10-9
ROUND THREE
They're warring early, just like last round, and Nijem – just like last round – then gets a takedown.  He's trying to take the back while Holbrook looks for a kimura.  Now Holbrook holling for a kneebar.  It looks deep but Nijem seems calm.  They've tolled to the 50/50 guard and Nijem uses it to get on top.  Holbrook trying to find the kimura again.  Nijem peppering in shots before taking the back.  Holbrook stands a bit and tries to piledrive Nijem.  They're rolling like animals that roll alot when they fight.  Holbrook again wants that kimura.  Nijem punching while Holbrook just  kind of lies there.  Scramble and with ten seconds Nijem gets side control and hits punches.
OFFICIAL RESULT: Holbrook d. Nijem, split dec.
Entertaining little scrap but BOY did the crowd not like that decision.
Brent Okamoto and Megan Olivie (sp?)(on both) are chatting.  They'd make a cute couple.  
4. Daron Cruickshank vs. James Krause
ROUND ONE
Daron with a beautiful combo early.  Disgusting shots to the body by Daron.  He gets an ankle pick takedown which I haven't seen since Sakuraba.  Krause though with a sweet trip out of the clinch, takes teh back, and gets the immediate tap.
OFFICIAL RESULT: Krause d. Cruickshank, R1, submission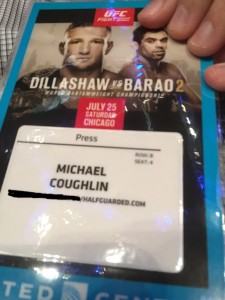 UFC on FOX Chicago Regular Non Super Duper Prelims FOX, 6/5/4/3
5. Bryan Caraway vs. Eddie Wineland
Caraway out to Push It by Salt-N-Pepa so he wins most unique walk-out song of the night.
ROUND ONE
Eddie out right in Caraway's face. Caraway with a good solid takedown but Wineland immediately stands.  Grinding away in the clinch alongside the mesh fence of death.  Separation and Wineland is showing a lot of different angles, slipping whatever Caraway throws with ease.  That said, Wineland is mostly throwing a punch here and there to the basket that holds bread.  Wineland stuffs a shot with 90 seconds to go.  Wineland is clearly better on the feet but he isn't landing anything significant.  Yet.  It was "a round."
HG SCORE: Wineland 10-9
ROUND TWO
Caraway out swinging early.  He lands a nice overhand right.  Wineland mostly dancing around and flashing his jab.  Wineland has a small cut under his right eye.  Nothing major but we should keep an eye out on it.  Because Caraway's woman fights Jessica Eye.  Eye.  Yeah, not a lot if happening in this thing.  Wineland dances, feints, and then misses while Caraway is a second late with any counter.  Caraway with some Couture-style dirty boxing just now and that worked better than anything else he's failed at thus far.  Caraway taunting Wineland and throwing shots.
HG SCORE: Caraway 10-9
ROUND THREE
Caraway has said "Fuck it" and is just coming forward throwing whatever he can.  There's a maxim in fighting that I've just now made up that if your opponent wants to do ballet you punch him in the face.  Wineland still content to throw a random punch to the stomach and dance.  Caraway meanwhile is having some success changing levels and coming up top with strikes.  They exchance and Wineland lands a solid right, that was honestly probably the hardest shot either man landed 13 minutes into this thing.  It still wasn't much.  Caraway throwing bombs that are duds because they're doing no damage.  Wineland with some punches to the … body.  Good right by Wineland ends the round/fight.
OFFICIAL RESULT: Caraway d. Wineland, dec
6. Kenny Robertson vs. Ben Saunders
ROUND ONE
Saunders using his reach advantage here, throwing a lot of kicks.  Kenny in on a single, switches to a double and gets the takedown.  Saunders is usually content to play guard and has a high high guard now.  Kenny has nowhere to go even though there's no actually a submission.  Now Saunders looking oma plata – he's done it before.  They scramble but Kenny immediately thinks takedown.  Saunders thought stuff that takedown though.  Saunders kicking almost exclusively to the body.  Kenny is dropping his hands in response and the redness is alcoholic nose like. (Shut up, Dennis Miller.)  Kenny lands a series of punches and Saunders may be hurt.  They're both landing hard … everything.  Saunders sprawls and makes Kenny pay with strikes.   HUGE RIGHT HAND from Kenny and Saunders is down and hurt.  Son of a Killer Bee.  Saunders survives the round.
HG SCORE: Kenny 10-9
ROUND TWO
Kenny is clearly timing the body kicks from Saunders with his right hand now.  Double jab by Kenny gets him inside where he lands more punches and a few kicks.  Saunders definitely on his heels now.  Nutshot and Kenny wonders if he'll ever have normal children now.  Fight!  Kenny's boxing is winning for him here.  He gests inside Saunders's kicks, avoids the clinch, and lets loose with hooks.  Kenny has Saunders against the fence and is throwing wild.  Saunders is firing back.  Big knee in the clinch from Saunders.  Another one.  Great exchange as the round ends.
HG SCORE: Kenny 10-9
ROUND THREE
Early knee from Saunders has Kenny hurt.  Saunders pressing and landing punches.  Both are giving as good as they get.  Kenny with a big takedown but he's inside the ultra high-rise guard of Saunders now.  His left arm is going to get oma plata'd but Saunders is instead just landing a bunch of elbows.  Kenny literally literally can't do anything at all.  Kenny stacking Saunders but Saunders has high guard/triangle choke with both arms in secured.  It's an absurd guard really.  Saunders could almost legit get a triangle choke from both sides with this thing.  And he better because he 60 seconds to pull off a finish.  Kenny gets out with 10 seconds to go.
OFFICIAL RESULT: Saunders d. Robertson, split dec
Second round decided that one, that's for sure.  Or is it? (It probably is.)  Also: I HATE WITH ALL MY HEART this stupid Ronda Metro PCS commercial.
7. Danny Castillo vs. Jim Miller
Interesting to see Duane Ludwig and Justin Bucholz in Castillo's corner, only because Bucholz is generally the de facto lead corner for Team Alpha Male and does a pretty good job of it.  FRICTION! (no)
ROUND ONE
Miller catches a Castillo high kick early and gets the takedown off of it. Castillo using butterfly hooks to mess with Miller's base but Miller floats over and lands in mount.  Castillo isn't trying to escape but rather just hold on and prevent any damage from occurring (which he's doing).  Miller rolls for a triangle and now an armbar as he falls off a bucking Castillo.  Castillo uses it to power through and get on top himself, inside Miller's full guard.  Miller has tied up Castillo nicely and I think a standup is imminent.  Miller tires of waiting for Herb Dean to do it though and does it himself.  Castillo throws a flying knee thingie at the end of the round that manages to hit Miller's penis.  Ultra close round.
HG SCORE: Miller 10-9
ROUND TWO
Ludwig is Serra levels audible.  Nice right elbow by Miller cracks Castillo on the inside.  Neither guy able to get much going anywhere.  They're basically cancelling one another out skill wise.  Castillo is a bit busier and quicker, landing a good kick to the body off a Miller missed punch.  Castillo kicks the head and misses landing flush by an inch.  Again he misses it.  Miller with a rib hurting kick to the, well, ribs.  Castillo's toes craze Miller's face.  Another close round, but Castillo for aggression.
HG SCORE: Castillo 10-9
ROUND THREE
Miller is increasingly looking for a counter left but he stutter steps right into a Castillo right hand instead.  Castillo baits Miller into chasing him and lands a right.  Miller catches a kick and gets a takedown but Castillo immediately gets up.  Head kick from Miller sails high and Castillo responds with a takedown attempt that's stuffed.  The fight could depend on these last 120 seconds.  Castillo pushes a right hand down the pipe.  Miller answers with a lead right hook.  One minute to go.  Castillo is feinting a flying knee.  He stuffs a Miller takedown and ends up on top in side control.  That may have won him the fight, pretty sure it won him the round.
OFFICIAL RESULT: Miller d. Castillo, split dec
Not boring necessarily but certainly not exciting.  For a moment in time it existed but it will fade into history like a dandelion does in a hurricane. (…the fuck?)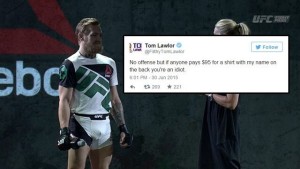 8. Tom Lawlor vs. Gian Villante
ROUND ONE
Gian looking more fluid with his strikes but Lawlor is picking his spots better, landing a few leaping hooks.  Uppercut from Gian catches Lawlor flat footed.  Lawlor's lead right hook is far and away his best weapon half way through the round.  He might not have found a home for it but at the very least a half-way house.  Straight left from Lawlor stops Gian in his tracks.  Check right hook from Lawlor does the same. Giant finding success with leg kicks though.
HG SCORE: Lawlor 10-9
ROUND TWO
Lawlor throwing his lead right hand more.  HUGE SHOT!  GIAN IS DEAD!  It was, of course, the right hook.
OFFICIAL RESULT: Lawlor d. Villante, R2, KO
This show has moved at a nice and enjoyable pace.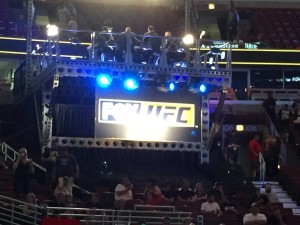 UFC on FOX Chicago MAIN CARD (big) FOX, 8ET/7REAL TIME/6Mountain Man/5 Pacific
9. Takanori Gomi vs. Joe Lauzon
O Gomi! My Gomi!  It's cool to say I got to see you in person. (The way everyone talks about Gomi is odd to me just because I remember him pre-PRIDE.  Getting old is weird.)
ROUND ONE 
Gomi starts by pawing with his jab as is customary for Japan's favorite son (is he?).  Punch from Lauzon leads to a takedown, mount, and weird ass leg lock attempt.  Lauzon has the back, full hooks, elbowing Gomi's blonde head.  Lauzon has flattended Gomi out and is punching him.  Gomi can't get out and these are crushing him.  Lauzon stands up, declaring the fight is finished.  A confused Gomi gets to his knees. Herb Dean kind of goes, "Uh, are you done?"  And Gomi was.
OFFICIAL RESULT: Lauzon d. Gomi, R1, TKO
Well, I certainly called that one but it was even sadder than I thought it'd be.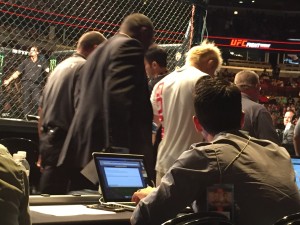 10. Edson Barboza vs. Paul Felder
ROUND ONE
The crowd, which probably features a dozen Brazilians, is doing the "You're going to die" Brazilian chant.  So, that's a thing.  Mostly boxing early, with Felder landing well.  And then Barboza kicks him in the belly twice so hard you'd want to throw up.  Spinning back fist from Felder swings and misses.  Neither guy is really giving up the center of the Octagon for long.  Felder keeps trying and feinting (and always missing) spinny stuff.  Barboza lands a spinning back fist and Felder acknowledges it.  Spinning back kick by Barboza lands.  Felder is hurt. He's down.  Because it was the single most amazingly placed kick to the cock in UFC history!  Quit, Paul.  Do it now.  Nothing is worth this. No glory.  No money.  Nothing.  And yet they continue.  No one has even pretended to think about a takedown.  Barboza keeps landing kicks and punches to the extra red looking because he's super pale ribs of Felder.
HG SCORE: Barboza 10-9
ROUND TWO
Barboza throws the same spinning back kick but this one hits the belly button.  $50 says Felder was still terrified in that moment.  Felder moves his head out of the way of several punches but then Barboza kicks him in the gut again to make everyone collectively vomit.  FFS.  Anotehr Felder miss on the spinning backfist and people are laughing at it now.  He did it again!  Barboza with more work to the body. Ref literally just skipped out of the way because they're spinning everywhere.  Barboza throwing crazy punching combinations then landing his kicks of doom.
HG SCORE: Barboza 10-9
ROUND THREE
Trading leg kicks for the first 90 seconds or so.  Lots of feinting and Barboza is conceding the center more and more.  Switch stance left hand by Barboza lands flush.  Spinning wheel kick by Barboza goes over the top of Felder's head.  Two minutes of happy fun spin time remain.  Just trading kicks and punches with neither getting a lead.  Meanwhile the crowd is building to a fevered pitch for some reason.  Felder tries a takedown but it's stuffed.  Hey, gotta try something to define the round as yours.  They break with 15 seconds to go.  LOL.  Felder just did a first: the Ryu/Ken sweeping trip kick to the legs.  It did not work as this is real life.
OFFICIAL RESULT: Barboza d. Felder, dec
Fun fight.  Would recommend you show to the Bloodsport fan in your family.
11. Jessica "EVIL!!!" Eye vs. Miesha "Boobs McGee" Tate
To hammer it home: Tate is coming out to Katy Perry.
ROUND ONE
Tate aggressive but is met with a series of jabs.  Kick by Tate misses and Eye answers with a solid combination, every punch found its mark.  Tate can't handle the jab basically.  Eye rocks Tate with another combination.  She's displaying very precise and quick counter punching.  Tate tries a takedown, stuffed, she's punched.  Then BOOM!  TATE WITH A MEGA RIGHT HAND.  Eye has been floored.  Tate is on top but she's made a mistake.  She's gone into pure grappling mode and Eye is locking up her body.  The chance for a finish is fading.  Eye is going to hold on for dear life for the next 30 seconds.  Tate landing elbows that are really close to back of the head.
HG SCORE: Tate 10-9
ROUND TWO
Tate looking for the right again.  Eye seems to have cleared her head as her punches are back and flowing well.  Tate with a bodylock and pressing Eye against the cage.  Eye landing some knees and a punch off the break.  Tate lands a right that snaps back the head of Eye.  Eye flashing the jab though, never letting it out of Tate's face for too long.  Big right by Tate lands again.  Eye is hurt.  She stumbles down.  Tate on top and Eye is burning her leg out with a useless no arm triangle (which does not exist for the record).  Tate controlling  and setting up an arm triangle (which DOES exist).  Tate elbowing the body again and again and now fishing for a kimura.  Now Tate with kind of a one arm guillotine but she's not under the chin.  Tate falls back to try it all the way as the round ends.  No go.
HG SCORE: Tate 10-9
ROUND THREE
Eye needs the finish, he states obviously.  They're trading inside leg kicks to start because why not after you've been in a war for ten minutes?  Interesting the way they're both approaching boxing.  Tate is getting hit with the jab still and it's clearly an issue but Eye knows by now that Tate has enough power to make up for lacking technique.  Eye now pressing and trapping Eye against the cage as she looks for a head kick.  Everything Eye throws is coming off her left side as she's hiding her right hand.  Tate gets a takedown.  Eye desperately tries to whizzer out of it but Tate powers through and takes her back with 90 seconds or so remaining.  That's the fight.  Eye is defending and Tate is content to kick the body and HOLY BALLS, Yves Lavigne actually stood them up.  That's a rarity.  And crap.  Eye lands some knees inside as the round ends.
OFFICIAL RESULT: Tate d. Eye, dec
Darn good fight; a real hoot.  
12. T.J. Dillashaw vs. Renan Barao for the UFC Bantamweight Championship
ROUND ONE
Barao is immediately moving a great deal more than in the past, much lighter on his feet.  TJ fighting with a ton of confidence, landing some punches, and forcing Barao to attempt a takedown.  TJ grinding on the Brazilian now, making Barao carry his weight against the cage.  TJ bouncing but keeping his hands very low.  Great exchange of punches between both fighters, with TJ landing a number of jabs at the end to punctuate it for the crowd.  TJ at perfect distance with his boxing, nailing Barao.  And again.  Barao with a left hook to show he's in this for sure.
HG SCORE: Dillashaw 10-9
ROUND TWO
TJ has his hands locked around Barao's waist.  Will he be the first man to take Barao down inside the Octagon?  Well, looks like not yet.  TJ getting the better of boxing again.  He's simply too quick.  Barao tries a takedown but TJ foils it, hits a knee, and is again smashing Barao against the fence.  Barao has slowed noticeably.  He's plodding, his kicks are slow, mouth is open.  TJ using him for target practice.  TJ shoots but Barao stuffs it but TJ wears on him against the cage to end the round.
HG SCORE: Dillashaw 10-9
ROUND THREE
TJ pressuring Barao, not letting up with feints and punches.  TJ's ability to move side to side and find angles for these shots is quite special.  Jab, jab, straight from TJ, all landing.  Barao shoots, TJ stuffs it, gets behind him. (In amateur wrestling that counts as a takedown, for the record.)  In every exchange, TJ is landing shots to the head and body.  Big uppercut by TJ caught Barao leaning over and the guy who won 342342 fights in a row isn't in the cage right now.  DEEP breaths from Barao as he fights to keep from being put on his back.  Barao is hurt from punches and TJ is all over him as the round ends.
HG SCORE: Dillashaw 10-9 (maybe 10-8)
ROUND FOUR
TJ IS BEATING THE SHIT OUT OF HIM WITH PUNCHES IMMEDIATELY AT THE START!!!!!  Barao is beyond hurt.  He's done.  Herb Dean steps in and saves Barao from anymore abuse.
OFFICIAL RESULT: Dillashaw d. Barao, R4, TKO
UFC on FOX RESULTS – QUICK AND DIRTY

 UFC on FOX Chicago SUPER DUPER Prelims on UFC Fight Pass, 4:15ET/3:15/2:15/1:15
Zak Cummings d. Dominique Steele, R1, KO
Elizabeth Phillips d. Jessamyn Duke, dec
Andrew Holbrook d. Ramsey Nijem, split dec
James Krause d. Daron Cruickshank, R1, submission
UFC on FOX Chicago Regular Non Super Duper Prelims FOX, 6/5/4/3
Bryan Caraway d. Eddie Wineland, dec
Ben Saunders d. Kenny Robertson, split dec
Jim Miller d. Danny Castillo, split dec
Tom Lawlor d. Gian Villante, R2, KO
UFC on FOX Chicago MAIN CARD (big) FOX, 8ET/7REAL TIME/6Mountain Man/5 Pacific
Joe Lauzon d. Takanori Gomi, R1, TKO
Edson Barboza d. Paul Felder, dec
Miesha "Boobs McGee" Tate d. Jessice Eye, dec
T.J. Dillashaw d. Renan Barao, R4, TKO – retains the UFC Bantamweight Championship