Seriously now. Enough is enough.
After another week of intense idol worship and unwavering fawning over the queen of the octagon, erstwhile goddess and freshly annointed feminine savior of the world, it's time to hop off the hero train and ask yourself a pretty simple question.
Are you bored yet?
I know I am. After watching women who are, to put it kindly, nowhere near her fucking league get sent home with their arms shoved up their own asses, it's time to quit jerkin' around and give us a fight we can sink our teeth into. Show us some, uh, balls and get in there with the one women on the planet that has even the faintest, most remote hope of stopping the Rousey parade.
No more excuses. It's way past time.
Come saturday night, after Ronda has used a contrived beef (she said means things about my family!) to sell us a hopeless mismatch of a fight and ended said mismatch in something between 15 and 30 seconds, it's time to turn our attention toward making the Cyborg fight, finally. Period. It's the only fight that means dick in the division. Anyone not on the UFC (and Ronda's) payroll knows this, and yet they cling to the excuses with all their might. They are many, and the are also all flawed in their own ways.
Yeah, she can continue to beat up on the hapless and overmatched, and continue to get rich doing so. Yeah she can beat Meisha Tate's ass, for a third time, and sell us the proverbial Globetrotters vs Generals matchup, again, based on her dislike of Tate, as if we haven't seen this twice already. Yeah, she can continue to insist that Cyborg must, must get down to 135, as if the title belt means anything in the grand scheme of things when history has shown us that some of the biggest fights ever were done at catchweights, with no belts at stake. If you are trying to sell someone on the idea that a gold belt means more than the mythical title of baddest women on the planet, try selling that bullshit elsewhere because I, and anyone even remotely intelligent, ain't buyin'.  Yet, they'll continue to feed the fawning masses the idea that, well, because she is the champion and it's her ball, she can take it and go home if Cyborg doesn't destroy herself physically to meet a weight she has never even fought at because hey, she's Ronda Rousey and she calls the shots. She doesn't need Cyborg the way Cyborg needs her. She's got Hollywood on the phone, baby.
Um, let's be real now. The weight class thing is a joke. Without Ronda, there is no 135 pound weight class to begin with. Like I said, this fight is for the "baddest women on the planet" title. That's more than enough stakes for anyone. Those who would lose interest in it because it wasn't for a belt are, quite honestly, idiots. This isn't some 100 year old title with a proud lineage. It's a belt created for Rousey, and has been held by Rousey since day one. It's a trinket. A symbol of her dominance over vastly inferior fighters. That's all it is.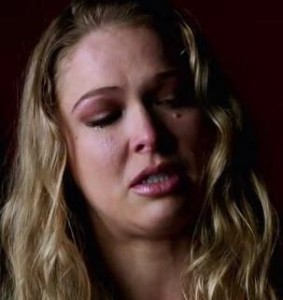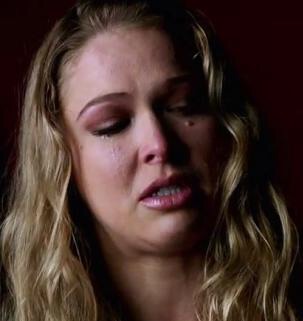 And yeah, the hypocrisy is thick in this here. Did you know that the UFC is supposedly smack dab in the middle of an edict, from management, that calls for the abolition of these types of weight cuts? Nevermind that UFC is reenforcing said edict by banning the use of IV fluids to rehydrate fighters that had to push their bodies to near death just to meet that weight requirement, only to go into the cage 15-20 pounds heavier on fight night. How is someone who has been fighting at 145 and walks around signficantly heavier than that ever supposed to make 135 in this new UFC?
They aren't. That's the point.
Are you getting this now? Ronda Rousey doesn't want that fight, and she'll do whatever it takes to avoid it. If she wanted it, it would get done. But she don't, so it won't.
Don't you find it funny that in the modern UFC climate, where Dana White signs non-fighters to huge money deals and gives title shots to fighters fresh off of catastrophic, one-sided beatings all in the name of wringing every last dollar out of their promotional entity (I believe the quote is "we make the fights the fans want to see!"), nobody seems to bat an eyelash at the idea that the UFC is turning down a monster payday over what amounts to 5 lbs or so? This fight could easily be done at 140, even 145, and be built into Rousey's biggest fight. Shit, White himself claimed it would do 2 million buys on Pay-per-view. And yet, they remain steadfast in their insistence that Cyborg get down to 135, thus stripping her of pretty much every advantage she might have.
Tell me, how does this not reek of cowardice, masked by excuses?
Oh, and the steroid thing. Yes, Cristiane Justino has tested positive for performance enhancing drugs, in January of 2012. She now fights in Invicta under heavier testing. To boot, any fight between the two under the UFC banner would be subject to the sports' new, much more stringent testing policies. For the fight to take place at any weight, Justino is going to have to come in clean. For a team running out of excuses to hide from her, you can now scratch drug testing off as well. The Rouseyites, desperate for any justification for this obvious ducking business will say, "well she doesn't want the fight at all because Cyborg is on the gas!". Well, if that's the case, then the UFC/Ronda side wouldn't be talking about the fight at all, right? They'd simply ignore the questions and continue giving her easy touches. The fact that they make big noise about doing it at 135 and 135 only tells you that, deep down, they can dangle that carrot because they know Cyborg can't make that weight without killing herself, and her chances of winning, to do so. And the fans (and some noted MMA journalists) will continue to espouse the braindead notion that Justino is in fact the one who is scared. Yes, the woman is a coward if she doesn't wilfully waste down to nothing just to say she fought the great Ronda Rousey or worse, an idiot if she turns down the money to serve herself up at the altar of Rousey, the omnipotent. The logic is equal parts ridiculous and absurd. There is no logic to it, really. It is but the insane beliefs of the fanboys and sychophants, and because nobody will call it like it is and put the public pressure on Rousey to step up and answer the challenge, we are being robbed us of a fight we deserve.
Sorry, there nothing left to hide behind at this point. You do the fight at what can be considered anything approaching a fair weight (anything above 140, basically) or you basically stamp "I'm scared" on your forehead in big red lettering. It is what it is.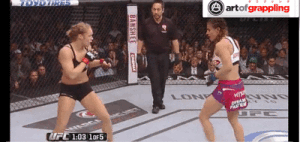 Alas, the Rousey fans will have none of this. they'll continue to be spoonfed one-sided "exhibitions" and claim she is unbeatable, untouchable, unprecedented. They'll continue to do all of this while there is another woman, fighting under the same promotional banner, who has been destroying, utterly obliterating every woman she has fought for the last ten years, all while Rousey breezes past the same three or four women who all beat each other silly just to earn a role as jobber du jour in Ronda's next big gala event. They'll wilfully cling to any excuse, no matter how far fetched and contrived it may be, instead of accepting the reality that maybe Ronda and her team are simply too afraid to lose everything they'll built, myth or not, by taking the one fight the fans deserve to see. Even if that's not the case, if the real story has more to do with Ronda's legendary stubborness and insistence on doing things her way or no way at all, the end result is the same. By refusing to take the fight on fair terms, she's sending a clear message, regardless of what her fans want to think.
But here's the truth, and it's a simple one. Regardless of what happens from here, Ronda Rousey can't be what she and everyone else claims she is until she beats Cyborg.
Sorry, but that is the whole, sordid truth here. It just is.