Look everyone, it's the weigh-in video and results for the UFC Scotland Fight Night card that four people will be watching because it's at Early O'Clock in the morning.  Video first, then the text results.  This is all pretty standard by now.  Enjoy Michael Bisping fighting in front of his home country.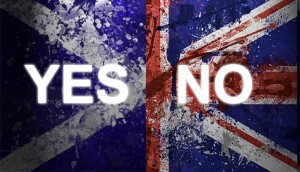 We have the coverage starting at the times listed below, for those of us in 'Merica.  For those in the UK, I dunno, add six (I think).  The main-event is actually pretty intriguing, all things considered.  Semi-main ain't half bad.  We have the preview up later today.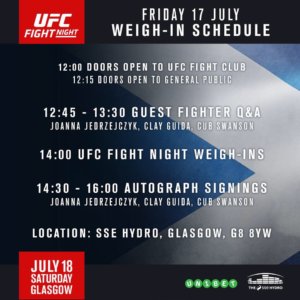 UFC SCOTLAND FIGHT NIGHT FOX Sports 1, 1 ET/12 CT/11 MT/10 PT
Michael Bisping (185) vs. Thales Leites (185)
Evan Dunham (156) vs. Ross Pearson (155)
Joseph Duffy (155) vs. Ivan Jorge (154)
Joanne Calderwood (115) vs. Cortney Casey (114)
Leon Edwards (169) vs. Pawel Pawlak (170)
Leonardo Mafra (155) vs. Stevie Ray (155)
No club for Ray… Sucka.
UFC SCOTLAND FIGHT NIGHT PRELIMS FOX Sports 1, 11/10/9/8
Paddy Holohan (126) vs. Vaughan Lee (126)
Ilir Latifi (206) vs. Hans Stringer (205)
Mickael Lebout (155) vs. Teemu Packalen (155)
Paul Redmond (145) vs. Robert Whiteford (146)
UFC SCOTLAND FIGHT NIGHT Super Prelims UFC Fight Pass, 10/9/8/7 (SEVEN!)
Marcus Brimage (136) vs. Jimmie Rivera (135)
Chris de la Rocha (245) vs. Daniel Omielanczuk (242)
THEY ARENT ANNOUNCING THE WEIGHTS IN STONES! How rude. No one in England Scotland will know the weights. Amazing how quickly things go when you use a digital scale and not something probably invented by Plato, Nevada.