SSE Hydro
Glasgow, Scotland
Welcome to the coverage that is referenced in the headline.  Written preview?  Here.  Video preview?  Here.  Weigh-ins?  Here.  HERE, HERE, I say, old chap.  Said show of course is headlined by "hometown boy" Michael Bisping because sometimes "not-America" just gets lumped together.  Bisping is not from Scotland.  Places Michael Bisping can call home:
Cyprus
Manchester
England
The O.C.
Places he can't call home:
Glasgow
Scotland
Someone from Manchester representing Glasgow is like someone from Chicago representing Milwaukee.  Or Indianapolis. Oh well.  I guess he's closer than Leites is and if the Scots don't mind …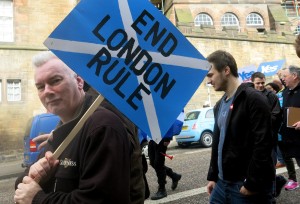 (All of that was really just for the Arrested Development joke.)
As we always do, the quick and dirty results are at the bottom, if you just want to see who did what and when.
UFC SCOTLAND Super Prelims UFC Fight Pass, 10/9/8/7

1.
Chris de la Rocha vs. Daniel Omielanczuk
Reebok is making personalized shirts for every fighter, which you've noticed by now.  I bet that's actually kind of cool for the fighter, the cut in sponsor pay (maybe) notwithstanding. But, did you know: the women's Norwegian soccer football team did not have shirts made for them, to accomodate their womanly … features.  They were just given the men's kits.  Weak, Nike, weak.
ROUND ONE
Daniel is beating the shit out of him 20 seconds in.  Landed several big punches, a kick to the head.  BIG punch ends this thing in 48 seconds. A hopeful sign that tonight is all action.
OFFICIAL RESULT: Daniel Omielanczuk d. Chris de la Rocha, R1, KO
2.
Marcus Brimage vs. Jimmie Rivera
One of the security guards looks like he's 7 feet tall, 300 pounds, with a massive beard you'd expect to see on a giant Scotsman – in a suit.  Granted, he's walking a bantamweight to the cage, so he might be an ordinary sized human.  But let's pretend the UFC hired an ogre for security.
ROUND ONE
Both standing in the pocket to start.  Brimage a little quicker.  Rivera lands a straight right hand that crushes Brimage.  It's over.  This brings Rivera up to 17 wins a row.
OFFICIAL RESULT: Jimmie Rivera d. Marcus Brimage, R1, KO
Rivera said he wanted to curse but wouldn't because he wanted to be respectful.  You're in Scotland, Jims, I think it'll be OK.
See y'all in 30 minutes or so.
UFC SCOTLAND MORE SUPER PRELIMS FOX Sports 1, 11/10/9/8

3.
Paul Redmond vs. Robert Whiteford
Whiteford comes out to bagpipes.  Americans should come out to jazz music.  Or guys beating empty buckets on the street corner.  Those are the musical contributions of my country.
ROUND ONE
Whiteford lefty, Redmond righty. And Stann informs us that Whiteford will be tough to take down because he was on the Scottish National Judo Team. Oh, totally.  Redmond pressing while Whiteford leaping in, particularly with his right hook.  Redmond landing a right hand as Whiteford continues to duck down too predictably.  Most everything by Whiteford is leading to his right hand and then: BOOM! A huge left hand ends the night for Redmond as the Scotsman comes through.
OFFICIAL RESULT: Whiteford d. Redmond, R1, KO
Whiteford has run into the crowd ala Jose Aldo in Brazil.  He's happy.  The people are happy.  And I'm happy!  Whiteford is the second guy today to mention that he will try not to swear, so I'm guessing there was a strong talking to backstage.  Extra funny because he basically said "This is Scotland, we all swear anyways but I'll behave."
Southpaw looks terrible.  Not terrible, but just dull, boring, and the exact same fighting movie I've seen approximately every single time someone makes a movie about fighting.  It'll be better than Fantastic Four though, I'm sure.
4.
Mickael Lebout vs. Teemu Packalen
Bit of a letdown that Lebout is from France and yet that's how he spells his name.  Be Michel, like you're supposed to be.  I'm Michel when in France.  Mickael is … Eastern something, I'm sure.  Le sigh.  His last name translates to, roughly, "the end" by the way.  Someone is marginally able to speak French.
ROUND ONE
Teemu immediately shoots and is stuffed.  Gave away his strategy pretty easily.  Teemu drags Michel down, using a butterfly sweep to establish top position.  Teemua is clearly a better grappler as he easily mounted.  Michel sneaks out using an underhook to get a sweep, avoided a kimura, and now is on top of a turtled Teemu.  Mike could've stepped away and stood up but he's choosing to engage on the mat.  Teemu continually turtles up and attempts to repull guard. Half guard. Tutle.  Michel's balance is off and he's reversed.  Teemu mounts and lands some big elbows.  Fun round but not a ton of damage.
HG SCORE: Teemu 10-9
ROUND TWO
Michel sprawls early as Teemu tried to start the second the way he did the first.  Ref stood the up.  Michel jabbing and telegraphing that he wants to throw a huge right.  Teemu shoots, fails, and is butt scooting. Crowd is cheering kicks to Teemu's legs.  Ref stands them up.  Good.  Michel taking over on the feet and he's slamming the body, which extra sucks when you're on short notice and may not have great cardio.  Teemu getting tired of being a punchng bag shoots but it is easily stuffed.  Michel just dropped a knee on the back of Teemu's head.  Didn't look like a real knee so much as one of those things that happens on the mat.  They break for a second as a result.  Teemu shoots, grabs an ankle, gets on to, but immediately falls back for an ankle lock.  Michel defends and Teemu recognizes as he sits up in response.  Another good, fun round.  Tough to score but …
HG SCORE: Michel 10-9
ROUND THREE
Teemu ass drags like a dog for a bit.  They're both wild on the feet and Teemu landing morenow than he did before.  Shot by Teemu and he pulls Michel on top.  Mikey having none of it and stands up.  A little stand up exchange and Teemu gets the takedown and is on top working for a kimura but Michel reverses.  Butt scoot.  Teemu swings wild but then lands a backfist.  Teemu pulls guard with 20 seconds to go.  Michel tries a Peruvian necktie.
OFFICIAL RESULT: Lebout d. Packalen, dec
That was a nice, solid, fun fight of funness.
5.
Ilir Latifi vs. Hans Stringer
I fear the string of good fights my come to an end here…
ROUND ONE
Super Hans is five inches taller.  Naturally he is crouched over – though Ilir is a wrestler so I'll give Hans a slight pass.  Ilir lands a HUGE right hand and KOs Hans.  Well, so much for this not being awesome.  The night of KOs continues.
OFFICIAL RESULT: Latifi d. Stringer, R1, KO
6.
Paddy Holohan vs. Vaughan Lee
ROUND ONE
Paddy kicks the body well, shoots, and is almost choked and has to flop to his back to avoid the submission.  Lee on top now as Paddy immediately starts looking for an armbar.  Lee shrugs it off but now Paddy is attacking with a triangle.  His long legs are letting him lock it in.  Lee has a hand in to defend it but he's essentially defenseless to the elbows of Paddy.  Paddy still with the triangle and now thinking Kimura.  Lee is forced to defend here and simply can't do anything lest he get tapped.  Paddy now underhooking the leg to get more leverage.  The hand that was saving Lee is out but he's using it to pound on Paddy.  Paddy tries to mount with the triangle but Lee uses it to escape, scramble, take the back, and almost get a rear naked choke.  Excellent round.
HG SCORE: Paddy 10-9
ROUND TWO
Paddy starts the second by jumping in for a takedown.  Paddy rolling for a kneebar now.  Lee recognizes it, stuffs it, and is pounding before mounting.  Paddy strugging and squirming to escape, does so and uses it to transition to a leg lock.  Lee is calm and Paddy gives it up to get on top.  Paddy passes to side control with minimal resistance from Lee.  Lee regains half guard and Paddy responds by isolating an arm, looking for a kimura.  Paddy standing over Lee and punching which forced Lee to swivel and Paddy is in north-south looking for a combination inverted triangle and kimura.  Switches the kimura to an armbar.  Lee defends.  Defends.  Ten seconds to go… Lee survives.
HG SCORE: Paddy 10-9
So far, this has been a grappling fan's wet dream.
ROUND THREE
Lee looks tired.  He catches a kick to the cock.  That won't help his night.  Paddy playing to the crowd as Lee recovers.  Stann and Goldberg wondering why Scotland would support a charismatic Irishman over "someone also from the UK…"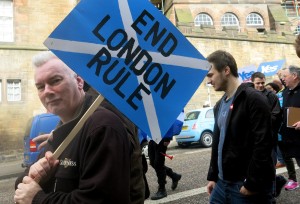 Back to it and Paddy is swarming, sensing that Lee is tired as hell.  Paddy in and out, using his range and cardio well here.  Lee looks spent.  Lee is loading up for isolated single punches.  Paddy throwing spinning things now, so he's having fun.  Stann is "totally baffled" by Lee's strategy: HE. IS. TIRED.  Paddy takes him down with ease for the last ten seconds.
OFFICIAL RESULT: Holohan d. Lee, dec
Really, really good fight.  Thumbs up.  Would recommend.
UFC SCOTLAND So Super They Aren't Prelims but the Actual MAIN CARD  FOX Sports 1, 1/12/11/10

7.
Leonardo Mafra vs. Stevie Ray
…sucka.
ROUND ONE
Neither man finding much in the first two minutes, but Ray just lands a right hook.  It stuns Leo.  They're both just swinging like madmen.  Leo is down after another big shot.  IT'S OVER!
OFFICIAL RESULT: Ray d. Mafra, R1, KO
The string of incredble fights continues.  So much fun.
8.
Leon Edwards vs. Pawel Pawlak
ROUND ONE
Edwards's striking prowess and speed evident early.  Straight shots as Pawlak backs up.  Series of punches lands and Pawlak grabs hold for a clinch but Edwards digs the double underhooks immediately.  Edwards threatening takedown but looks like it's more to keep Pawlak on the defensive.  Pawlak doing some good knees inside.  Pawlak tried a takedown after they break but Edwards hips prevent success.  Both looking for trips from the clinch but the ref restarts them.  Lazy shot from Pawlak is easily defended.  Big kick to the body by Edwards had to have hurt as we close out the round.
HG SCORE: Edwards 10-9
ROUND TWO
Head kick by Edwards grazed Pawlak. Edwards keeping his distance better this round, following his corner's advice to a T.  Edwards is doing better than I think he thinks he's doing as his striking is easily winning but he isn't pressing it enough, instead he's letting the perfect shot get in the way of the good shot.  Clinch work now and Edwards is winning these from a grappling perspective but Pawlak is doing more damage.  Shot by Pawlak, stuffed, and he pulls guard.  Sometimes you want it on the mat so bad you do whatever you can.  Edwards is keeping tight, minding his Ps and Qs as the round ends.
HG SCORE: Edwards 10-9
ROUND THREE
Edwards Dick Punts Pawlak to start.  HOLY SHIT CroCop-like kick to the head and Pawlak is down.  Pounding.  Amazingly, Pawlak is alive and fighting still.  Edwards on top and he's grappling instead of hitting, so he's letting Pawlak clear the cobwebs.  They're up and clinching.  Edwards seems content to either land one big strike or get a decision.
OFFICIAL RESULT: Edwards d. Pawlak, dec
By far the worst fight so far and it wasn't even bad or anything – that's how good this show has been.
9.
Joanne Calderwood vs. Cortney Casey
JoJo certainly looks thrilled.  Hope she comes through.
ROUND ONE
Casey landing a ton of punches early.  JoJo is hurt and clearly rocked.  Crowd is roaring to will Jo back into things.  Casey looked for a flying armbar but failed.  As is the case 99/100 times.  "Let's go JoJo" they chant.  Crowd reactions are important to fighting. Jo on top inside the guard, hitting little punches but seemingly more concerned with avoiding submissions.  Casey goes for a heel hook.  50/50 guard position but JoJo is simply defending.  JoJo sits up and has Casey pinned now as she looks to punch.  JoJo opening up for the first time at the :30 second mark.  But Casey is doing more damage from the bottome with HER elbows.
HG SCORE: Casey 10-9
ROUND TWO
Jo looks much looser on her feet to start this round.  Jo with good knees and elbows in the clinch.  Now she's just firing punches.  Spinning back kick hit the leg.  JoJo now clinching and brings Casey down in response to a possible rolling kneebar.  JoJo stands out of guard.  Right hand to the body, left hook to the end from JoJo lands twice in a row.  Big right hand from JoJo hits.  Casey is flung to the ground and she's pounding now.  Casey attacking off her back but gets stuffed upside down as JoJo punches her face.  JoJo backs out.  Thai clinch and JoJo landing better again.  Right hand cracks Casey's jaw.
HG SCORE: JoJo 10-9
ROUND THREE
They are throwing inside a phonebooth early.  Spinning … elbow by JoJo almost landed.  Kick to the body dropped Casey and she's hurt bad as she crumbles.  JoJo on top pounding, looking for the finish but the American Casey hanging on.  JoJo beckons her to their feet.  JoJo working the body, then the head, then body.  She's found her distance and is completely dominating Casey.  With the exception of that early flurry which almost did finish JoJo, Casey has been whipped throughout.  Two minutes to go and JoJo lands a series of kicks to the leg.  Casey is gassed.  JoJo is on fumes but has thousands willing her forward.  Casey pulls guard with 90 seconds to go.  Hawaii to Scotland is one looooooooong flight – especially on short notice.  JoJo flurries with ground and pound, increasing her tempo to match the volume of the crowd as the fight ends.
OFFICIAL RESULT: Calderwood d. Casey, dec
Very good fight with a memorable atmosphere.  SHOW OF THE YEAR continues to deliver.
10.
Joseph Duffy vs. Ivan Jorge
ROUND ONE
Duffy with a lot of upper body movement to start. Knee by Duffy lands to the head.  Another knee lands as Jorge leans over.  The hands of Duffy are messing with Jorge.  Jorge with a takedown but Duffy rotates his hips, rolls into a triangle and … Joe Duffy taps out the BJJ black belt!
OFFICIAL RESULT: Duffy d. Jorge, R1, submission
SHOW OF THE YEAR CONTINUES!!!!!!
The genuine emotion and tension between Rashad and Cruz as they breakdown the next fight is awesome.  Pearson trains with Cruz and Cruz is standing up for his partner as much as anyone ever has.
11.
Evan Dunham vs. Ross Pearson
And now the one fight I figured most likely to deliver.  No pressure, lads, but you've got an avalanche of awesome behind you if you want any bonus money.
ROUND ONE
A high knee by Dunham almost hit Pearson's jaw 30 seconds in.  Dunham is dancing on the outside, using kicks to keep Pearson out of boxing range.  Pearson responds by running in and landing a punch.  Dunham with a takedown from way outside but Dunham kept driving to get it.  Pearson stands after he turtles.  Dunham lifts Pearson, slams him, and takes the back of Pearson with a body triangle.  Three minutes for Dunham to work.  All hand fighting as Pearson defends the choke attempts.  Dunham switches to an armbar.  It's locked in as deep as possible.  Pearson is in visible pain.  But: Pearson fights out of it.  Wow!  On their feet now and Pearson lands a right hook as the bell sounds.
HG SCORE: Dunham 10-9
ROUND TWO
Dunham with a spectacular entry into a takedown and he's on top pounding away with elbows. Pearson rolls and stands up.  Dunham looked for a takedown but Pearson deadweighted his hips.  Dunham drags him down and is riding the back.  Triangle around Pearon's midsection.  Dunham landing elbows and punches more than looking for the choke.  Dunham looking for the same armbar as before.  No go as the round ends.
HG SCORE: Dunham 10-9
ROUND THREE
Pearson defends the first takedown attempt.  And the second.  And the third.  But Dunham is wearing on Pearson and eating up valuable clock time.  Pearson has two minutes to make something happen.  Pearson defends the 4th attempt but it took a minute plus.  Dunham drives in again and there are fewer than 60 seconds remaining for Pearson to pull off a miracle.  This fight will go the distance as Dunham is playing it smart and griding this against the cage.
OFFICIAL RESULT: Dunham d. Pearson, dec
First round was great.  Second was good.  Third was what it was but a solid enough fight overall.
12.
Michael Bisping vs. Thales Leites
Joe Rogan saying a win over Bisping brings Leites into the Top 10.  Leites is ranked #10.
ROUND ONE
Early cup check on Bisping's balls.  Leites bouning up and down to keep the takedown in the back of Bisping's mind.  Big right hand by Bisping after he slips some Leites strikes.  High kick at the end of a combination from Bisping shaves Leites's chin.  Three minutes in and Bisping is content to circle and work from the outside while Leites is focusing on chopping Bisping's legs.  Double jab fro Bisping set up a nice right hand.  Leites shot but it's stuffed.  The Brazilian with deep half and uses it to pop up and take Bisping's back for a brief moment.  Bisping scoots to the cage and uses it to stand as the round ends.
HG SCORE: Bisping 10-9
ROUND TWO
Bisping's standup is far sharper.  He's avoiding most of what Leites has to offer.  Brutal kick to the mid-section by Bisping.  Leites having continued success with the kicks to the leg.  Close round.
HG SCORE: Bisping 10-9
ROUND THREE
Bisping has been rocked by a hok from Leites.  The Brit holds on to tie up and clear his head a bit.  Both men bleeding from near their eyes.  After hurting Bisping early, Leites has seen his output drop while The Count keeps moving forward.  Leites catches a kick from Bisping but Bisping immediately scrambles up.  Nice right off the double jab lands by Bisping.  HUGE uppercut from Leites lands.  That may have stolen the round.
HG SCORE: Leites 10-9
ROUND FOUR
Leites again going to the leg kicks.  Bisping trying to time them with a right hand.  Round has followed the basic pattern of the fight in general, with Bisping on the outside, jabbing, moving, jabbint, right hand, moving. Leites  just slipped the right off that same combination so he's timing Bisping better.
HG SCORE: Bisping 10-9
ROUND FIVE
Jab, Jab, right by Bisping works again.  Same combo but with a left high kick for the Scottish non-native.  Leites walking Bisping down and lands a powerful punch.  Bisping ducks a Leties combination and lands a solid right.  And another right.  Combination by Bising ending with a left hook lands.  Duck and counter by Bisping.  With a minute to go, Bisping seems to have found another wind and some confidence.  With ten seconds Bisping lands a spinning kick to the ribs.
OFFICIAL RESULT: Bisping d. Leites, split dec
Main-event was solid but not spectacular.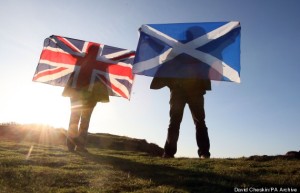 UFC SCOTLAND QUICK & DIRTY RESULTS
UFC SCOTLAND FIGHT NIGHT Super Prelims UFC Fight Pass, 10ET/9/8/7
Daniel Omielanczuk d. Chris de la Rocha, R1, KO
Jimmie Rivera d. Marcus Brimage, R1, KO
UFC SCOTLAND FIGHT NIGHT PRELIMS FOX Sports 1, 11ET/10/9/8
Robert Whiteford d. Paul Redmond, R1, KO
Mickael Lebout d. Teemu Packalen, dec
Ilir Latifi d. Hans Stringer, R1, KO
Paddy Holohan d. Vaughan Lee, dec
UFC SCOTLAND FIGHT NIGHT FOX Sports 1, 1ET/12/11/10
Stevie Ray d. Leonardo Mafra, R1, KO
Leon Edwards d. Pawel Pawlak, dec
Joanne Calderwood d. Cortney Casey, dec
Joseph Duffy d. Ivan Jorge, R1, submission
Evan Dunham d. Ross Pearson, dec
Michael Bisping d. Thales Leites, split dec