@HalfGuarded
Tyron Woodley will defend his UFC Welterweight Championship against Demian Maia at UFC 214.  I don't know if this is true because I saw it on a Brazilian website and don't speak Portuguese (that's my only flaw as a human) but I did see words that more or less looked like they were saying this fight was happening.  That's good enough for me.
OK. Yeah, I just saw an American site say the same thing, so that must mean it's a go.
This is the third title fight slated for the show, which makes UFC 214 the true big show for July, not UFC 213.  Kinda weird, because you roll out this card:
Jones vs Cormier
Cyborg vs Evinger (or whomever)
Woodley vs Maia
That's a helluva good trio at top, easily good enough for the Wrestlemania of UFC.  Instead, 213 gets … a fake title fight and a women's fight between two foreigners.  Yeah, not as good.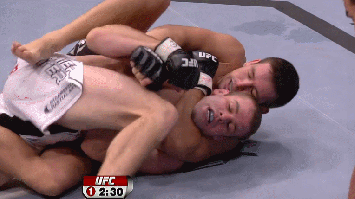 Back to the fight at hand.  YAY!  These two have obviously been on a collision course for some time, made all the more final when Woodley beat Wonderboy and Maia beat Masvidal.  There is no other fight at for the WW strap that would make sense.  None.
(I should add in here that it looks like Cerrone vs Lawler won't be happening at 214, per a comment from Dana.)
Will Maia be able to take Woodley down with his awkward style?  If he gets it down, will he get the back?  If he gets the back, can he tap Woodley?  Or will Woodley keep it on the feet and blast the Brazilian submission shark?  We shall see if Woodley can secure his second successful title defense or if Maia can win his second title fight.