WWE Tells Young Bucks to "Suck It", Lawsuit Over Infringement – @ComedySuplex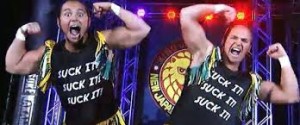 Popular independent wrestling tag team The Young Bucks, Nick and Matt Jackson, were informed today that pro wrestling juggernaut WWE is suing the team for copyright infringement.  The suit includes infringement with use of the phrases "suck it" and "too sweet" and being a blatant rip off of popular 80's tag team The Rockers and late 90's tag team The Hardy Boys.
Rumors are swirling that the suit stems from WWE's belief that the teams' overuse of the Superkick move has rendered the move ineffective.  While the suit is being played out in court, the WWE has banned the use of the Superkick and more importantly, kicks in general. As an added measure "Lethal Weapon" Steven Blackman is no longer being inducted into the Hall of Fame this year, and Shawn Michaels has been blackballed from all things WWE.
Since the suit, The Bucks have tried out new catchphrases like "SOCK IT" and "DO SWEET" only to see their T-Shirt sales plummet at ProWrestlingTees.com. Although the Bucks have stayed relatively quiet during all of this, we were able to catch up with Young Buck Matt Jackson who said, "I've got two words for ya……counter suit!"
As of this writing, popular rapper from the early 2000's and former member of 50 Cent's G-Unit, rapper Young Buck, has also joined the WWE's quest to take down the popular tag team. Young Buck challenged The Young Bucks to a New York street fight for rights to the name.  Pro Wrestling Tee's is looking to sponsor the one match pay-per-view this summer titled, "The Buck Stops Here".
For more hilarious and ironic and insightful comedy, follow @ComedySuplex on Twitter… or in your car.