Comic Conversations is giving away the first 2 deluxe hardcover editions of Y: The Last Man. If you wish to enter to win simply email us a comic book related Haiku. It needs to be 5 syllable first line, 7 syllable second line, 5 syllable third line in order for it to qualify. It can be on anything comic book related whether it's comics, writers, artists and you can even do manga related stuff.
Email us the Haiku with Contest on the Subject Line, email is comicconversations1@gmail.com Give us a name or handle with a brief description of your Haiku in the email to let us know what it is. The deadline for the haikus are at Midnight Central Standard Time July 25th.
We will be reading the Haiku's on air and will notify the winner with an email on instructions on how to receive the prize.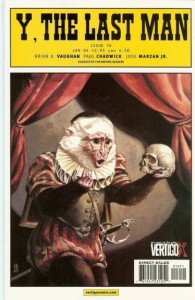 Mike here adding: I'm gonna cheat and enter somehow because Y The Last Man is insanely good – especially the beginning. 
I want win these books,
Offer up my first born child.
Why I never breed.
But REALLY PEOPLE, YOU NEED TO SO THIS. ITS AN AMAZING BOOK AND THE PODCAST IS OUT OF THIS WORLD AWESOME TO START WITH – this makes them more awesome.