Mohegan Sun Arena
Uncasville, Connecticut
Bellator 140 airs on Spike TV. We have the hype videos up here. This would be your official results thread. I'll be live most likely but if not – such is life, right? It's BELLATOR, you didn't know there was a show, did you? So, I'll be watching and jotting down random observations here and there.
I'm sure something will have happened. Something potentially life changing… Or not. The prelims don't air on TV but rather on mmajunkie. Yeah yeah you're not gonna watch them, I know. Heck, I'm not. I'll throw those results up too when it's all said and done. Because I'm a professional journalist.
Enough time has passed so I can fast forward through commercials. First fight is the Page one. He's entertaining out there so I'll watch and report back in a few – all three of you who care.
That lasted like a minute and Page was awesome. He dances. He keeps his hands down. And then lands a huge shot. No one fights like like him and he has star potential.
Oh yeah, that new announcer is here, I just noticed. I like the old guy better, I've decided after two minutes of watching.  By the way, did you know an interstate highway is on fire? Really. Between California and Vegas. Cars are burning and everything.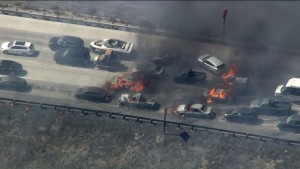 Ok. Bradley fight. Great wrestler. Cut from UFC. Never lived up to potential. Honeycutt also a great, all American wrestler. I'm guessing I'll be back in 15 minutes… I paused to talk to someone on the phone. I doubt I missed anything. So far, there's been a headbutt and two elite wrestlers doing shitty boxing. Oh, the headbutt ended things. It caused a cut and the Doc stopped it. A rare no contest.
Now it's a random fight between women from earlier in the night. It's blue Mohawk vs pink bra. Mohawk won after a kimura that was locked on for legit 24 seconds. Her shoulder is fucked.
Ward vs Carroll fight here. Carroll is nicknamed Leprechaun. Ok then. Oh fuck. Ward with a brutal crushing death right hand.
I'm caught up. Dammit. I even just paused. Made a sandwich. Came back. And the next fight still hasn't started. Ok. Daley fight. Here we go.
Daley wins in the second. First round was good. Daley throwing hard and fast. Other dude was competitive, some submission attempts, took punishment, etc… 2nd though, Daley just unloaded on him as he had slipped and was against the fence.
Daley talking shit about Koscheck and calls him out. OH MAN. I CANNOT FUCKING WAIT.
Time for the main-event.
3 rounds in and Russian guy has been avoiding the standup and taking Lima down a lot. This was unexpected. It is also working. It is also also boring. That Tut mini-series looks like it continues the baffling career choices of Ben Kingsley: god-like actor who appears in absolute shit.
This is a good time to plug our very cool Comic Conversations contest giveaway.
Oh. And round four was the same: takedown and nothing.
Round five the same. Russia with super easy takedown (and he isn't a typical Russian wrestler either). He should win like 5-0 or 3-2 at the worst. But he shound win 5-0 or 3-2 but definitively a win. Ha. Two judges had if 5-0. One had it 3-2. How's THAT for a prediction!
MAIN CARD Spike TV, 9 p.m. ET
Andrey Koreshkov d. Douglas Lim to win the welterweight title
Paul Bradley NC Chris Honeycutt NC – accidental headbutt
Michael Page d. Rudy Bears
Brennan Ward d. Roger Carroll
Paul Daley d. Dennis Olson