Pro football is home to among the best fan bases in all of sports. There are your gangs of sociopathic misfits who would rather stab you than look at you (Raiders, Eagles), the beaten, battered and eternally disappointed souls who cheer their hearts out for their respective, economically-ravaged Rust Belt hellhole (Browns, Lions, Bills) and of course, those blessed poets have elevated profane jeering to a bona-fide art form (either team with the words "New York" in front of them.) However, looking at the National Football League as a whole, it's a bit startling to realize that at least half of the organization's 32 teams are nauseatingly lukewarm and barely indistinguishable from one another. Is there really that much of a difference between a Jacksonville Jaguars fan and a Tennessee Titans fan? Side-by-side, could you deduce whethere someone was a Kansas City Chiefs loyalist or a hardcore supporter of the Houston Texans? Are we even sure the Minnesota Vikings and the Baltimore Ravens aren't the same team? There is certainly a lot of mediocrity when it comes to NFL fans in general, but I supposed I'd rather put up with a half-hearted Atlanta Falcons or Tampa Bay Buccaneers fan than I would those other kinds of fans.
Oh, you know exactly what kind of fans I am talking about. The kinds who always travel in droves, who show up at the local sports bar and perpetually give you good reason to hate parts of the country you've never even been to before. Today, I'd like to shine a spotlight on the The 10 Most Annoying NFL Fans: the annoying, abrasive and all around contemptible cretins who make watching "America's Game" about as enjoyable as a prostate exam. And if you just so happen to be a proud member of any of the fan bases below? Thank you for your comprehensive awfulness as a human being – I couldn't have written this without you.
Number Ten
Indianapolis Colts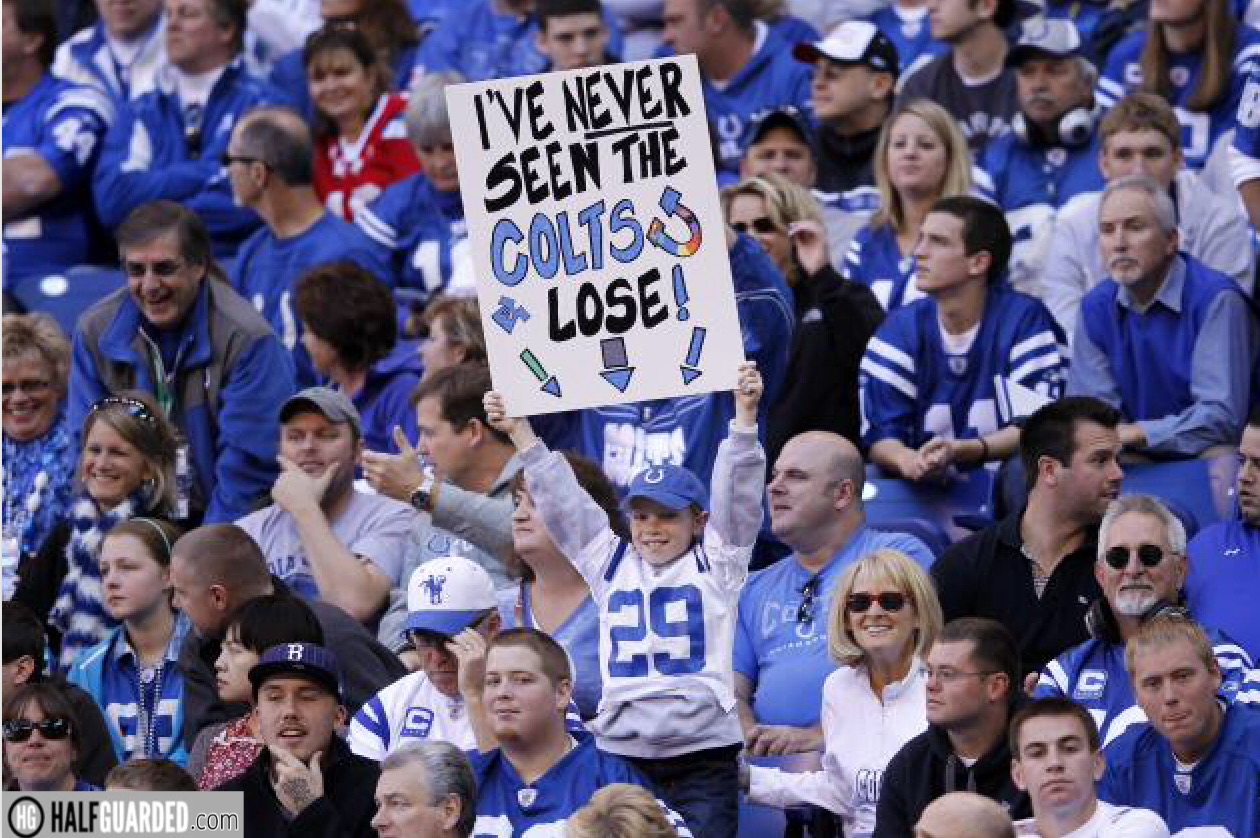 The Colts are on the list more for what they aren't than what they are. Colts fans more or less sum up everything wrong with all of those worthless heartland teams – you know, the lily-white, milk-and-cookies, "I love my family and country" lame-os who live in locales with boring names like "St. Paul" and "Kearney." Colts fans are the people who always show up late for games because church ran long, and they always eat their chips extra slow because heaven help them if they get guac or salsa on their vintage Marvin Harrison jersey. The never get too excited during games; they may politely clap and eke out "yeah, that's right" when Andrew Luck tosses a touchdown, but they never curse, they never throw anything and they never challenge other fans to a Vale Tudo fight in the parking lot. Pro football is no place for such civil, wholesome behavior, and Colts' fans brazen disrespect for proper NFL fan etiquette is simply unacceptable.
Number Nine
Cincinnati Bengals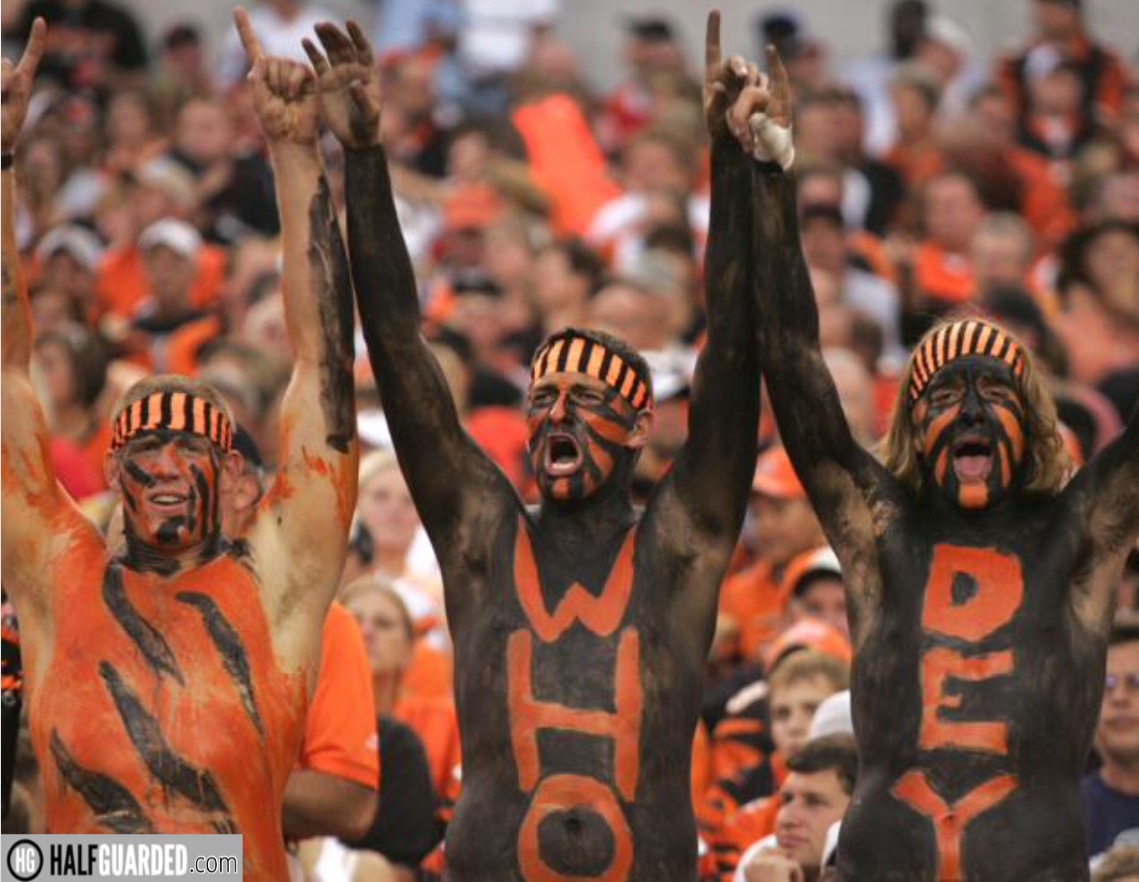 Cincy's prime time thuggery against the Steelers earlier this year no doubt propelled them to the top of many a pro football fan's "most hated" lists, but I've been hating on the Bengals way before it was en vogue – yes, even BEFORE Adam "Pacman" Jones tried to bash Amari Cooper's skull in with his own helmet in week one of the 2015-16 season. I guess this has more to do with the types of people who call Cincinnati home (or their ancestral homeland) than anything else. You ever been to Southern Ohio before? It's an entire mini-country of people named Deiters, a bunch of German transplants and German transplant offspring, and ghettos. Hmm … ethnic German majority population, ghettos, where have I heard those two things put together before? Even outside of my unfounded hypothesis that Cincinnati is actually an incubator for the Fourth Reich, the Bengals are nonetheless an underachieving band of degenerates with perhaps the League's most distorted historical value; I mean, outside of the Icky Shuffle, what exactly has the team contributed to the League as a whole?
Number Eight
New Orleans Saints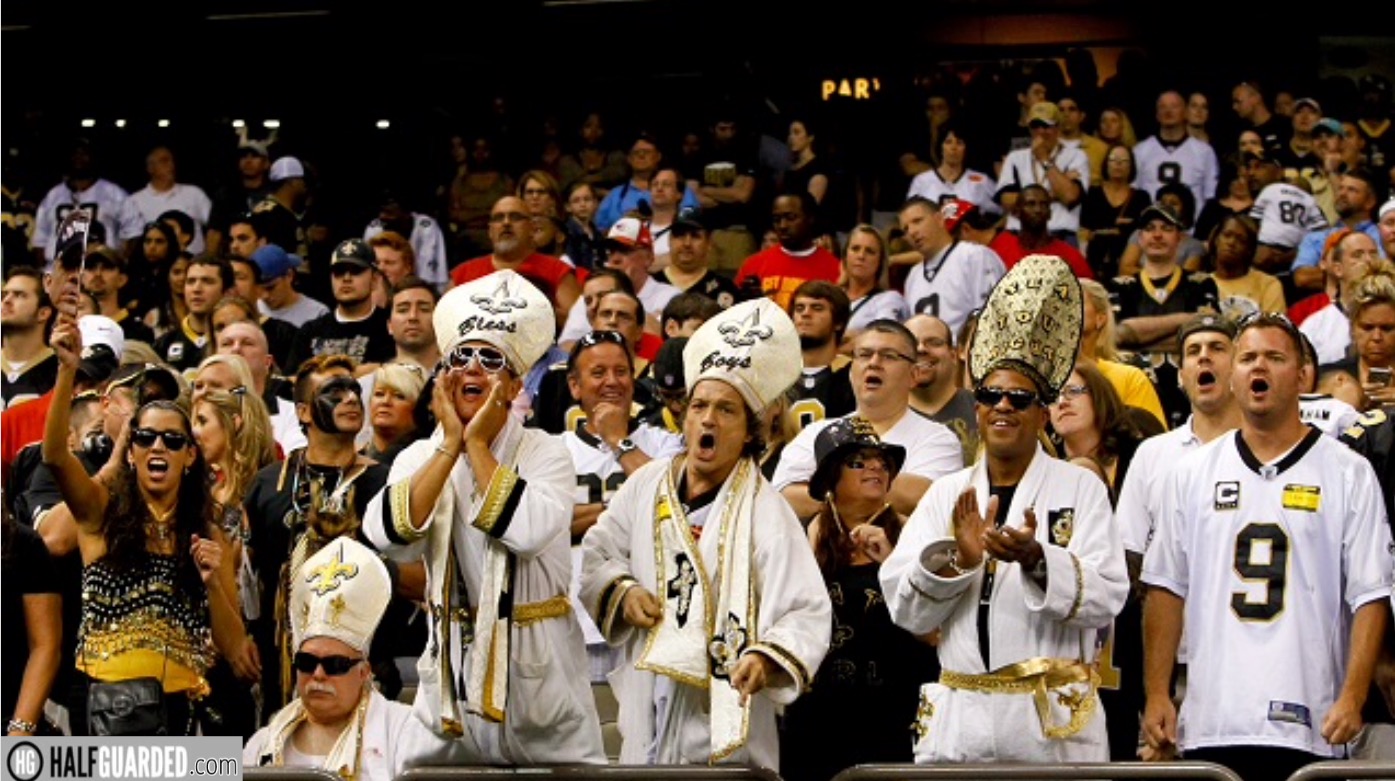 I live in Atlanta, and thanks to post Hurricane Katrina migration, the Saints are easily the second most popular pro football team in my neck of the woods. Consider yourself fortunate that's not the case with your hometown. Sure, sure, the Saints did win the Super Bowl six years ago, but is that really enough to make up for the 40 previous years of utter and complete irrelevancy? Weren't the same lardos ambling down the street in their black Drew Brees jerseys and Mardi Gras beads (even though it's November) literally wearing bags on their heads at games just ten years before? Thankfully, the Saints have been a big old, pitiful sack of suck since 2010, which means I haven't had my earbuds assaulted by that ever-irritating "WHO DAT?" chant, which has to be not only the most annoying rallying cry in professional sports, but – much to Jim Carrey's chagrin – the most annoying sound in the world, period.
Number Seven
San Francisco 49ers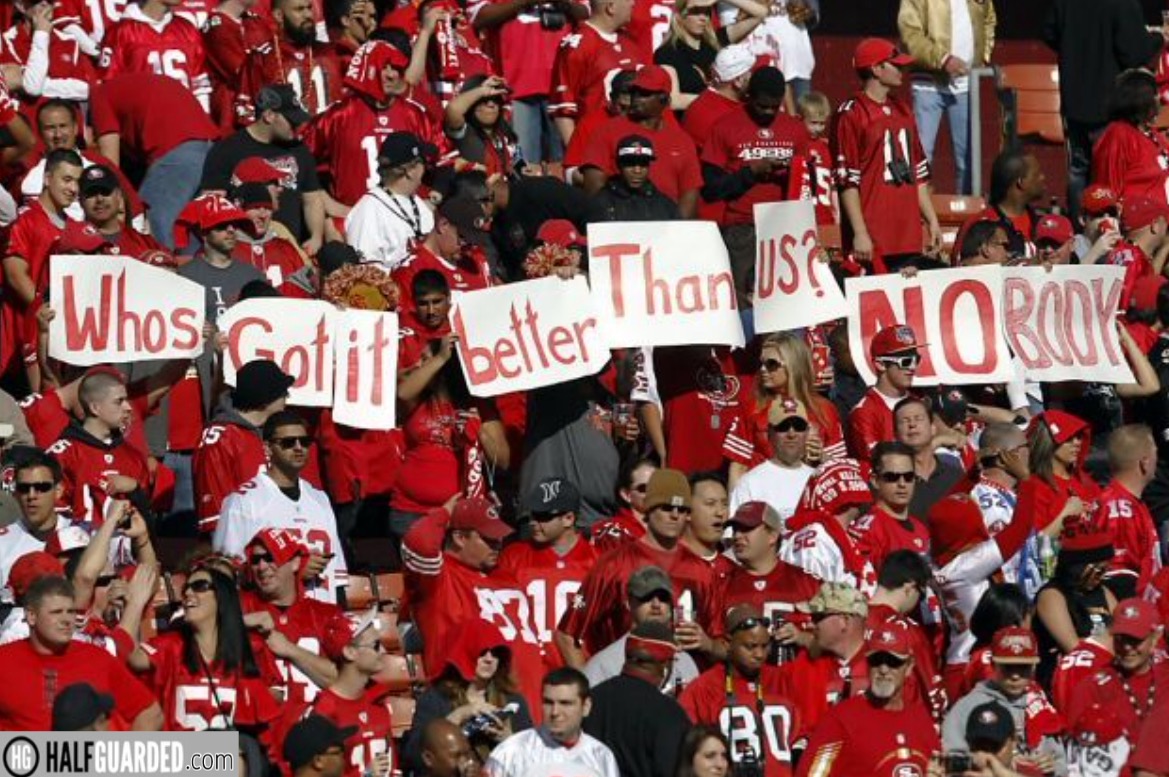 It's easy to hate the city of San Francisco even without the 49ers. Trust me, there is good reason why fans of the team are often referred to as "The Whiners" – these people are the most entitled, fairweather snobs in American sports, hands-down. To even afford cheap seat tickets at 49ers games, you have to make a bare minimum yearly income of $150,000, and half the time, Niners' fans don't even pay attention to what's happening on the field – they are too busy checking their iPhones to see if their Silicon Valley start-up penny stock has increased over the least three seconds to have even noticed they went from Super Bowl contenders to having BLAINE GABBERT as their starting QB in just three years' time. The worst part? No matter how much they suck, they'll be sure to remind you they've won FIVE Super Bowls, like Joe Montana literally came to their house and let them rub on his championship rings for awhile.
Number Six
Seattle Seahawks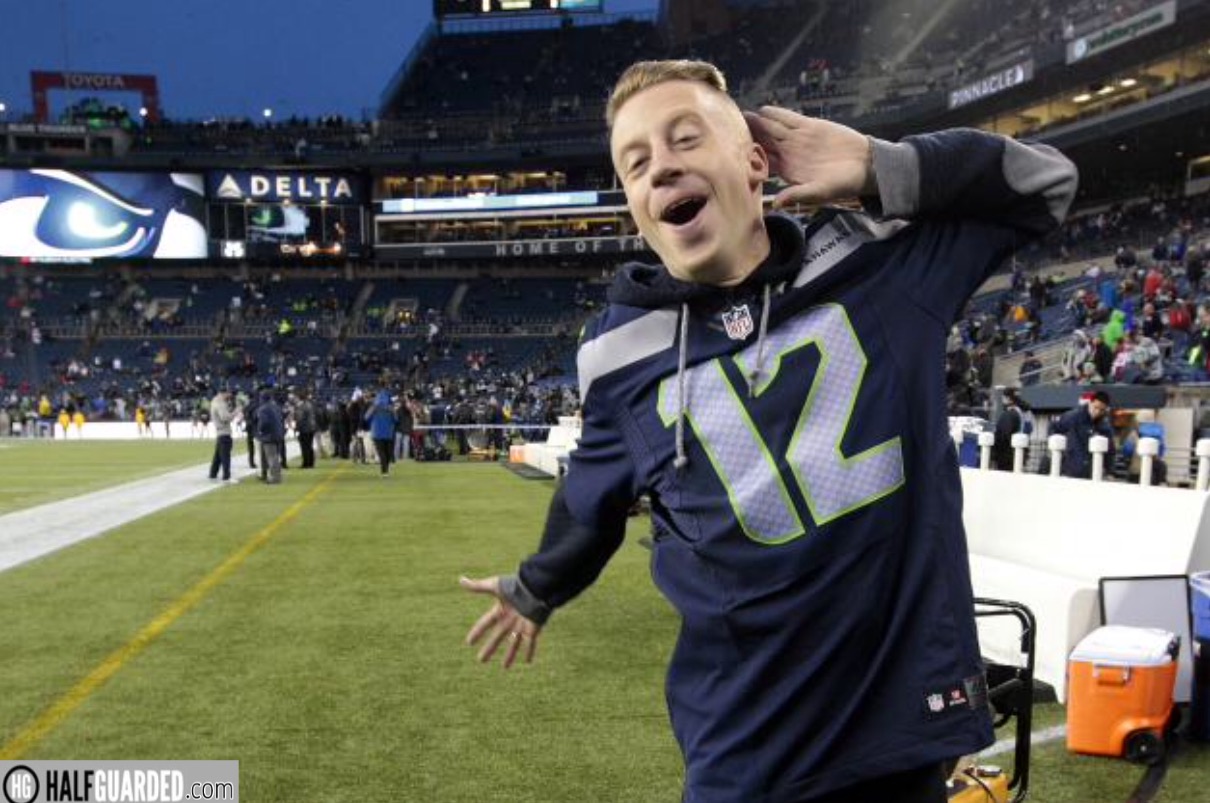 The Seahawks are a special case. Even though they entered the NFL as an expansion team in 1976, they didn't seem to develop an active fan base until 2012 (I think the Pacific Northwest didn't even find out about the team playing in Super Bowl XL … or even leaving the AFC West … until last September.) From my experiences, everybody who roots for the 'Hawks are neophyte football fans still trying to figure out the game's fundamentals – as in, they'll casually walk over to you and breathe their Indian Pale Ale and marijuana breath on you and ask what "defensive holding" means, or explain to them why the quarterback just can't kick the football down the field until somebody scoops it up in the end zone. If you ever hear someone shout "home run!" at a football game, odds are, they're a Seahawks fan.
Number Five
Denver Broncos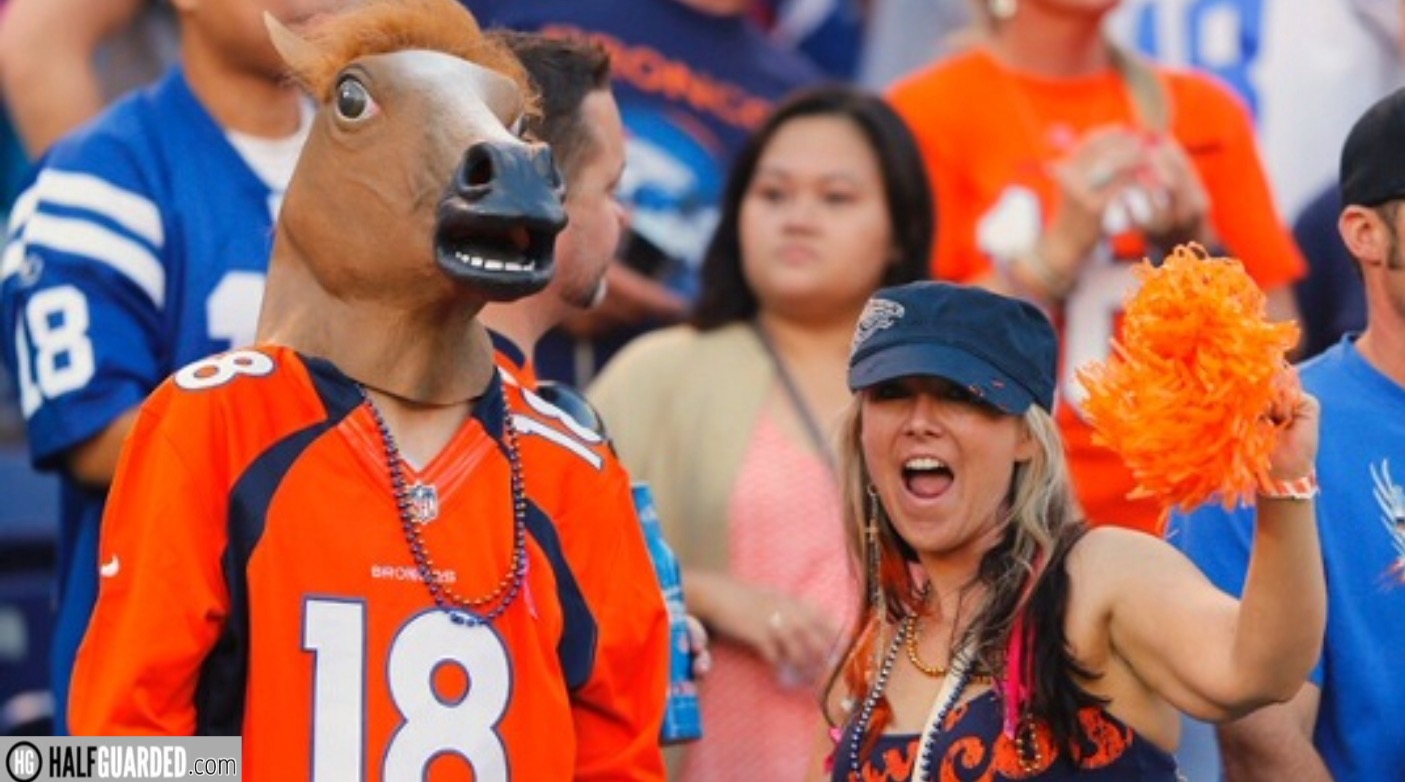 In general, Denver is the worst of both worlds. It's home to the most irritating pseudo-socialist liberal whackjobs in the country and the most bat doodoo insane right-wing maniacs at the same time. The only thing that seems to unify these polarized, partisan parasites is their undying love for the Broncos, whom we tend to forget sucked and sucked hard for the first 25 years of their existence. Alas, Peyton Manning and his HGH-swollen forehead is doing a fantastic job picking up where John Elway left off – being a folk hero to all of Denver's fine, outstanding, dope addict hippies, aspiring school shooters and backwoods denizens who undoubtedly say racial slurs all the time. Mile High isn't a football stadium; it's more of an ant farm so alien life forms can watch humanity's worst in one snow-covered cesspool.
Number Four
Dallas Cowboys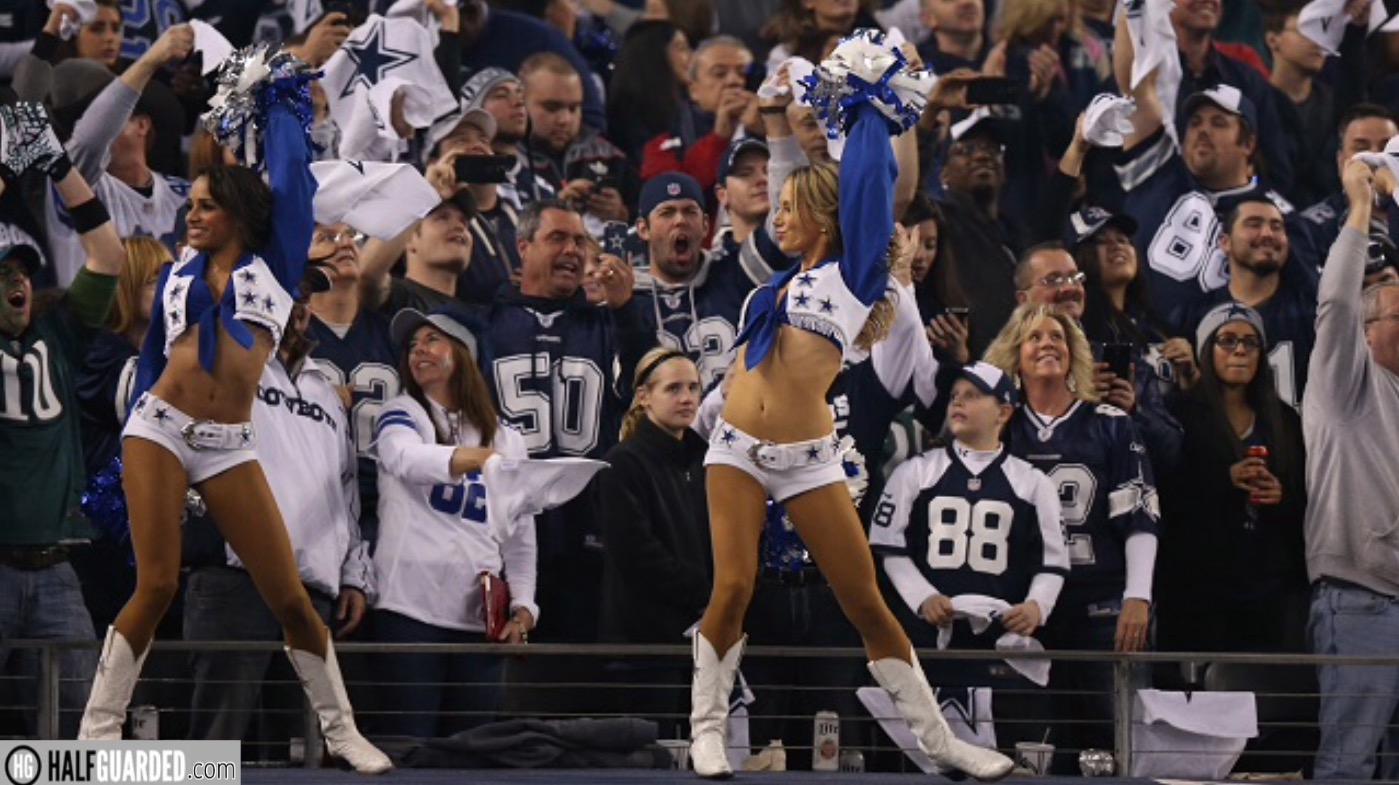 If this were the year 1996, the Cowboys would undoubtedly be number one. However, seeing as how "America's Team" has played like "America's JV Middle School Team" for the last 20 years, our communal hate of Cowboys fans is less a testament to their contemporary patheticness as it is their long, ignoble history of being jackanapes, nincompoops and flat-out terrible human beings. Do you start with the slavemaster bravado of multibillionaire egomaniac Jerry Jones – whom the 'Boys faithful worship with the ill-advised ardor of Jim Jones – or their even less admirable hero worship of the team's pantheon of crack cocaine smokin', serial rapin' wideout thugs and DUI collectin', girlfriend beatin' running backs? Just one look at that hideous reverse-Xanadu in Arlington – filled to the brim with fairweather, chili-dog chompin, beer-sippin', pretend-proletarian fans – is reason alone to never, EVER enter the state of Texas.
Number Three
Green Bay Packers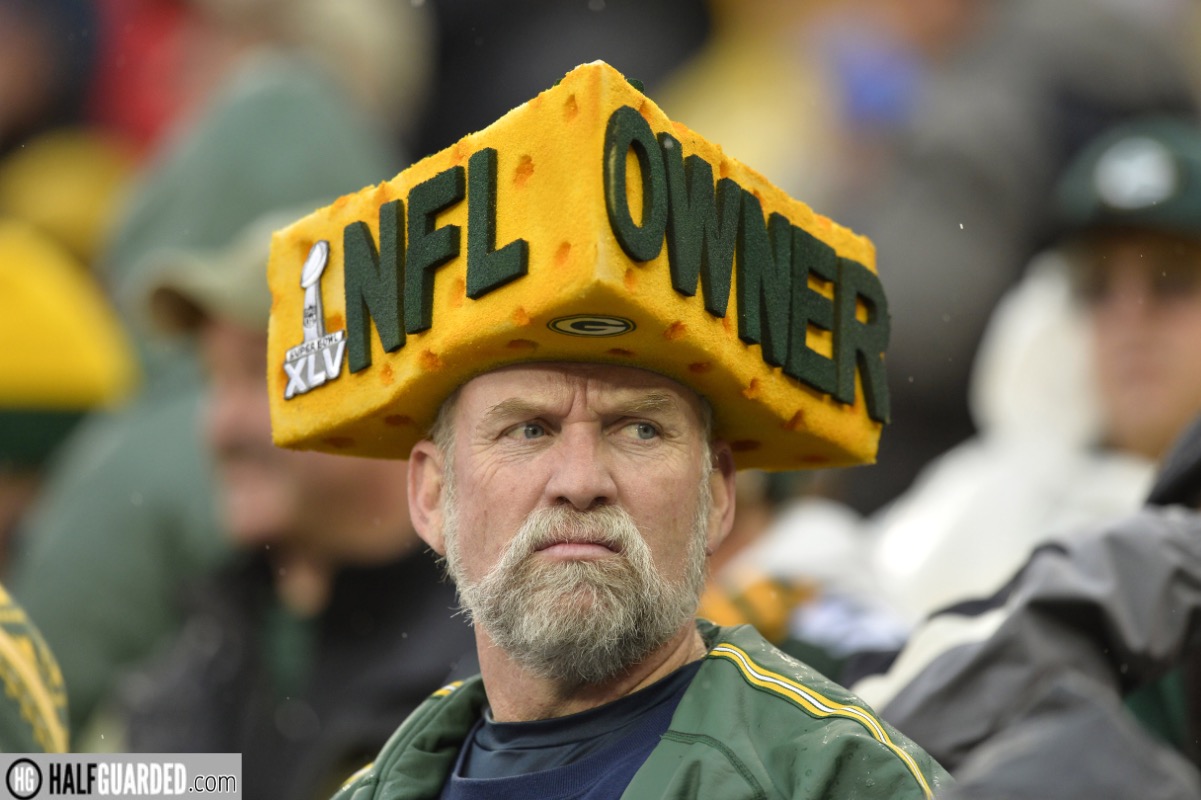 Just because their team won a whole bunch of championships back in the 1930s – when there were only four teams in the League and the biggest linebackers maybe weighed 180 pounds – Packers fans consider themselves an almost sacrosanct tribe. Indeed, the way Packers fans talk about their "legacy," they make themselves out to be pro football's "chosen people," albeit with Brett Favre instead of Abraham and plastic cheese hats instead of yamakas. The holier than thou vibe is irritating to the max, and on top of it? Packers fans also seem to be the fattest land mammals on Earth; the skinniest Green Bay fan I've seen in person still weighed 300 pounds, and sadly, puke green and urine yellow are most definitely NOT the most slimming of colors.
Number Two
Pittsburgh Steelers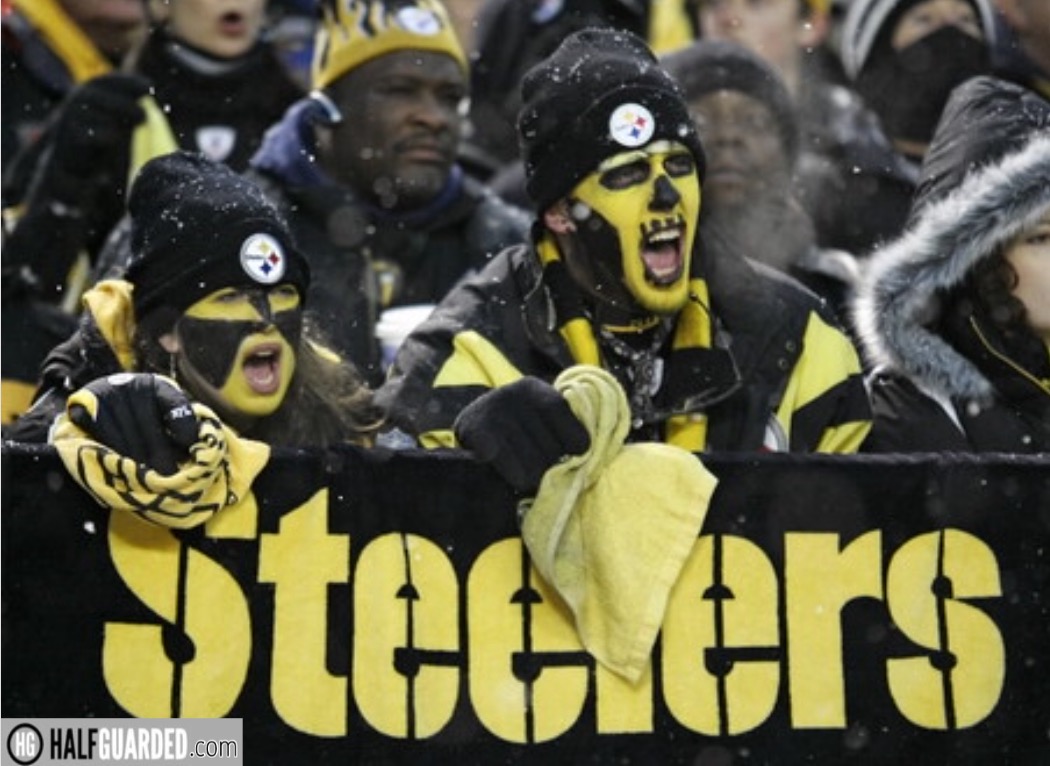 Some people consider "Steeler Nation" to be the best fan base in all of football. That's sort of like saying one brand of toilet paper is better than others because it produces the hardest dingleberries to remove. Indeed, the Steelers – whose literal team colors are diarrhea black and golden shower yellow – are every bit as frustrating as tangled-up T.P. remnants in your nether regions, and from my experiences, just as smelly, too. These ne'er-do-wells always travel in packs – 10 or 20 at a time – primarily because none of them can count up anything that exceeds ten fingers. They'll hoot and holler about having six Super Bowl wins, even though four of those happened with an alcoholic racist behind center and the other two were decreed via terrible ref calls – and with a date rapist calling the shots (and maybe spiking them with GHB, too.) When times are good, they pretend to be dyed-in-the-wool fanatics, but when "Steel City" – which hasn't even HAD a steel industry since the late 1970s – is playing like garbage, they abandon their "team" like Le'Veon Bell abandons his vehicle during a DUI stop. Show me a Steelers fan, and I'll show you somebody you'll never want to be stuck with on an elevator. Now, watching an elevator plummet down a shaft, however…
Number One
New England Patriots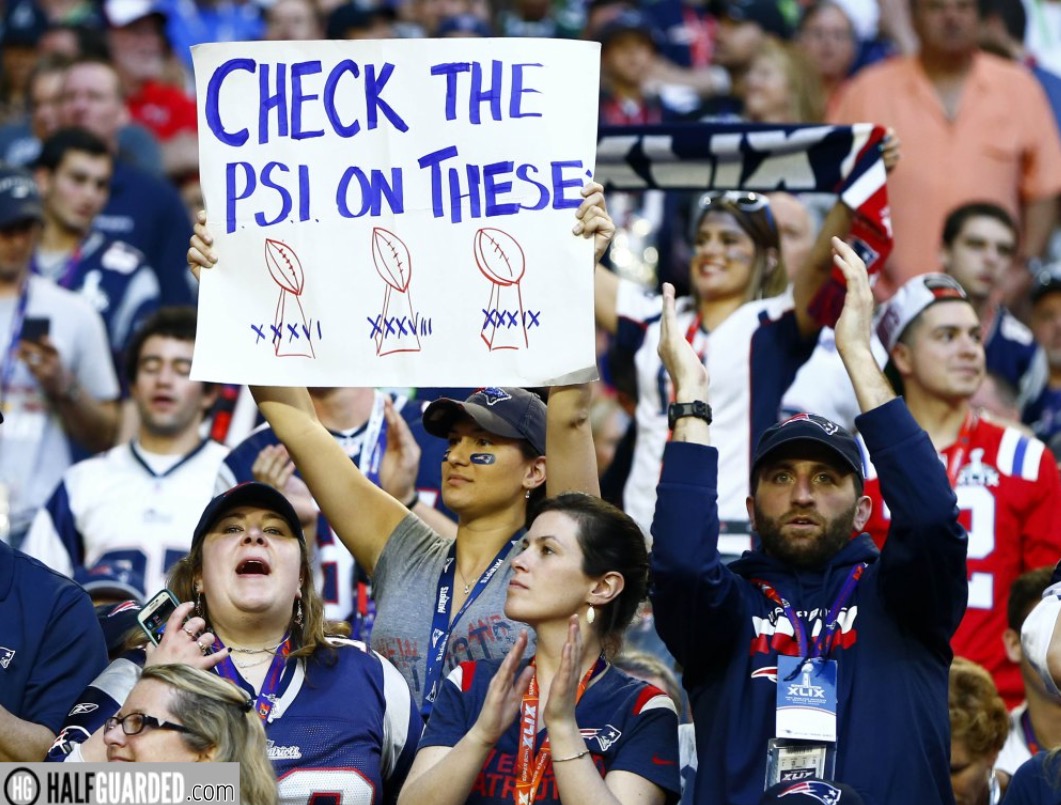 And really, was there ever any doubt which fan base would take the number one spot? Since 2001, the Patriots have more or less dominated professional football – not so much by sheer talent as it has been a series of dubious referee calls and the chumminess between Bob Kraft and the NFL higher-ups (who, at his behest, were convinced to CHANGE the League's rules to make it easier for Brady to rack up the points.) SpyGate, anybody? DeflateGate, folks? The Tuck Rule ring a bell? If Dick Dastardly or Lex Luthor were into pro football, they would undoubtedly be Patriots fans – if nothing else, to marvel in awe at their underhanded path to excellence. But it's the Pats fans themselves that really deserve special condemnation. Despite what you've heard, Boston sports fans are actually the worst fans in the country, a bunch of whiny, needy, emo jerkwads who also hold the proud distinction of being far and away the most racist fans in America, too. If you want to hear copious use of the "n-word," don't travel to Tuscaloosa or Baton Rouge, just amble into any pub in New England and prepare to listen to more hateful slurs and euphemisms than 10 Klan rallies combined. Between the Peter Griffin-sounding (and often looking) dudebros and ditzy Pats fangirls who are only into football because they think Tom Brady is cute, you'll find just about every form of person you don't like among the Patriots' camp. And to paraphrase the great Canadian poet, Bret "Hitman" Hart? If I wanted to give America an enema, I'd stick the plunger right in Foxborough.