It's that time of year again! The National Football League playoffs will kick off this weekend, beginning an arduous, month-long slog to Super Bowl 50 in Santa Clara on Feb. 7. Moreso than any postseason in recent memory, this year's playoffs are littered with uncertainties, with incredibly high upset potential across the board. Sure, you can let those eggheads at FiveThirtyEight or those knuckle draggers at Bleacher Report tell you who they think will win, but why bother when you've got me and my patented 14-POINT FOOTBALL PREDICTION algorithm that successfully nailed five out of the six college football bowl games on New Year's Eve and New Year's Day? Below, you'll find my well-reasoned, long-pondered picks for every NFL playoff game … concluding, of course, with my bold prediction for this year's ultimate Super Bowl victor.
2016 NFL Playoffs Predictions: Wildcard Round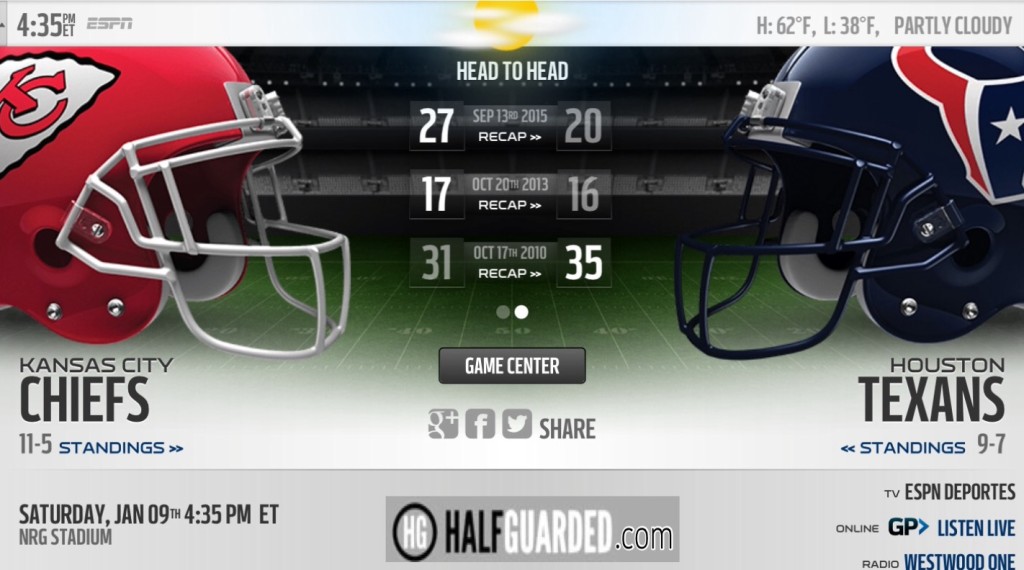 Kansas City Chiefs (11-5) @ Houston Texans (9-7)
The Chiefs already beat the Texans earlier this season, 27-20. Kansas City would then go on to lose their next five games, only to conclude the season on a 10-game win streak. In terms of offense, the Chiefs have Houston beat in terms of yards per attempt both rushing and passing, while the Texans are marginally better defending the pass (210 yards per game compared to the Chiefs' 231). Alas, Kansas City's rush defense is just a smidge better, and their turnover differential (+14, compared to Houston's +5) gives them some padding on both sides of the ball. All in all, that ought to be more than enough to earn Andy Reid his first playoff win since Donovan McNabb was in the League.
Official Prediction: Kansas City 34, Houston 14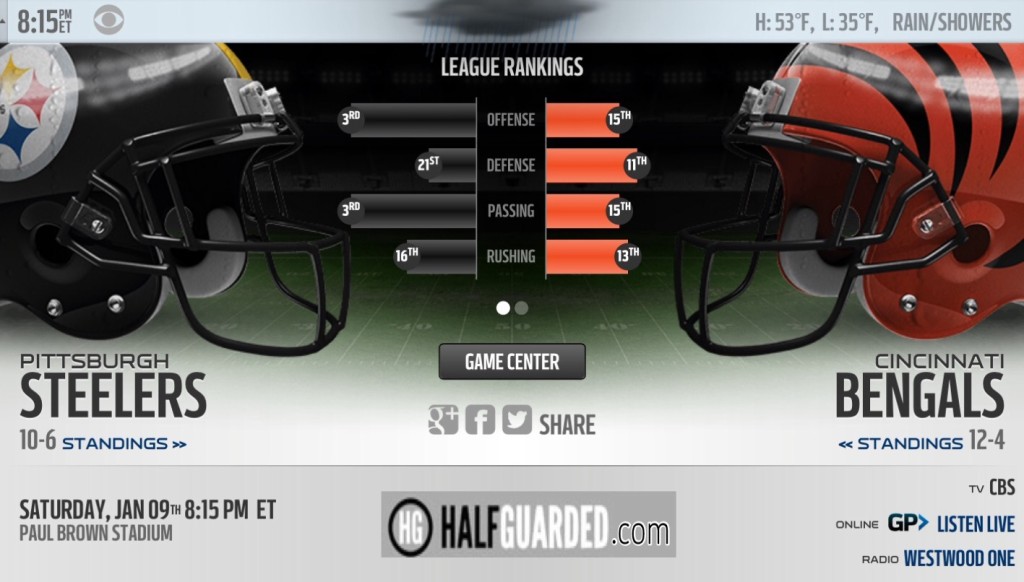 Pittsburgh Steelers (10-6) @ Cincinnati Bengals (12-4)
The Steelers and Bengals split their season series, with Cincy picking up a 16-10 win in early November and Pittsburgh winning a mid-December contest 33-20. In terms of passing, the Steelers are posting the superior numbers, although Cincinnati is averaging more rushing yards per game. While Cincinnati has better defensive passing stats, the Steelers have the better rushing defense, allowing their opponents only 98.2 yards per contest. Ultimately, this one comes down to quarterbacking; and as banged up as Big Ben may be, there's no way in hell I'm picking AJ McCarron over a dude who finished the season with almost 4,000 passing yards, despite missing the entire month of October.
Official Prediction: Pittsburgh 31, Cincinnati 13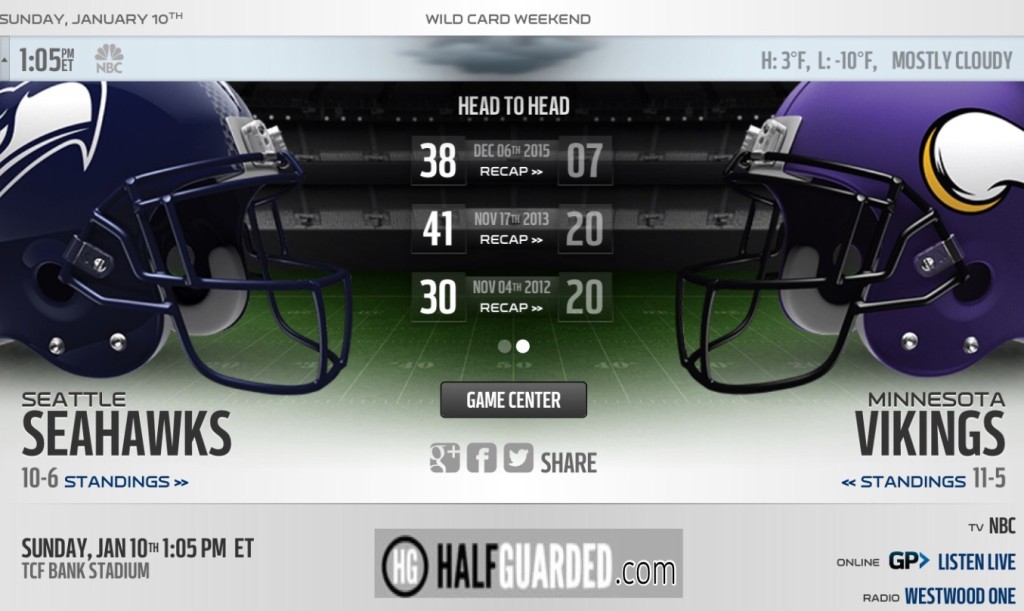 Seattle Seahawks (10-6) @ Minnesota Vikings (11-5)
On Dec. 6, the Seahawks went into TCF Bank Stadium and pummeled the Vikings 38-7. If anything, Seattle has gotten even better on both sides of the ball since then, and on paper, this is far and away the most lopsided game of the playoffs. In terms of pass completions, passing yards per attempt, passing yards per game, rushing yards per attempt, rushing yards per game, third down and fourth down conversions, pass defense, rush defense and turnover differential, Russell Wilson and the boys absolutely outclass the Vikes in every category. Expect this one to get ugly in a real hurry.
Official Prediction: Seattle 40, Minnesota 12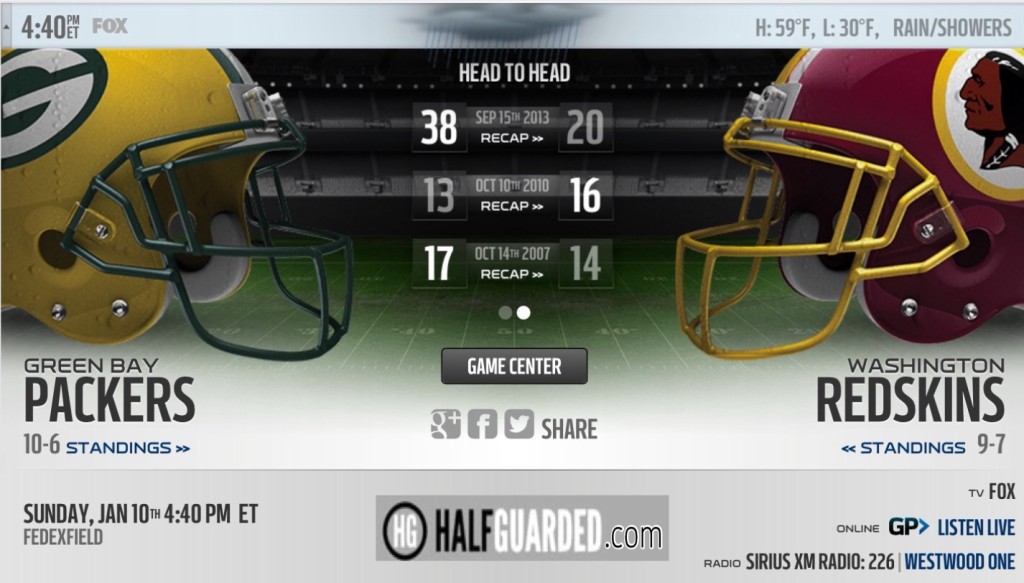 Green Bay Packers (10-6) @ Washington Redskins (9-7)
Of all the games in the opening round of the playoffs, this is the one I'm most tempted to pull the upset trigger on. Stats-wise, Green Bay is the safer pick, but the Redskins have been playing shockingly well the last few weeks, thanks to Kirk Cousins turning into Cam Newton-lite around the first week of December. While the Redskins have better passing numbers, the Packers have the better rushing statistics, and their defense is vastly superior to Washington's, allowing 228 yards passing and 119.1 yards rushing, respectively, to their 258 yards passing and 122.6 yards rushing. I almost – ALMOST – want to give Washington the "W" here, but as good as the Packers are running the ball, and as terrible as the Redskins are attempting to run the ball, my conscience just won't let me vote against Aaron Rodgers and company.
Official Prediction: Green Bay 27, Washington 17
2016 NFL Playoffs Predictions: Divisional Round
Seattle Seahawks (11-6) @ Carolina Panthers (15-1)
On Oct. 18, the Panthers traveled to CenturyLink Field and bested the Seahawks 27-23. Now, it's Seattle's turn to travel into the Panthers' den, and once again, I have to favor the away team. The Atlanta Falcons showed us how Cam Newton and pals can be stopped in Week 16; put perpetual pressure on the QB, contain the run and absolutely torch the secondary on long passes. With a superior defense and a far more potent passing attack since their last contest against Carolina, I fully expect Seattle to exact their vengeance and make the uno-loss regular season Panthers a cero-win postseason team.
Official Prediction: Seattle 24, Carolina 16
Green Bay Packers (12-6) @ Arizona Cardinals (13-3)
In Week 16, the Cards absolutely obliterated the Packers, 38-8. If anything, Carson Palmer and his crew are likely to put an even worse hurting on Green Bay this time around. Arizona is averaging 70 more passing yards per game the the Packers, besting them 119.8 yards rushing to 115.6, allowing their opponents fewer yards per pass attempt and besting Green Bay's run defense, 83.6 yards allowed per game to 119.1. Oh, and if that wasn't enough, their turnover differential is a full four points higher. In their last match up against GB, the Cardinals had 269 receiving yards and two passing touchdowns; nothing short of Carson Palmer snapping his tibia in the first quarter is going to keep Arizona from racking up just as many yards and scores, if not more, the second go-at-it.
Official Prediction: Arizona 36, Green Bay 10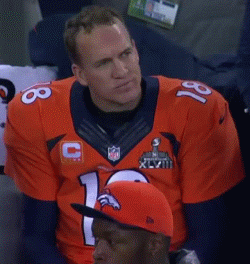 Pittsburgh Steelers (11-6) @ Denver Broncos (12-4)
Late in the regular season, the Broncos traveled to Pittsburgh and lost a close one, 34-27. In that one, it came down to a good old fashioned quarterback duel, with Big Ben ultimately outgunning Brock Osweiler 380 yards to 296 (although both finished the game with three TDs apiece.) Unless those HGH claims get a whole lot more substantiated over the next two weeks, however, it looks like Peyton Manning – whose neck is apparently being held together with rubber bands and chewing gum – will be behind center for Denver. And as we all know by now, unless it is the year 2007, the elder Manning always finds a way to throw away the season. Expect Denver's defense to keep Pittsburgh's offense at a season low, but as sure as the sun rises, the Broncos will eventually blow it on – what else? – yet another patented, playoffs-ending Peyton INT.
Official Prediction: Pittsburgh 20, Denver 17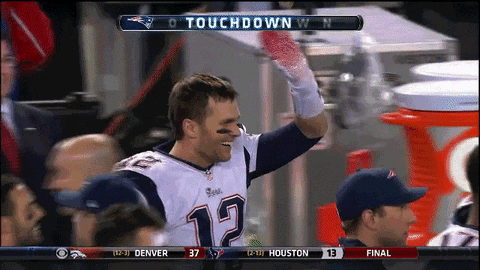 Kansas City Chiefs (12-5) @ New England Patriots (12-4)
An injury-plagued Patriots squad comes limping into the postseason, with the red hot Chiefs more than ready to give them a hard time at home. While New England's passing stats are significantly better than the Chiefs (Tom Brady is averaging 287 yards per game to Alex Smith's 203 yards), the Chiefs are definitely the better team running the ball (they are averaging 127.8 yards per contest, compared to the Pats' 87.8) Their rushing defense stats are virtually identical, but when it comes to defending the pass, KC simply outclasses NE across the board, allowing their adversaries far lower completion rates, yards per attempt and yards per game than the defending Super Bowl Champs. If LeGarrette Blount, Julian Edelman and Danny Amendola were all 100 percent, I'd pick New England to win this one in a heartbeat. However, with so many hobbled halfbacks and receivers, I have no choice but to roll the dice on a Chiefs upset.
Official Prediction: Kansas City 28, New England 21
2016 NFL Playoffs Predictions: NFC Championship
Seatttle Seahawks (12-6) @ Arizona Cardinals (14-3)
Uh … did you see the last game of the regular season? In a 36-6 Seattle victory, Russell Wilson had three touchdown passes and the 'Hawks outran the Cards 145 yards to 27. Even though the Cardinals statistically have a better passing game, Seattle is clearly the better team in terms of rushing offense and overall defense. And quite frankly, unless half the Seahawks roster comes down with seafood poisoning the night before the game, there is no way in hell Arizona stands a chance in this one.
Official Prediction: Seattle 48, Arizona 13
2016 NFL Playoffs Predictions: AFC Championship
Pittsburgh Steelers (12-6) @ Kansas City Chiefs (13-5)
It ain't easy winning games at Arrowhead Stadium. Just ask the Steelers, who went into the Chiefs' home turf in late October and walked away with a 23-13 loss. This time around, however, there's going to be a big difference … primarily, the fact that (pending an absolute catastrophe in the opening two rounds of play) Ben Roethlisberger will be behind center for Pittsburgh instead of Landry freakin' Jones. While the stats favor Kansas City rushing, Pittsburgh has the upper hand passing the ball. In terms of defense, the equation is flip-flopped, with Pittsburgh possessing the better run game defense and Kansas City sporting the better pass defense. It's going to be a back and forth slugfest, but at the end of the day, with Martavis Bryant and Antonio Brown running the deep routes, I'm going to have to put my money on the visiting team.
Official Prediction: Pittsburgh 23, Kansas City 18
2016 NFL Playoffs Predictions: Super Bowl 50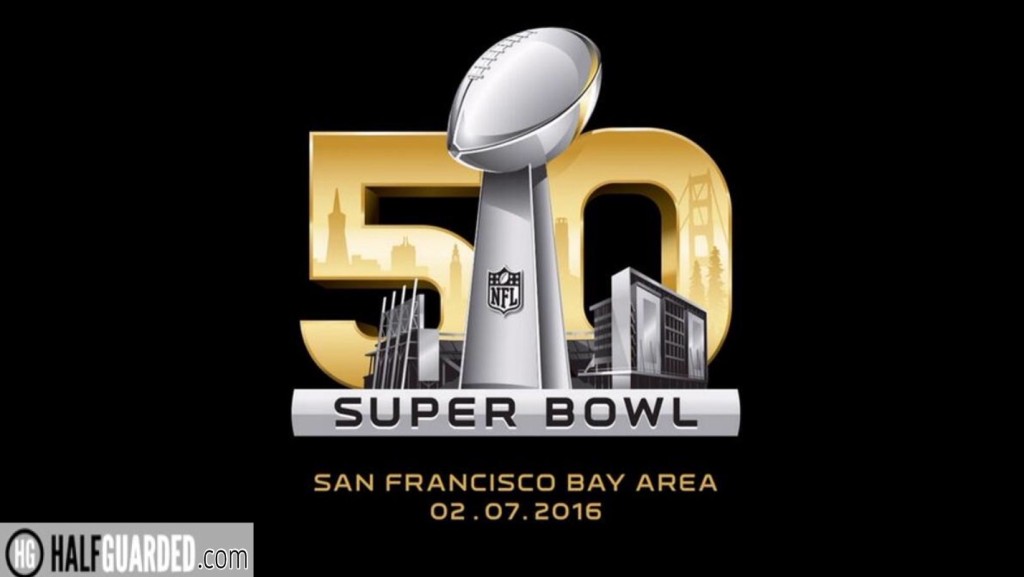 Seattle Seahawks (13-6) vs. Pittsburgh Steelers (13-6)
And what do you know, for Super Bowl L we end up with a rematch of Super Bowl XL (and, unless I am sadly mistaken, the first Super Bowl matchup ever between the two six-seeded teams.) While Big Ben is still calling the shots for Pittsburgh, it won't be Matt Hasselbeck behind center for the Seahawks this time around, and Seattle's receivers are just a wee bit more threatening than Jerramy Stevens. Averaging 288 yards per game, the Steelers best Seattle by well over 50 yards per game (although Seattle actually has a higher yards per passing attempt average and a higher pass completion rate.) In terms of rushing, third and fourth down conversion rates and both passing and rushing defense, the Seahawks simply outdo the Steelers across the board – they even have a turnover differential that's four points higher than the occupants of Heinz Field. It will be a horse race early, but once Seattle starts bearing down on Roethlisberger, it becomes Seattle's to lose. With a more effective run game, I envision Seattle using the rush to chew up the clock, with MVP Russell Wilson zipping his way through the Steelers' D with mid-range dinks and dunks. After a heartbreaking last-second loss last year, Seattle gains a measure of solace with a hard fought W in Levi's Stadium – and in the process, earn their second Lombardi Trophy over the course of three years.
Official Prediction: Seattle 28, Pittsburgh 17