TUF Season 8: Team Nogueira vs. Team Mir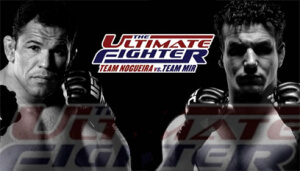 Airdate: Spike TV September 17, 2008 – December 13, 2008
Back to the original two weight class concept, TUF 8 featured the light heavyweight class (186-205) and the lightweight class (146-155). One thing I liked about the earlier seasons was that the coaches were also competitors of the same weight class as the guys they were training, so theoretically, they could end up fighting down the line. Putting two heavies in there as a coach is fine, but it really puts the coaches at a level above the guys, which one could argue they should be better.
After the show finished, Big Nog and Mir fought for the Interim Heavyweight Championship at UFC 92, December 27, 2008. I'll never forget that night… I made a huge retarded bet on Big Nog and he got murdered in the second round. I lost my mind. I went on a tirade in my house, which included throwing a bbq pit, annihilating my room, and then taking a Sharpe marker and writing on my wall, "I will never bet again!" And I never did… Right.
The Teams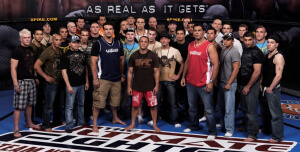 Team Mir
Light Heavyweights: Krzysztof Soszynski, Vinny Magalhaes, Eliot Marshall, Tom Lawlor
Lightweights: Junie Browning, Shane Nelson, Dave Kaplan, and George Roop
Team Noguiera
Light Heavyweights: Ryan Bader, Shane Primm, Kyle Kingsbury, Jules Bruchez
Lightweights: Phillipe Nover, Efrain Escudero, John Polakowski, Rolando Delgado
Highlights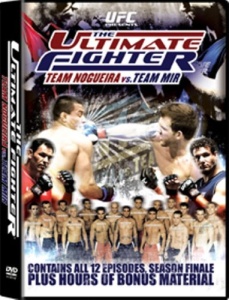 Phillipe Nover fainted before the show even started from heat exhaustion
Episodes one and two were all fights to get into the house
Episode three was the team selections
Everyone picked up on Junie Browning being a psychopath
Team Mir took all of the other guys' underwear and socks and Saran wrapped them to Bader's bed. Oooh, sick burn.
Browning attempted to scale the cage to fight Escudero after Escudero had defeated Shane Nelson by triangle choke
Anderson Silva showed up for a visit
Soszynski puts itching powder in dudes beds; "Honey, I'm all packed for the ultimate fighter reality show!" "Did you pack your itching powder?"
Filthy Tom, who orders a fruit platter everyday, had an assful of his fruit being eaten, so he pisses on his own fruit, and tricks the other team into eating it.
Kingsbury jacks off and comes on Nover's sushi; now that's fucking gross
Kaplan gets drunk and begs Lawlor to punch him because Kaplan can not be KO'd; he's quickly KO'd by Lawlor
Hendo visits Mir's team
The coaches compete in a $10,000 challenge, which was taking penalty kicks in soccer; Nog beats Mir 10-6 in a piss poor showing for both men, especially the Brazilian
Team Nog fills up Soszynski's room with crap
Browning loses and goes on a rampage
The Finale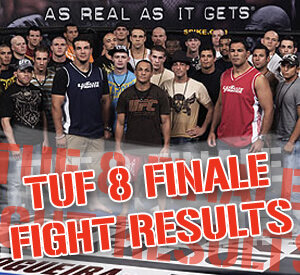 Vinny Magalhaes gets TKO'd by Ryan Bader in round 1. I had made a gigantic bet on Maghalhaes, which resulted in a tantrum prior to the big one. However, this tantrum was nearly as big. I was so mad that I stripped naked and stomped my clothes and didn't realize that my phone was in my pocket. Once I realized that I had broken my cell phone, I really got mad. I went out into the street, completely naked, and smashed a folding chair on the concrete. All of this occurred just as my buddy's girlfriend showed up. It wouldn't have been a big deal, but her father, whom I'd never met, was dropping her off. "Hello sir. No, you're daughter is perfectly safe here… I realize I'm naked throwing a hissy fit in the front of the house, yes sir… No, I promise, this will never happen again…"
In the other final match, Efrain Escudero beat Nover by unanimous decision in three rounds.
Where are they now?
Vinny Magalhaes: Age 31, currently 13-7, the bjj black belt's last fight in the UFC was a loss to Anthony Perosh at UFC 163. He is currently competing for World Series of Fighting.
Ryan Bader: The 32 year old 205 pounder most recently lost to Anthony Johnson. He's a perennial contender at light-heavy weight, but has never challenged for the strap. He's a gatekeeper at best.
Efrain Escudero: Age 30, currently 24-10, Escudero is in his third go around with the UFC. Having been cut twice, he went to Glendale, AZ and joined up at the MMA Lab with John Crouch. His most recent fight was a loss to Leandro Silva at UFC Fight Night 78. He is slated to take on Kevin Lee at UFC 197.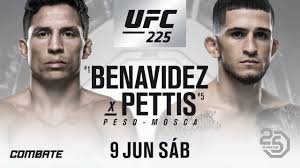 Summary: This was a wild season and currently my favorite of all the ones I've reviewed. I really enjoyed season 1 and 4 and 7, but 8 had the wackiest fighters. Plus, a dude jizzed on sushi, and that's awesome.