Forever
Just to demonstrate how whacky and ultimately more interesting the movie going experience was back in the early 70's, the number one box office film of 1971 was a musical about the persecution of Jews in pre revolutionary Russia.
Looking back, 1971 set the reputation for the 70's being a decade of gritty counter culture when it came to going to the movies. Violence, sex, anti authority and a subversion of the "hero" were key elements that would give a gritty vibe to the aura of 70's cinema and may favourite era of movies.
Even a film that was technically a kids movies had an edge and a real bite to them.
Willy Wonka and the Chocolate Factory (Director: Mel Stuart)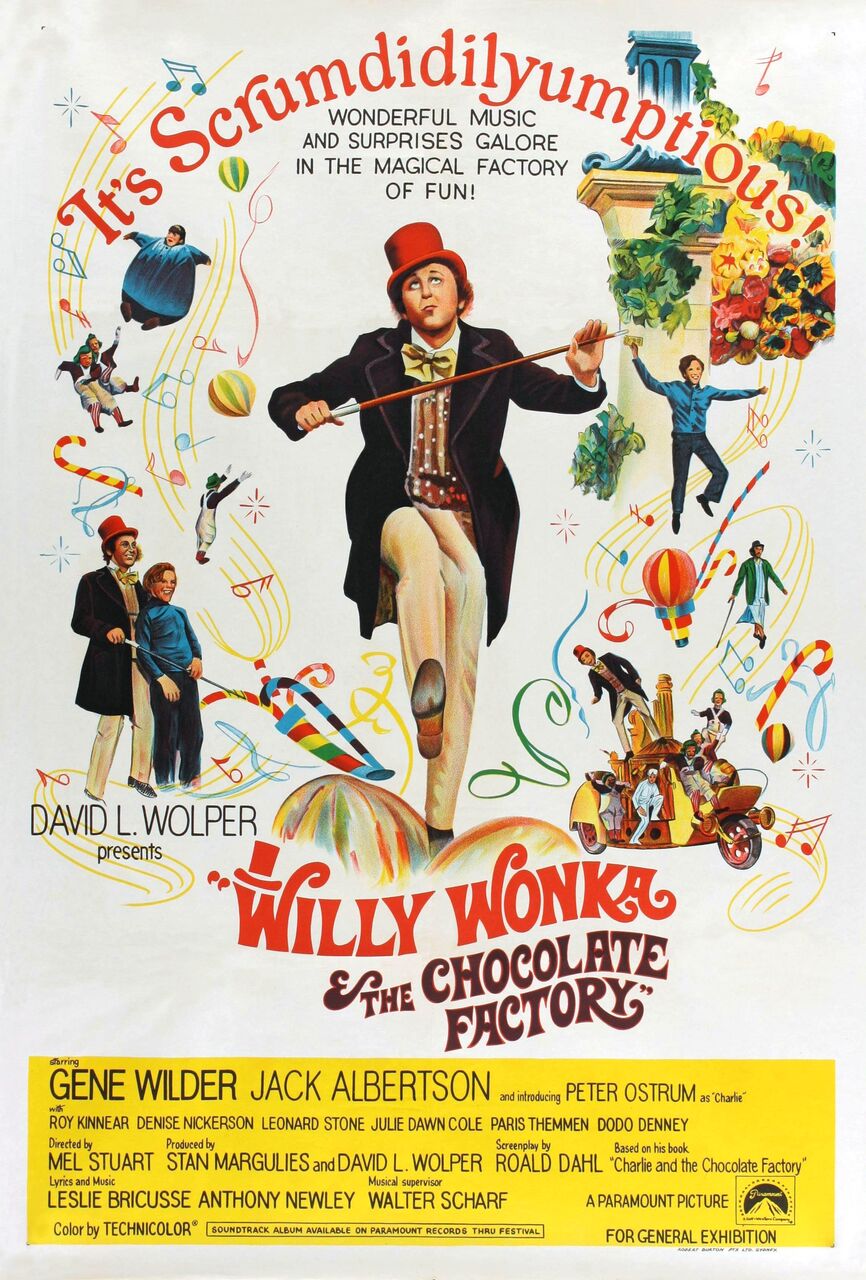 A young boy living in poverty sees all his dreams come true when he's one of five winners of the chance to visit the Chocolate factory of the mysterious Willy Wonka.
A sure sign of a good children's movie is of course one that you remember loving as a child, one that seemed magical when watching through the eyes of a youngster. A great kid's movie is one that you rewatch decades later as an adult and find a whole new appreciation for, discovering a depth and humour that went over your little head at such an innocent age.
For a kid, Willy Wonka is a magical, colourful fairytale. Charlie is a kind hearted little boy who despite living in abject poverty in a tiny house with his overworked mother and four bed ridden grandparents (oh we will come back to this), is an absolutely joyful lad. When the eccentric and reclusive Willy Wonka announces a competition to win a trip around his chocolate factory (that's been hidden from the public for years) and a lifetime's supply of chocolate, the hunt is on for the five Golden Tickets hidden in random "Wonka Bars." (I've know idea why I'm typing all this cos there ain't a batshit chance in hell you don't know this story already).
The first four tickets are won by a selection of spoiled and greedy obnoxious little shits. Just when all hope for Charlie is lost, his kindly gesture of buying his Grandpa Joe (oh and we're coming back to this fucker) a Wonka bar with money he found down a drain pays off when he unwraps it to discover the last Golden Ticket. It's a wonderful payoff, as Charlie slowly opens the wrapping and is almost half way through when a mere glimpse of the corner is revealed, accompanied by a magical sounding little whistle.
The film expects a lot of children's patience as we're over 40 minutes (of a 100 minute film), before we get to meet the mysterious Mr Wonka and get to explore his family. And it's one of the great entrances in movie history, as a morose Gene Wilder limps with a cane towards the factory gates before falling into a forward roll and a big smile erupting on this face.
As a kid you're in awe of Wonka thanks to the incredible performance of Gene Wilder finding a perfect tone in his restrained eccentricity, an obvious genius with a childlike love for the fun things in life. His clownish behavior with the bratty kids and annoying parents delights you as a child and makes you life, even when he starts to act a little spooky so you're never quite sure if he's a good guy or a bad guy.
As a kid you laugh as karma strikes at each of the brats gets their comeuppance, their various greeds backfiring on them in comical ways as one by one they are ejected from the tour. Each one of the kid's has been approached by Slugworth, a rival to Wonka, who has offered a large cash reward if one of them provides him with a experimental super bubblegum from the tour. Charlie's honesty is what wins him the day, as despite seemingly being denied the lifetime of chocolate by Wonka's pettiness, he turns down the potential of Slugworth's offer and hands back the gum. The whole adventure was a test by Wonka to find his successor and run his empire.
"Don't forget what happened to the man who suddenly got everything he wanted…. He lived happily ever after." Wonka says to Charlie to end one of the most heartwarming, feelgood stories. A funny, bright ride, full of enchanting magical musical numbers, truly a world of pure imagination.
Watch it years later through more mature sensibilities and you're shocked to recognise just how dark some of the undertones of Willy Wonka actually are. Wilder is absolutely sinister at times, clearly not giving a damn about the dangerous predicaments the kids find themselves in. When Augustus Gloop falls into the Chocolate lake after trying to drink from it, Wonka is more concerned with his chocolate being polluted than the boy drowning. When the boy is spotted trapped in one of the pipes, Wonka's eyes are electric with excitement, Wilder delivering the line "The suspense is terrible, …I hope it lasts," with an hilariously scary glee.
Throughout the film Wilder responds to the fates of the brats with sarcasm and tired disinterest ("stop, no, comeback,"), such as when the "so great she got her own musical number," Veruca Salt and her father go down a shaft for bad eggs, Wonka responds to Charlie's concerns for their well being by stating the furnace they've fallen to is only turned on every other day, so they have a "good, 50/50 chance." But the most terrifying scenes is the psychedelic, nightmare segment on the boat ride. While a wide eyed Wonka scares the kids and adult alike with a spooky song about not knowing where the ride is going, they are bombarded with an array of disturbing images, including….AN ACTUAL CHICKEN BEING BEHEADED! Yep, just watch it's there, this is what you could get away with in a "kids" film in the early 70's.
Gene Wilder may own this movie when he finally arrives, but even before then there is a lot for adults to get out of Willy Wonka up to this point. You can easily read satirical elements into the film, the obsession with the golden tickets a clear potshot at consumer culture. This lends itself to some comedy moments that go over the heads of younger viewers. School lesson plans become themed around the hunt for the Golden Tickets (where Charlie is ridiculed by his teacher for only being able to afford two Wonka bars so far), while a number of skits show have the contest is affecting regular people. A last case of Wonka bars goes up for auction, while a tearful woman who's husband has been kidnapped finds out their ransom demands are her Wonka Bar stash. Her cold response to a policeman's urging that it's her Wonka bars or her husband's life is "how long will they give me to think it over?"
The kid's themselves represent the very worst aspects of society, that was growing in the 70's and probably even worse today. Reflected in the brats along with their enabling parents, we see the greedy, the superficial, the selfish, the rude and the frivolous (to be fair, I probably wasn't that far off being Mike TV the amount of time I sat glued to the telly) and you gotta say out of control. They have everything, and as such appreciate nothing, unlike our humble Charlie.
For all ages it's a wonderful film, with a strong message about what it is to be a good person, as well as being witty and entertaining. A great mix of magic and darkness and in my mind one of the most perfect family movies there is.
But I gotta say one bitter thing, "FUCK YOU GRANDPA JOE." This arsehole spends the opening acts supposedly bed ridden with the other grand parents, while Charlie's poor mum works herself into exhaustion. Yet when Charlie gets the Golden Ticket and has to choose which guardian he wants to accompany him on the trip of a lifetime(and shame on you Charlie for not choosing your poor mum), all of a sudden Grandpa Joe can get his lazy arse out of bed and stand, walk and even dance. Funny that ain't it?
Not only that, Granpa Joe almost blows the whole thing for Charlie by encouraging him to break the rules and help themselves to an experimental fizzy drinks that almost earns them an Oompa Loompa exit song.He even encorages Charlie to sell the secret bubblegum to Slugworth, which would have automatically meant he failed Wonka's test.
So yeah up yours Granpa Joe, and that goes for the Jonny Depp and Tim Burton remake too.
Willy Wonka is must see for any kiddies.
Dirty Harry (director: Don Siegel)
When a maniac goes on a killing spree on the streets of San Francisco, it falls to one detective to stop him, providing the law will stay out of his way.
I know what you're thinking….. you're thinking "But Darren, is it really acceptable to be talking about a clearly right wing leaning movie about a violent cop, in this current social climate? Isn't that problematic?" To which I say "yes," I will talk about Dirty Harry because I'm talking about 1971 films, and it's one of my favourite movies of all time. Now in the words of Rab C Nesbit, "Go on, Git, you'll nah civilise me."
There's a common trope when looking back at a film like Dirty Harry that "you couldn't make this today," but the fact is the film was controversial and played havoc with sensibilities even on it's release. The film was labelled fascist by Roger Ebert and there were protests at the Oscars, with allegations Eastwood's Harry Callaghan glorified police brutality and justified the breaking of citizens human rights.
The easy and common way to read Dirty Harry is as a mix of right wing fantasy and rage.Yet I think the film is far more interesting and ambiguous than that. Dirty Harry is a throwback to the Sheriff of the Wild West (the Modern day Western feel is helped by Eastwood's casting, although he was far from the first choice, being behind Sinatra, McQueen, Lancaster, Mitchum and Newman), except in modern day San Francisco the rule of gun is hampered by the bureaucracy of a Liberal law system which seems to favour the rights of the criminal over the victim. Harry because he works against those rules gets the job done, apparently having shot an attempted rapist, stops a bank robbery and toys with the perpetrator (giving us probably the most repeated line from any film, yeah you know the one), and beats the hell out of a couple of muggers in a train tunnel. Even mercifully talking down a suicide jumper is resolved with a fist to the fist.
Appealing to right wing sensibilities with the no compromises, tough on crime approach Dirty Harry may be, but the film also taps in to the mistrust and unhappiness 70's society had with the institutions of authority and in particular the police. Coming after a decade of police violently coming down hard on protesters and revelations about corruption, the 70's saw a re imagining of police on the screen. Just like in the Oscar winning French Connection of the same year, there was a shift from the idealised heroism to a gritty anti hero with questionable ethics.
You can get a pleasing thrill out of the charismatic Harry taking down bad guys and his own anti authoritarian attitude to the incompetency of those in charge of San Francisco, as evident by him having no time for the authority of the Mayor ("I've been sitting on my ass, waiting on you.") But for all the wisecracking and him "getting the job done," director Don Siegal was careful to make it clear Harry is not a nice guy, he's aggressive, a bully, short tempered, reckless and his actions to Siegal at least were "repulsive."
Siegal though is at least asking the questions of where the line is of protecting the public and respecting personal rights as laid down by the law, and is brave enough to allow the audience to make up its own mind. In order to explore the issues of vigilantism, you have to have a violent vigilante cop. The key moment is in the infamous and disturbing torture scene that takes in the football stadium, the showdown between Harry and one of the most brilliant portrayals of villainy in movies, the serial killer Scorpio.
Scorpio is obviously based on the Zodiac killer who plagued San Francisco at the end of the 60's and was never caught (another reason for the public to be dissatisfied with the police system). Scorpio is played amazingly by Andrew Robinson, enduing in him an obnoxiously cruel and violent persona that makes him easy to hate and the performance is all the more impressive that Robinson was himself a pacifist and was uncomfortable to be working with guns. Scorpio holds the city to ransom, killing civilians as a sniper and threatening more until his demands are met.
Scorpio is loathsome, a clear sociopath with racist, homophobic and women hating tendencies. His victims include a young woman swimming, a young black boy and an attempt on a black gay man and later kidnaps a bus full of schoolchildren. He's also cowardly and whinny, hiding behind the law when it suits him and you really could quite happily just throttle the bastard, especially when he dementedly starts demanding the school bus kids sing Row Row Row your boat. After his sniper spree, he escalates by kidnapping a teenage girl and claiming to have buried her alive and will let her die if his ransom demands are not met. It's later revealed he had already raped and killed her.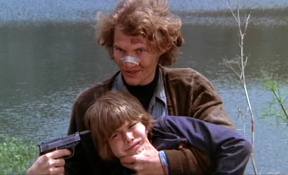 Scorpio finally gets his when Harry tracks him down to a football stadium, shoots him in the leg and in an amazing and chilling scene tries to get the location of the girl from him. There's a blurry, dream like quality to the scene, with Eastwood face a frightening visage of rage, his eyes wild with hatred. This is a Callaghan far removed from the cool, distanced and not taking things personal cop that broke up the bank heist. The difference here that has brought him to this point is his concern for the girl, his anger for what Scorpio has done. While he growls "Where's the girl?" Scorpio is begging and whining for his rights to be read which by the system he's entitled to. Here is the moment of the big question of morality the audience is faced with, the life of the innocent teenager or the rights of the uncooperative murderer and rapist.
When Eastwood's eyes fixate on the leg wound, with Scorpio obnoxiously reading his own rights, you know that from the law and moral point of view what he is about to do is wrong, but can you justify him not doing it and condemning the girl? Callaghan repeatedly stands on Scorpio's bullet wound (a segment which I've seen noticed heavily edited even on late night showings on regular tv), and as Scorpio howls in agony the camera spookily pulls back all the way out of the stadium, as if sparing the audience the unsavoury torture. It's an admittedly extreme scenario, but in presenting the very worst of two opposing sides, the criminal and the law, it doesn't deny you the comfort of an easy moral answer.
The tragedy is that it's all for naught. The girl is discovered already dead, and the sombre way the camera watches a solitary Callaghan overseeing the recovery of the body conveys his regret in being unable to save her. To add insult to injury, Callaghan's actions outside the law means any evidence obtained is useless and Scorpio walks free, with Harry the one facing the condemnation of the justice system.
The conflict of Harry and Scorpio which has uncanny similarities to that other iconic long running rivalry, Batman and the Joker (a brooding anti hero and a maniacal, laughing, weasly sociopath) is also a contrast of masculinity. Scorpio is pathetically weak and is a opposite of Callaghan's heroic manliness, which increasingly lacked a place in modern society. Scorpio's unkempt appearance resembles the hippy culture that lasted longer in the San Francisco area (and had taken a hit on it's peace and love message thanks to Charles Manson), and is symbolic of a new world philosophy that Callaghan doesn't understand. There's a comedy moment that actual highlights this, with Callaghan during a stakeout spying a naked hippy girl and bemused when a couple call on her and she stands naked seemingly meeting one of them for the first time.
Throughout the film we see examples of the demasculinity of society that is making Harry a dinosaur obsolete. As well as the suicide jumper unable to cope with life, another of Harry's spying briefly focuses on a wife berating her cowering husband. Even in the police force we see Harry surrounded by pen pushers and politicians as his superiors, who are constantly avoiding responsibility and happy to pass on the dirty jobs to him while disapproving his methods. Harry and his veteran colleague DiGiorgio are old school tough cops, and it seems their like have had their day, as the new generation of cop is represented by the rookie, educated college boy Chico Gonzalez. Chico incidentally is the rarity of being Harry's partner that actually survives the film, wisely quitting the police to be with his wife, the life of a cop not for a family man (Harry we learn is a widower). At the end, after bringing down Scorpio Harry throws his badge into a lake, mirroring the left wing leaning High Noon, though in this case it's Harry rejecting the world that no longer wants his type, even if it needs him to police those like him.
Dirty Harry is a great atmospheric thriller, the score is haunting and fabulous and the overhead shots overlooking the city of San Francisco are breathtaking. It has a gritty palete and aesthetic, that even though very 70's feels timeless. While some may baulk at what is perceived to be the politic tone, Dirty Harry is guilty satisfying in places. Be honest when watching this film, can you really say that in the scene where Scorpio pays a masochist to beat him up (so he can frame Callaghan, which the media is keen to take at face value), you're not happy to see his head snapping back and forth from the blows?
One last thing, if you were kidnapped on a bus and saw a figure on a bridge coming to your rescue who would you prefer? Right wing Clint Eastwood or left wing Michael Moore?
Get Carter (Director: Mike Hodges)
A london based gangster returns to his home city on Newcastle to investigate the death of his brother. Something the local crime underworld is less than happy about.
Hollywood may think they have the monopoly on game changing gangster flicks such as Godfather and Goodfellas, but us Brits have always held our own when it came to getting it's own murky underworld on the big screen. There's always been a fascination with home grown gangsters in the UK, thanks in part to the celebrity status of the Kray Twins (who had been jailed just a couple of years earlier) and one year before the Godfather was released, our very own gangster epic arrived, with Michael Caine in Get Carter.
British drama films have always slanted to the more down to earth realism, and the tone of Get Carter certainly is in keeping with this. While there was a charm, levity and romanticism in Hollywood's gangster offerings, the criminals appearing in Get Carter are dull thugs, there is little to like about them even the myth of the honour and loyalty amongst thieves is missing from the make up. Jack Carter himself while played with massive intensity and presence by Michael Caine has deliberately little to like about him.
Based on the pulp novel "Jack's Return Home," by Ted Lewis, the film sees London gangster Jack Carter returning to his home city of Newcastle to attend his brother's funeral, unconvinced that his death due to drunk driving was an accident. His presence is unwelcome by both the local gangsters and his bosses back in London who fear his investigations may cause problems between the firms. Carter discoveries his brother found himself a pawn in a powerplay in a gang rivalry, which resulted in his young daughter being coerced into appearing in a hardcore porn film.
Get Carter has a blunt tone to it, never letting you forget that this world Jack exists in is unpleasant. The only glimpse of any glamour is at the start of the film where Carter attends a meeting with his employers the Fletchers, as they all sleazily watch pornographic photos on a projector. Carter while in Newcastle stays in a pokey bedsit, it's all massively grim and seedy, a true underworld.
Jack himself is an unsavory character. We're rooting for him as he's going for revenge for his murdered brother and abused niece, yet righteous as his cause may be this time, there is a sense his normal work for the Fletchers is anything but honourable. Jack shows little loyalty, as he is having an affair with his bosses girlfriend played by Britt Ekland (in one of the most unsettling scenes he's shown talking dirty to her over the phone, while his landlady listens deadeyed in a rocking chair). There is also a hint that Jack was sleeping with his brother's wife and that his niece may in reality be his daughter.
Carter is cold, mostly dispassionate (the one time we see genuine emotion is a tear running down his face when he discovers the reel of the porn movie and sees his niece, possible daughter involved in it) and he's perfectly summed up by the film's most famous line. When confronted with a local overweight businessman (played to the humour of many by Bryan Mosely, most famous on UK telly screens as Coronation Street's Alf Roberts), Carter tries to talk him down with the warning, "You're a big man, but you're in bad shape. For me, it's a full time job. Now behave yourself." Carter is all business, his violence professional and geared to get the job done in the quickest way.
Carter's revenge spree is brutal and unpleasant. He hits women just as easily as men to get information from them and when he discovers that two women were involved in the porno with his niece, he abducts both to include them in his vengeance. One woman ends up in the boot of his car and pushed into a river, the other injected with poison and left for dead.
Get Carter is a ballsy movie, totally uncompromising in it's depiction on the ugliness of men in a violent world. It also has a distinctly British identity, having refrained from bowing to studio MGM to bring in American actors such as Telly Savalas. It's a true British treasure, and it's shinning jewel is the performance of Caine.
Caine just steals every moment he's on the screen (which is practically the entire film), his quiet presence is commanding and threatening, with an authentic feel that the actor claims came because he knew such figures growing up. It was a departure at the time, as Caine was more used to playing either upper class gentlemen or charming scoundrels. Here he's a real villain and seemingly relishing every moment.
For anyone interested in gangster films, or British cinema, Get Carter is must see viewing for anyone who wants to see the very best of both of them.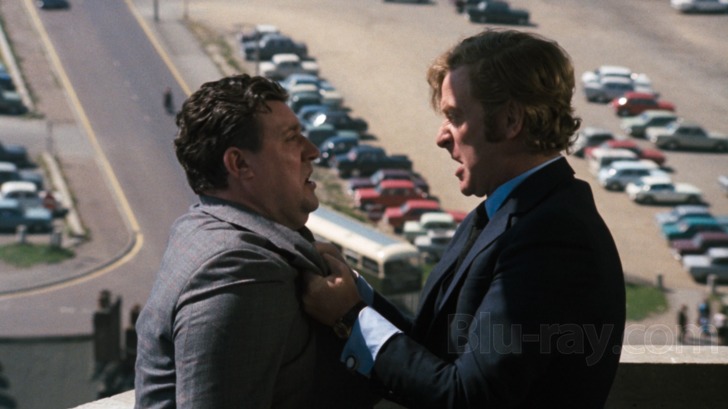 WTF? Bond's a bit Creepy
Sometime in the mid 80's (I can't pinpoint the actual year), ITV began airing the entire James Bond series in order, one film every Sunday evening. As a James Bond fan this was great, as finally I could watch all of them as a saga and catch the ones I'[d missed, as opposed to seeing them randomly drop at Christmas or on Bank Holiday Mondays (the traditional James Bond spot).
Everything was going well, as I settled in every Sunday with my mum and dad, working through the Sean Connery era. We had a bit of a bump when we got to George Lazenby in On Her Majesty's Secret Service, but I knew my James Bond History and knew Connery would be back in the next film in all his glory and all would be right with 007 again.
Except when he returned, there was something a bit creepy and icky about him. Sure he was starting to get on a bit, but he seemed to be going all hairy before our eyes, his eyebrows seeming to go all bushy. Perhaps that's where the hair on his head was going? While Bond was getting older, his Bond girls weren't and him getting it on with a young lass Plenty O'Tool was a bit off putting.
It wasn't just Bond who seemed tired and worn down. Gone were the exotic locations with a plot that stayed heavily in America (although that Las Vegas looked a fun place, may be nice to visit there when I was a grown up). The villains had also lost their flamboyance, having been used to Bond fighting ninjas, henchmen with robotic arms and killer bowler hats and armies of heavies, I had to settle for Bond mixing it up with mobsters in cheesy pin stripped suits. Yeah there were a couple of hitmen, but their seemed to be something a bit odd about Mr Wint and Mr Kidd I couldn't quite put my finger on.
Even Blofeld didn't seem quite right, suddenly having managed to grow hair and seeming a little foppish as opposed to the mysterious menace in the previous films. Also no one seemed to be mentioning that Blofeld had killed Bond's wife on there wedding day, although years later I would use this as evidence of my multiple Bond theory. (Ad if you haven't read that, click on the link below, I'm quite proud of it).
Connery himself wasn't going to let a dead wife get in the way of him sleeping around. His latest Bond girl Tiffany Case (is that a sexy name?) certainly didn't seem as classy as his previous companions, although I've gotta admit I was at an age I was starting to appreciate the appeal of a tarty lady. As for poor Plenty O'Toole, was I supposed to laugh when she was thrown out a hotel window in just her knickers, landing in a pool that the gangsters didn't know was there?
Even as a youngster, the plot seemed a bit weird, with Blofeld securing all the diamonds he could in order to build a lazer cannon in space. Then when he blackmailed the rest of the world he set up his base on an oil rig, which seemed a really difficult place to defend, from say, attack from a squad of helecopters?
As for the moon buggy chase, well……
I guess what I'm trying to say is, this was the first James Bond film I couldn't get into. Maybe that bloke from the Saint would be better?
Stay safe and be kind. Because you never know.
Dazza.