There are many things that suck about being English (living five thousand miles away from Las Vegas for a start) but nothing demonstrates it in such an ugly manner as when England are in a football tournament. I'm not even going to try to express in any articulate manner the frustration I feel when I see these imbecile yobs, clad in England colours, rioting and causing havoc bringing shame and embarrassment on our country.
I did for a few stupid seconds consider writing a full on piece trying to explain this ridiculous phenomena that blights our nation and ruins what should be several weeks of fun, excitement, flag waving, banter, filling in wall charts and long term planning at work where you pretend to hate football so you can ring in sick on match days and think your boss is going to buy it.
But why waste my time when I can break it down as simple as this. If your idea of enjoying  yourself (or in hooligan speak "Havin a rite laff!!!) is to deliberately attack other people and cause actual harm or to destroy property and smash up hard working businesses such as cafes, bars and restaurants all in some weird sense of showing your national pride….then you are simply a thick headed, psychopathic, obnoxious wanker. You are no good to society and I wish death upon you because I truly believe the world would be a better place without you. You and your dim witted, good for nothing brethren are ruining life for the rest of us.
In short FUCK OFF, you are a scumbag and a waste of resources.
Now I'm not asking for everyone to be a mild mannered saint when watching football. I love the passion and the boisterous nature of football rivalry. When I attend a local derby such as when my beloved Barnsley play one of the Sheffield clubs (especially that lot from United) I love the intoxicating rush that comes from the screaming at the rival end, mocking them when we score and the aggressive, tribal banter that takes over for ninety minutes. But do I want actual violence to erupt? No.
The passion of Football can act as satisfying cathartic release of aggression.  I remember very vividly Alan Shearer seemingly having scored a late winner in one of the most emotional matches ever against Argentina in the 1998 World Cup (the goal was disallowed) and the lady next to me jump out of her seat and screamed at the television screen "TAKE THAT YOU FUCKING ARGIE BARGIE BASTARDS!!!" 
But any other time my mum is a really gentle person.
My point is you can create a loud, drunkenly, boisterous atmosphere without having to hit anyone, throw anything, smash up anything or make things bad in any way for other people.  But sadly the fact is some people in this world are plain nasty and enjoy brazenly hurting others for their own enjoyment.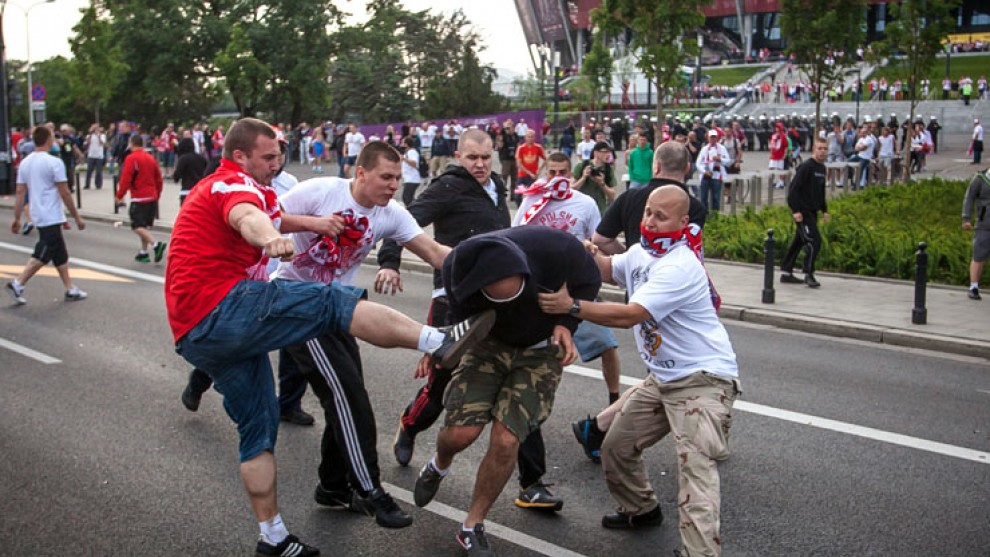 Now I have a solution to all this, yes I do.
You see if people are actually fucking dumb enough to want to engage in violence against each other for no real reason I say let them. Seriously, let them fuck each other up. My problem with hooliganism is that it causes trouble for innocent people and communities caught up in the violence and disrupts what should be great occasions.
Which is why I'm suggesting we build:
OFFICIAL FIGHT ZONES!
Yes, hear me out here. We take an unused, deserted area of say a square mile conveniently located far away from any towns or cities or actual decent fans. Fence it off, fill it with all the things these morons like such as beer, fast food, copies of tabloid newspapers, pictures of naked ladies, dvds of Rocky IV,  scatter lots of heavy weapons around and designate it as a free for all fight zone.
That way any of these idiots who want to "have it out" with rival supporters have a place to go without any decent fans or innocent bystanders getting caught up in the chaos or local businesses having their livelihoods threatened.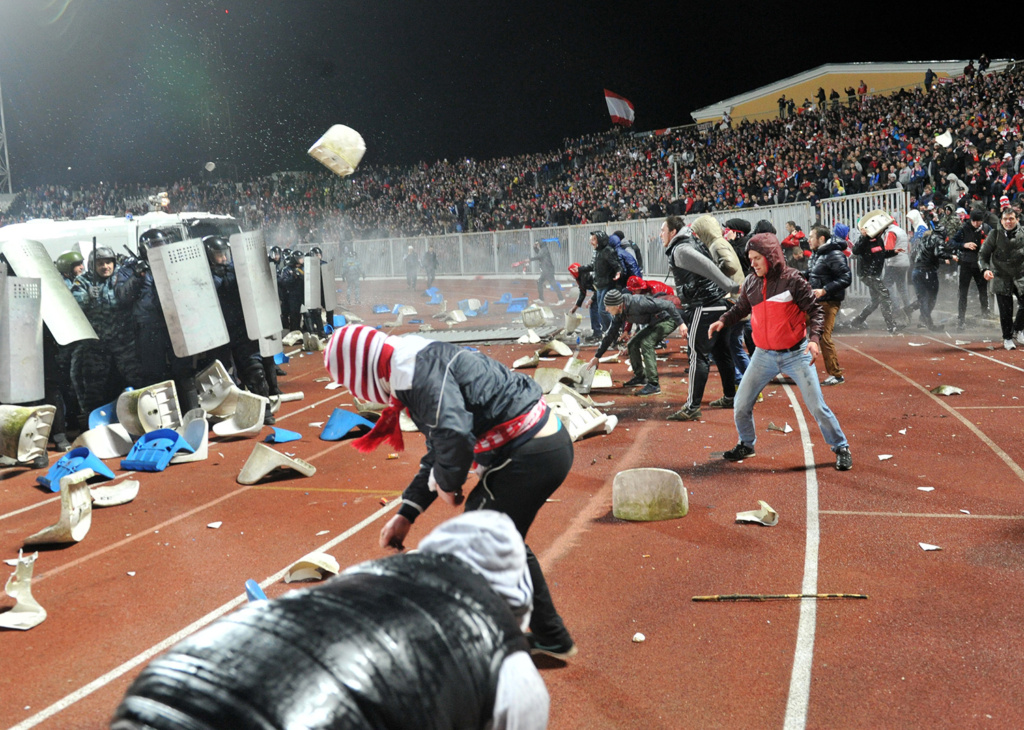 Russian fans want to show how they're "top dog" against all the hooligan "firms" from around the world? Let em prove it in the fight zone. England and German fans want to have a ruck in a recreation of the two world wars? Let em in the fight zone. Anyone who really wants to have a fight, just let these neanderthals in the fight zone!
We can even film it and have it on PPV, give all the money to charities that promote tolerance and respect between different cultures. Sure some of those entering the fightzone will be hurt, maybe even killed. Come on though will it really be that much of a loss?
Now there is a problem that while hooligans may brag that they are "up for it!" when it comes to battling rival fans a fair few are actually quite cowardly and prefer to cause trouble within the safety of a mob and actually run like hell when presented with a fair fight scenario with like minded thugs.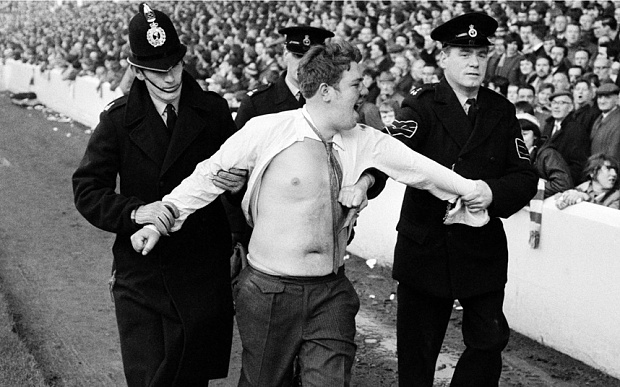 No matter, we create a law that anyone caught causing trouble has to go into the fightzone for the remainder of the tournament. Throw bottles at police? You're going in the fightzone. Ambush unsuspecting fans who are simply just in town to take in the thrill of the tournament and enjoy the local hospitality? You're going in the fightzone? Write hooligan books bragging about how you and your mates Grazza, Biglad, Ginner and Smashmonkey like to cause a riot "cos we're ard and all that!"? You too are going in the fightzone.
In short you cause trouble and act like a wanker you're going to  take your chances in the fightzone and prove how "hard" you actually are.
"But Dazza, aren't you actually encouraging more violence with all this?"
Yep, but it's all going to take place in the fightzone and the only people hurt are going to be dumbfucks who have by their very actions volunteered for this kind of lifestyle. Look at it this way, they get to freely engage in the violence that they so obviously want while the rest of us get to enjoy our football tournaments without the worry of whether travelling fans behave  and to being able to attend the matches without the fear of getting a glass bottle over the head for wearing a football shirt in the wrong bar.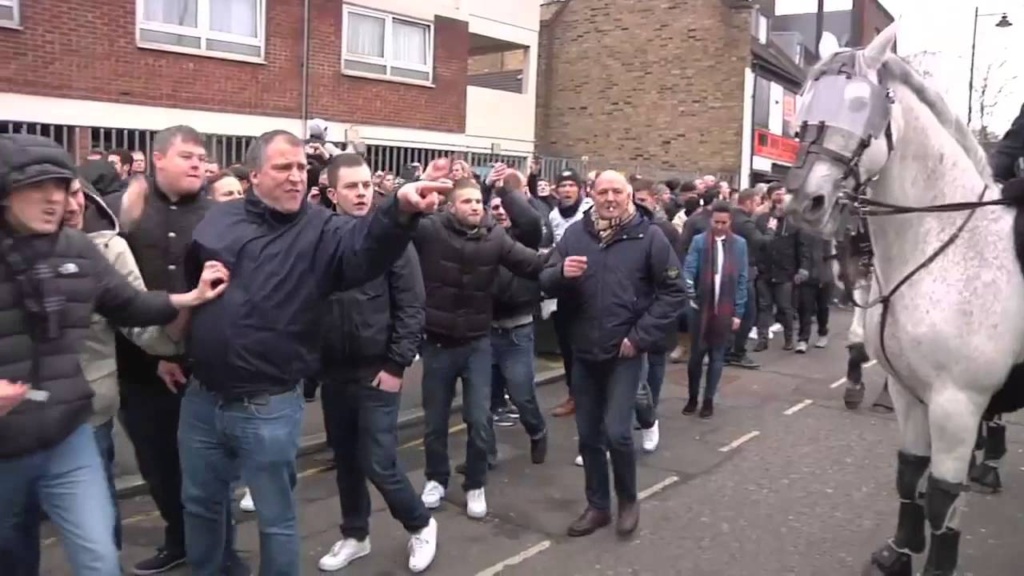 It's a win all around. The only thing us English fans then have to worry about is  having to put up with Scotland's celebrations while we cry our eyes out after enough exit on penalties.
By the way, I'm not joking about this….seriously I'm not joking.
Enjoy the matches.
Dazza
One last thing, you suit wearing fucks that stayed in your seats while a pregnant woman had to stand on the Sheffield Tram a few months back you lot are going in the fightzone too.