2020 interfered with all the things we loved to do. I personally went from seeing over 110 movies at the cinema in both 2018 and 2019 to 38 in the five months of 2020 that my local cineworld was open. Yet I realise and respect that a lot of people lost a whole lot more vital things throughout the year.
What I will say, is that films were never more vital to me in 2020. Despite the loss of so many blockbusters, thanks to the wonders of the many streaming channels out there I more than got my fill of movies during lockdown. Whether it be rewatching old favourites, being surprised by little known gems or sitting down to films originally intended for cinema release, movies provided me with the distraction I needed from what was going on real life.
Which meant that narrowing down my annual top eleven movies of the year (other people's lists go up to ten, mine is one louder), has not proved any easier. Not being able to fit in splendid films such as Invisible Man, 1917 and Why Don't You Just Die was as surprising as infuriating. Watching a certain Pixar animated movie on Boxing day further threw my draft list into chaos, meaning Spike Lee's wonderful Da Five Bloods lost it's deserved spot. Therefore at the end of my offical eleven you'll find a wall of all the movies I enjoyed in 2020.
Finally, just a reminder, this isn't a list of what I think are the "best" movies of 2020, but instead are my favourites. I hope you'll find them to be a diverse bunch, but the one thing they have in common is provoked an emotional response from me of some sort. Enjoy, or don't.
This list is based on movies that were released in the UK either in cinemas or streaming in 2020.
11. Eurovision (Director: David Dobkin)
Critics may deride Eurovision for it's ridiculously cheesy spectacle and preposterously over the top songs, while fans like me love it for the same reasons. It's the later group that Will Ferrell has aimed this film at, having falling in love with the competition while watching with his Swedish wife in 1999, a year that Sweden won.
Eurovision: The Story of Fire Saga strikes the right balance of being both a tribute and a parody of the competition, following a young singer obsessed with his dream of competing in Eurovision, while everyone else in his small fishing town (along with some of the organisers) think it's a massive joke. While often I find Ferrell's characters annoying and a little creepy, I found him oddly endearing as Lars Erickssong and really bought into his relationship with Sigirt played by Rachel McAdams. I found myself rooting both for the duo to prove the doubters wrong on stage as well as finally get together.
Critics were generally bemused and slaughtered the film, but I genuinely found it funny (Ferrell clashing with a group of young American backpackers was hilarious as was Graham Norton playing his catty Eurovision commentating self), and the spontaneous, colourful Eurovision marathon mid film was wonderfully ridiculous and so in spirit with the competition.
10. Soul (Director: Pete Doctor)
Yet again Pixar proves it's not afraid to present a mature story with existential themes, treating all of it's audiences with intelligence regardless of their age. In Soul, Joe Gardener is a music teacher who's never been able to fulfil his dream of being a professional Jazz musician. After an accident his soul ends up in the afterlife, but not ready to move flees to a realm where new souls are being readied for their journey to Earth and finds himself trying to inspire a soul that is resisting taking the leap and starting her actual life.
It sounds a very complicated premise (certainly I've struggled to describe it in one paragraph), but the film builds the rules of this world and how the souls are created so incredibly well that it's high concept surprisingly easy to grasp and a lot of fun is had doing so. Just like Inside Out, there is an emotional and positive core in Soul, with two characters on a journey of growth to recognise what is important in life.
Soul has the comedy and cuteness to appeal to youngsters with the depth and occasional satire to keep adults engaged. There are life lessons for all, with a joy for the good things in life that I found heartwarming and moving.
9. Uncut Gems (Director: Josh and Benny Safdie)
Imagine someone reading an Elmore Leonard novel to you, at double the regular speed, screaming the words into your ear and shoving the pages into your face again and again for over two hours. That's the tortuously unrelaxing experience of watching Uncut Gems, a modern day noir following Adam Sandler in serious acting mode as Jewel dealer Harold Ratner who's schemes and gambling have got him in debt and way over his head.
The tone of Uncut Gems abuses your senses, the framing of scenes and frantic dialogue exchanges keep you wracked with a relentless state of tension and that's even before Ratner's life starts to spiral out of control. Pursued by vicious debt collectors, Ratner bets his survival on retrieving a rare diamond he's smuggled into the country, but along the way makes risks and choices that has you grasping your already aching, tension ridden head.
Uncut Gems is not an easy watch, maybe not even enjoyable, but it's an unforgettable experience. For an adrenaline drenched ride no film in 2020 really came close.
8. Host (Director: Rob Savage)
My Halloween night horror movie choice was perfect, because no other film captured the reality of most of our social lives during lockdown that the Shudder original Host. It also scared the fucking shit out of me more than anything else in 2020.
Host essentially allows the viewer to watch a Zoom call between a bunch of friends, separated by lockdown who partake in a online seance for one of their birthdays. Like all zoom calls they make jokes, complain about lockdown, bicker and argue and bitch about people behind their backs. Cast with unknowns makes the concept realistic and relatable, which makes the film all the more terrifying when *spoilers* the seance backfires and something evil is released.
Host builds the tension beautifully, as creepy little WTF? incidents draw authentic stunned reactions from the zoomers and the intensity grows into violent intrusions with horrifying results. The film isn't limited by being confined on a zoom call, instead it allows the story to creatively explore all the technology and turn it into scares. One scene that uses filters especially sent a chill through me, at a time that my heart was already racing.
If ever a film gave hope for the future of movies this is the one, as it shows the creatively of film makers who can and will turn any circumstances into a story.
7. Trial of the Chicago Seven (Director: Aaron Sorkin)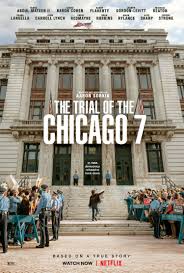 A film that was a decade and a half in the making and landed in a year that couldn't be more culturally apt, The Trial of the Chicago Seven is a star studded and entertaining retelling of the politicized legal case brought against seven protestors at the 1968 Democratic convention.
It's an impressively multi layered story, featuring the many different backgrounds and personalities that made up the protest movement and the conflicts which arose amongst them because of it. It also goes into the politics and agendas that went on behind the scenes in bringing the case to trial and into orchestrating the result. To emphasis the cynical manipulation involved, two of the quieter members accused are bemused at why they have been accused, only to be told by the others that their role is to be the token two that are found innocent to give the impression of a balanced trial.
The performances are great across the board, with Sascha Baron Coben revelling in player the charismatic Abbie Hoffman while Frank Langella steals the film as the loathsomely biased judge. A more hateful villainous figure you will struggle to find in 2020, never more so than when he orders Bobby Searle (leader of the Black Panthers and the eight defendent) to sit bound and gagged, a truly chilling moment.
Some have questioned the liberties taken with the story, which is nothing new in dramatising real events. Personally, with the exception of leaving out William Kunstler's real, inspiring closing speech I couldn't bring myself to worry about the dramatic license the film successfully striking an angry tone and admiration for the rebels on trial.
6. Bombshell (Director: Jay Roach)
More entertainingly dramatization that featured a timely social commentary came in Bombshell which delved into the sexism and harassment that went on behind the scenes of news channels, in particular Fox News. It's another film that relied on a star studded and on form cast, winning academy award nominations for Charlize Theron and Margot Robbie. The latter providing one of the most uncomfortable and distressing scenes on a screen in 2020.
Bombshell has the "The Big Short" style of fourth wall breaking narrative which I am admittedly a real sucker for. I was on board right from the opening where Charlize Theron as Megyn Kelly (and looking so much like her it's as if they cast Kelly as herself), gives a tour of the everyday workings of Fox news, building to her clash with then Presidential candidate that infamously led to Trump claiming she was on her period. Against this climate the film goes into the historical harassment suffered by the women of Fox news at the hands of it's Chief Roger Ailes.
As a Brit who finds the American network style of reporting alien, I've always found the existence of Fox News repugnant but incredibly fascinating (Fox News used to air over here on the Sky Network), so I was totally ready for this film and ready to be angry. Yet I was astonished at just how vile the goings on were and that were covered up by a pact of silence and looking away. The scary thing is, some same the film didn't go fat enough in the treatment some received.
It's a uncomfortable movie at many times, but also essential for anyone wanting to understand how women are presented in delivering the news.
5. Portrait of a Lady on Fire (Director: Céline Sciamma)
I cry a lot at movies for a multitude of reasons (and if you say that costs me "man points" fuck you, my other interests involve watching fighters beating each other to a pulp in a cage) but in 2020 only one film really got the cinema dust playing havoc with my eyes.
Portrait of a Lady on Fire is a tragic love story, a young artist Marianne is commissioned to paint a portrait of a difficult young woman in order to attract the attention of a wealthy suitor. In spending time together for Marianne to capture Heloise at her most beautiful the two fall in love, with the tragedy being that the artist's work will ultimately lead to her loved one being successfully driven into the arms of a man.
This film is beautiful. From the lush depictions of the remote island where much of the film is set, to the sensual and erotically loving chemistry between the two women, it's just a stunning work of art.
4. The Vast of Night (Director: Andrew Patterson)
The splendid 1916 may have just sat outside my top 11, but another film made impressive use of long tracking shots on a a budget of less than a million and deserves to be seen by a lot more people.
Set in a small town in 1950's New Mexico, The Vast of Night has a simple, nostalgic Twilight Zone feel, following two friends, a telephone switchboard operator and a Radio DJ who stumble across something weird that may be happening in their town on the night of a big Basketball game. Discovering a mysterious signal over the telephone and radio waves, the two follow a trail around town that increasingly points to something off worldly descending on the town.
With two likeable characters and a spooky mystery tone, The Vast of Night is a pleasing and easy watch which I found reminiscent of the early days of the X-Files.
3. Parasite (Director: Bong Joon-Ho)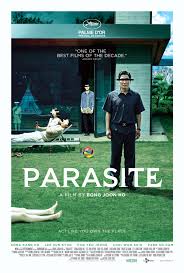 There's a moment midway through Parasite where a storm breaks out. In the rich suburbs a family sit in their living room, relaxing as they watch the rain poring down in a romantic, blissful scene. Meanwhile those who live down in the poorer parts of the city have to contend with the floods that the storm brings, as their homes are wrecked and they flee for their lives. It's this sort of contrast between the lives of the rich and poor that runs throughout the film, making it's commentary on the class system utterly compelling and tragic.
The buzz for Parasite was something I don't remember ever seeing for a non English language film, driving it all the way to winning the Oscar for best picture and much to the chagrin of one Donald Trump. It's hype was much deserved, as Parasite rises above the arthouse implications of it being a South Korean film with a funny and very accessible storyline.
In Parasite a poor family the "Kims" manage to scheme and con their way into getting jobs working for in the home of a wealthy family. Once in the Kims attempt to discreetly exploit the family to make their lives more comfortable, only for the story to take several twists that take the film at times into the realms of horror.
The less you know about Parasite going into the first viewing the better, as away from the twists and surprises part of the fun is reading into the metaphors and the themes of class struggle and social injustice.
A stunning and essential film for so many reasons.
Note: Parasite was not released in the UK until early 2020.
2. Birds of Prey (Director: Cathy Yan)
I rarely talk about Box Office when discussing the worth of a movie, but I will forever be bemused to the point of violence that Harley Quinn and the Birds of Prey didn't rake it in at the level of say the massively inferior DC film Aquaman. Yes, as a Harley Quinn fan I'm obviously biased but this film was an absolute delight for me. A wild blast of a ride from start to finish, that made me fall in love with Harley all over again.
Aside from the fast paced, tight storyline, the great and crazy action scenes, cracking soundtrack and zany humour, what I really love about this film is how damn colourful this film is. Take Harley's terminator style assault on the police station, it's a glitter heavy rampage that is like being shot in the eyeballs with multi coloured candy floss and it's bloody great because of it.
Margot Robbie was the standout in Suicide Squad in her first run as Harley and here she clearly made the character her own and appears to be enjoying herself doing it. Mary Elizabeth Winstead and Jurnee Smollett-Bell as Huntress and Mockingbird are great support, while Ewan McGregor makes a delightfully camp but vicious and unstable villain.
Utterly cartoony, rebelliously anarchistic, Harley Quinn went all out to bring the real, colourful craziness of the character to the screen and and it's a crying shame that audiences didn't respond. Then again Bumblee was the lowest performing Transformers movie. Shame on you fucking fuckers!
The 800 (Director: Guan Hu)
If you were having blockbuster withdrawals this year after all those Hollywood movies were cancelled, then right here was the film that may have satisfied your urges for big epic battles. Chances are you haven't even heard of The 800, but by being the number one box office film in it's native China it by defacto became the surprise number one grossing movie of 2020.
Set in Shaghai during the Japanese invasion of China (during the time of World War II), the 800 features a division of retreating troops who make a last desperate stand in a warehouse against waves of Japanese attacks. The siege takes place just across the river from a demilitarized zone controlled by Europeans, where the citizens carry on a normal and relatively flamboyant life as they watch the drama unfold.
The 800 is a spectacular war movie, with the vicious elements of Saving Private Ryan and the humanity of survival seen in Dunkirk. There are vast, awe inspiring visuals, with the makers going all out with panoramic views of the city and the action in order to justify being the first Chinese film to be shot in Imax. The battle scenes run the gauntlet of warfare, ranging from close combat skirmishes , heavy artillery barrages, sniper duels and aerial combat.
There is at times the feeling that you're watching a nationalist propaganda piece, but that's a criticism you can level at the majority of war movies. What I took from The 800 was the spectacle of the Cinema that I had missed so much due to this bloody, cruel virus. I was fortunate to see it in a cinema and on a massive screen that with only three other people spread out amongst the close to a thousand seats.
Seeing an exciting, epic of a movie in comfort and safely away from anyone else allowed me to relax and once again slip into the joy of being at the cinema. For that two and a half hours it felt like I had my something of my normal life back again.
While those were my top films, I enjoyed so many more this year and below is my wall of 2020 films that in some way brought a smile to my face. It's not quite the movie list I would have expected to post at the start of the year but it's proof to me of what I always say, great films are in abundance if you take the time to look.
Dazza's Wall of Honourable Mentions