The Olympics!
No one really knows who started the Olympics or how or where the first games occurred but it was probably Yorkshire in England. Whoever it was in those Neolithic days, it's unlikely they could have foreseen how the games would shape human history. For example Jessie Owen's Gold Medal victories in the Berlin Olympics in 1936 led directly to World War II, a conflict so devastating that in terms of the number of causalities  it almost rivals the death rate amongst  WWF wrestlers from the 80's.
To celebrate the 2016 games I decided to watch every single Olympics of the television era from beginning to end and by utilising a complicated mathematical formula and an excel spreadsheet I have complied a list of the greatest moments in Olympic history. Because you can't argue with maths…or me for that matter.
The 1992 Barcelona opening ceremony, Bow and arrow and the Olympics flame.
There are two strict Olympic traditions. One is the carriage of the Olympic flame on foot in the form of a relay from Greece to the Olympic Cauldron at the commencement of the games, during this journey the flame most be kept lit at all times. The other tradition is the opening ceremony must be batshit crazy with hundreds of dancers, fireworks, giant robots, rocket packs and Jessie J's arse been employed in the past to get the Olympics off and running.
In 1992 Barcelona combined both traditions in spectacular fashion. As the final runner brought the flame into the stadium it was taken to archer Antonio Rebollo and used to ignite his arrow. Rebollo proceeded to aim the flaming arrow up high at the cauldron that towered over the stadium and no doubt caused everyone sat in that side of the arena to go "What the Fuck?" and run for cover. Rebollo majestically fired the arrow into the air and it landed smack in the middle of the cauldron lighting it up with a spectacular explosion of flames.
Well, not quite. Some strategic camera positioning from Spanish TV hid the fact that the arrow had been deliberately fired over the target and out of the arena. And while organisers claim the flame of the arrow had in fact lit the flame by igniting gas from the cauldron thus keeping the stunt in with  integrity of the Olympic flame tradition,  video footage suggests someone just flicked a switch as it passed.
So what became of the arrow? Well it landed outside the arena amongst a pile of oil drums next to a school with disastrous results.
Canada brings cheating to the games.
Canada the source of all that is evil in the world went wild with celebrations when their own Ben Johnson strode easily across the line first in the 1988 100m final in Seoul. Then the drug tests came back and showed Johnson had failed for Stanozolol and Canadians pointed out that he was actually originally from Jamaica.
Johnson's Coach Charlie Francis defended his athelete and said it was an outrageous accusation that Johnson was using Stanozolo to cheat and no way could have failed for the drug because it was actually Furazabol Johnson was cheating with. He really said this.
In any case Johnson was disqualified and wholesome Carl Lewis  was awarded the Gold for God, America, apple pie and puppies everywhere and the honour of the race restored.
The Punchline is that Gold medal winner Lewis had also a failed test in the Olympic trials but this was covered up my The US Olympic Committee when they accepted his excuse of taking a tainted herbal supplement. Silver medal winner Linford Christie also failed a test for the race but won a spilt decision amongst the judges to keep his medal when his excuse that he'd drunk tainted Herbal tea was accepted.
In fact amongst the eight runners only two never failed a drugs test in their careers, Bronze medalist Calvin Smith and fifth placed Robson Da Silva.
Both Smith and Da Silva were later banned from athletics as it was deemed they ain't trying.
Skulduggery with those damn Russians 
Drug taking has been rampant in Olympic history and it's probably one of the ways athletes can justify to themselves what amounts to blatant cheating. But how the hell Ukrainian (representing the Soviet Union) Pentathlete Boris Onischenko could ever justify his actions in the Montreal Olympics in 1976 is simply beyond comprehension.
The shenanigans came to play in the fencing section of the competition (with the Russian team facing the British) where Boris seemed to be on fire scoring victories over his British opponents. However onlookers started to get suspicious that something weird was going on as the scoring equipment was lighting up to signal a point scoring hit for Boris even though he sometimes seemed to actually miss. The Brits demanded his fencing equipment be inspected thinking that a techincal fault may be to blame, but something far more insidious was at play.
Hidden in the handle of his sword was an intricate device with a switch so that whenever Boris pressed it fooled the scoreboard to registering a hit for him, effectively a remote control. (Note from Mike: HOLY SHIT, THIS IS SOME WORLD CLASS CHEATING!)
Naturally he was disqualified and sent home in disgrace and while you can't forgive such blatant cheating I can't help but admire the extreme gall of the guy to pull a stunt like this.
Boris ended up making a living as a taxi driver, so if you take a ride from here keep an eye on that fare counter.
Beach Volley Ball introduced as a sport at 1996 Atlanta games
Nuff said.
Oh and before all you ladies start commenting about how sexist I am please tell me you don't look at some like Linford Christie running and don't check out his meat and two veg in that tight spandax!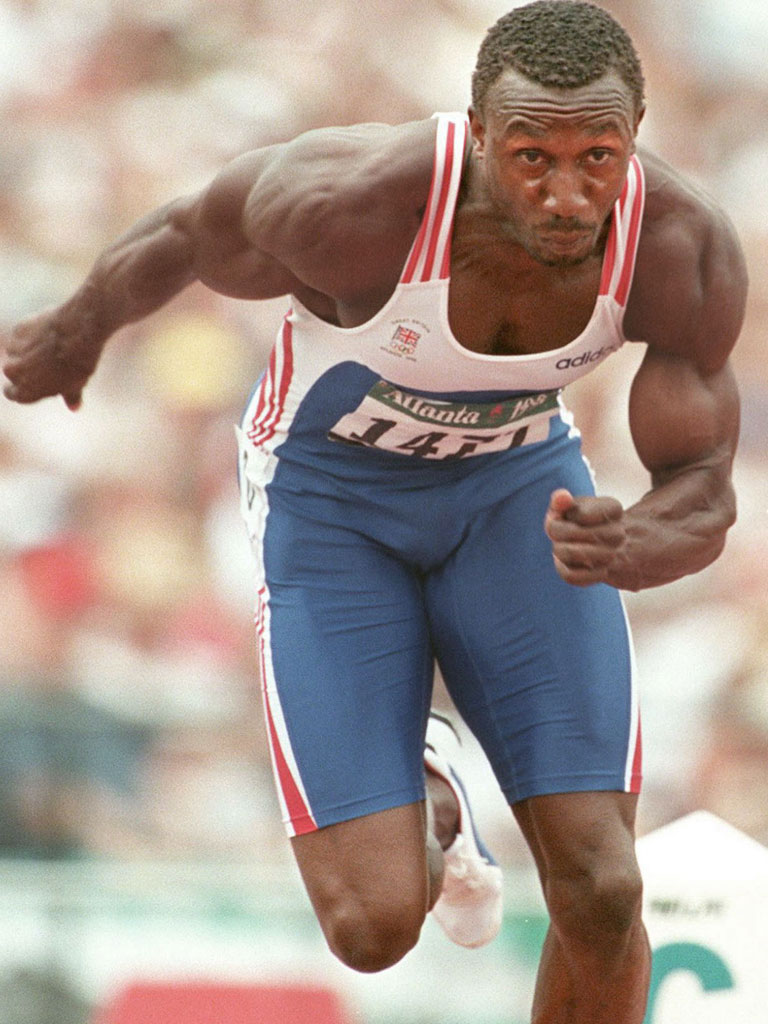 Linford shoots too early…twice
Speaking of tainted tea drinking Linford Christie he would forever destroy the myth of the polite Englishman by his actions in the 1996 Atlanta games. In defending his 100m Olympic title Christie was too quick off the mark with a false start on the first time of asking. When the same thing happened again (this time by the narrowest of margins) Christie was promptly disqualified which did not sit well with him and he started to argue with officials and refused to leave the track. Eventually a ranting Linford allowed himself to be led away, but refused to leave completely as ordered and with a "don't you know who I am?, I'm a celebrity with a massive sponsorship deal" type of attitude pushed past officials and declared he was going to stay and watch the race.
After the delayed race had finished (with some runners claiming their concentration had been affected by Christie's protests) Christie in a debatable act of arrogance came out and ran down the track, waving to the crowd and hugged winner Donovan Bailey which stole some of the attention away from Bailey's crowning moment.
Opinion is divided on Christie's actions here, though frankly I think he came across as a pre-madonna and a bit of a twat.
Zola Budd trips up Mary Decker and mouse eating aliens take over the UK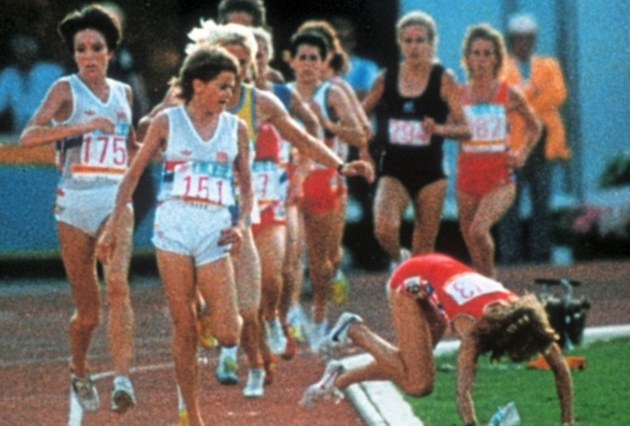 In the UK you had a choice in the Summer of 1984. You could either stay up late to watch the Olympics on the BBC with their exclusive coverage. Or you could stay up and watch the rival ITV's genius acquisition "V" the first two mini series of which ran back to back nights over five days. Not surprisingly "V" with it's holocaust inspired alien invasion resistance storyline, gruesome live animal eating scenes and lax alien security which meant sneaking aboard the mothership could be done by jumping on a shuttle as it took off and jumping off when it landed won me over as an 11 year old.
That Olympics was heavy in controversy thanks in no small part to my the actions of my  country. South Africa's Zola Budd was a talented long distance runner in the 80's although she also demonstrated a spectacular long jump over the line of people queuing for British Citzenship in 1984 the year of the Los Angeles Olympics.
At the time a boycott on South African sports due to the apartheid regime prevented Budd from participation in Olympic competition. If only there was a country who didn't give a shit about morality and was willing to fast track a citizenry request if it meant a chance to get a medal at the Olympics.
Enter the United Kingdom.
Thanks to a Daily Mail campaign (which included £100,000 and a house for the Budd family in exchange for the story) and a lot of hand ringing and debate in Margaret Thatcher's cabinet Budd got her passport in ten days, a process that normally takes a person who can't run 5000 metres in 15 minutes a couple of years.
And so the big showdown was on with Budd and America's golden girl world champion Mary Decker (who was actually an idol of Zola's) in what had become a hotly anticipated 3000 metres final. It was proving to be a great race too with Decker taking the lead early until Budd edged into the front on the fourth lap and the race between the two became tight with Wendy Sly (who before Budd was Britain's number one and no doubt with something to prove to the upstart) and Maricia Puicia (actually the race favourite) staying up with them in a four that had broken away from the pack.
Then the shit hit the fan.
It all happened on the last straight of the fourth lap. Budd began to cut onto the inside was not far enough in front of Decker, there was brief clash and Budd tried again this time with a tangle of legs that sent Decker crashing to the ground so close to Budd she ended up pulling her number 27 off her back.
American audiences were horrified while those Brits that had stayed up into the early hours and weren't actually watching "V" were laughing their arses off at the American who rather than get up and wait for Budd to come around again and smack her one stayed down and cried her eyes out. Decker proceeded to pout and bawl her eyes out for the rest of the Olympics, even having her husband carry her around at the press conference milking the sympathy for all it was worth. Back in the race Budd faded, her heart gone and slipping down the field into seventh place with Puicia winning Gold but hardly anyone seemed to notice as TV screens were full of Budd looking solem, Decker yelling her head off and Diana the hot alien leader eating a guinea pig.
Budd had some success for the UK in cross country competitions, but by the time of the next Olympics Budd was South African again and when the boycott on the country was lifted was finally able to represent her home country in 1992. She failed to qualify for the final.
Mary Decker eventually stopped crying and beat Budd in a rematch in a race in England in 1985. She never won an Olympic medal.
The aliens of V were driven from Earth by the combined forces of Michael Ironside, the Beastmaster and Freddy Kruger with the help of Red Dust.
Til Next time
Dazza