"I'm not going to take my coat off I'm not stopping" (it's a UK thing). Seriously I've not got much time to do this, probably not even going to bother spell checking this one, totally going Gonzo here.
I know that Coughlin does his awesome live coverage, and he knows his shit and has actually competed (got a Sherdog record and everything) so he knows all the technical stuff and knows what they're doing right and wrong. So why do I need to do a recap of yet another fun Invicta card?
Well it's kinda a cathartic thing, giving closure and paying tribute to the sheer enjoyment I had at 5am last Sunday. Because yes the sun had risen and I was still watching MMA, which is how dedicated  a fan I am. Anyway who needs sleep.
Also there is a certain knowledge that I can bring. For example when Colleen Schneider came wearing a Star Trek next Generation themed outfit I recognised the uniform as that of a captain (the four pips on the collar see) and so all those going "oh she's wearing red, on Star Trek those guys always get killed" were referencing the original series and getting it totally wrong…God I hate myself sometimes.
Anyway Schneider didn't come away with the belt but she did survive (cos she's not a redshirt she's a captain) the whole five rounds which against Tonya Evinger these days is no mean feat, especially after a devastating first round where the champ looked close to finishing her. Tonya was not happy with her performance, despite the unanimous and one sided scorecard reflecting a dominant performance over her toughest Invicta opponent to date.
Tonya wasn't done with the entertainment though and yelled how she was going for "moment of the year" and kissed interviewer Laura Sanko right on the lips. Twitter responded as if she'd hit and run a pregnant women with allegations of Tonya being inappropriate and some overacting even further with truly ridiculous displays of white knighting. Fortunately Sanko was quick to respond by pointing out it was all a bit of a laugh and perhaps we should all move on with our lives.
As Tonya's amazing Invicta story continued Angela Hill began to cement her own by winning her third fight this year and becoming Queen of the always exciting Straw weight division by taking a split decision over Livia Renata Souza. It was a gripping encounter with Hill outclassing Souza standing but having to defend and escape some close submission attempts. Hill looked overjoyed and obviously enjoying the vindication her new career path has brought about.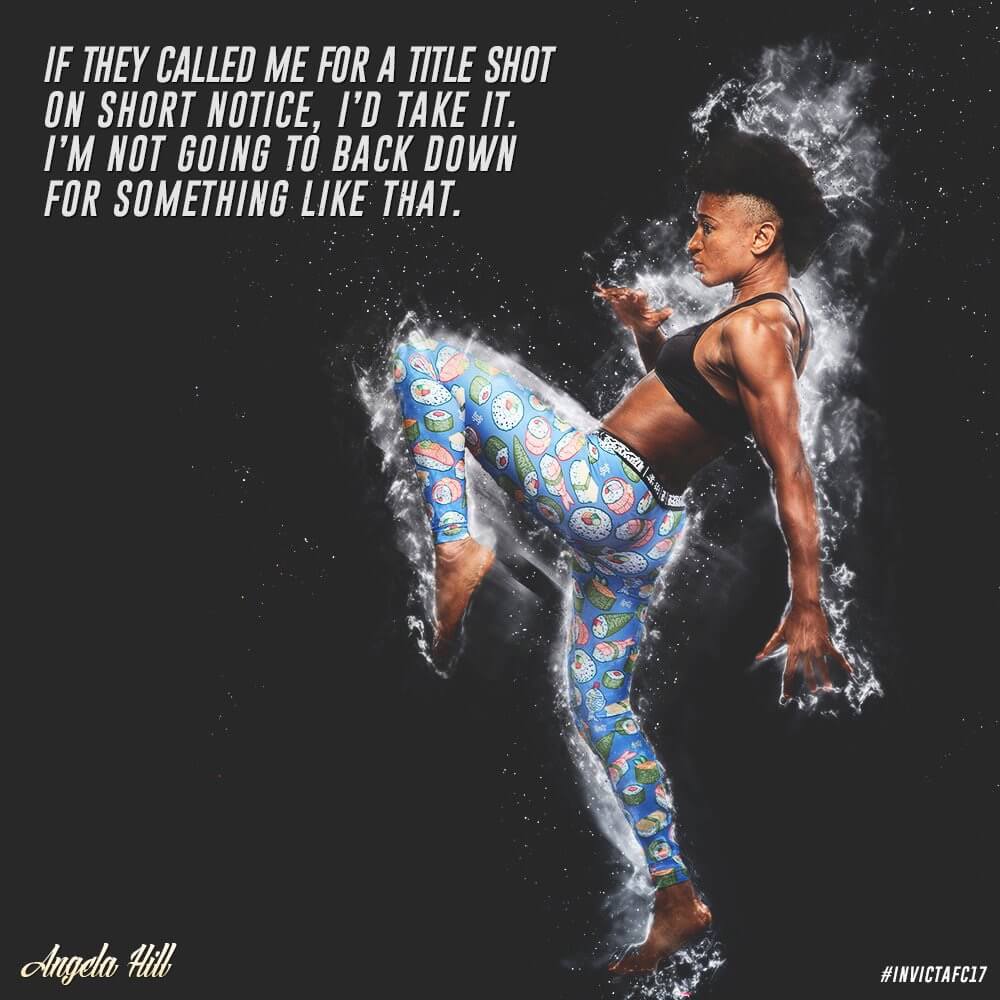 The featherweight division may by in flux at the moment with Champion Cyborg making her UFC debut this week (though with little chance of that dream fight with Ronda happening anytime soon, I suspect we won't see her in a UFC cage outside of Brazil), but Saturday saw a potential big match fall into Invicta's lap with two stunning performances in that division.
First up Megan Anderson got her hand raised after a five minute war with the hard hitting Amanda Bell. Bell was put down in the opening moments but weathered a heavy storm from Anderson to deliver a shot  that snapped back the head of the Australian and proceeding to take her to the ground and having her back. Despite taking some heavy shots, Megan defended against the choke and made it back to her feet where her reach made the difference during an exchange that stopped Bell right at the end of a blistering and exciting round.
Another Featherweight Charmaine Tweet was taking some heavy damage in her own fight with Latoya Walker. With her boxing background she seemed to be be in command of the standup war, until Tweet thought "fuck this!" and unleashed a furious spinning backfist that was a thing of pure beauty and smashed Walker to the ground and two more punches on the ground, gave her a first round victory.  We're going to be seeing that blow a lot on Invicta broadcasts this year trust me.
With two great performances on one night to follow up on you would think the logical next match up would be Tweet vs Anderson, perhaps in a title eliminator.
Kaline Medeiros was a late addition to this card but she sure made an impression. With her startlingly eye catching, badass blue mohawk she slammed and pounded the hell out of the unfortunate Aline Serio  with punches and elbows to get a second round stoppage. She proceeded to celebrate with an awesome little dance routine and hopefully cemented her own Invicta status. Perhaps a fight with Mizuki who she replaced on this card could be on the horizon.
Christine Stanley is awesome for many reasons. She came to the weigh ins dressed in the garb of the Warriors, a classic 1979 movie which you should really watch. Then she came out to her fight with the theme of Game of Thrones which again you should watch unless you get offended by beheadings, boobs and brothers and sisters getting it on. Then to top it all off she went all Brienne of Tarthe on Shannon Sinn for three rounds with heavy impact shots and delivered with a cocky, flamboyant swagger that would do a Diaz proud. After the fight she came across as a great, charismatic talker and pretty much ticked all the boxes (nerd culture references, exciting fighting style, no fucks attitude) that won me over as a fan.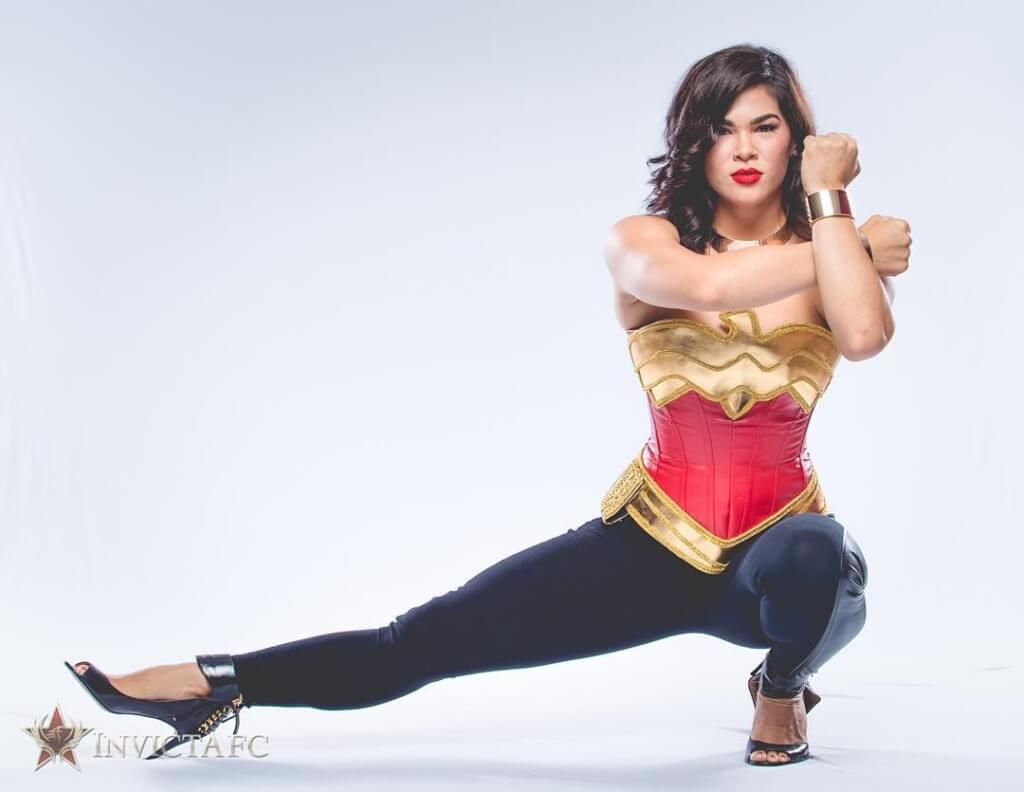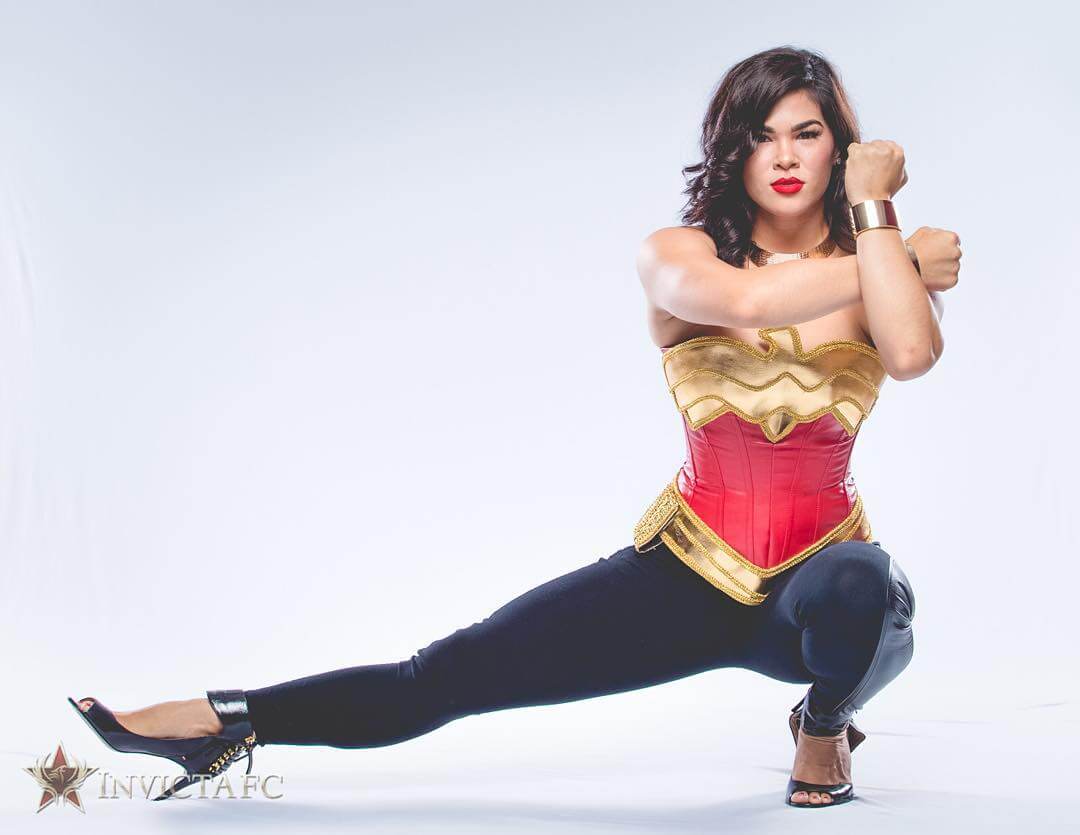 Match of the night  went to  a well deserved Rachel Ostovich spilt decision win over Aeril Beck. This was a great back and forth match, with Ostovich in her traditional wonder woman attire  hurt in the first round and seemingly in trouble stemming from a body shot and having to survive some tough punches. Ostovich was taking more damage from elbows on the ground in the second but fought her way back to her feet and then took Beck down, unleashing her own assault that turned the tide with submission attempts on her neck and arm. Beck had Ostovich floored in the third and had her hurt with a barrage of punches. However Wonder Woman began to come back with some hard shots of her own and with a minute and half left of the fight took Beck down and this time unleashed some punches which busted her open, transitioning into a guilloteen attempt. The last ten seconds were a mad scramble between the two to end a tough and very entertaining fight.
Kicking off this fun card was a tasty little match with Laura Howarth getting a split decision against Alexa Conners which not a lot of people agreed with.
So where do we go from Invicta 17? Well Invicta 18 obviously you idiot. And while there is no venue or date announched as of yet the plan is for July in the greatest city in the world Las Vegas…..Vegas, lovely Vegas.
Til the next show,
Dazza