It's 5AM in the UK Sunday morning and I'm still awake. Even the porn channels have called it quits. Not me, I've been watching Invicta 14 and I've stayed riveted for the whole four hours. Normally if I've stayed up watching MMA or wrestling (or that one time when I stayed up hoping George Bush Jr. would lose the election) I've started to flag long before now, but not this time, I've not had to fight against sleep once, this show has entertained me from start to finish.
I was actually nervous when the show started at 1am (I also almost had a meltdown when I couldn't find the show on my Roku as UFC for some reason moved it from the live events section on fightpass), because I'd publicly expressed my utter, unashamed excitement for this card in an article for Halfguarded.com last week and proceeded to harass most of the Invicta roster with it. I was afraid the card may suck, crushing my enthusiasm for the promotion that has won my heart.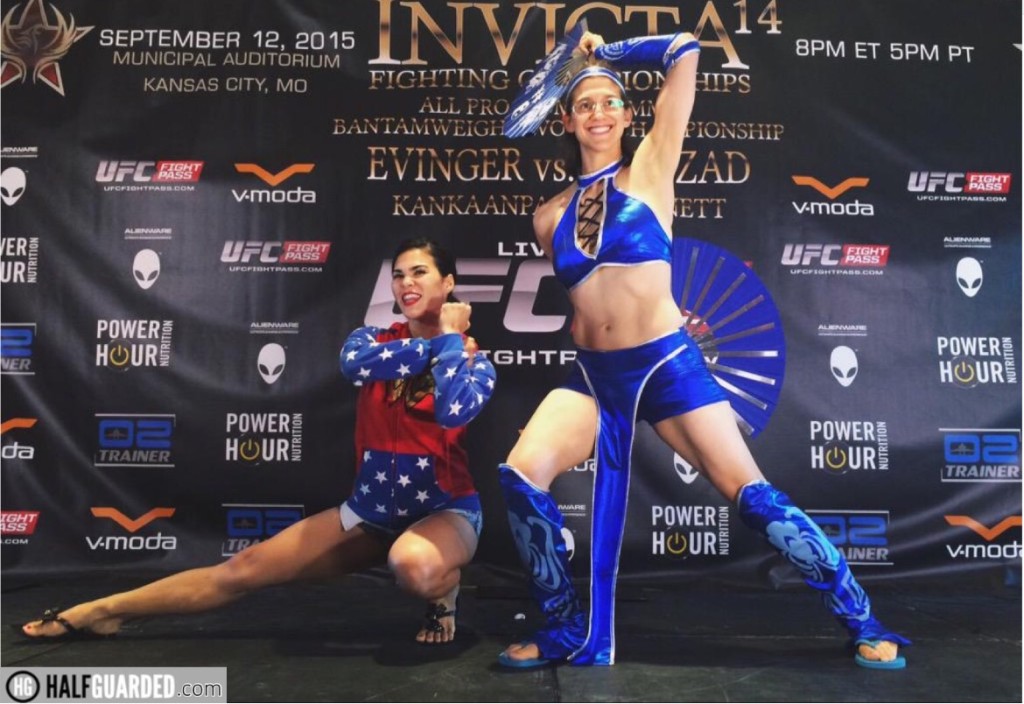 I shouldn't have worried the card was great. A showcase of all the things I love about Invicta, great fights, fabulous outfits (Rosa Acevado's cat singlet made me want to cry fuck you Reebok once again), a varied array of entrance music that I want as a playlist on my ipod (Frozen goddamit) and at it's heart a roster of some of the most beautiful women both on the inside and out displaying an astonishing passion for the let's not deny it dangerous sport they are competing in.
I'm not attempting to do an in depth breakdown here as Mr Coughlin did an outstanding and hilarious Invicta 14 recap himself that kicked the arse of all the other by the numbers, straight laced, dry coverage you'll find elsewhere that have all the personality of Matt Hughes reading you the Old Testament. Incidentally more fool those sites and podcasts that didn't bother to cover or discuss the show. No doubt when Cyborg fights on the next show there will be those weaselling their way back to yawn induce us with talk of whether she's going to fight Rousey and yawn what business will it do yawn, yawn, yawn.
Invicta feels beyond all that, There's a purity about the shows that is just fun and from the moment that Julie Kedzie proclaimed that we were here for "Good Violence" I felt I was watching a show that the makers of were enjoying just as much as I was.
And Good Violence is certainly what we got in the first three matches with Felicia Spencer, Aspen Ladd and JJ Aldrich all winning their fights with some brutal finishes. Seriously there was some real damage done here.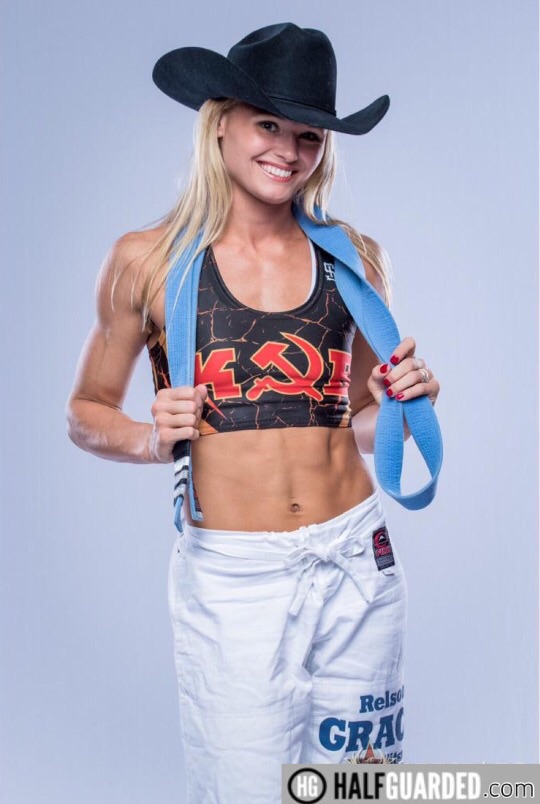 Then we had an absolute stand up clinic with Jinh Yu Frey winning by decision over Liz Mccarthy. Followed by the fight of the night in a blistering war between Sharon Jacobson and Jamie Moyle. This was the sort of hard-hitting, fast and fun fight that every Invicta card seems to have with Sharon Jacobson getting the decision and also creating the spectacular visual of a skirt that spun around every time she throw a spinning kick or punch. Once again fuck you Reebok.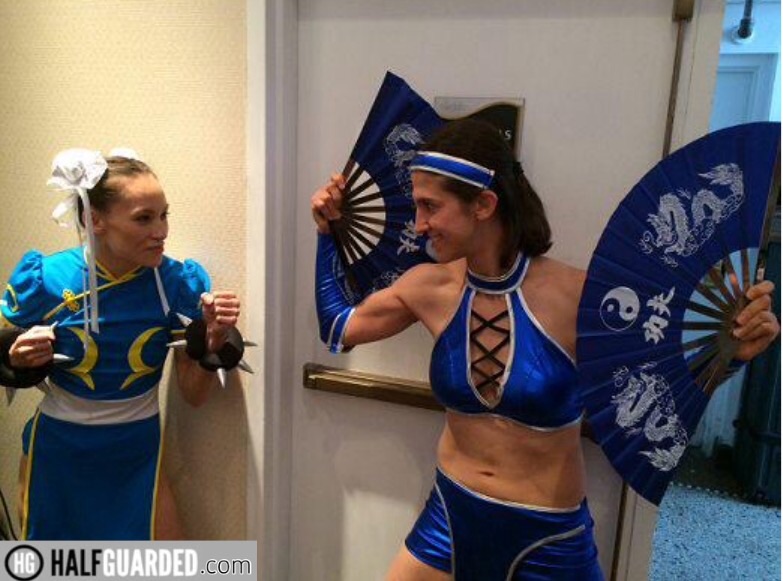 Then it was heartbreak time for me as the object of my latest MMA crush Megan Anderson fell to defeat by submission in the second round. I'm really starting to think I have a fetish for tattooed, Australian MMA fighters, especially when there is a bit of comic culture in there with Megan wearing a Captain America symbol on her gear. As I cried into my 3AM cup of tea, I took solace that her surprise conqueror Cindy Dandois came across as a genuinely nice and really cool person. She said how she wanted to inspire young girls and boys to not give up on their dreams and how lovely is that? The answer is "very". Dandois won with a submission and naturally carrying on with the Frozen gimmick Julie Kedzie and about 5000 people on twitter all went "Let it Go!"
Then came the fight I was really nervous about because I was hoping for such good things as Wonder Woman (Rachel Ostovich) fought a Cowgirl (Andrea Lee). Fortunately it delivered. Andrea looked an absolute killer with a relentless display of stiff strikes and delivering some brutal, damaging kicks to Ostovich's stomach that several times seemed to almost bring and end to the Red, White and Blue princess. Yet Ostovich battled through the onslaught and landed some funky shots of her own with spinning kicks and Superwoman punches. It was an entertaining fight that came to an end two seconds before the final bell when a bloodied Ostovich submitted to an armbar. With her looks and exciting fight style Andrea will have some attention from UFC I'm sure.
Along came everyone's favourite bundle of joy Roxanne Modafferi, a woman so sweet she didn't even seem to mind when this clumsy Englishman ambushed her for a photo at the UFC expo several years ago. The happy warrior made everyone happy by dominating Mariana Morais, with a relentless display of takedowns and ground and pound. There was an "oh shit" moment in round three when Morais seemed to have a guillotine locked in but Roxy wasn't to be denied and in keeping with the Mortal Kombat theme she'd adopted at the weigh ins she did in fact "FINISH HER!" Roxanne wants a fight with Barb Honchak for the title, and let's face it who doesn't want to see that happen. Sometimes with hard work, good things happened to good people.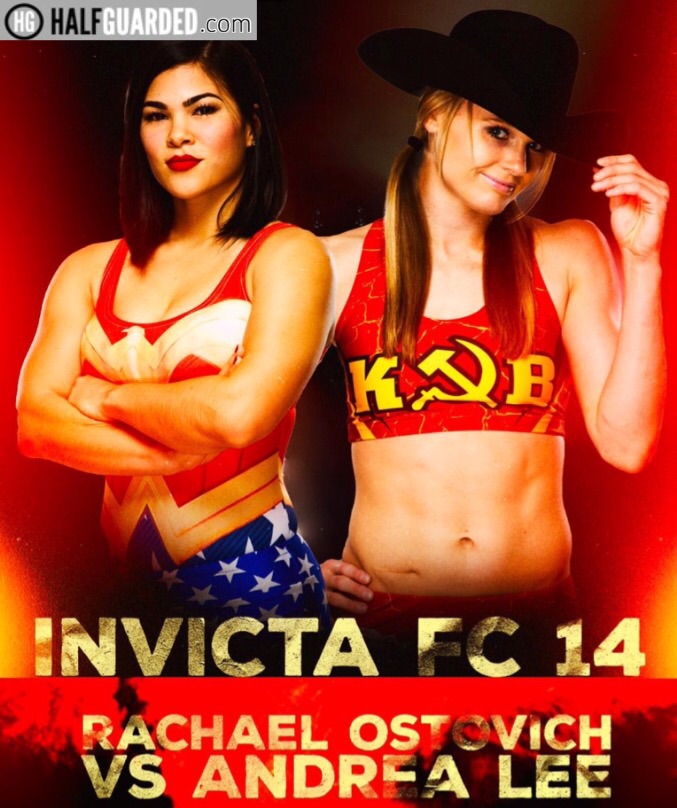 Remember how I said I wasn't going to run down the whole card? Yeah I know.
Semi main was Deanna Bennett and Killer Bunny (and A key damaging) Katja Kankaanpaa. This shows how sometimes it's more enjoyable not to be an expert on something (like the time someone tried to convince me I didn't really like Pour Some Sugar on Me by explaining how rhythms in songs work or some shit, yeah but it's great to sing along to when pissed), as I enjoyed some of the wrestling and exchanges that was going on. However Coughlin who actually knows shit from shinola when it comes to wrestling and jiu-Jitsu could tell that the techniques being shown were actually quite horrible. In any case Deanna got a controversial decision which even she seemed disappointed with and her traditional mauling of the lovely Laura Sanko was half hearted. In a completely honest interview she spoke of having the worst build to a fight ever and talked of some sort of dispute  that her coach had with her gym, Deanna promised she was standing by her coach.
Then came the main event and an absolute display of kicking the shit out of someone just for the hell of it. There was no title on the line as Pannie Kianzad failed to make weight as did champ Tonya Evinger who made It the second time around otherwise the title would have been forfeit.
It didn't make much difference in the end as Tonya just took down Kianzad at will and absolutely pounded one of the worst James Bond films out of her (and certainly the worst Bond themes and incidentally I have plans for a kick ass James Bond article to coincide with the release of Spectre).
Evinger won in the second round after which she cut an interview that was Stone Cold in everything except without a few tossed in beers for her to drink. Meanwhile at ringside Miesha Tate did a bit of shit stirring by suggesting Cyborg fight Tonya in a catchweight contest.
I was only intending to do a quick piece to wrap up my thoughts on Invicta 14 but 1200 words later I'm still here.
You see Invicta inspires me and I wanted to pay tribute to the good times that this company has given me and I'm sure will do again in November when another rising star Alexa Grasso gets her title shot at Renata Souza. Invicta 15 you can't come fast enough for me.
Until then I just want to say something to Shannon Knapp, Julie Kedzie, the whole Invicta team and every single lady that has ever fought on an Invicta show.
It's a simple message but it's a truly heart felt one…
Thank you
Dazza