As the festivities for the main event of Invicta 22 got underway you could sense that big fight vibe in the air. The Invicta crowd responded to the entrances of Tonya Evinger and Kana Yunitskaya louder than ever before and with more bipartisan reactions than usual. Yunitskaya was booed as the invader who dared to keep calling herself the champion, Tonya was cheered by the faithful who regard her as one of their own, face of Invicta.
Coming off the controversy around the first no contest between Tonya Evinger and Kana Yunitskaya, there were so many questions to be answered and it did not disapoint, being one of the most dramatic matches in the company's history.
Weirdly the fight was almost a reenactment of how the first fight would have gone without referee blunders. It began just like the first fight, Tonya taking Yunitskaya down immediately and with the Russian catching Tonya in first a guillotine and then an armbar that had fans going "no way, not again." But Tonya popped out of these and wild scrambles ensured with the champion raining punches down as the challenger went for submission after submission, at one point both were going for ankle locks.
It was tense, edge of the seat stuff and Tonya's superior wrestling and patience paid off in the second round as she worked her way into getting the Russian's back and pulled back with the most satisfying of rear naked chokes forcing the choke from the pretender to the throne. In doing so Tonya silenced the doubters and got her revenge for Invicta 20, as well settling the score for Apollo Creed, the Wolverines in Red Dawn, Steve Guttenberg in The Day After, Bucky Barnes, Laika the Spacedog, the 1972 USA Olympic Basketball team, Goose in Topgun and everything that happens for the next four years in America.
With this win Tonya again cements herself as being one of the success stories of Invicta. A triumphant saga of a legend of the sport who is finally getting her dues as an icon of the sport.
Referee Mike England was wisely kept out of the main event after causing the controversy of the first fight. Instead he was placed in the second from  top fight, an interesting encounter between atomweight champion Ayaka Hamasaki and former straw weight champion Livia Renata Souza. Nothing to mess up here right?
It was an impressive first round stoppage for Souza as she caught Hamasaki with peach of a punch, sending the atomweight wilting to the floor and seemingly out. Except Mike England thought he'd give Hamasaki the benefit of the doubt and give her the chance to recover, allowing the fight to continue and let Souza proceed to ground and pound on a completely still and unresponsive fighter. Finally he woke up and accepted she was done and stopped the fight, leading to a few tense minutes as Hamasaki slowly recovered, while Souza ran round the cage like the Tasmanian devil, screaming at the crowd, the camera and anyone else watching.
Quite what Invicta has planned for the vacant Straw weight title is unclear after Angela Hill left for UFC, but on this performace Souza has to be in the mix.
Jodie Esquibel got back to winning ways by outpointing DeAnna Bennett. It was a close contest, with lots of boxing stand up and very little damage caused by either fighter. The most dramatic moments were in the first round where Deanna caught Esquibel in a deep armbar, during which Esquibel kicked out several times and caught Deanna in the head with no admonishment from the referee.
The clash between the returning Ashley Cummins (dedicating the fight as a tribute to fallen police officer and Cummins colleague Blake Snyder) and Invicta favourite Amber Brown was insanely fun for me. Ashley Cummins went after Brown as if she was chasing a perp down an alley. It was fun grappling, with submission attempt after submission attempts,  reversals, transitions and a first round where the fighters were just a tangle of limbs and in positions that resembled the greatest game of twister ever.
I'll be honest, this match was several floors above my level of technical understanding so I couldn't follow what the hell was going on at times but it was awesomely entertaining and gripping to watch. Over the three rounds Cummins was consistently the stronger and in adding this decision victory to what was another impressive win in Bellator last year she could find herself as an Atomweight contender later this year.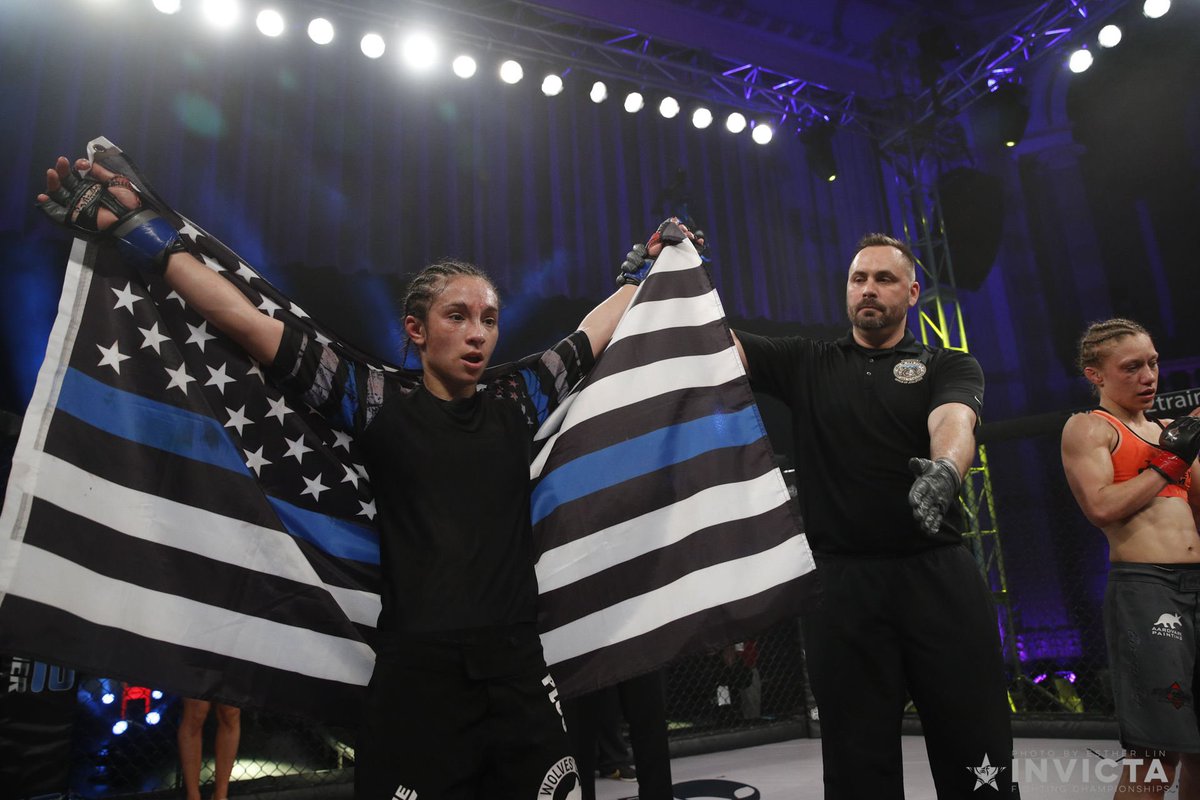 Brown has suffered three losses in a row, however she has that Dan Hardy effect in that despite this record she seems to find herself in massively entertaining wars and her fanbase shouldn't suffer because of this.
The show was kicked off with three fights that saw all the competitors coming in with 1-0 records. Each fight was massively entertaining in different ways and saw potentially future Invicta favourites emerge in each one.
Sunna Rannveig Davidsottir did Iceland and her Viking ancestors proud as she ground out a unanimous decision victory in a war against Mallory Martin. Punching, grappling, kneeing the hell out of each other, this was a violent affair with Sunna rocking Martin and having her on rubber legs in the first, only to find herself in big trouble in the second being staggered from hard shots and busted open over her left eye.
The third round was gruelling back and forth action with takedowns and heavy shots. Davidsottir came across as emotional and likeable in her post fight interview and if she continues to have exciting fights like this will go far in the future.
Another fighter than came across as down to Earth and likeable in her victory interview was the "farm strong" Miranda Maverick (greatest MMA name ever) in her first round win over Kal Holliday. Holliday (winning entrance music of the night with Top Gun's "Danger zone" theme although really it should be Miranda Maverick's music) slammed the shit out of Maverick, but as she followed up was caught in a deep armbar. Although she again hoisted Maverick up and slammed her down Holliday couldn't shake out of the hold as  Maverick twisted and tore at that arm like she needed to take it back to the farm and feed the pigs (Pigs eat anything, they'll even eat White Castle burgers).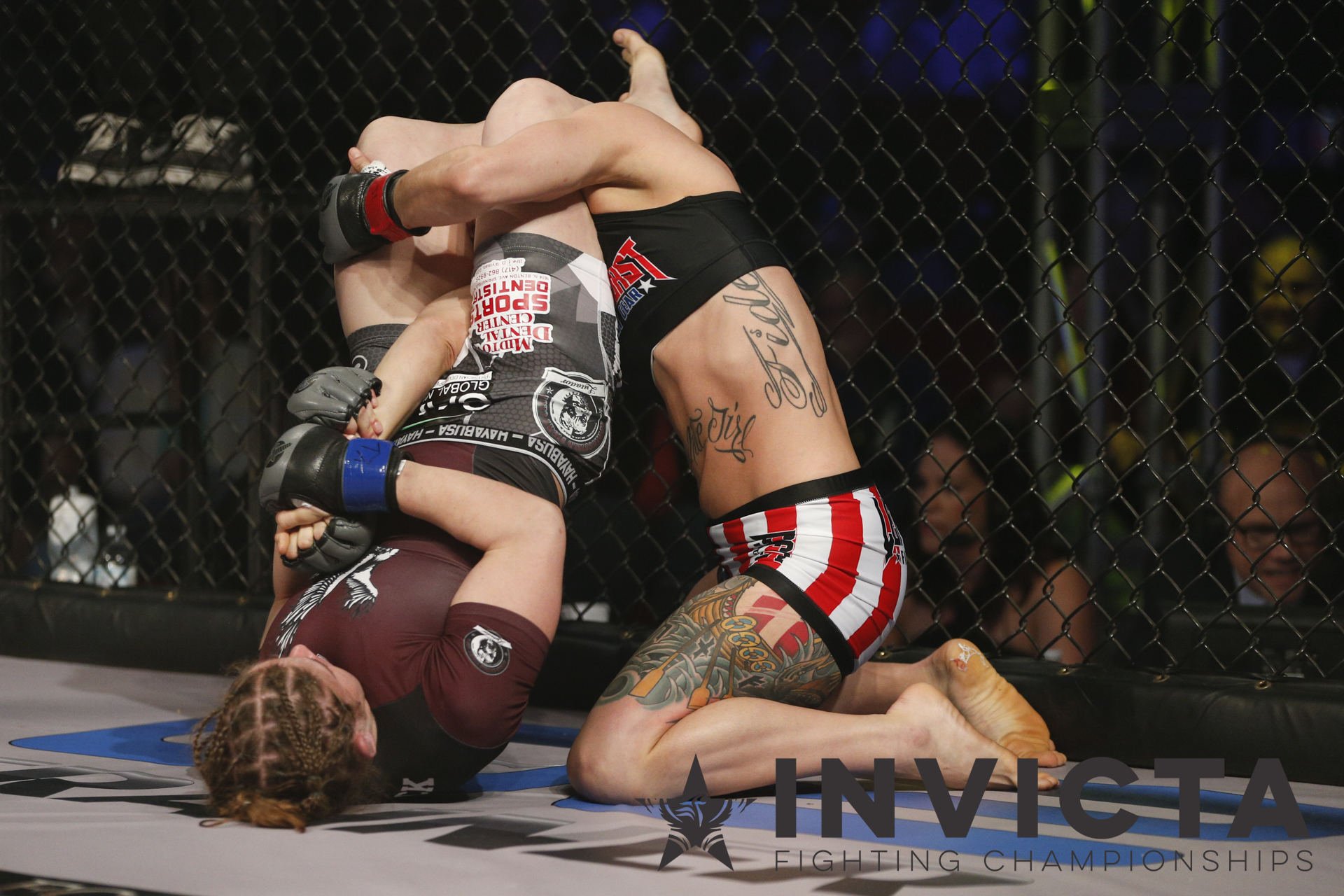 Maverick was absolutely thrilled and emotional at the win. With her natural strength ("farm strong" baby), confidence and being only 19 with lots of time to develop her skills, this could be one flyweight very worth watching.
You couldn't ask for a better way to warm up a show than the opener between Felicia Spencer and Madison McElhaney. What it lacked in experience and technique, it made up for in heart and hard punching action. For three rounds these two beat the hell out of each other with heavy, heavy punches and kicks and in the first round swapped judo throws where they seemed intent on ripping the heads off each other.
It was an insane fight and Spencer proved the stronger fighter both on feet and when it went to the ground. If she can stay at the featherweight (naturally she's a lightweight) she could rise quickly to a title shot with so few fighters in the division. Maybe a fight with Amber Leibrock next?
There were two stories surrounding the event. Naturally one fight fell through due to weight issues when Janaisa Morandin weighed in over the limit by five pounds. Opponent Jinh Yu Frey's camp were willing to do a catchweight if Morandin could make 3.5 pounds of the limit on the day of the fight. These terms were not accepted and sadly Frey was left without a fight through no fault of her own. Hopefully she can get an opponent on the next card.
Finally and in a move that should surprise no one, Invicta announced that Cyborg had agreed to relinquish the featherweight title. Her future status with the company seemed unlikely once she began appearing on UFC shows and beating up fighters way smaller than her. This means that the interim champion Megan Anderson is now the official Featherweight champion.
So, until next time.
Dazza