Normally when you see a headline "England ruins sporting event" it brings up images of brain dead morons celebrating their patriotism by getting drunk and smashing up foreign coffee shops. But last Friday it applied to a referee in the main event of Invicta 20 where Tonya Evinger was looking to defend her Bantamweight title and extend her winning streak into double figures, with fans and fight experts excited that after ten years in the sport she was on the verge of finally getting her due.
When the bell rang Tonya was all business and immediately took challenger Yana Kunitskaya down and went to work on her with elbows. However Yana stayed calmed and caught Tonya with an armbar and then things got controversial. Tonya rose to her feet and stood on Yana's head to use as leverage and break free from the hold. Standing on an opponents head is legal providing no stomping is involved yet referee Mike England ordered Tonya to cease this.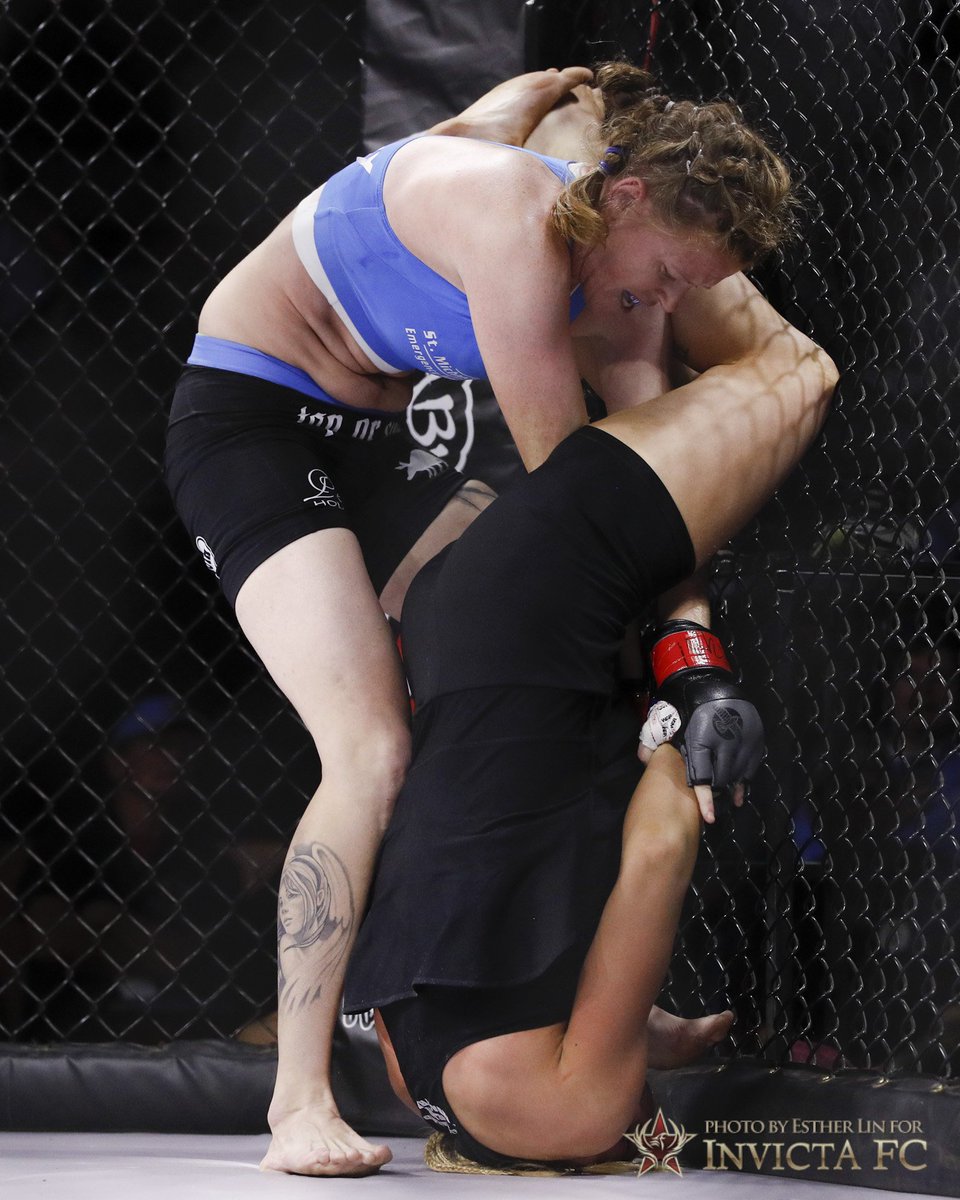 The result was Tonya was not allowed to finish her attempt to break the hold as she intended and had to switch her position as ordered and in doing so allowed Yana to further tighten the armbar. An angry Tonya had to tap (Tonya was also angry that England didn't spot the tap right away risking her arm being injured) and Yana was champion in the biggest upset in Invicta history.
You can never know with one hundred percent certainty what would have happened had Tonya been allowed to continue to stand on Yana (it's hard to see from the camera angles avaliable but Tonya is adamant her arm was "out to the elbow" at the moment she was forced by the ref to switch position), but the issue is that a bad call by the referee influenced the direction of the match and seconds later a possibly distracted champion had to submit. The whole affair left a bad taste in the mouth and distracted away from Yana's crowning moment.
Under the circumstance the fairest move would be to call a rematch at the earliest opportunity.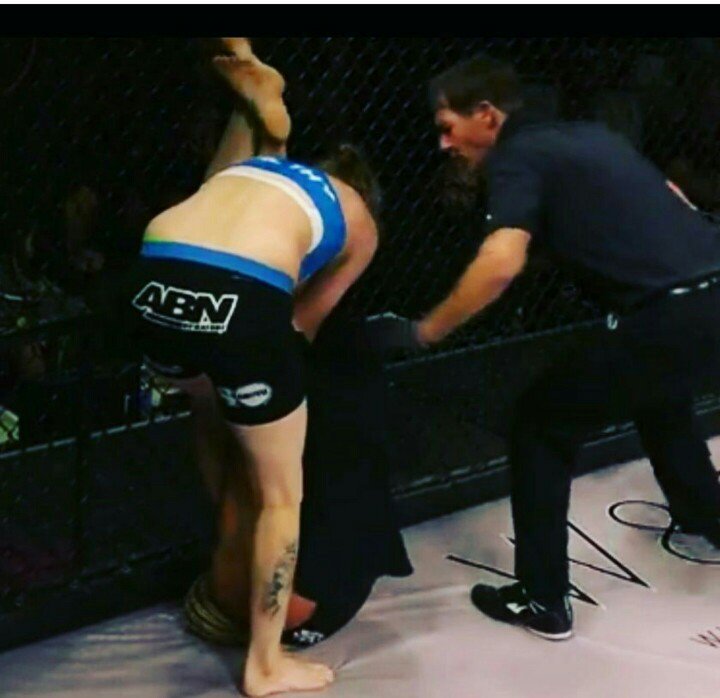 Mike England had already covered himself with glory earlier in the night during the second match on the card, a tasty little stand up affair between Alexa Connors and Stephanie Egger. An aggressive performance by Connors saw her getting the best of the fight and in the third round she unleashed a fast flurry that had Egger hurt against the cage and seemingly wilting under the onslaught. England stepped in and Connors ecstatically celebrated her first professional win by stoppage, only to find the intervention wasn't to stop the fight but to replace Egger's mouthguard.
"If the mouthpiece is involuntarily dislodged during competition, the referee shall call time, clean the mouthpiece, and reinsert the mouthpiece at the first opportune moment without interfering with the immediate action."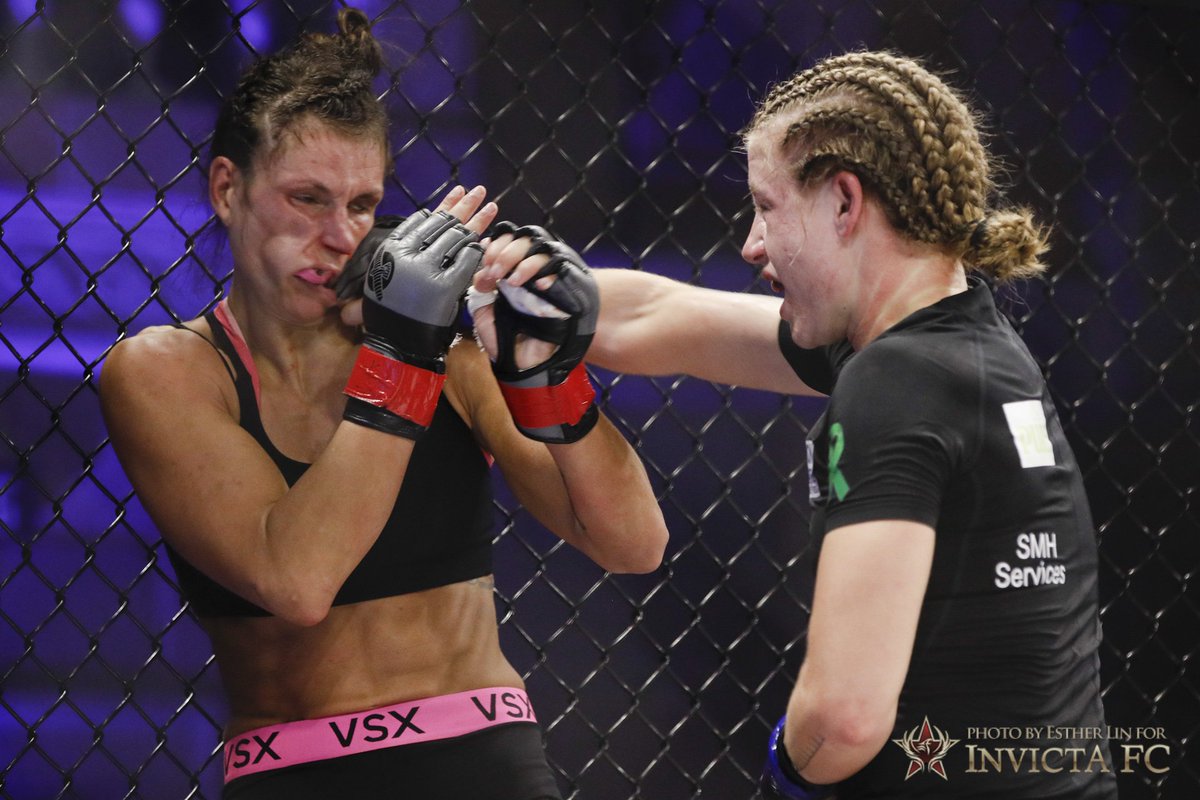 With the interruption the fight ended up going the distance and although justice was done when Connors got the points win anyway there was a tense wait when it was announced as a spilt decision and Mike England was probably just as relieved as Connor when she was declared the winner.
More controversy marred this card with no less than three fighters failing to make weight by several pounds. The fights went ahead anyway but it's worth noting that in all three cases the offending fighter beat her outweighed opponent. You can argue how much the weight played in the outcomes, but weight divisions are there for a reason and with opportunities for women to fight so scarce and with so much competition for the available spots in Invicta, every fight is important to their careers.
Therefore the fights should be as fair and even as possible and when you have a fighter like Jessica Rose Clarke going into a vital fight with a four and half pound disadvantage it's farcical to say the least not to mention disrespectful and unprofessional.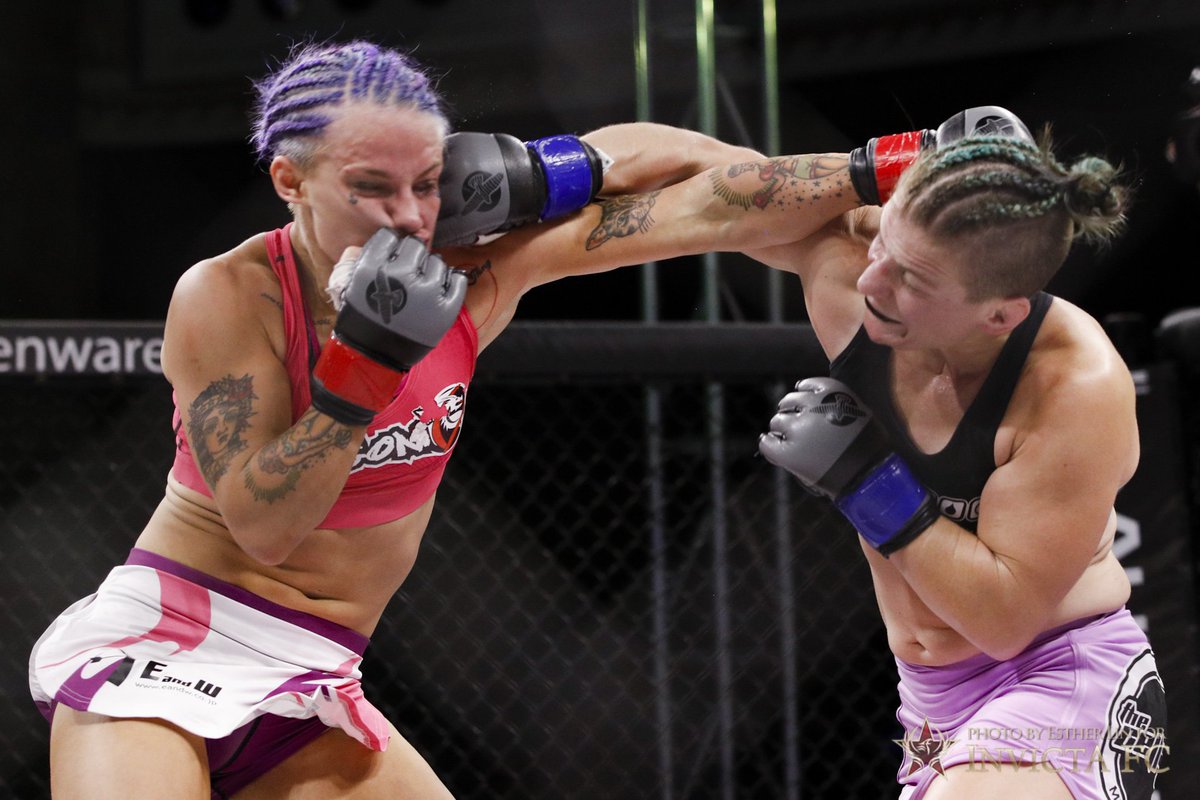 The weight difference more evidently played a part in Clarke's fight with the obviously bigger Pam Sorensen particularly in the first round which was a close clinched affair, relying on strength. Clarke still managed to take Sorensen down but each time found herself on the defensive as Sorensen worked well off her back attempting to catch her with armbars.
As the fight entered the last round Sorensen was delivering the heavier shots and she ultimately came away with the split decision.
Samantha Diaz in the opener came up with the novel approach of cutting her hair to sneak just under the weight allowance. Sadly opponent Miranda Maverick did not have two pounds of hair to shed and thus missed weight and went on to win the fight with a first round stoppage by rear naked choke.
Amber Brown also went into her fight at a two pounds disadvantage when Ultimate Fighter house resident Ashley Yoder missed weight. This was my personal favourite match of the night with lots of tough grappling and reversals of positions throughout. It came to an end in brutal fashion in the second against the cage when Yoder found herself on top of Brown with a clear path to rain heavy hammerfists on Brown's head. Brown was forced to try to and break from the position and doing so found herself victim to Yoder's armbar. Brown hung in as long as possible while trying to escape but with her arm twisted in a horrifying manner was forced to tap.
Weight missing issues aside Yoder looked impressive here. Hopefully the three fighters who lost in these three matches will have the weights taking into consideration and be given further opportunities with the promotion.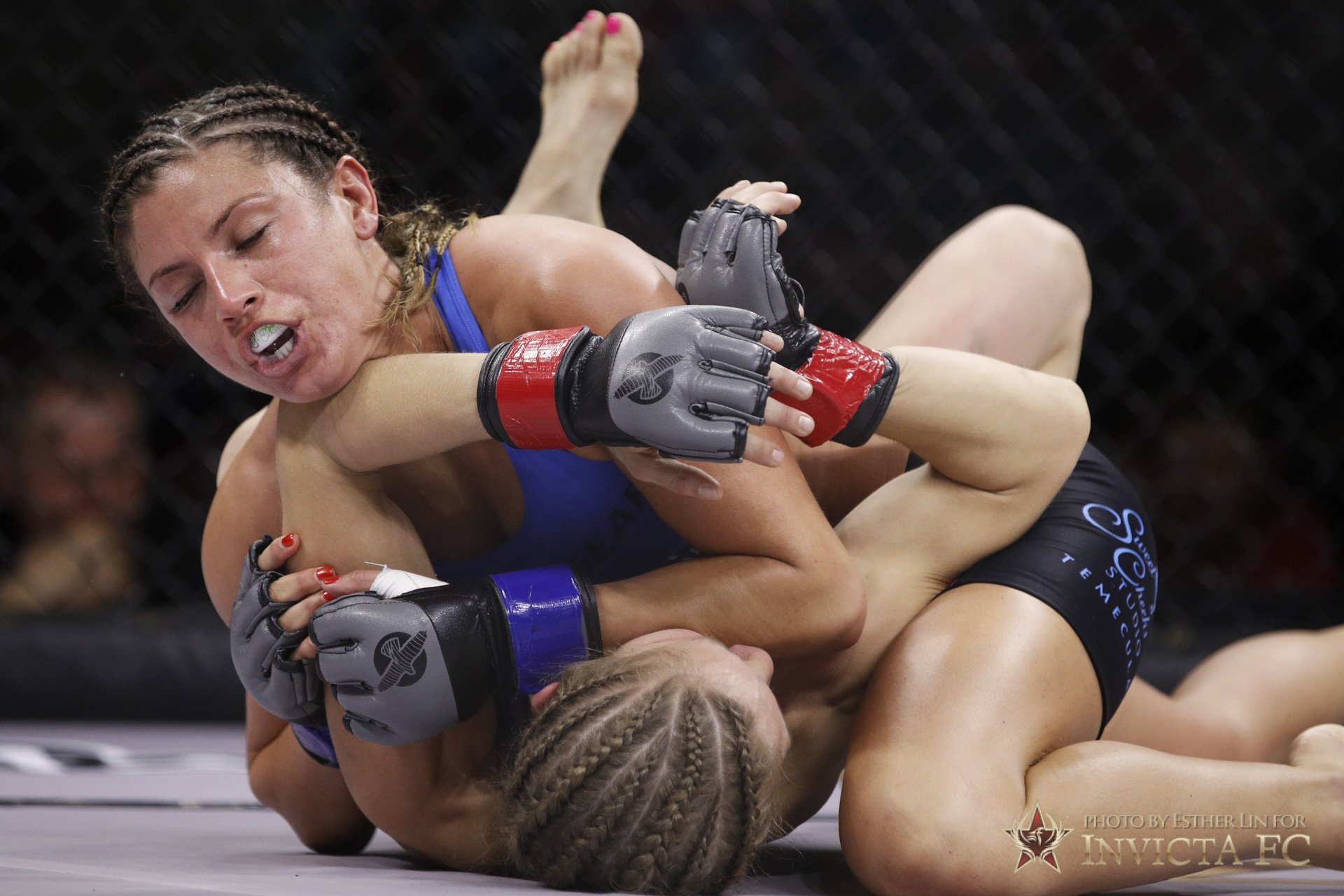 Fortunately there were no such problems for Angela Hill and Kaline Medeiros in their Straw weight title fight. Champion Angela finished off her incredible four match winning 2016 with her first successful title defence. Angela showed even more improvements in her game, being able to negate Kaline's jiu-jitsu by working for submissions off her back whenever she was taken down. When the fight was standing Kaline brought a spirited performance landing some good heavy shots but Hill scored more consistently with crisper, sharper punching on the way to a comfortable points decision.
Down the line you'd expect a 2017 fight with Mizuki which should be quite the contest and if Hill comes out of that with the belt she may well become the one to beat in the whole promotion.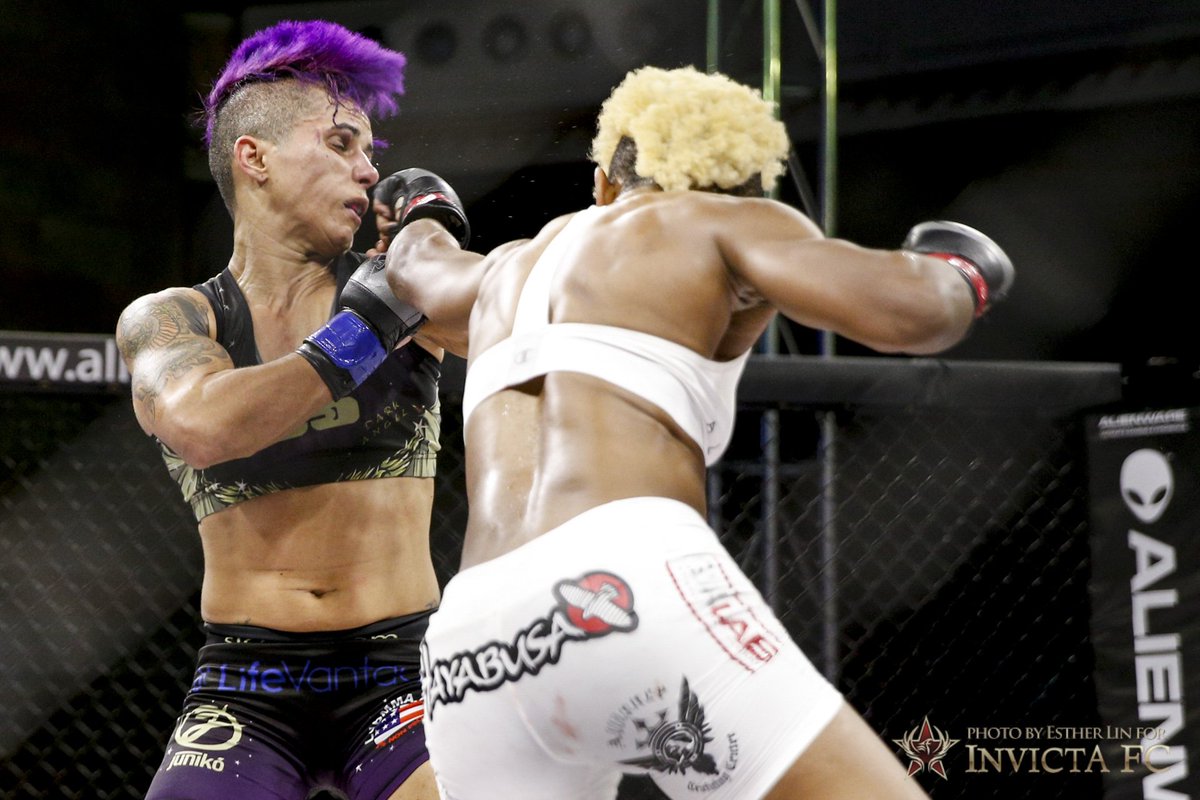 In the remaining fights Herica Tiburcio walked to the cage with a massive, excited smile on her face that looked less like a fighter attempting to avoid her third straight loss and more like a six year old girl entering a Disney store full of brand new Frozen merchandise (or me when I go to a comic shop and see a brand new issue of Harley Quinn). Her confidence was justified by striking her way to a unanimous points victory against Simona Soukupova and the young lass responded with all the joy of a rainbow.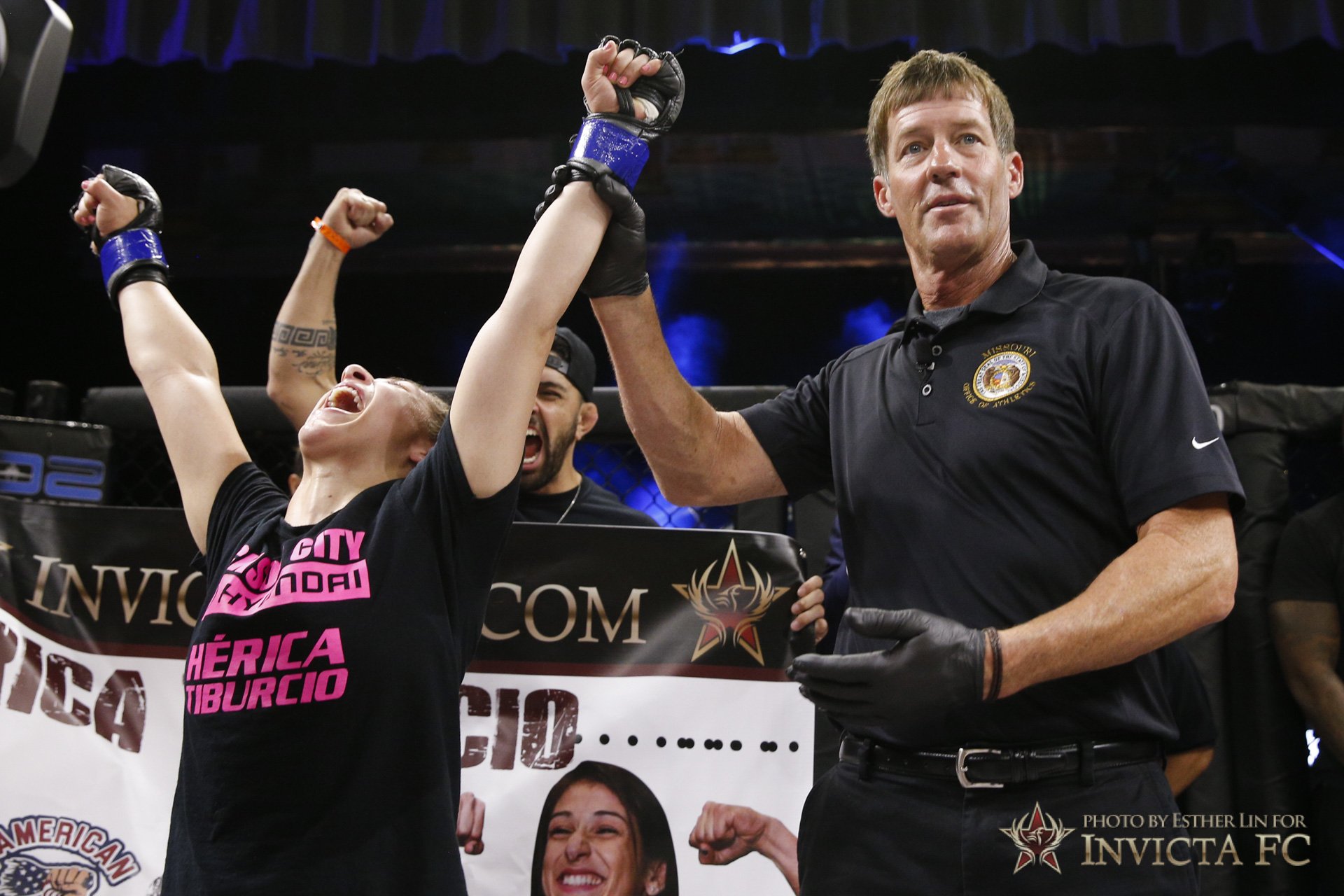 J.J Aldrich returned from The Ultimate Fighter to beat Lynn Alveraz by decision in fairly routine fashion and in doing left Alveraz heavily busted up around her eye.
Invicta 20 wasn't the most spectacular cards the promotion has presented in 2016, but for a fan who is invested in the fortunes of these fighters it was dramatic and enjoyable (for what it's worth three of my favourite fighters suffered defeats which has been a trend this year and is starting to feel like a jinx I've caused to the extent fighters may have to pay me not to be a fan of theirs). Invicta made the 20th show milestone a big deal with some nice video packages showing the history of the promotion and paying tribute to the women who have fought their and made names of themselves in the sport.
A fun addition to the card was the trivia notes on each fighters, revealing that Jessica Rose Clarke loved blue M&Ms and balloon animals and that Pam Sorenson ran her dog for President (insert your own satirical, political joke here.)
So farewell Invicta 20, who knows when we will see you again. Well actually January 21st, once again in Kansas with Megan Anderson against Charmaine Tweet and surely that will lead to a Featherweight title match down the line?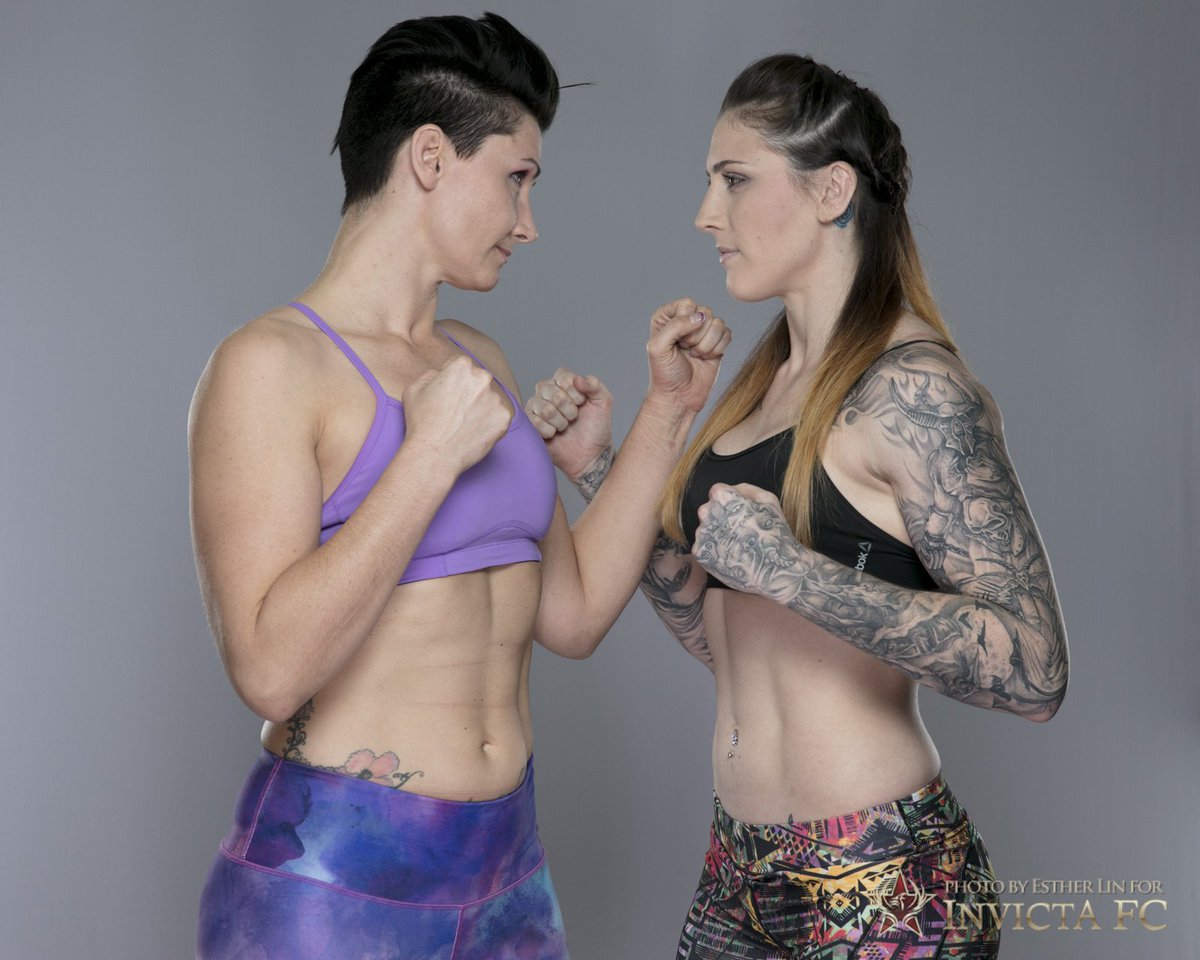 Til next time
Dazza