It would appear that MMA legend Royce Gracie isn't a fan out women fighting and in a recent interview stated he prefers women to be "feminine!" This is probably not going to go down well with family member Krya Gracie, a black belt in Brazillian Ji-Jitsu and who is currently preparing for her debut In MMA. She's also very glamorous so when she does appear inside the cage we can expect lots of proclaimtions as her being "THE NEXT RONDA ROUSEY!"
In any case old man Royce will probably not be tuning in to Fightpass this Saturday for Invicta 22, and more fool him because this card promises way more entertainment and action than the farce of him kicking Ken Shamrock in the balls.
LEAVE NO DOUBT!

Bantamweight Title: Tonya Evinger (18-5, 1 NC) vs. Yana Kunitskaya (9-2, 1 NC)
When a commission sides against a referee and declares his actions rendered a fight null and void you know the guy messed up bad. Which is why we're here once again, and indeed two worlds will collide from rival nations with Tonya Evinger putting her Bantamweight title on the line against Russian Yana Kunitskaya.
Hopefully the crowd will understand but for you newcomers or fans with memory loss due to the coma inducing Woodley v Wonderboy fight a recap what went down on November 18th at Invicta 20 and has led to venting months of frustration.
The first fight saw Evinger take down Kunitskaya immediately but was caught from the bottom in an armbar. Evinger placed a foot on Kunitskaya's face to use as leverage in escaping the hold and it would appear was almost out (Shannon Knapp who was right next to the action has confirmed this). However despite Evinger's move being totally legal referee Mike England ordered Evinger to stop standing on her opponents head, the only way Evinger could do as ordered was to step back to her original position allowing Kunitskaya to reaffirm the armbar. Evinger was forced to tap and Kunitskaya had a few nights with the belts before the commission ruled England's screw up lead to the outcome so we hadn't seen nothing and should move on with our lives.
Faced with Invicta fans' search for answers and an unquenchable thirst for a rematch Invicta has done the right thing for both fighters by working to reschedule the fight a mere four months after the first, so with bursting hearts both fighters will rise like a spire as Kunitskaya gets her shot at proving she would have won the title legit and Evinger gets to set the record straight and get her win streak into double figures.
If anything the controversy has heightened interest in this battle of wills as Kunitskaya by catching Evinger in the armbar in the first place has shown she has the skills to be a threat. She is also a 9-2 fighter with a string of first minute stoppages, one of them a 34 second win over Cindy Dandois (although many of the others were against one and done fighters). She's also insinuated that Evinger was not going to escape the armbar and she was going to finish the fight there regardless. This naturally has gone down swimmingly with Tonya who's warrior spirit has cried "Never" and though she rarely needed it has even more motivation to make the Russian challenger's body say stop by beating the shit out of her. Tonya's domination in Invicta has been one of the most compelling stories in the last few years of Invicta, a true legend's comeback story of a fighter finally getting her due respect.
This has become a very tasty affair, both veterans of fighting from opposite corners of the world and angry as hell with each other due to the legacy of the last fight. Is it East vs West or woman against woman? On Saturday we'll find out if one can stand alone as the true Invicta champion.
One thing is for sure, I don't envy Shannon Knapp at the weigh ins.

Strawweight: Ayaka Hamasaki (14-1) vs. Livia Renata Souza (9-1)
The Straweight championship is in a state of flux at the moment as Champ Angela Hill has recently rejoined UFC although no decision seems to be forthcoming on the future of the title. While this match won't settle the issue of the title it will no doubt have say of who will going for that belt sometime in 2017, as it features two of the brightest fighters on the roster.
Hamasaki may be one of the most understated fighters in Invicta right now. She exploded into the promotion wining the Atomweight title from Herica Tiburcio in her debut and has shown excellent performances in her defenses with a tenacious armbar win over Amber Brown and a perfectly timed shot to Jinh Yu Frey that caused an immediate stoppage due to a nasty cut eye. She has made the step up to straweight for this fight as this may increase her chances of gaining the attention of UFC officials and if she shows the same entertaining bulldog style at the heavier weight they'd be fools not to be interested in adding her to Reebok land.
Livia Renata Souza (which I can't help but say her name to the tune of Ricky Martin's Livin La Vida Loca) too has made her intentions clear that UFC is her ultimate goal. With a string of submission wins against experienced opposition and many in the first round, and with the Straweight title around her waist she seemed within one victory away from accomplishing that. Then along came Angela Hill on the wave of a revitalised career who beat Souza by decision, taking her title and her momentum.
Losing to Hill was a setback but no disgrace and Souza is a wild and devastating submission fighter. If past performances of both fighters is anything to got by ,when this goes to the ground this could be a spectacle of exciting grappling.
Strawweight: DeAnna Bennett (8-2) vs. Jodie Esquibel (5-2)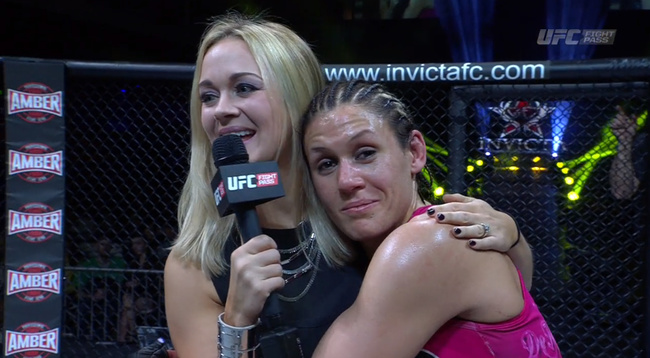 If a grappling war is expected in the above fight then this clash should keep fans of standup battles more than happy.
DeAnna Bennett's rough, bullying style was gaining her lots of plaudits with the promotion and with an undefeated eight fight record earned her a shot at the straweight title. She lost the fight to a well timed bodyshot and in her next fight a move to Flyweight was outfought by Roxanne Modafferi. Bennett has some impressive names on her win column (Juliana Pena, Collen Schinder) but after a year away from the sport needs get back on track to the promise of her early Invicta run.
A win over Esquibel would turn some heads as the former Ultimate Fighter tryout (she was victime of a horrible decision by the judges in the qualifying round) is a tough standup fighter, who has mixed her MMA career with a championship winning boxing career. Her last bout saw her last through to the distance despite a brutal battering at the hands of Alexa Grasso. She was due to fight on the last Invicta card but was robbed of the fight when opponent Kali Robbins was unable to make the weight. Esquibel is just as much a warrior outside the cage being a firefighter and EMT.
This fight could be a fierce storm of hard hitting standup.
Atomweight: Jinh Yu Frey (5-2) vs. Janaisa Morandin (9-0)
Janaisa Morandin is the 8th ranked atomweight in the world, has a perfect 9-0 pro record and is good looking which means some have touted her as THE NEXT RONDA ROUSEY. Although such a record shows she's a cut above the competition the records of many of her victims have more in the L column than the W column.
Nevertheless, what footage that I've managed to come across shows her as being a tenacious fighter, particularly on the ground. She's really hitting Invicta running with a fight over one of the sharpest fighters in Invicta's exciting atomwight divison and is a big step up from the opposition she's faced so far.

Frey's last fight, an Atomweight title fight against Hamasaki was shaping into a cracking encounter and Frey looked like she was inches from leaving with the belt around her waist. However a furious exchange and a beautifully timed shot opened a vicious cut by her eye and the fight was stopped immediately. No matter how legitimate, there is always a sense of disappointment when a fully conscious fighter is stopped via a cut, so no doubt Frey will be looking to use her calculating striking skills against the hyped Morandin and step up for a deserved rematch with Hamasaki.
With her fight style and easily likable personality Frey is someone you should see UFC wanting to add to their roster if they ever decided to go with an atomweight division. The natural atomweights always bring exciting, fast paced, tornado like action and could steal the show on any card. Unfortunately such a move by UFC is unlikely, especially as they are yet to announce a flyweight division, leaving an absolutely ridiculous gap in the women weight divisions.
Atomweight: Amber Brown (6-3) vs. Ashley Cummins (4-3)
Ashley Cummins has been with Invicta from beginning having fought on the very first Invicta card back in 2012. After winning that fight she suffered loses in her following three Invicta outings (all to seasoned fighters in Calderwood, Kagan and Grasso), but still managed to receive a shot on the Gadehla vs Jędrzejczyk season of the Ultimate fighter. She was pitted against Lanchana Green to qualify to get into the house and dominated the first round, seemingly on the verge of winning when the bell rang. Green however responded with a barrage of knees in the second and stopped Cummins (although she showed a lot of resilience). Cummins rebounded in June of last year on a Bellator card with a win over Nikki Smith with what has been described as a spectacular Knee on neck choke (sadly no footage seems to be available, even Ashley doesn't have any because I asked).
Cummins return to Invicta sees her fighting at atomweight for the first time, which seems a good move as at straw weight she seemed much smaller than her opponents.
Cummins has a colourful background on her path to being a fighter. She ditched soccer as a vocation because her temper and aggressive competitiveness apparently led to fisticuffs on the pitch. Deciding that she'd prefer sports where punching people didn't mean getting a red card (only top stars in soccer FOOTBALL (Come on, we're Euro-Elitists here, Dazza. – Footie Mike) can get away with that, like Alan Shearer getting away with kicking Neil Lennon in the head and it being covered up because it was a world cup year but I digress) she worked through the fighting disciplines and after a long amateur MMA run beginning in 2009 transitioned into a professional career in 2012. Not content with battling people in a cage, she also gets physical with bad people on the streets, balancing her martial arts training with working a graveyard shift as a police officer, proving yet another full time warrior for the promotion. Who knows what old man Royce thinks of women police.
(Cummins.  Teehee. – Childish Editor)
Invicta mainstay Amber Brown is coming off two losses, both of them were great competitive affairs. Her close title loss to Atomweight champ Ayaka Hamasaki was an absolute war of grappling and probably one of my favourite fights of 2016. Her next match with Ashley Yoder ended up being a Catchweight contest when Yoder failed to make weight. Despite Amber giving up two pounds it was a great fight and ended when she forced to tap to a brutal armbar.
Brown has a fierce, determined grappling style and is always fun to watch. Her introduction into MMA came as a way to get back into shape after giving birth to a daughter and if the profile video is anything to go by she is one of the coolest moms ever involving the young girl in her MMA world.
Strawweight: Sunna Rannveig Davidsdottir (1-0) vs. Mallory Martin (1-0)
Always on the look out for fresh title Invicta has recently given many fighters their first shot on the professional scene. While some have found making the jump from amateur to pro in Invicta difficult Sunna Rannveig Davidsdottir made good on the promise of her 4-1 amateur record with a comfortable decision win over Ashley Greenway back at Invicta 19. The first female from Iceland to go Pro she has inherited a wealth of experience in training, especially from fellow countryman Gunnar Nelson and in the run up to this fight has been training with Joanne Calderwood.
Mallory Martin also comes into this fight with a 1-0 record having won her pro debut in December, before that she attained a healthy amateur record of 6-1. She has a fast and furious stand up style which she put to good use when she tried her skills at Muay Thai last June in Bangladesh and stopped her experienced opponent.
Strawweight: Kal Holliday (1-0) vs. Miranda Maverick (1-0)
Back at Invicta 19 Tiffany Van Soest made a much hyped debut for the promotion, being an accomplished kickboxer and having model looks that had some touting her as being THE NEXT RONDA ROUSEY. If they wanted an easy fight for her they shouldn't have picked a marine for her to fight.  Kalyn Schwartz though wasn't prepared to be a showcase for Van Soest's kicking skills and wisely introduced her to MMA by taking her out of her element and onto the ground where she was able to dominate in a beautiful performance and end the fight with a second round submission. Now the former Marine has the chance to build on the spotlight the win gave her with more MMA based opponents.
Miranda Maverick also won her professional debut with Invicta late last year grappling her way to a first round submission win over Samantha Diaz. She's balancing MMA with academic pursuits and has become a poster child for Drury University where she studies Sociology and Psychology and represents them in wrestling. She considers herself a tactician and has stated that she has been making waves in her standup game.
Featherweight: Felicia Spencer (1-0) vs. Madison McElhaney (1-0)
Felicia Spencer has been patiently awaiting another shot in Invicta since her debut for the promotion back in September 2015, which saw her win by elbowing the living daylights out of Rachel Wiley. Spencer is naturally a lightweight, which is unfortunately a division that had even less opportunities for women than the featherweight class  and so she has made the drop to just to get a fight (the number one ranked Lightweight Bobbi Jo Dalziel has recently stated her intentions to drop to Featherweight in order to join Invicta) .
It's a shame as Spencer would appear to have a lot of potential coming into the pros with impressive victories in her amateur career. She's shown to be proficient in grappling winning with armbars and a hell of a devastating hitter as shown with her last amateur demolition over Jessica Eve Richer.
Madison McElhaney has the same 1-0 pro record as Spencer however she does not have the same experience having turned pro with only two wins under her belt. Footage of her amateur fight with Rebecca Ireland shows her mainly on her feet with a hard hitting but at times wild standup.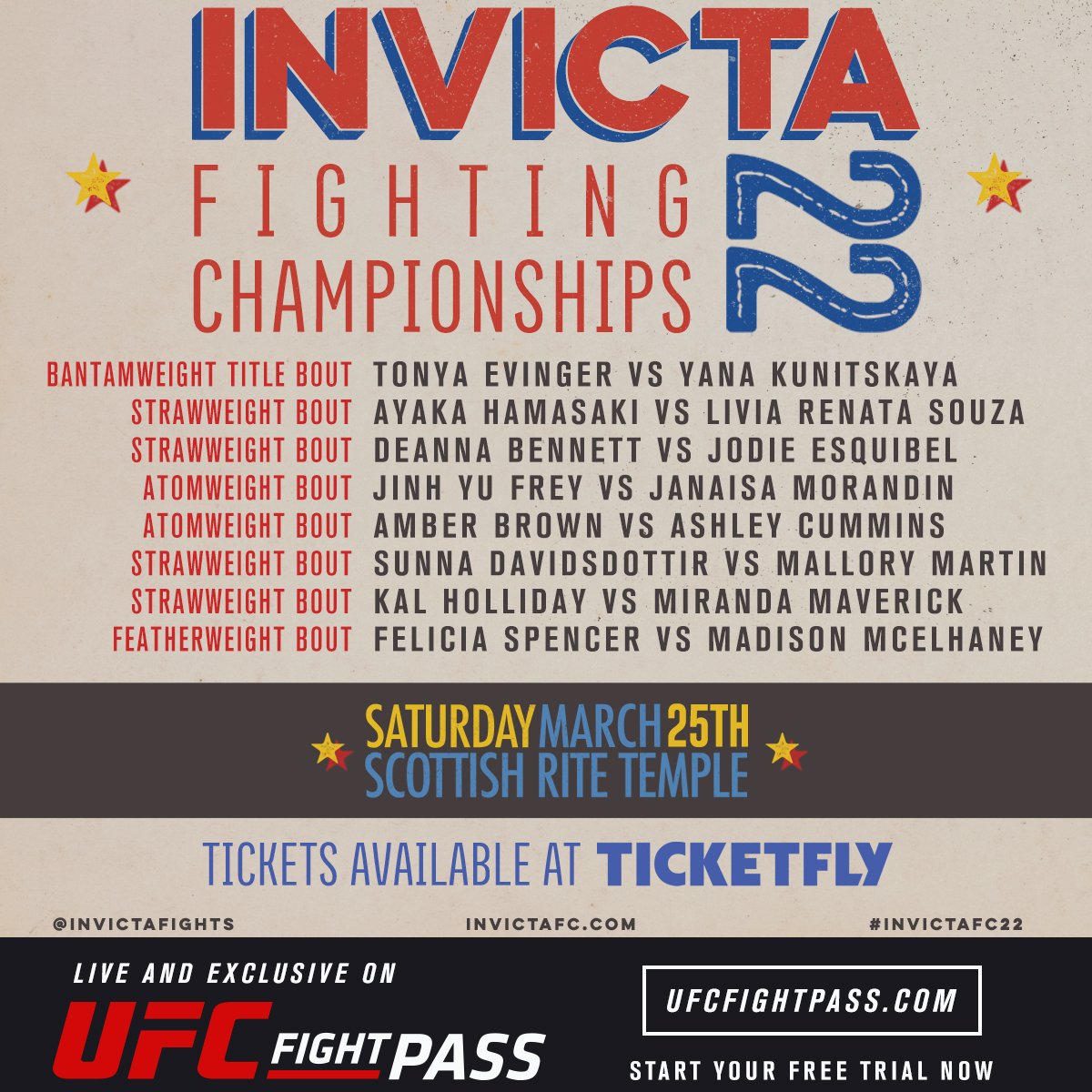 Familiar Invicta favourites, a splattering of new faces, some inspired matchmaking and a heavily heated main event where it seems our freedom may be up against the cage. This is everything we love about Invicta, the colourful promotion that still retains the alternative, underground feel of MMA.
Spread the word and tell your friends, it's all live on Fightpass this Saturday March 25th. Watch it and forget about chuffing Trump for a few hours.
'Til Next Time,
Dazza
---