With the explosion of the Food Network, reality television, and celebrity chefs the restaurant business seems sexier than ever. Celebrities, athletes, and well-financed entrepreneurs have been rapidly opening eateries all across the country. Most, if not all, of these people realize very quickly that gaining success in the food and beverage industry is tricky. It's really difficult and many smart, well-financed people end up going out of business in short order. Nationwide 60% of restaurants fail in the first year and 80% fail within the first five years.  It seems implausible, but the majority of new restaurants close their doors within a year of their openings. It's really tough.
UFC welterweight contender Johny Hendricks recently learned how tough it can be firsthand. This week, the Dallas Morning News confirmed that the Hendricks' owned Bigg Rigg's Steakhouse in Midlothian, Texas had permanently closed. The restaurant barely lasted a year. Customer reviews on Facebook and Yelp were not positive. Hendricks was likely losing money and lots of it quickly. MMA fans joked that it was because Hendricks, who has had trouble making weight on more than one occasion, was eating and drinking all of his restaurant's profits. In reality, there were likely dozens of factors that contributed to the demise of Bigg Rigg's.
Experience: To the best of my knowledge, Hendricks had very little restaurant experience before diving into the hospitality biz. Being a collegiate wrestler, world class MMA fighter, husband, and dad probably left him very little time to work as a dishwasher, line cook, busser, bartender or restaurant manager. He never had the opportunity to learn from the ground up, like many successful restaurateurs. In his case, Hendricks probably hired a chef and a general manager to run the day to day operations of the restaurant for him. If the owner of the restaurant is rarely on premises, the chef and GM have to be honest, fair, dependable, great leaders. They have to put the restaurant first every day, setting the tone for all of the staff. For an owner, with limited restaurant experience, finding great upper management is critical for success. In most instances, upper management will create systems to ensure food quality, consistency, proper purchasing, effective hiring/training, friendly service, etc. Running a restaurant is a 7 day a week, thankless job for many managers. In Hendricks' case, it's likely he did not recruit the right people to run his restaurant. Consequently, without the appropriate people and systems in place, everything else in the restaurant was adversely affected.
Food: Food quality is obviously critical to a restaurant's success and sustained profitability, but it's only one part of the equation. There are dozens of wildly successful chains where the food isn't great, but it is consistent. The service, décor, pricing, marketing, and location of the restaurants contribute greatly to their bottom line. Olive Garden, Applebee's, Chili's, Outback and the 99 are not foodie destinations, but there are hundreds of them for a reason. After reading reviews of Bigg Rigg's, it sounded like the food was poor. These pictures will give you an idea of what was being served. Granted, this is only two pictures of the food, taken by a customer, but there is no love or care here. The "house salad" looks like it came from a pre-mixed bag and the "sirloin" looks more like skirt steak or flap meat. In 2016, with the advent of the Food Network, Martha Stewart, and Top Chef customers are more knowledgeable about food; expecting better quality and presentation. This just doesn't cut it anymore. In addition to the lousy quality of the food, several online reviews mentioned that Bigg Rigg's was often out of advertised menu items. On occasion, they only had two cuts of beef. For a steakhouse, that is sacrilege. Not only was the food sub par, but they didn't even buy enough of it!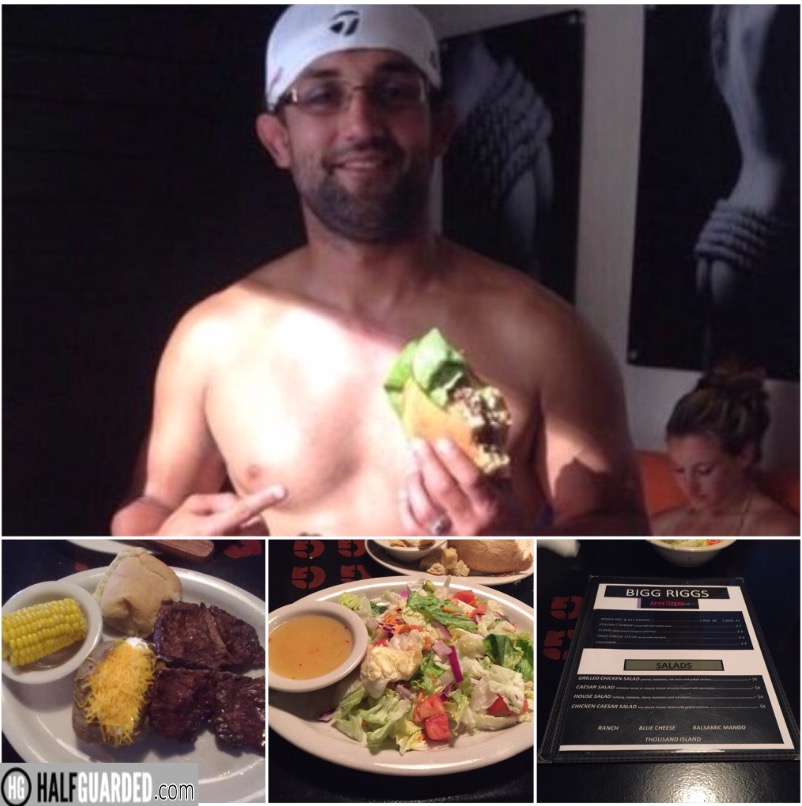 Purchasing– With several online reviews mentioning the absence of numerous menu items on repeated visits, it can be assumed that purchasing was an issue here as well. The chef or kitchen manager was clearly dropping the ball. Running out of one or two dishes is relatively normal for well run establishments. Over ordering and overstocking is bad because perishable food obviously has a shelf life. At the same time, you can't claim to be a steakhouse and only have two steaks on the menu. Clearly, there was some disorganization in the kitchen.
Another vital key to purchasing, besides buying the proper amounts of produce, dairy, and beef, involves price shopping. Food distributors are notorious for jacking up prices on restaurants that don't compare prices or analyze their invoices regularly. It is very easy for a restaurant to get ripped off. Normally, restaurants shoot for a 33% food cost. So, when the accountant pays the bills and doesn't ask if the restaurant should be paying $8.00 for a gallon of milk profit will be lost. When the price of burger meat jumps up $2.00 a pound and the restaurant does not increase their menu prices accordingly, they are losing money. In a business where the profits and margins are small (typically around 5 cents profit on the dollar), keeping a close eye on food costs is imperative. When the prices fluctuated, Hendricks' managers may not have noticed and responded appropriately.
Service– For a restaurant's success, the quality of service may be more important than the quality of the food. A great server can make up for mediocre food, but great food can't cover for a disinterested, apathetic server. Was the service bad at Bigg Rigg's? It's hard to say. But I really wonder if the service staff understood the importance of providing a genuinely caring, friendly experience to all of their guests every shift, every day. I'm doubtful that Hendricks was extolling this virtue and I wonder if it was on the radar of his management team. Often times, guests return to restaurants because of how the restaurant made them feel. If guests feel welcomed and cared for, they will generally come back even if the food is mediocre. Surely, with the closing of the restaurant, enough guests were not coming back. It's likely that the quality of service contributed to Bigg Rigg's demise.
Labor– Labor costs can be huge in restaurants. Servers do not usually make a high hourly wage due to gratuities, but paying management, kitchen staff, and host staff can be a costly endeavor. Good cooks require decent hourly wages. We are talking better than Bernie Sanders 2020 minimum wage rates here. Being a line cook is a demanding job. It requires working on your feet for 8-12 hours straight, standing in front of hot grills, fryalators, and convection ovens. Demanding customers and servers, burns, cuts, and sweat are the norm. These guys and gals earn every penny of their money. In busy restaurants, 5-6 cooks plus 1-2 dishwashers are often needed to get the job done every shift. When the owner of the restaurant can spend over $150 per hour on kitchen labor, without much business coming in, labor costs can eat up any profits quickly. Now, include the pay of host staff and managers, plus the inevitable overtime and money is running out fast. With an inexperienced owner, sub par food, and questionable purchasing, it's reasonable to think that overstaffing and a high payroll contributed to the shuttering of Bigg Rigg's.
Other Costs– Food and payroll are huge expenses, but there a ton of other things that restaurant owners, like Hendricks, have to spend money on. Kitchen equipment (there's a lot- refrigeration, freezers, ovens, grills, fryalators, mixers, dish machines, sauté pans, etc) tables and chairs for the dining rooms, liquor/beer/wine, liability insurance, rent, trash disposal, utilities, menu printing, a POS system, silverware, glassware, china, etc. Stuff breaks all the time and needs to be repaired. It's really tough. When all the expenses are paid for there usually isn't much money left over.
Taking all of these factors into account, it probably sounds very risky to even think about opening a restaurant. Unless you have been in the business for years, it really is crazy. The likelihood of success is slim. It's unfortunate no one warned Hendricks beforehand. This is not a burial of Hendricks by any means. MOST restaurants fail in the first year. 80% go under in the first five. Gordon Ramsay has had restaurants go belly up. Friends and family probably told Hendricks he made a mean brisket and encouraged him to open a restaurant. He figured it would be fun and an investment for the future. In the restaurant world, though, that is rarely case. It's often hard work without much financial reward. To thrive, you have to be dedicated seven days a week and do a better job than the other ten restaurants in your neighborhood.
The likelihood of restaurant success is definitely better than MMA success. The chances of being the next Danny Meyer, though, are literally about as good as winning the UFC Welterweight Championship.
At least, Hendricks can still fall back on that.
Matt has worked in restaurants longer than Sage Northcutt has been alive. Some of them have gone out of business. Johny Hendricks will be fighting Stephen Thompson at UFC 196 Fight Night on FoxSports 1 on Feb. 6, with the main card beginning at 10 pm EST.