Khabib is a piece of shit who (probably) abuses his wife. After his pathetic display at UFC 229, where he embarrassed the sport of MMA and set it back two dozen years, now he is doubling down on his actions.  Rather than apologize for trying to create the second most deadly Vegas October day in recent memory, he is instead demanding the UFC fire him and keep the many millions of dollars he is owed.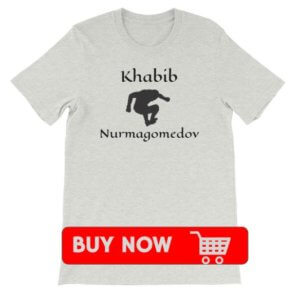 (Khabib believes that the UFC is holding his money, not NSAC, because he has the education of the slow kid you knew in 3rd grade.)
This is his entire statement, also posted to his Instagram, because Real Muslim Warriors whine on the same platform that American girls use to share pictures of their ass:
(Mike comments in bold italics)
khabib_nurmagomedovI would like to address @ufc
Why didn't you fire anyone when their team attacked the bus and injured a couple of people? (Because it was only Conor that did it – and he went to jail. Also: he just made you so much money that your ugly great-grand children will have braces – also, he did this after your team cornered Conor's Buddy in a hall.) They could have killed someone there, why no one says anything about insulting my homeland, religion, nation, family? (Because in the civilized world we have learned that stick and stones may break our bones but words? They never hurt.)

Why do you have to punish my team, when both teams fought. If you say that I started it, then I do not agree, I finished what he had started. ("He said mean words" doesn't mean he started it, you inbred fuck.)

In any case, punish me, @zubairatukhugovhas nothing to do with that. (He punched the biggest star in the history of the sport in the back of the head – he had a little to do with it.)
If you think that I'll keep silent then you are mistaken. You canceled Zubaira's fight and you want to dismiss him just because he hit Conor. But don't forget that it was Conor who had hit my another Brother FIRST, just check the video. (Is this the reference to his foot? The foot that may have touched your, apparently very sensitive, buddy? The foot that touched your sensitive buddy as Conor was trying to go and help his friend – that you were flying at with both feet. Also: Conor had a reason to be in the cage, your little steam room friend did not.)

if you decide to fire him, you should know that you'll lose me too. We never give up on our brothers in Russia and I will go to the end for my Brother. If you still decide to fire him, don't forget to send me my broken contract, otherwise I'll break it myself. (And then do what? Fight bears in Russia? Have fun.)

And one more thing, you can keep my money that you are withholding. (Reference earlier when I pointed out that he has a 9 year old's understanding of how things work.) You are pretty busy with that, I hope it won't get stuck in your throat. We have defended our honor and this is the most important thing. We intend to go to the end. (You're gay, we get it.)
#Brothers (Totes gay.)
Maybe don't be friends with guys who punch folks in the back of the head.