@mattfgrady
Less than five months ago, Brock Lesnar announced he was retiring from mixed martial arts.  He claimed to feel great physically, but, "lacked something mentally." It was a sad day for the UFC and MMA fans.  The Octagon would never be the home for MMA's biggest star again.
His strategically planned announcement was made in March, several days before his main event pro wrestling match at Wrestlemania.  At the time, most MMA experts felt a return to WWE was Lesnar's only viable career option. Vince McMahon had offered Lesnar a fat contract, with a light schedule, and the opportunity to not get punched "for real."  Lesnar was approaching his 38th birthday, had been riddled with multiple injuries, including a near death bout with diverticulis, and had never been a well rounded MMA fighter inside the cage.
At the time, Lesnar's decision made perfect sense.  WWE was safe.  Returning to the UFC would have been too risky.  With his limited striking skills, injuries, age, and apathy surrounding fighting a successful return seemed far fetched. Hindsight, though, is 20/20. Looking at the heavyweight division today and Lesnar's potential opponents, he must be second guessing his decision.
Back on March 24, when Lesnar announced his retirement, Cain Velasquez was the UFC heavyweight champion.  Velasquez had looked unstoppable.  He had destroyed Lesnar once already in 2010.  And more recently walked through top heavyweights Antonio Silva and Junior Dos Santos.  Velasquez was a monster in every sense of the word.  At the time, this would not have been a good match up for Lesnar and was likely a contributing factor in his retirement from MMA.
Then a funny thing happened.  Velasquez lost.  Back in June, the untouchable Cain met his match in Mexico City.  Fabricio Werdum submitted Velasquez and the UFC had a new "baddest man on the planet."  Velasquez did not look good in the loss. He gassed, looked human, and beatable.  It seemed the previous wars in the cage and a plethora of injuries had slowed Velasquez down.  A fight with Velasquez, would still be an extremely difficult match for Lesnar to win, but his odds had improved ever so slightly. Since Velasquez's surprising loss, the rest of the UFC's heavyweight division had been in a constant state of flux.
The new king of the division, Werdum, is well rounded and the best grappler amongst the heavyweights, but is 38 years old himself, with father time nipping at his heels.  Most would favor Werdum against Lesnar.  In Lesnar's mind, though, a fight for the title versus Werdum could be more winnable than one against Velasquez.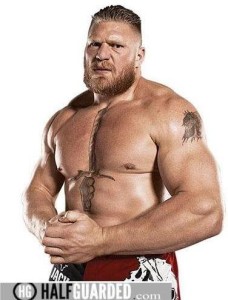 Junior Dos Santos, a perennial elite, heavyweight contender, had been on the shelf since a fight with Stipe Miocic in December of 2014.  During that fight, Dos Santos looked like he had lost a step.  Likely due to the many battles he had fought in the UFC, JDS looked like he was past his peak and has not fought since.  Again, much like with Velasquez, Lesnar would have to think he would be more competitive with JDS now, than a year or two ago.
With the legitimate exclusions, of Stipe Miocic and Travis Browne, the rest of the top 15 heavyweights today, are either old, overweight, or one dimensional.   Let's have a brief look from, Lesnar's perspective, shall we?
4. Andrei Arlovski.  He has strung together some wins, but has no chin and is way past his prime.  Beatable.

6. Josh Barnett.  He may be well rounded, but is getting up there in age and has not fought in 20 months.  In his last fight, he was nearly maimed with vicious elbows from Travis Browne.  Beatable.

7. Ben Rothwell.  Rothwell isn't exactly too old, but he does fall into the overweight category.  He has never been able to beat the elite heavyweights and is beatable.

8. Mark Hunt.  Had a career resurgence, but is also too old and way too heavy.  He could be very beatable with ground and pound.

9. Alistair Overeem.  One dimensional and has not looked good without his diet of horse meat.  He defeated Lesnar several years ago, but is beatable now.

10. Frank Mir.  Despite his recent win streak, Mir has looked slow, old, and out of shape. Lesnar already beat Mir once, so it's within reason that he could do it again.

11. Antonio Silva.  1-3-1 in his last five fights.  He has not looked good at all since the TRT ban took effect.  Beatable.

12. Roy Nelson.  Definitely old.  Definitely overweight.  Definitely one dimensional. Enough said.

13. Matt Mitrione.  He is no spring chicken at 37 and has been unable to take that next step to become an elite heavyweight.  He is beatable.

14.  Stefan Struve.  He has a ton of potential, but physically and mentally has setbacks. Beatable.

15. Alexy Oliynik.  He is a big Russian guy with two stoppage victories in the UFC, but he is relatively old at 38.  Beatable.
Lesnar could easily be saying, "I could beat all of these guys."
With a full training camp, a healthy Lesnar could easily be competitive with most of the top 15 heavyweights in the UFC.  This is a weak division. Not only is the division shallow, with beatable fighters, but Fedor Emelianenko recently announced that he was interested in making a comeback to MMA.
Although it never happened, Lesnar vs. Emelianenko had been a much discussed dream match for years. It is also another fight that Lesnar could win.  He is the much bigger and stronger fighter. Emelianenko is not what he once was.  If Lesnar had not resigned with WWE, this would be a blockbuster fight that he would be competitive in.
With the decline of Velasquez and Dos Santos, a plethora of beatable heavyweights, and the return of Emelianenko, Lesnar must be second guessing his retirement. He left several gigantic pay days and legacy making fights on the table. After his most recent WWE contract expires, it will be too late.  His decision back in March was really his last shot.
Five short months ago, Lesnar's retirement made sense.  Sadly, today it does not.