Madison Square Garden
New York City, New York
No one ever knew they could do something impossible.  They dreamt it in their moments of hubris, but to know – as one knows water is wet and the sky is blue – that the impossible is possible doesn't happen.  Unless you're Cody Garbrandt, that is.
At 25, Garbrandt would've been barely old enough to rent a car, but at UFC 207, he did the impossible: he took apart then UFC Bantamweight Champion, Dominick Cruz, over 25 minutes.  In the process, No Love fulfilled the raison d'etre of Team Alpha Male.
Since he lost a quick first round fight to Urijah Faber in 2007, taking a round from Cruz was tricky, let alone winning an entire fight.  Faber had tried and tried to do it, Joseph Benavidez couldn't, Takeya Mizugaki failed, and TJ Dillarshaw lost his belt when it was his turn.  Water is wet, sky is blue, Dominick Cruz beats you if you're from Team Alpha Male. (And even if you're not – ask the G.O.A.T, Demetrious Johnson.)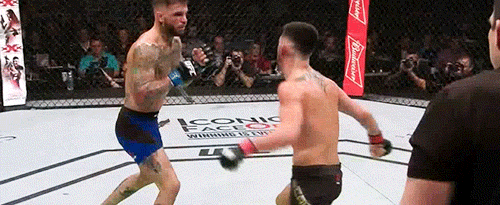 And with that, the MMA world's idea of what can and can't happen had to shift because Cody knew he had Cruz dead to rights.
Though it's being overshadowed by the return of Georges St. Pierre, the bantamweight title fight between Cody Garbrandt and TJ Dillashaw may be the best matchup on the UFC 217 card. Not only is a belt on the line, but there is legitimate bad blood between the two former teammates and their fighting styles should lead to a thriller. The Champ, Garbrandt, is one of the most well-rounded fighters in the UFC. He is a terrific striker and has power in both hands, evidenced by the fact that 82% of his fights have ended by way of knock-out. Dillashaw, meanwhile, can also hang in the stand-up game and loves to keep a frenetic pace. The transitive property rarely applies in MMA because styles make fights, but each man's bout with Dominick Cruz shows why Garbrandt is a deserving 3/4 favorite according to the writers at SportsBettingDime.com. The champ earned his title with a convincing five-round decision victory over Cruz last December, while Dillashaw was on the business end of a five-round split decision versus Cruz early in 2016. Garbrandt's ruthless aggression along with his boxing prowess will put him over the top against his new nemesis.
The History of Bad Blood Between Garbrandt and Dillashaw
The way Garbrandt danced around Cruz was one of the sport's greatest victories.  It was a masterclass in how to fight someone no one knew how to fight.  If there is a blue print for felling Cruz – and what happened wasn't just a one-off bad night for Dom – then everyone who fights at 135 lbs owes Cody a debt.  The Dominator had seemingly reinvented how you fight and no one knew what to do with it.  Dillarshaw appeared to have an idea, as he'd been the one man who could most closely mimic what Cruz did, but even he couldn't solve the puzzle when he lost to Cruz in 2016.  For Dillashaw to have thought he had it down, only for Garbrandt to be the one had to have hurt.  Losing sucks, but losing and then seeing a man who publicly called you a bitch win in your place – ouch.
It all started with Conor McGregor, because everything in MMA involves him.  Way back when, as McGregor and Faber coached during another forgetful season of The Ultimate Fighter, the Irishman spoke aloud a whisper: Dillashaw wasn't to be trusted.  TJ was a snake in the grass, said McGregor, and would betray Faber.  This was initially ignored; more of Conor Being Conor.  McGregor, though, looked right at Garbrandt and told him the same.  Call him Mystic Mac, because he predicts these tings.
Dillashaw leaves.
Duane Ludwig left Faber and Co. and Dillashaw had seen his career reach new heights under Ludwig's tutelage and so he decided to stick with what worked.  Given that he walked around for quite some time with a shiny belt strapped around his waist, can you fault Dillashaw?  A man has to do what's best for him, above all others, especially in a sport with such a small window for success.  TJ saw the man he knew made him a champion run off, saw the man he called mentor do the running off, and faced with a decision, made one.  He's owned up to it and hasn't apologized.
Garbrandt faulted TJ and probably wouldn't accept an apology if one had been offered.  Cody was brought up with Team Alpha Male, like so many others, and saw in Faber a leader, mentor, and friend.  More than that, Team Alpha Male was home, an almost sacred place where men were men; where those manly men sweat and bled and cried together, forming a bond that should never be severed.  So when Dillashaw left, Garbrandt was front in center in calling for his head.
(He has been) bouncing around from camps. He left Colorado. (Now) he's out in California. You're like a prostitute on the corner bouncing around from gyms.
Cody, via MMAJunkie.
Sometimes there's negativity and there are cancers that are surrounding anything in your life, you've got to cut that out. That's what we did. TJ left and we cut that out and whoever else followed, we cut the cancer out.
Faber added his thoughts on how it all plays out:
I think it'll probably be a knockout, just because Cody hits hard. We've seen it in his fights, we've seen it in the room. He's got a history. T.J.'s also a heavy hitter, but not like Cody. They're going to be in a gun fight.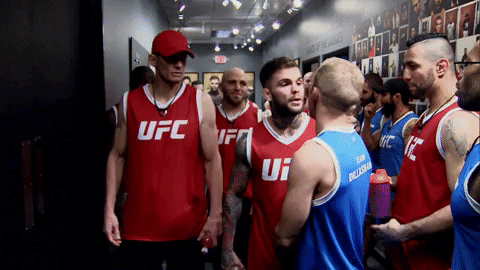 The two coached opposite one another on The Ultimate Fighter earlier this year and were supposed to fight at what became the doomed UFC 213 show in Las Vegas.  Injuries to Cody put the bout on the shelf for a moment, and even though Dillashaw teased a fight with Mighty Mouse, cooler heads prevailed and now we fans get it as part of the ridiculously deep UFC 217 card at MSG.  GSP vs Bisping is a big fight, and Rose vs Joanna will probably end up a bloody mess, but these two are going for the jugular. Dillashaw has tried to play it down, but after enduring endless verbal jabs from Faber, and endless verbal kicks to the head from Cody, how could he not relish a chance to punch the young champion?
I made him cry multiple times after practice. So, he can say as much as he wants, but he knows it's not true. I remember him getting ready for the (Marcus) Brimage fight (at UFC 182) and he just lost it because I just beat the shit out of him. So, he can pump himself up like a politician and think he's this big, bad man, but everyone's got their weaknesses.
Yes, the belt is on the line, as is each man's respective health and bank accounts, but this is obviously personal. When they were on TUF, the hate was real.  It wasn't a gimmick played up for laughs, nor was it a feud where when the cameras turned off everyone smiled, this was an old-school, "You fucked my head cheerleader girlfriend and now I'm coming for you," kinda hate.  With every other fight on the PPV, the odds are neither fighter would ever clash outside of a cage.  Not these two.  They'd absolutely throw down in the parking lot of a Ralph's if given the chance.
Fights based on Blood Feuds in the UFC have disappointed in the past, with both guys more afraid to lose than they are to win due to the stakes involved.  But when Do or Die Fights become Death, you get Frye vs Shamrock in PRIDE, Cormier vs Jones, Mir vs Lesnar, Chuck and Tito, or any Nick Diaz fight ever.  That's the good thing about two trained killers looking for blood: when they find it, they feast.
UFC Middleweight Championship Michael Bisping (c) vs. Georges St-Pierre
UFC Bantamweight Championship Cody Garbrandt (c) vs. T.J. Dillashaw
UFC Women's Strawweight Championship Joanna Jędrzejczyk (c) vs. Rose Namajunas
Welterweight Stephen Thompson vs. Jorge Masvidal
Middleweight Johny Hendricks vs. Paulo Borrachinha
---
Lightweight James Vick vs. Joseph Duffy
Heavyweight Walt Harris vs. Mark Godbeer
Light Heavyweight Ion Cuțelaba vs. Michał Oleksiejczuk
Welterweight Randy Brown vs. Mickey Gall
---
Heavyweight Oleksiy Oliynyk vs. Curtis Blaydes
Light Heavyweight Corey Anderson vs. Ovince Saint Preux
Bantamweight Aiemann Zahabi vs. Ricardo Ramos
BUY UFC 217 STUFF