Madison Square Garden
New York City, New York State, The Northeast of America
Welcome one and all to our UFC MSG & UFC 217 FREE LIVE STREAM post.  This should be the biggest UFC PPV of the year, unless something nutso happens in December.  We have it all here because we're awesome like that.
Plus, yours truly will be there live – yes, me at Madison Square Garden!  Will wonders ever cease? Let's get on with it, shall we?
---

Loading ...
---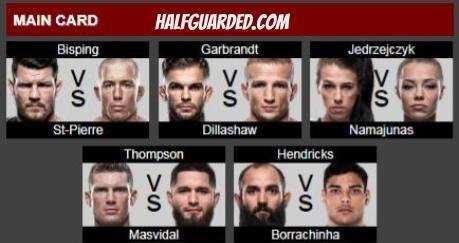 Many thanks to the fine, fine men at TIIIA for much of the UFC PBP so that I can concentrate on enjoying myself .
UFC MSG & UFC 217 FREE LIVE STREAM of Consciousness Results & Recap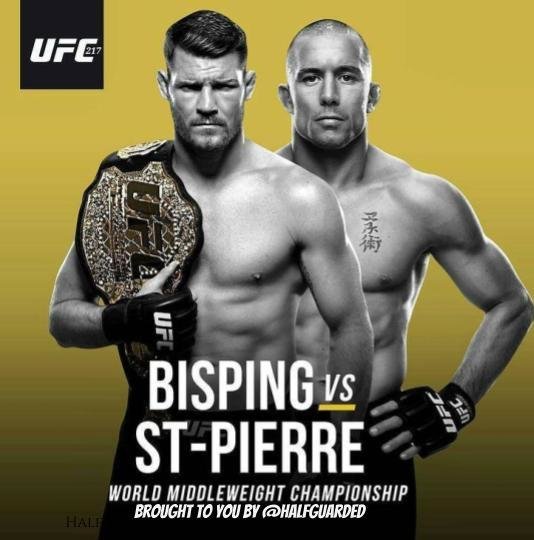 ="540″ />
Michael Bisping (c) vs. Georges St-Pierre
UFC Middleweight Championship
What Happened?
St-Pierre comes out to some French hip-hop and chewing bubblegum (because he's all out of ass to kick, maybe?) The reaction from the crowd, though, isn't as boisterous as you'd expect. "Is he returning because he didn't have anything else to do?" Rogan rhetorically asks. Man, his ass looks WAY fatter. And so is the bulge in his britches … I mean, not that I'm inclined to naturally look there or anything. The boo birds come out in droves as soon as the lights dim for Bisping's entrance, but they still sing along to "Song 2" because these guys don't know what the fuck they want out of life. "That man is the most underrated champion in mixed martial arts," Rogan remarks.
I haven't brought it up tonight, but just so you know, Bruce Buffer's tux is apparently on loan from The Million Dollar Man Ted Dibiase. GSP is clearly the crowd favorite. GSP with an early leg kick. Bisping whiffs on a body kick. GSP lands a right. GSP whiffs on a spin kick. Bisping tags GSP. GSP responds with a jab. GSP lands a front leg kick. Bisping keeping his distance. GSP lands another jab and Bisping fires back with a right. GSP whiffs on another spin kick. And GSP gets his first takedown. Bisping's back up. GSP lands a Superman punch but misses on the follow-up head kick.
Round two. GSP lands a flush straight jab. Bisping with low kicks. GSP with a side kick to the stomach. Bisping rattles off a left hook. Bisping lands a BIG right hand. And GSP lands another takedown. He's in the full mount. He switches to side control. But Bisping is right back up and lands an overhand right. Bisping with another big left hand. GSP is slowing down fast. Bisping with a right hand/right high kick combo in the waning seconds of the round.
Round three. Bisping's cup fell out in the final moments of the last round, so he might be free-ballin' his way through this one. "This could be a huge factor, folks," Rogan comments. That's GSP's third takedown of the fight. Bisping with elbows from the bottom. St-Pierre is cut bad. Both men back up. St-Pierre is definitely about a 7 on the Muta Scale right now. GSP lands a body kick. GSP DROPS BISPING AND HE'S RAINING ELBOWS! NOW HE HAS BISPING'S BACK AND THE CHOKE IS IN DEEP! BISPING TAPS!!!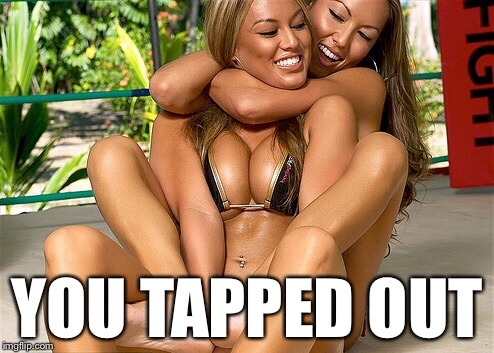 Should You Watch?
G O. A. T.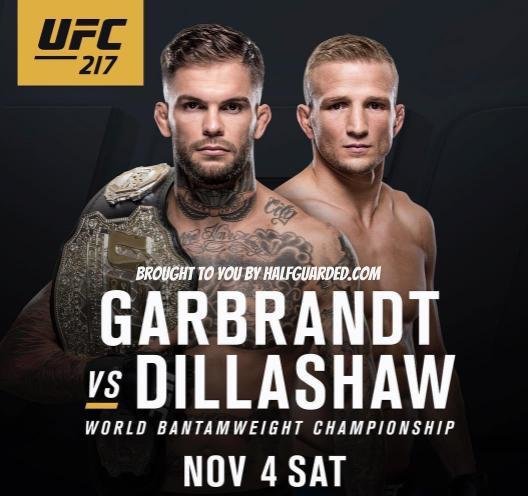 Cody Garbrandt (c) vs. T.J. Dillashaw (3)
UFC Bantamweight Championship
What Happened?
Dillashaw, as always, comes out to that one Red Hot Chili Peppers song. And Garbrandt comes out to "We Will Rock You," because this guy is all about the Jock Jams, apparently. Dillashaw gets booed like crazy, for some reason. And Garbrandt, conversely, is soundly applauded.
No glove touch before the ref starts the fight. Both guys throwing a ton of kicks, but nothing connecting early. Both these guys have the most alt-right-tastic haircuts. TJ loading up on the front kicks. Cody with a flurry of punches, but TJ survives. TJ with a low kick and Cody hits him with a good one-two. Shit, Cody has some of the fastest combos I've ever seen in the cage. Cody with a barrage of body shots in the clinch. Dillashaw lands a right. And Cody drops TJ RIGHT at the bell. TJ weathers the late surge, though, so we'll get a second round.
Round two. TJ throws a goofy spin kick. He connects on a body kick. He shoots for a takedown, but Cody shucks him off. "Fuck you, TJ" chants pipe up. TJ clips him with a high kick and a jab, but Cody quickly recovers. DILLASHAW TAGS GARBRANDT, UNLOADS ON HIM ON THE MAT AND THIS FIGHT IS OVER!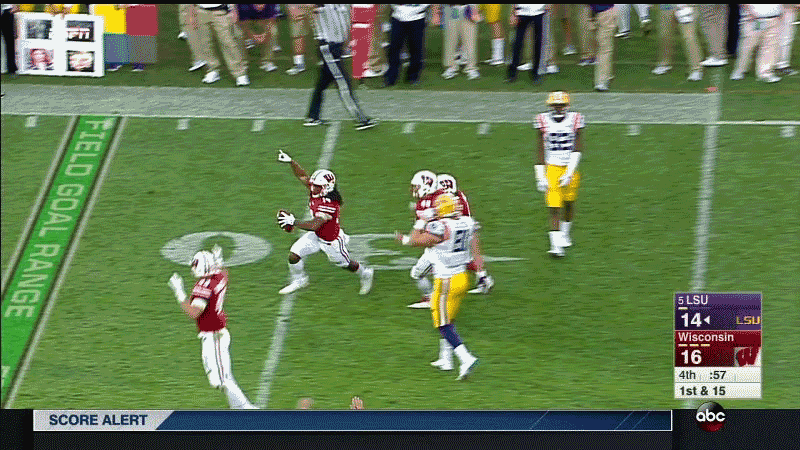 Should You Watch?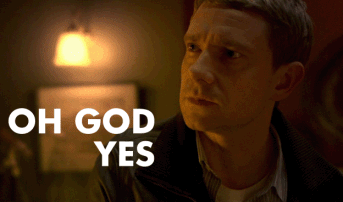 &nbsp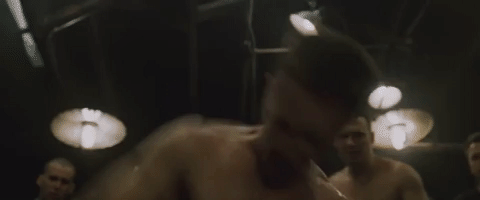 ;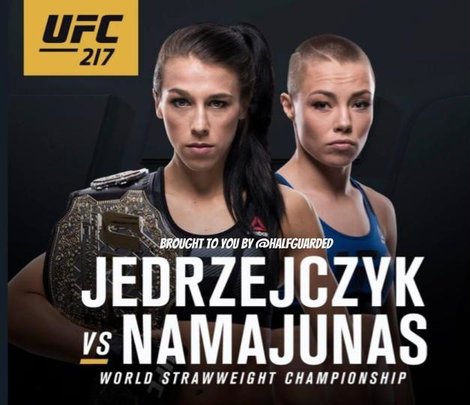 Joanna Jędrzejczyk (c) vs. Rose Namajunas (5)
UFC Women's Strawweight Championship
What Happened?
Rose. First round KO. Dropped Joanna twice. Insane GnP to follow. Walked away and called off her own fight. A new fucking champion. Wow.
Should You Watch?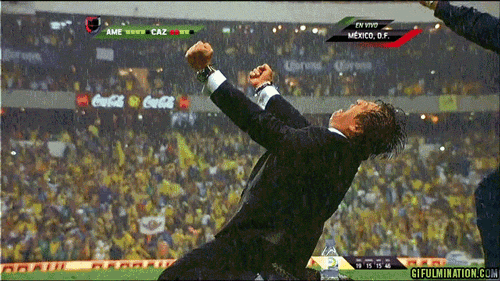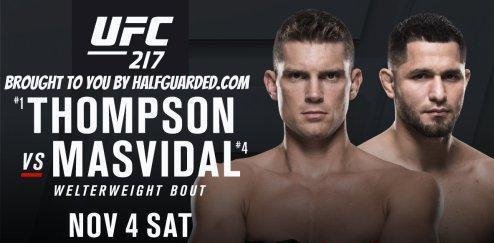 Stephen Thompson (3) vs. Jorge Masvidal (6)
Welterweight
What Happened?
Masvidal comes out to the theme from Scarface. That's a hell of a song to come out to. Has anybody ever come out to the opening theme from Young Guns? Because it would be awesome if someone has. And of course, Thompson comes out to "Wonder Boy" by Tenacious D. You mean he didn't want to use "Fuck Her Gently" from the same album? Or even the still thematically appropriate "Karate?"
Masvidal has the weirdest fighting stance I've ever seen. Thompson with a high kick, Jorge responds with a low kick. Jorge almost slips. Masvidal with a body kick. Thompson with a series of kicks to the stomach. Thompson keeps popping him with these quick left jabs. Thompson whiffs on a high kick. But he lands the body kick. Thompson with a GREAT right overhand. A front leg sidekick drops Jorge. He's right back up. Jorge trying to chase him down. Damn, Thompson has some great straight rights. He gets one more combo in before the bell sounds.
Round two. Shit, Anik keeps pimping The Walking Dead. Thompson with a beautiful head kick. Thompson with a combo. Thompson DROPS Jorge with a huge right, but Masvidal is right back up. Thompson leading on head strikes, 12-3. Jorge's Superman punch falls short. Thompson with another right jab. Thompson with another head kick, but he doesn't get all of it. Jorge clips him. Thompson gets another good combo in the waning seconds of the round.
Round three. Jorge throwing leg kicks early. Masvidal shoots for a takedown but he can't stick it. And there's Thompson with another great one-two. Thompson whiffs on the spinning back kick. Masvidal has 31 leg kicks thus far in the fight. Jorge goes over the top but only clips Thompson's shoulder. Now Thompson is jabbing him like a motherfucker. Now Thompson is throwing leg kicks. Makes sense to do that with just a minute left in the fight, I suppose. Thompson has a cut under his right eye. Half a minute to go. Jorge throws a kick, Thompson grabs his leg, punches him about four or five times, shucks Masvidal to the ground and there's the bell.
Let's hear it from the judges. It's 30-26 and two 30-27s to give Thompson the unanimous decision victory. LOL at the crowd booing when Joe Rogan suggests he might be next in line for a title shot. Thompson thinks Jesus, his teammates and Joe Rogan and says he may have broke his thumb heading into the third round.
Hey, a tall white dude from the Knicks is in the house. LOL at the crowd cheering Gordon Ramsey but booing C.C. Sabbathia like a motherfucker.
Should You Watch?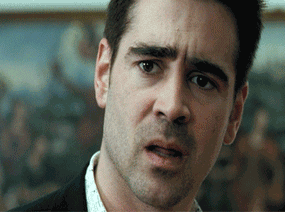 Johny Hendricks vs. Paulo Borrachinha
Middleweight
What Happened?
Not gonna' lie – this Paulo chap is handsome as fuck. Not that I'd eat his asshole out or anything like that. Unless the money was right. Hey, is that Bill Maher in the audience? Dude looks just like him. Thankfully, Hendricks grew his beard back. Unfortunately, he's not using "$50 and a Flask of Crown" for his walkout music no more, and that disappoints me tremendously.
"They look like they're separated by two weight classes," Rogan remarks. Costa with a high kick after some brutal body kicks. Paulo staggers Hendricks with a one-two combo. WTF is that purple blotch on his shoulder, though? Costa misses on a spinning kick. Jon Anik quickly plugs The Walking Dead. Costa rocks Hendricks with a hard jab and a knee to the jaw. Hendricks fires back with a combo and a leg kick. Cost with an ankle to Johny's nostril. Costa leads on strikes, 25-12. Johny with two left jabs in a row and some more low kicks. Costa whiffs on another high kick and the two trade a ton of shots as the round expires.
Round two. Shit, that size discrepancy is amazing – Paulo looks about half a foot taller than Johny and 40 pounds heavier. Johny with low kicks and some more jabs. Uh-oh. Is Paulo slowing down now? Hendricks says he doesn't want a timeout after an eyepoke. Costa UNLOADING on Hendricks with some heavy rights. And then Costa lands a head kick. And here comes the barrage. A series of lethal right hands with Johny on his knees is all she wrote and the ref waves it off.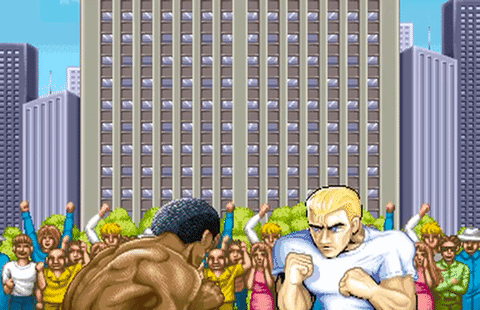 Should You Watch?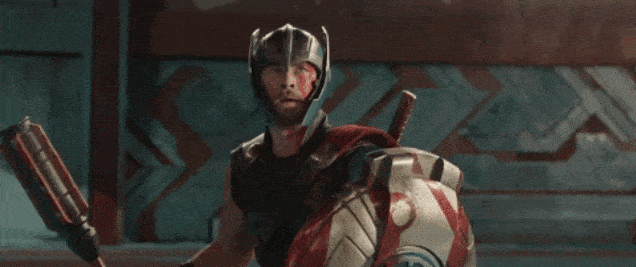 ---

UFC MSG & UFC 217 FREE LIVE STREAM RESULTS & RECAP
Main-Card Prelims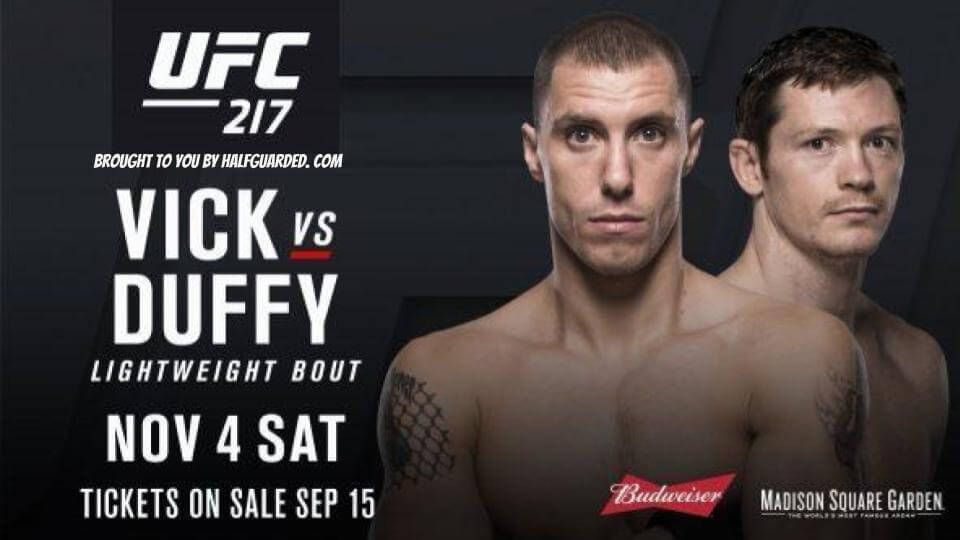 James Vick vs. Joseph Duffy
Lightweight
What Happened?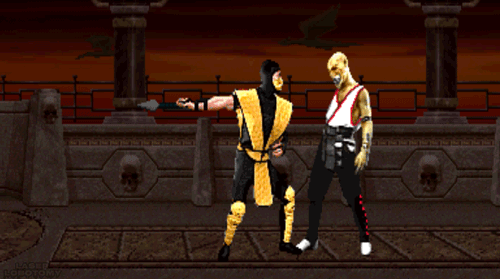 Should You Watch?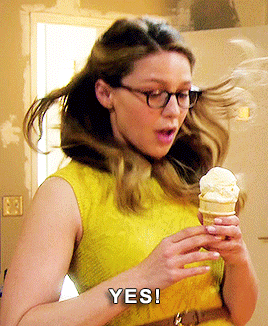 Walt Harris vs Mark Godbeer
Heavyweight
What Happened?
Harris with big fat kicks early. Now they're trading kicks to the body. Godbeer goes for a standing guillotine and Harris sweeps him down. Harris in side control. Now he's in the full mount. Huh, Harris cross-trains with Deontay Wilder. Who would've guessed. Walt raining down some heavy elbows. Harris leads Godbeer on ground strikes, 24-3. Harris with a hard left, then he hits Godbeer in the balls and the ref calls time and HARRIS HITS GODBEER WITH A BLATANT LATE KICK RIGHT TO THE FACE. Here comes the doctors. And they CALL THE FIGHT.
It's official – Walt Harris gets disqualified at 4:29.
And time for a hype video heralding St-Pierre's return. Fun fact: did you know that GSP voiced the hippie-dippie art student, aptly named "Art," in the French language version of Monsters University? Because he totally did.
Should You Watch?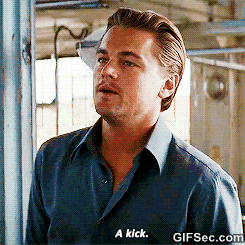 Corey Anderson vs. Ovince Saint Preux
Light Heavyweight
What Happened?
Shit, I forgot Corey won The Ultimate Fighter a couple years back. An aside, but what is it with black athletes getting those branded tattoos of swirly things on their biceps? OSP is in maroon, Anderson is in black. Both guys throwing big hands early. Corey with a takedown, but OSP is right back up, so Corey – without letting go of the waistlock – German suplexes hsi ass. Anderson trying to get OSP's back. LOL at Corey grabbing OSP's balls. We're swinging in the middle of the cage again. Corey has OSP bullied up against the cage. Corey can't get the takedown. Brief knee exchange. Corey with a spinning back fist. Corey just holds OSP against the cage for a full minute. OSP with a good knee to the body. And there's Corey smothering OSP against the cage again. And OSP staggers Corey with a shoot right at the very second the bell sounds.
Round two. OSP with a head kick that sends Corey's mouthpiece flying out of his mouth at a 100 miles an hour. Corey gets the ref to stop the fight so he can retrieve his equipment – shit, if he hadn't done that, his ass would've got sand blasted. Anderson looking for a takedown. He gets a knee to the body and he's smothering OSP against the cage again. Corey with a GREAT side suplex takedown. Corey with hard elbows to his opponent's head. Anderson has his back. Anderson drags OSP to the mat again. Not a whole lot of action happening in the final minute. Corey just hugs OSP against the cage as the round concludes.
Round three. OSP with a good straight jab. Anderson lands a hard uppercut. AND OSP KILLS ANDERSON DEAD WITH A HIGH HEAD KICK!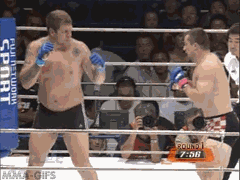 Should You Watch?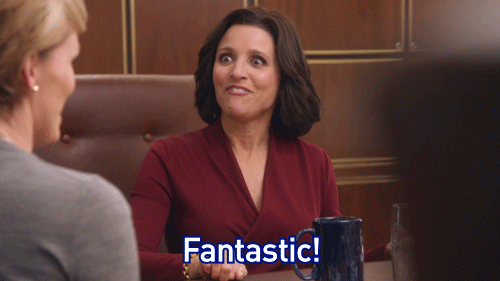 Randy Brown vs. Mickey Gall
Welterweight
What Happened?
Hey, Mickey has a beard now. Dude gets a pretty big ovation from the crowd. Brown trying to stalk Gall down early. Now Gall is LITERALLY running away from Randy. Gall with a good kick on the rebound. Gall with a big overhand, but not all of it connects. Brown with strong knees in the clinch, including a couple of impressive head shots. Brown with a belly to back takedown. Brown's in side control. Gall turtling up and Brown's kicking him while he's down. Brown folding Gall like an accordion up against the cage. Gall landing some elbows shots from the bottom. Brown in the full mount. Now he's elbowing the fuck out of Gall. Gall looking for a triangle. LOL at Gall telling the ref he isn't grabbing the cage. "I'm not, I'm not!" Brown with some more hard elbows, and now Gall is bleeding like a stuck pig.
Round two. Brown with leg kicks early. Gall isn't bleeding as much. Brown whiffs on a high kick but he lands a takedown immediately afterward. He's up, and now Gall takes his ass down. Brown loses the gogoplata. The ref lets Brown get away with an illegal upkick. Gall trying to get Brown's back. He's back in side control. Now Gall is landing some elbows from the top. Gall looking to secure the mounted crucifix. Gall in the full mount. "Let's go Mickey" chants pipe up. Gall's back in side control. As bad as he looked in the first round, he looks proportionally good in this one. Gall still working from the side. Now he has the crucifix locked in. Gall loses the guillotine. Gall keeps Brown in a headlock as the round expires.
Round three. Brown obviously won round one and Gall obviously won round two, so whoever wins this 'un wins the whole she-bang. Brown drops Gall with an uppercut and he lands a million free shots on the ground. Gall is bleeding again. Brown's in the full mount. Holy shit, Mickey looks like a Jason victim. Gall looking for a guillotine. He loses it. Brown leads on significant strikes, 38-9. Looks like Gall might be aiming for a shoulder lock, of all things. Gall has another guillotine in, but Brown pops out again. Holy shit, Gall has grabbed the fence about 20 times in this fight. Less than a minute to go. Gall goes for another guillotine. Brown lets Gall up with ten seconds left. He taunts Gall like a bitch and lands a knee at the last second. Looks like Gall may have landed a late shot after the bell.
The judges have it 29-28, 29-28 and 29-27 for Randy Brown.
Should You Watch?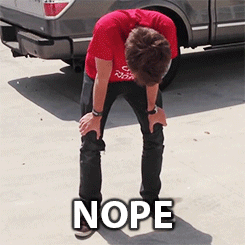 ---

UFC MSG & UFC 217 FREE LIVE STREAM
Fight Pass Prelims

Aleksei Oleinik vs. Curtis Blaydes
Heavyweight
What Happened?
Good first round. Tons of action. Both guys seining hard. Razor Blaydes dropped Alex hard and almost had it done. But almost isn't the same as, uh, a ko. Ummmm. In the second, Curtis was winning a lot. He threw a kick at a downed Alex that. MAAAAAAYBE landed with a quarter of a toe nail. Maybe. For some reason, this was enough to stop it because … NEW YORK STATE ATHLETIC COMMISSION! "Let them fight" went the chant. They were not allowed to fight. Winner was: Blaydes, TKO – this commission is so so so stupid.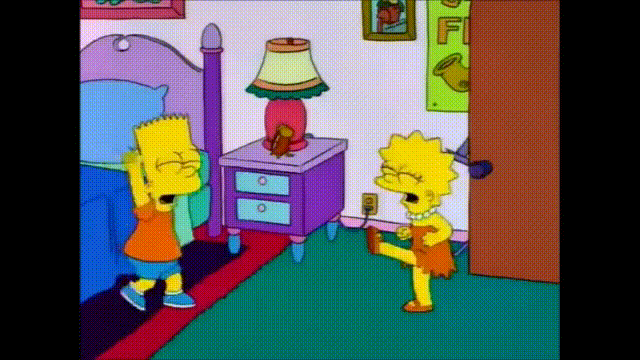 Should You Watch?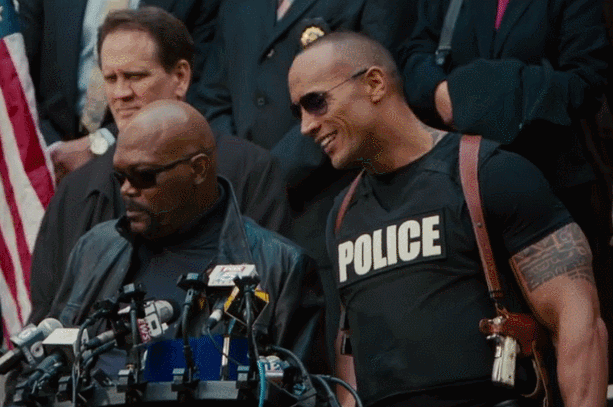 Michał Oleksiejczuk vs. Ion Cuțelaba
Light Heavyweight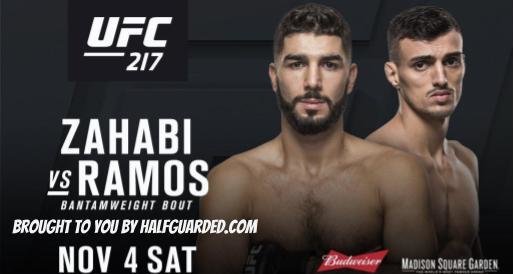 Aiemann Zahabi vs. Ricardo Ramos
Bantamweight
What Happened?
Boring fight for two rounds. Just a lot of jabbing. In the third, mini Faras over extended and got hit by a spinning elbow and that was death KO.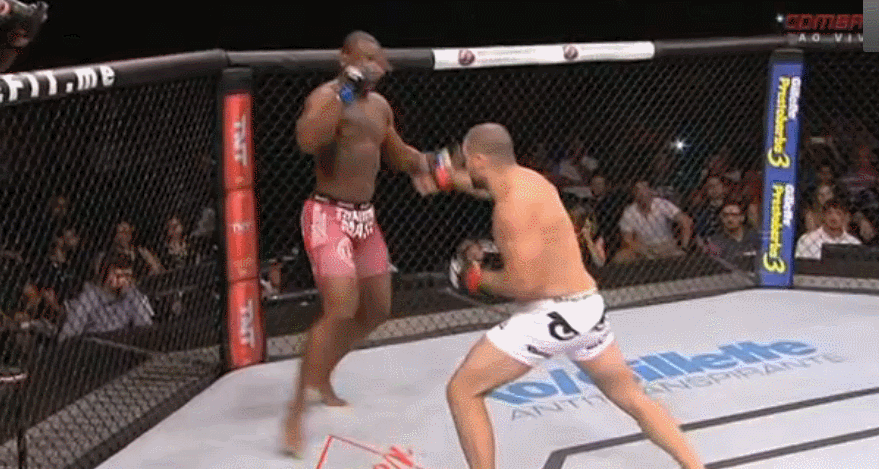 Should You Watch?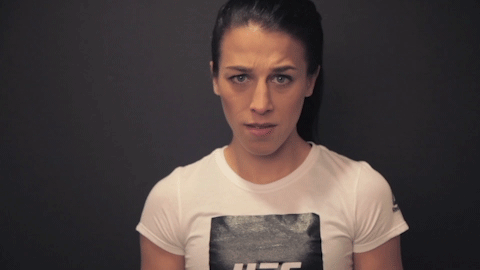 ---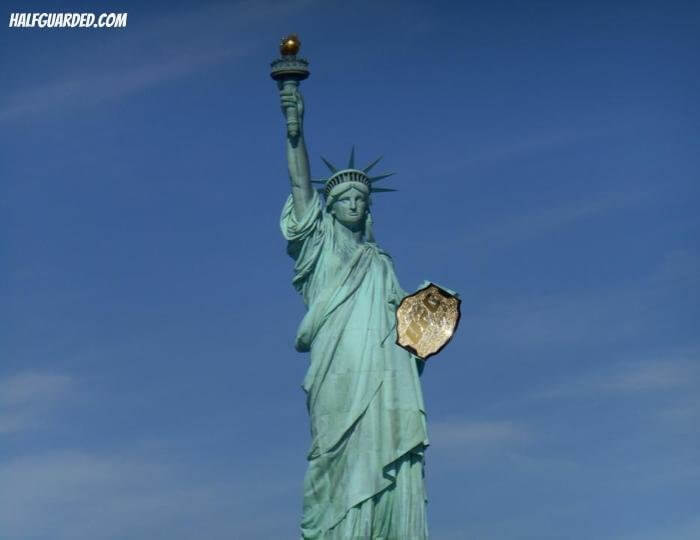 Quick & Dirty UFC 217 FREE LIVE STREAM RESULTS & RECAP
(Winner in BOLD)
UFC Middleweight Championship Michael Bisping (c) vs. Georges St-Pierre
UFC Bantamweight Championship Cody Garbrandt (c) vs. T.J. Dillashaw
UFC Women's Strawweight Championship Joanna Jędrzejczyk (c) vs. Rose Namajunas
Welterweight Stephen Thompson vs. Jorge Masvidal
Middleweight Johny Hendricks vs. Paulo Borrachinha
---
Lightweight James Vick vs. Joseph Duffy
Heavyweight Walt Harris vs. Mark Godbeer -via dq
Light Heavyweight Corey Anderson vs. Ovince Saint Preux
Welterweight Randy Brown vs. Mickey Gall
---
Heavyweight Oleksiy Oliynyk vs. Curtis Blaydes
Light Heavyweight Ion Cuțelaba vs. Michał Oleksiejczuk
Bantamweight Aiemann Zahabi vs. Ricardo Ramos
BUY UFC 217 STUFF
---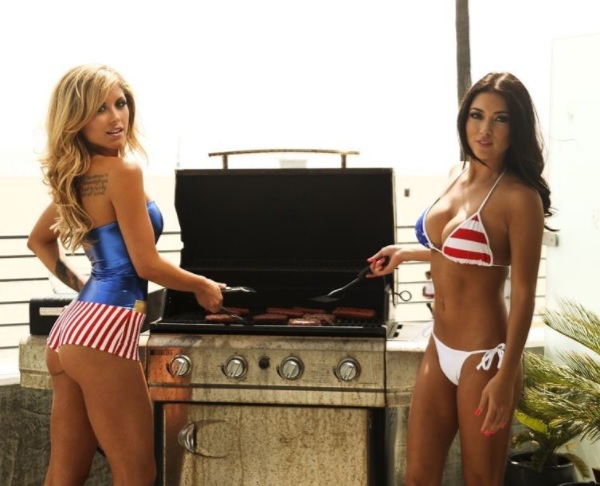 UFC 217 NEWS & NOTES