TD Garden
Boston, Massachusetts
Ladies and Germs, the title says it all: Welcome to our amazing UFC Boston Dillashaw vs Cruz coverage!  We'll be doing that thing people do, where they write down what they saw happen.  You'll, in turn, do that thing you do (Hi, Tom Hanks) and read what we wrote.  You'll do this because you're probably watching football, like normal people.  Or because you're bored.  Or because you're related to me.  Yada, yada, as usual, the QUICK & DIRTY results are at the bottom.  Read Grady's preview piece HERE too.  Duh.  And we'll be updating this here post over the next few days in case anything newsworthy occurs.
Update: BJJ stud Augusto Mendes is out and has been replaced. That sucks. I like seeing pure BJJ guys in MMA.
Update 2: Everyone made weight. Cruz talked shit to TJ. TJ Chewed gum. I think Brian Stann said "nigger" on air. Really. (It wasn't in a racist way, he thought Ariel had said it and was all, "Whaaaaa?")


UFC Boston Dillashaw vs Cruz FREE LIVE STREAM of consciousness RESULTS – Kinda More Important Than Prior Years Prelims – UFC Fight Pass, 6 p.m. ET/5/4/3
Francimar Barroso vs. Elvis Mutapcic
Round One
Barroso loading up on punches, lunging in with them.  Same with his kicks.  Elvis showing some angles, looking for a way inside.  Neither guy seems to have found their distance after two minutes. Rogan just said Barroso "loads up."  He's somehow reading my piece before it's public.  Hmm…  Barroso with a strong power double leg that puts Elvis on his ass.  Heavy elbows see Elvis respond by clamping down to break the posture of the Brazilian.  Elvis moving his hips well o the bottom, giving Barroso something to think about, but he's not threatening anything nor is he doing much damage with elbows from the bottom.  Rogan ripping Barroso a new one for not passing.  Bell.  Barroso 10-9
Round Two
Elvis stutter stepping in, throwing weak feints to start.  Barroso continues to stand still until he puts all his energy into a single strikes.  Barroso with a failed single.  Elvis getting in closer and closer, closing the distance slowly but surely.  That said: he isn't doing much with it, even though he wants to throw hands.  A Barroso jab knocks out the mouth guard of Elvis.  Neither guy has landed much besides the isolated kick from Barroso.  Mouthpiece out again as blood is coming from the right eye of Elvis.  Barroso fails on another shot and the round ends.  Barroso 10-9.
The cutwoman is incredibly attractive.  Her name is Swayze: beware, Ronda…
Round Three
Big right hand from Barroso lands after he, yup, loaded up on it.  He's punching more now but still not really throwing combinations.  The more Barroso throws the better he does, which – duh.  Elvis loses his mouthpiece for a third time.  "That's a piece of crap mouthpiece" said Rogan.  With 2:30 to go, Elvis likely needs a finish, though that 2nd round was sleep inducing so who knows.  Elvis stalking still, letting his hands go a bit more, which is working for him.  Both guys can basically take over exchanges simply by throwing basic combinations.  Barroso is either tired now or simply doing his "build up my chi for a single punch" deal.  Elvis with some elbows near the end.  Elvis 10-9
OFFICIAL RESULT: Francimar Barroso d. Elvis Mutapcic, dec.
Round One
Font reminds me of Edson Barboza right off the bat with his hand positioning and overall stance – lands a kick like him too.  Font moving forward more and Gomez is stiff and just reacting.  Beautiful takedown by Ront but Gomez immediately scrambled up. Font persists with the takedown and eventually gets it but, no, Gomez up.  Font hits an elbow as they separate.  Half way through the round and it's Font in control of everything, as they strike when he wants to, grapples when he wants to, and so on.  Big left hook from Font as Gomez backed away lazily.  Right hand set up another left hook from Font.  Straight right from Font leads to a takedown but then Gomez is right back up and in the process connects with a right hand.  Gomez pumps a jab but Font returns fire with a spinning elbow that was almost there.  Font 10-9.
Round Two
Gomez is on short-ish notice and is breathing through his mouth as we start round two.  Font on his bike, moving around, not letting Gomez get set or find range.  Combination from Font sees an uppercut land nicely. As in round one, it's Gomez reacting to what Font does every time.  Gomez with a thudding kick to the ribs, landing his best shot of the night.  Big left hook from Font hurt Gomez and so did a shot to the body.  Gomez is in trouble but he responds with a takedown of his own.  Font off his back now and that may have saved Gomez.  Font stands and is right back in the face of Gomez.  Gomez is down and it's over!
OFFICIAL RESULT: Rob Font d. Joey Gomez, R2, TKO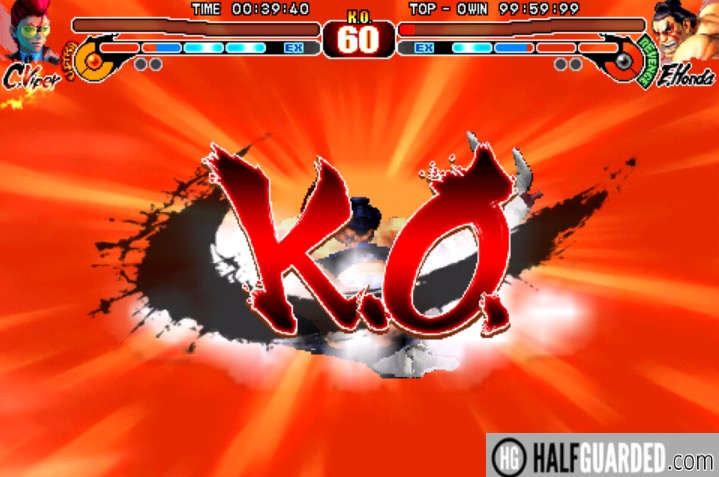 Augusto Mendes Kyle Bochniak vs. Charles Rosa
Round One
Rosa standing like a karate man throwing a side kick.  Kyle has none of it and lands a right hand down the pipe.  And another one.  Given that Kyle is on short notice, he's looking far more relaxed out there.  Rosa throwing spinny kicks that aren't landing at all.  Hard kick to the body from Rosa as he continues to rely on his weird stance and ineffective front kick.  Kyle is finding his right hand most of the time he throws it.  Right hand from Kyle drops Rosa BIG.  Rosa dives on a leg and Kyle is forced to defend.  Kyle backs out.  Rosa seemed to feel he did well with the grappling.  Kyle keeps countering with the right hand though, landing it each time. Rosa tries and fails for a takedown as we end the round.  Kyle 10-9
"They have a ten second whistle instead of clap… That's dumb." – Rogan
Round Two
Rosa back to a traditional stance now.  It looks like he has to consciously use it though.  Kyle rushing in, throwing punches but Rosa keeps throwing his power kick.  Rosa lands a right hand that staggered Kyle. Rosa is definitely more aggressive this stanza.  Left hook from Kyle snuck in. Rosa with a beautiful shot, gets in deep, but credit to Kyle for making the sprawl look easy.  The short notice aspect of things is catching up with Kyle, that and the getting kicked in the belly a lot.  Rosa finding perfect range and throwing a nice mix of punches and kicks from all angles.  Rosa finally gets the takedown he's been looking for with a minute to go.  Kyle pushes off with his feet on the hops.  Rosa 10-9.
I'm guessing Rosa will want the takedown again – that's the biggest difference between the two.
Round Three
Rosa with a kick right away.  The leg of Kyle is already a purple and blue canvas.  Kyle walking in with his punches but a few got through.  Rosa has more energy but he isn't turning it on yet.  Kyle is finding energy from somewhere though because he's not stopping his forward movement.  Rosa seems content to pick shots with his leg kicks, using them to set up everything else.  Rosa with a single leg but Kyle defends well.  Really good defensive wrestling shown by Kyle throughout.  Round is close and then a big right hand by Kyle lands.  And another.  He's throwing like Rocky.  Rosa fires back with a right of his own and he has Kyle backing up now. Rosa fails on another takedown.  These 90 seconds could decide it all.  Right hand from Kyle but then one from Rosa.  Both guys giving everything here and Kyle is a bloody mess.  Kyle shoots in with a tired shot and Rosa snaps him down, looking for a choke but good defense by Kyle.  Anyone's round.
OFFICIAL RESULT:  Charles Rosa d. Kyle Bochniak, dec
Have to run out for a second but will be watching everything on my phone so I'll have results up in a few.
Ilir Latifi vs. Sean O'Connell
Round One
30 seconds. One big punch. Death for O'Connell.
OFFICIAL RESULT: Latifi d. O'Connell, R1, KO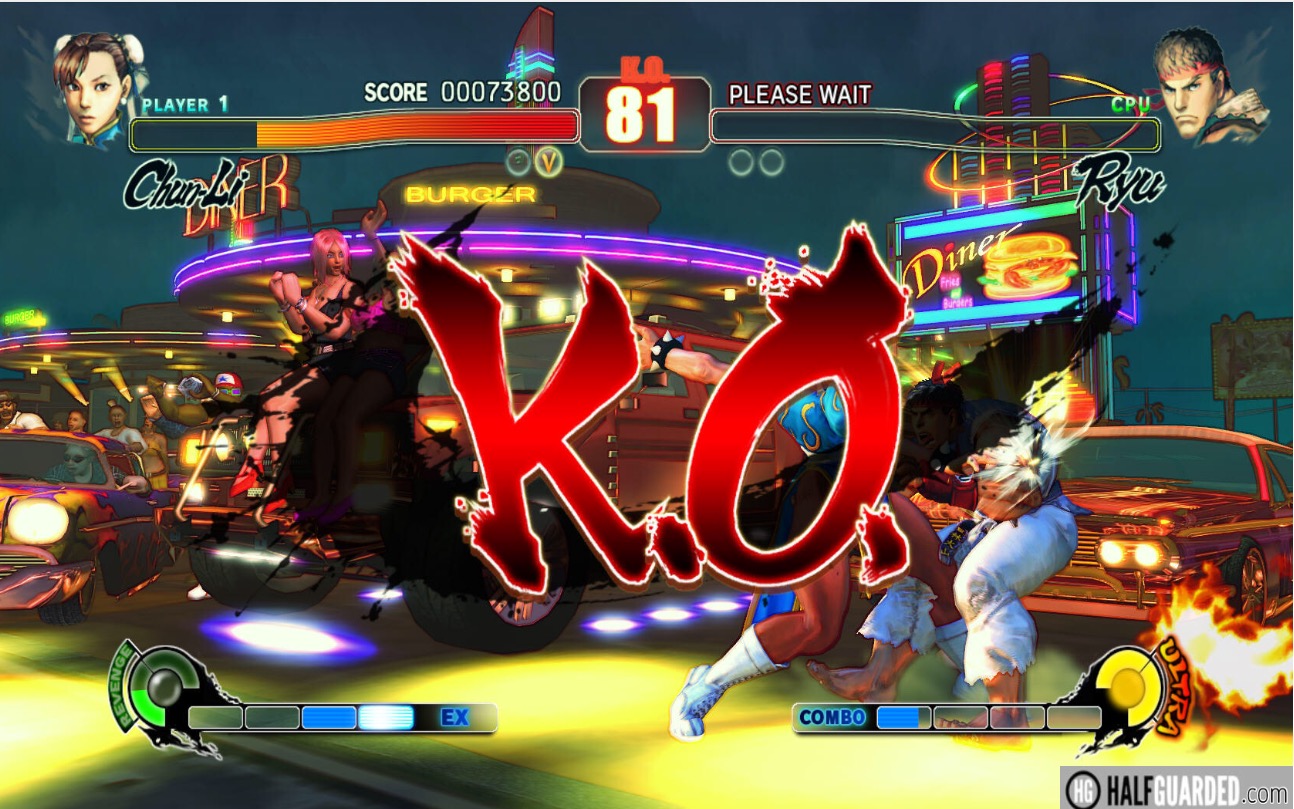 Daron Cruickshank vs. Paul Felder
Round One
Really, really fun fight.  Back and forth with both guys evenly matched.  It went into the third before Felder got the rear naked choke.  Excellent stuff here.
OFFICIAL RESULT: Felder d. Cruickshank, R3, sub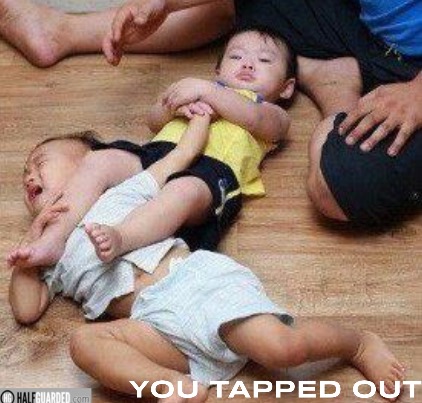 UFC Boston Dillashaw vs Cruz FREE LIVE STREAM of consciousness RESULTS – Even More Important Prelims – FOX Sports 1, 8 p.m. ET/7/6/5
Maximo Blanco vs. Luke Sanders
Round One
Blanco looking sharp and quick and basically superior physically early.  Sanders reaching for punches. Punch by Sanders rocked Blanco.  Blanco responds with a sweet takedown, mount, and now looking for an arm triangle.  He lets it go though as it wasn't there.  Sanders drops Blanco HUGE with a punch. Blanco is in trouble.  Sanders takes the back and … CHOKE!  It's over.
OFFICIAL RESULT: Maximo Blanco vs. Luke Sanders,R1, sub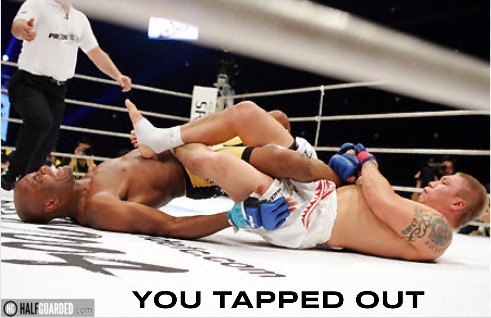 Tim Boetsch vs. Ed Herman
Round One
Rogan believes this fight will be like a fight between robots (Rock em sock em but whatever).  Boetsch staggered Herman with a left hook.  Herman seems ok a few seconds later.  Both seem to be looking for isolated punches, keeping their distance.  Tim's doing better from distance when he throws his kicks but long boxing exchanges aren't suiting him as Herman is sitting on counters.  Tim digs a shot to the liver.  Herman attempted a clinch but Tim got the better of it.   Tim reaching more and Herman countering.  Close round.  Herman 10-9
Round Two
Herman taking over here.  He go the clinch. BIG KNEES.  Death.  OVER.
OFFICIAL RESULT: Ed Herman d. Tim Boetsch, R2, KO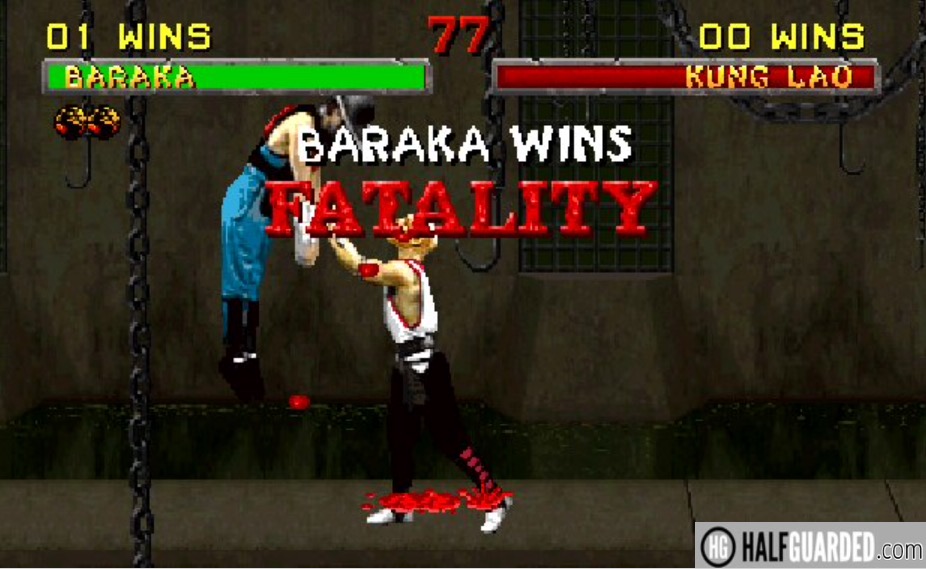 Mehdi Baghdad vs. Chris Wade
Round One
Baghdad quickly put on his back by Wade.  Wade peppering shots here and there as Mr. Iraq (you knew it was coming) tries to tie him up.  The long legs of Baghdad are letting him get his knees in and blocking a bit but it's still Wade on top grinding away with elbows. Baghdad trying to wall walk but he's just no adept at it, you can tell.  Wade keeping him down and continuing to hit elbows. Scramble and Wade gets behind.  Baghdad controlling the choking hand as he looks to stand.  He does.  Back down and Wade no longer looking for the choke, instead punching.  Back to the choke.  It's in.  TAP!
OFFICIAL RESULT: Chris Wade d. Mehdi Baghdad, R1, Sub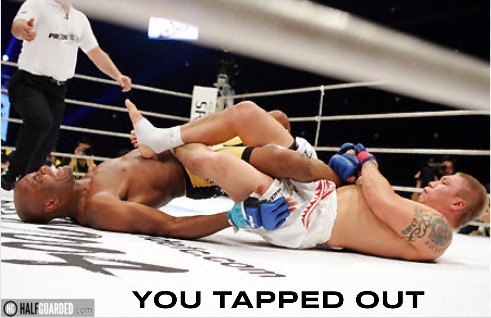 Patrick Cote vs. Ben Saunders
Round One
Feeling out early, both trying to find their own individual distances.  Côte definitely wants to get inside and dirty box, but that's no fun because Saunders has a vision clinch. Saunders with a beautiful outside trip takedown. Côte tying up the posture as Saunders looks to land a big elbow.  Côte is sorta thinking armbar but not really.  Seems more like he's moving to distract and then out of nowhere he gets a DEEEP car bar.  It's close.  Saunders is in trouble but he escapes.  Saunders tried to tie up with the rubber guard.  Saunders trying to stand but he eats several good punches for his troubles. Côte 10-9
Round Two
Côte fires off a series of punches.  He has Saunders in trouble.  Saunders crumbles.  He's in deep deep trouble. And it's over!!!!!
OFFICIAL RESULT: Patrick Côte d. Ben Saunders, R2, TKO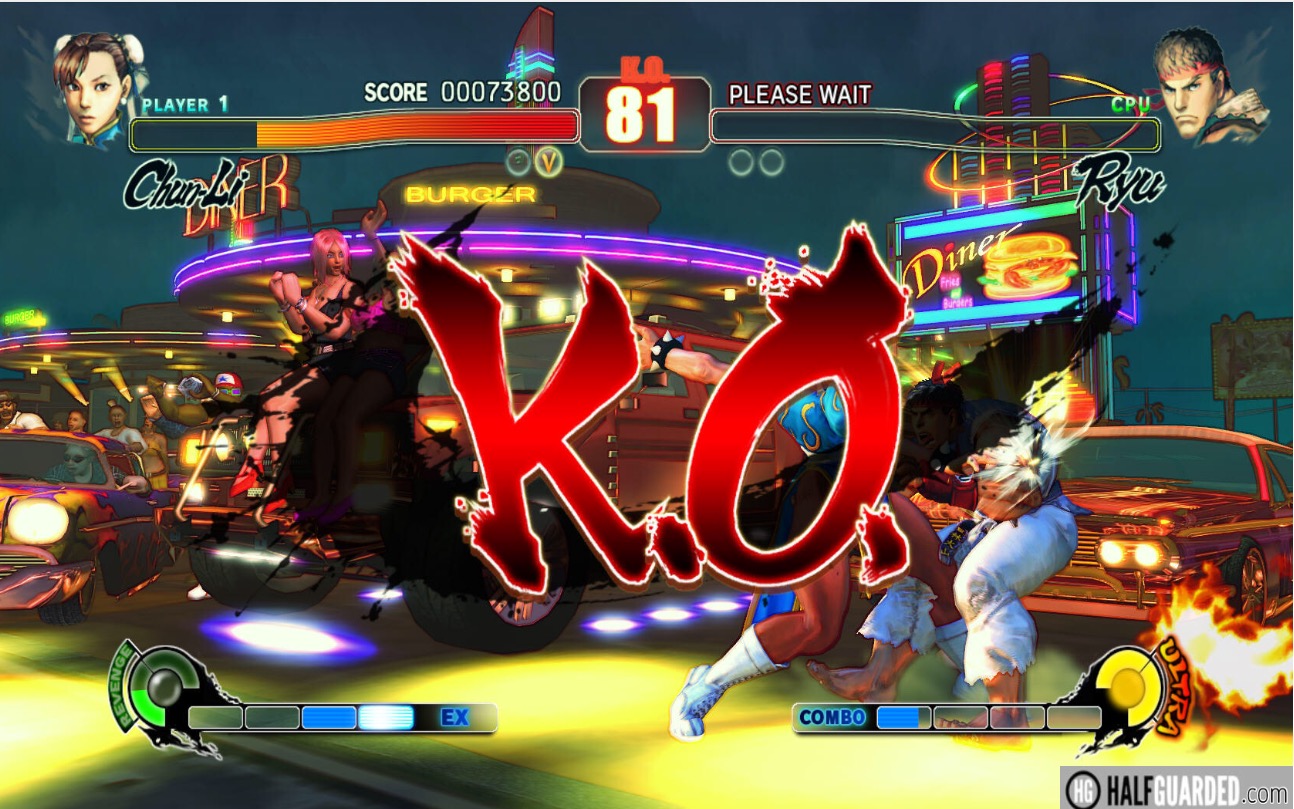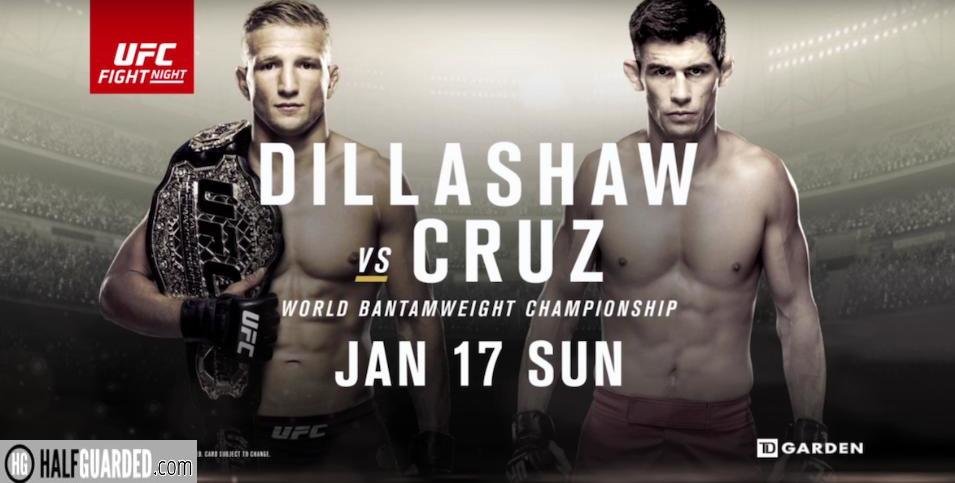 UFC Boston Dillashaw vs Cruz FREE LIVE STREAM of consciousness RESULTS – MAIN CARD – FOX Sports 1, 10 p.m. ET/9/8/7
Ross Pearson vs. Francisco Trinaldo
Round One
Feeling out early.  Pearson throws a heavy kick to the head that's blocked. I think it got the Brazilian's attention as he's backing away.  Trinaldo with a jab to the body but Pearson responds.  Pearson ducks under a kick to the head, like he's in a movie.  No one has done much so far and we're half way through.  Pearson double upped on jab with some success.  Trinaldo is fighting tentative.  Ross moving forward throughout.  TRonaldo slams Pearson huge just as the bell sounds.  Pearson 10-9
Round Two
Herb Dean told Trinaldo to watch his open hands and then Trinaldo gave him a high five.  Heavy kick to the body of Trinaldo, then followed by a takedown by the Brit. (Taken down by a Brit – national shame time.)  Trinaldo lets loose with a combination and a knee lands flush.  He steps back and lands another knee.  Clinching and ANOTHER knee.  He's found a home for that thing.  Another series of strikes from the Brazilian ends with good knees.  Trinaldo 10-9.
Round Three
Trinaldo with a big overhand right hurt Pearson.  Pearson has regained his bearings but he's slowly losing the round and probably fight.  Pearson bleeding from his eye: Trinaldo made him bleed his own blood.  Trinaldo is on his bike now.  He throws a high kick that landed flush but Pearson caught it and got a takedown. Pearson on top, pounding, but he basically lets Trinaldo up.  Trinaldo gassed a bit perhaps.  Last 90 seconds could decide the fight.  Pearson not turning it on like he should.  They clinch and that's not gonna lead to a finish.  Jerks.  Pearson 10-9.
OFFICIAL RESULT: Francisco Trinaldo d. Ross Pearson, dec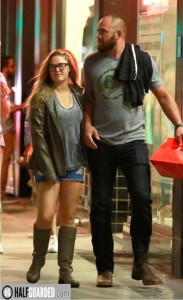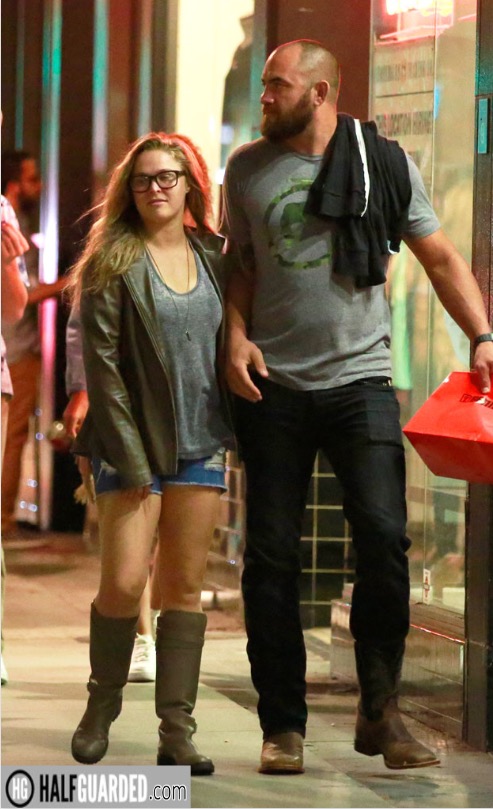 Travis Browne vs. Matt Mitrione
Round One
Both guys pawing early, Browne moreso.  Browne with a big right hand that misses.    Browne is definitely moving more throughout the first two rounds.  Browne picking Mitrione apart here.  Not overwhelmingly so but Matt isn't doing shit here.  Browne with front kicks and jabs.  But a Mitrione punch momentarily dropped/pushed over Browne.  Another front kick to the stomach of Mitrione. Mitrione poked in the eye.  I'll say he's faking it.  Browne 10-9.
Round Two
Mitrione out like a house of fire to start.  Then the fire went out.  Right hand tagged Mitrone.  He's claiming to be poked in the eye.  Browne, as an honorary Armenian, swarms.  The ref stops it about 20 seconds later.  Yeah, that's not how it should go. They're gonna fight.  In the land of men with two eyes, the man with one is fucked.  Matt is simply running in and throwing punches here. It's better than him sitting on the outside and getting pot spotted to death like earlier.  Browne with a two-on-one arm drag into a trip.  He's heavy on Mitrione.  Mitrione turtles up and Browne lets him up with a minute to go.  Browne with a series of knees.  Mitrione is gassed here.  Browne is still bouncing and light on his feet.  Isolated shots from Browne are landing while Mitrione is missing.  Browne 10-9
Round Three
Browne with more fluidity in his hands here, but he's also tiring and not moving, so that's why he's just boxing.  He's still catching Mitrione over and over again.  Crowd is booing. Browne with a big slam.  Full mount. Pounding. Mitrioneo isn't moving like a fish out of water. No, really, imagine one flopping around, that's what he looks like. GIANT ELBOW from Browne. And it's stopped.
OFFICIAL RESULT: Travis EYE POKE MACHINE Browne d. Matt MY EYE HAS BEEN POKED SO BAD THAT IT IS SWELLING LIKE A 14 YEAR OLD WHO JUST FOUND PLAYBOY Mitrione, R3, TKO.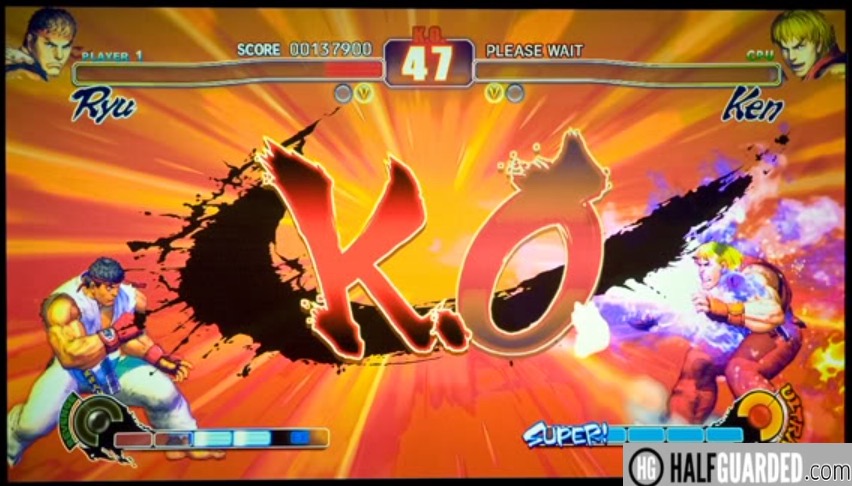 Joanna Jedrzejczyk and Claudia Gadelha will be the coaches for the next season of The Ultimate Fighter that no one will watch.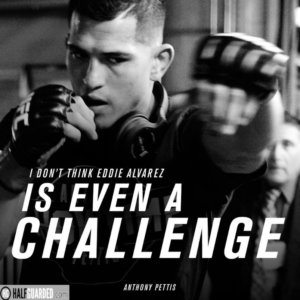 Eddie Alvarez vs. Anthony Pettis
OH HELL YEAH!!!! (Oh, and Pettis's coach is Daniel Wanderley who is my friend, so remember that.)
Round One
Alvarez with a takedown early.  Pettis with a loose attempt at a guillotine but he lets it go and stands.  Eddie is leaning on Pettis heavily.  Alvarez has clearly decided to wrestle Pettis and not exchange.  Coward.  Pettis defending well against the cage, splitting his legs to prevent the takedown.  Alvarez gets an inside trip but Pettis bounces back up.  Showtime separates.  Pettis with a kick.  Pettis tried a spinny kick but missed and Alvarez simultaneously shot in.  Alvarez gets Pettis down but Anthony is right back up.  With a minute to go, Pettis hits a brutal shot to the liver via a kick. Another kick to the midsection.  Round ends. Close.  Pettis 10-9
Round Two
They're at distance now.  Alvarez flanking more with his punches as Pettis is both waiting on the shot and looking for the "perfect punch."  That's how guys let rounds slip away.  More leaning by Alvarez but Pettis breaks and lands a knee.  Pettis slips and hits a counter right.  Pettis is quicker for sure, landing a kick to the leg..  The tide seems to have turned as Eddie is backing up more.  Pettis tries to Whizzer his way out of a takedown.  Pettis teased a guillotine.  Pettis defends the takedown well.  "Daniel Wanderley, third degree black belt under Carlson Gracie" just mentioned – hey, I know that guy!!  Eddie tied up for a bit in the center.  Pettis is now moving back.  Pettis with a kick to the belly button.  Another close round.  Pettis 10-9
Round Three
Alvarez shoots in but just isn't getting this takedown.  Pettis breaks well. Pettis lets the hands go and cops Alvarez.  Eddie connects with a leg kick.  Pettis tags Alvarez with a punch.  And Alvarez shoots and actually gets a takedown this time.  Pettis looking heel hook now.  He's close but Alvarez defends well and is on top with three minutes to go.  Eddie setting up an arm triangle but Pettis defends.  Pettis MUST get up to have a chance and he does.  Big takedown from Alvarez at the two minute mark. Eddie is winning this round and the first two were so close that who knows what will be seen by the judges.  Alvarez stacking Pettis against the cage but Showtime scrambles up.  We have 30 seconds to go and separation.  Pettis with a solid kick to the liver. Eddie didn't do much with his takedowns but he took the round and maybe the fight. Alvarez 10-9.
OFFICIAL DECISION: Eddie Alvarez d. Anthony Pettis, split dec.
Have to say, al things considered, that was a HUGE disappointment – and it's all on Alvarez. He did what he needed to do to win but there were no fireworks.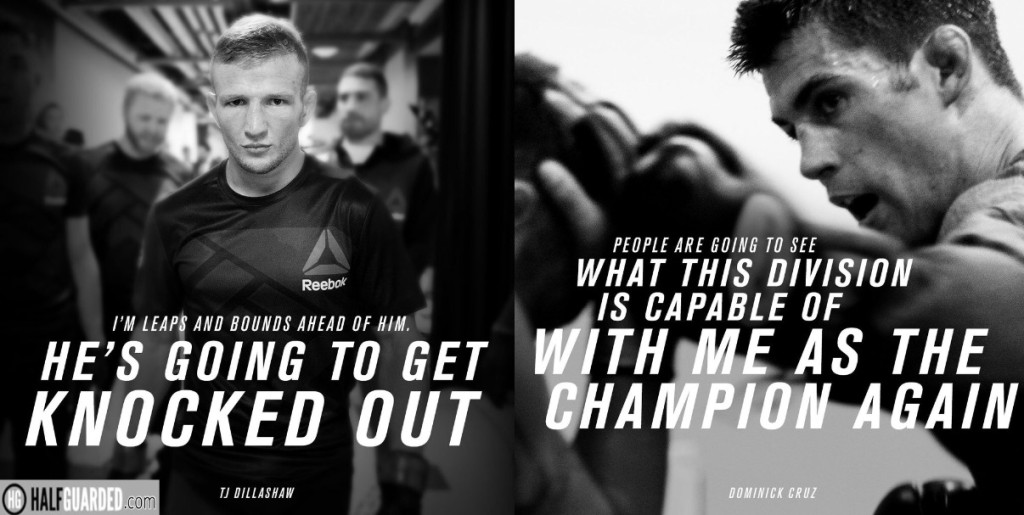 T.J. Dillashaw vs. Dominick Cruz for the UFC Bantamweight Championship
Here we go. What could be the single greatest display of what the sport ever will be.  We are seeing the future.
Round One
Cruz is a bit quicker earlier.  His footwork is more natural but these two are moving I ways never before seen n MMA.  Cruz uses a high kick to get a takedown but TJ stands.    TJ shoots but it's easily stuffed.  Dillashaw misses several punches as Cruz's head movement is as good as ever.  Cruz slips outside and lands a left.  He tries it again and TJ connects.  Another fade away counter punch by Cruz.  Cruz with a hard kick to Dillashaw.  Cruz catches a kick, they scramble, but Cruz lands as they stand.  Deep shot by TJ is stuffed.  Cruz 10-9
Round Two
I cannot get over the abiliy of Cruz to make TJ miss.  Cruz with a few hard punches to the stomach.  TJ has become more stationary already while Cruz is still doing is next-gen footwork, dancing around Dillashaw all round.  Cruz with about five feints before landing a punch.  TJ lands a kick to the head but it only grazes.  TJ is definitely in there, timing Cruz as well as he can but he's the bull and Cruz is the Matador.  Cruz with two big takedowns.  They scramble up quickly though.  Cruz 10-9
Round Three
TJ aggressive early here, throwing heavy hands.  Nice left hand by TJ clipsCruz's chin but without much success.  TJ is timing Cruz better so far, as he's landed several good shots.  Cruz is still in and out though.  TJ rushes Cruz and Cruz deftly steps to the side.  BIG right hand from Cruz was maybe the hardest punch he's ever thrown.  It didn't land.  TJ is winging punches now, showing frustration, to be honest.  Cruz with a very solid takedown.  They scrable and Cruz dove for a d'Arce choke but no luck.  TJ is breathing like he's giving birth: laboriously. TJ lands a good kick to the body of Cruz but Cruz responds with a combination.  The length and overall experience with the style are helping Cruz. Cruz 10-9
Round Four
TJ with a right hand early as Rogan rides Cruz's jock (which, like, Iget but c'mon, man).  Cruz is just so smooth at stepping a half-step back and countering with a punch. Cruz with a takedown but TJ is up right away and that was all set up by a big leg kick that are Cruz rethink what's happening. Cruz is finally slowing – just a tiny tiny bit – andTJ is loading up on shots in response.  That said, Cruz is still showing incredible head movement.  TJ gets a takedown and Cruz scrambles up.  TJ hanging on Cruz here, kneeing the leg, which is smart. There's only a round left but it could slow Cruz enough to make him hitable.  Well, whatever damage was done, Cruz is still moving well.  TJ slips and misses a high kick.  Dillashaw 10-9.
Round Five
Big kick by TJ almost hit the face but was blocked.  Cruz responds with a big combination of punches.  Cruz with another multi-punch combination.  Cruz's leg is showing visible signs of damage.  Poor bastard probably blew out his ACL – again.  TJ looks lighter on his feet for the first time all fight.  Cruz is active, throwing a lot, but missing.  90 seconds to go and with how close the rounds have been, who knows.  No matter what, this truly lived up t the hype of being something you'll never see anywhere else.  Cruz with a nice series of punches that all landed.  TJ stuffs a Cruz takedown.  30 seconds to go and who knows.  Cruz lands a right hand off a flyin knee.  They trade as it ends. Cruz 10-9
OFFICIAL RESULT: Dominick Cruz d. TJ Dillashaw split dec.
Cruz was walking around visibly limping. That knee is done.  This could be the end of his career.  If it is, what a way to go out: redefining the sport forever.
QUICK & DIRTY UFC Boston Dillashaw vs Cruz FREE LIVE STREAM of consciousness RESULTS
Francimar Barroso d. Elvis Mutapcic, dec
Rob Font d. Joey Gomez, R2, TKO
Augusto Mendes Charles Rosa d. Kyle Bochniak, dec
Ilir Latifi d. Sean O'Connell, R1, KO
Paul Felder d. Daron Cruickshank, R3, sub
Luke Sanders d. Maximo Blanco, R1, sub
Ed Herman d.Tim Boetsch, R2, KO
 Chris Wade d. Mehdi Baghdad, R1, sub
Patrick Cote d. Ben Saunders, R2, TKO
Francisco Trinaldo d. Ross Pearson, dec
Travis Browne d. Matt Mitrione, R3, TKO
Eddie Alvarez d. Anthony Pettis, split dec
 Dominick Cruz d. T.J. Dillashaw, split dec. to WIN the UFC Bantamweight Championship