Forget Independence Day, there isn't any holiday more American than Super Bowl Sunday. It literally combines everything that makes contemporary U.S. society great into one 24-hour block of inescapable multimedia excess. For the men, you've got a whole bunch of minorities who get paid millions of dollars a year to give each other CTE bashing each other's skulls together in high def (with your kids' college savings fund on the line, no less) and for the women, you've got a whole bunch of commercials (all of which cost more than the gross national product of most third world countries to air) and over-the-top musical performances from pop stars you secretly loathe for being skinnier than you. And everybody – regardless of their own personal interest in football – can unite over four things: eating an absurd amount of food, drinking an absurd amount of alcohol, staring at a TV and being sedentary for a really long time, and, of course, yelling at the TV while continuing to be sedentary.
When you look at the endless sea of white crosses at Arlington, rest assured, this is the way of life they fought for. Forget democracy and free elections and the Constitution – knowing we'd have to watch soccer and Eurovision if we lost was more than enough reason to go to war with Hitler.
So as a public service, I took it upon myself to draw you folks up an official cheat sheet for celebrating Super Bowl 51. This article – even if you can't tell Matt Ryan from Matt Lauer – will tell you pretty much everything you need to know heading into the big game, so absolutely nobody will think you're some kind of clueless putz at whatever social mixer you attend. Alright kids, let's hop right into it, why don't we?
THE TEAMS
First things first, YOU have to pick a team to root for. It doesn't matter if the team you root for in the regular season isn't participating in the Super Bowl, or if you even know what the nicknames of the two teams playing in Houston are. Since we're not really allowed to be tribalistic about race or ethnicity no more, this is one of the few times of the year Americans are actively encouraged to become jingoistic, totemic psychopaths who automatically hate half the country (really, the only other time we get to "Purge" like this is when we have a Presidential election, so savor the opportunity while you can.) This year, the two teams battling for the Lombardi Trophy are the New England Patriots and Atlanta Falcons. Now, this one should be pretty simple if you are a regular NFL viewer. Basically, you just pick the team that your regular team doesn't play AS OFTEN. So, if you are a fan of the New Orleans Saints, clearly, you would cheer for the Patriots and if you are a fan of the Miami Dolphins, you would cheer for the Falcons. Now, are you a non-regular NFL watcher? Here, it becomes a little more arbitrary, but thankfully, I've come up with a five-pronged test to determine which team you ought to be pulling for Sunday:
#1 – Are your neighbors more likely to be …
A.) black?
B.) white?
#2 – Are most of your state's elected officials …
A.) conservative?
B.) liberal?
#3 – What would you rather see …
A.) the latest Madea movie?
B.) the latest Ben Affleck movie?
#4 – What sounds more delicious …
A.) a nice glass of sweet iced tea and a huge assed plate of macaroni and cheese?
B.) a hot cup of clam chowdah and an overpriced IPA brewed by some trust fund baby attending classes at Yale?
#5 – How many federally investigated hate crimes do you think your state is more likely to record …
A.) 49?
B.) 483?
It don't get simpler than this, folks. If you have more As than Bs, you should root for the Falcons, and if you have more Bs than As, you should root for the Patriots.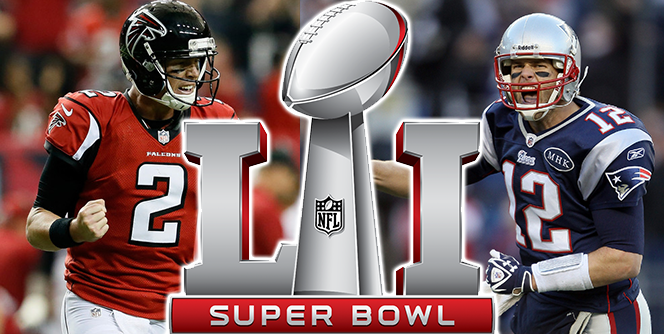 THE PLAYERS
Really, the only two names you need to care about are Tom Brady and Matt Ryan. Tom Brady is the QB for the Pats, and he hangs out with Donald Trump and once abandoned his pregnant girlfriend. Matt Ryan is the QB for the Falcons, and he voted for Obama and likes to read books to impoverished children in his freetime. Other names you might want to file away in your memory banks JUST in case include Julian Edelman, Chris Hogan and LeGarrette Blount (all on the Patriots) and Julio Jones, Tevin Coleman and DeVonta Freeman (all on the Falcons.) It's also probably a good idea to remember the name of at least one defensive player on each team, and if you can even name who the teams' punters are, no one will question your authenticity as a fan the rest of the evening.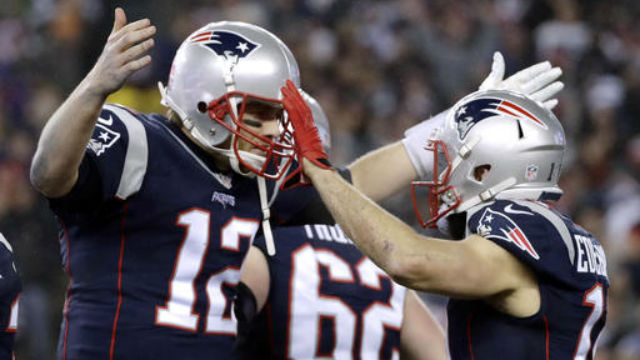 ÉTIQUETTE
A few rules of conduct all Super Bowl party attendees must abide by at all times:
#1 – You HAVE to wear at least one article of clothing featuring your team's logo.
#2 – If you're attending someone else's Super Bowl party, you HAVE to bring at least one dish large enough to feed eight people for a full week. At the very least, you need to bring a 24 pack of Bud Light and a minimum of 16 bags of nacho chips. And it better not be that store-brand shit, neither.
#3 – Every time your team collects more than five yards on a play, you MUST jump out of your seat and scream like a madman. In fact, there's actually a continuum to follow here, which I've graciously listed below:
Your team gets a first down – jump up on couch, point at opposing fans and yell "in your face"

Your team gets more than 20 yards on a play – literally kick the coffee table over, then rip shirt off like Hulk Hogan

Your team scores a touchdown – Scream "WOOOO" a'la Ric Flair for four straight minutes

Your team sacks the opposing quarterback – literally get in someone else's face and call them a "biggity bitch," even if it's your own mother

Your team intercepts the opposing quarterback – start speaking in tongues, potentially set a piece of furniture on fire

Your team scores a safety – pull out genitals, mark territory right in the middle of the living room
#4 – Not only is taunting acceptable, it's MANDATORY. The greater your team's lead, the more personal your insults are allowed to be. I.E. – "We just put 20 points on your ass, and your father was an alcoholic who never really loved you."
#5 – And lastly, anybody who brings in a low fat vegan friendly spread instead of cheese dip should be murdered and buried in the backyard before kickoff. Don't worry – ain't nobody going to miss 'em anyway.
DRINKING GAMES
The Super Bowl is naturally conducive for drinking games, and Super Bowl 51 is no different. If you're looking to get liquored up in a hurry, here's the one we're planning on using for my household  …
DO ONE SHOT IF …
You can understand a single syllable Luke Bryan utters during the National Anthem

Somebody calls a commercial "dumb" or "stupid"

Joe Buck shows any signs of human emotion (probability: negative zero percent)
DO TWO SHOTS IF …
A really, really fat player scores a touchdown

Donald Trump shows up

Lady Gaga

says

something about Donald Trump during the halftime performance
DO THREE SHOTS IF …
Tom Brady throws an interception

Bill Belichick is shown on the sideline nervously chewing on something

The name "Michael Vick" is uttered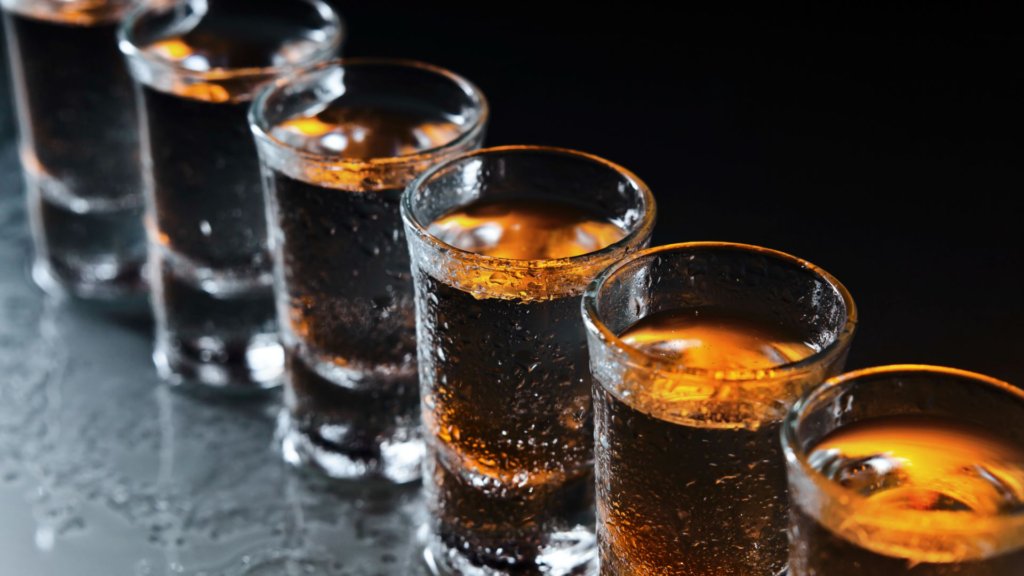 FINISH THE BOTTLE IF …
Russians invade the game during the third quarter,

Red Dawn

style

A visible vagina is broadcast at any point during the game

Troy Aikman acknowledges he looks like a white Jay-Z
COMMIT SUICIDE BY ALCOHOL POISONING IF …
Either Tom Brady or Matt Ryan get injured/benched

Arthur Blank punches Robert Kraft

Anybody on the winning team says "cash me outside" or "howabboutdat" during an interview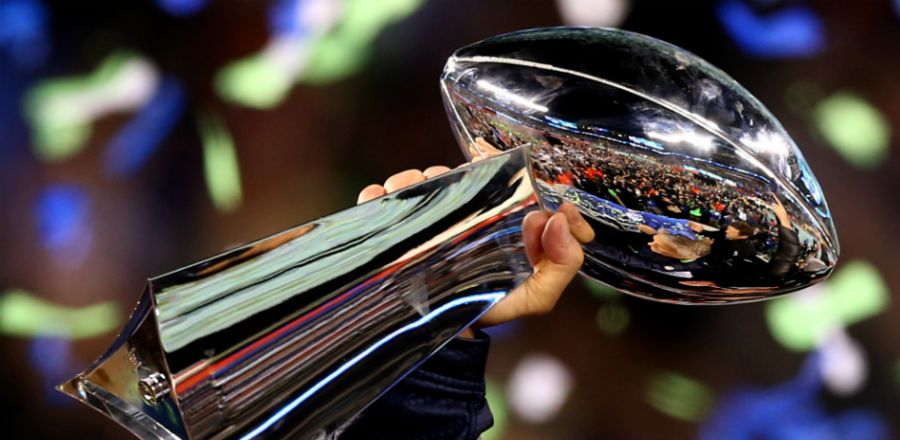 WRAPPING UP THE CEREMONIES
If it's a good Super Bowl party, everybody should need a blood transfusion by the time 24 comes on. Of course, we would never, EVER condone drunk driving, so if you've drank three bottles of Jose Cuervo mixed with Sriracha sauce, you need to a.) call Uber, b.) call a taxi, or c.) call up a friend who isn't drunk – or is at least less drunk than you are – to give you a ride home. Regardless, no matter how drunk you get and how much rioting and looting you do after the game, you have to go to work the next day or else none of this shit counts.
If your team loses, there's really only one proper course of action to take – you need to bust somebody's windshield out. And if your team wins? Then you need to bust out two windshields. Hey, this is America, dabnabbit, and it ain't really a celebration 'til half a city block is on fire.
And remember – if you don't leave soaked in tequila, guacamole and somebody else's blood, you didn't really get the full Super Bowl experience.