@MichaelCoughlin
This was our original story (below)(obv). Ronda will now main event in Australia. This is … nuts. The UFC is taking someone who drew almost a million PPV buys in the same general time zone and changing it so she now fights in what is … The future. Australia is weird. Kangaroo parties. All that. And now what may be the single most bankable non-Mayweather draw on earth fights in Aussie Land.
Dear Australia: the UFC truly loves you.
ORIGINAL WHICH YOU CAN READ AND REPLACE VEGAS WITH AUSTRALIA AND IT IS THE SAME.
Ronda Rousey will defend her UFC Women's Bantamweight Championship against challenger Holly Holm on January 2, 2016 at UFC 195 193. This will mark the 7849th attempted defense by Rousey.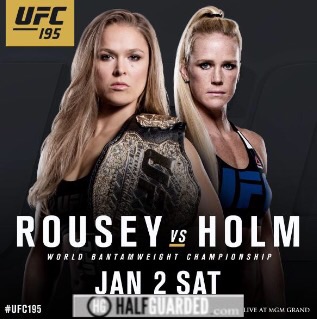 Holm was long considered a rare prospect in the women's game, as her world champion boxing skills proved dominant at the lower levels of the sport. That, combined with her longtime association with the Greg Jackson camp, had observors excited. Holm has had a few tune-up fights inside the Octagon as her camp wanted to get her ready for the larger cage and bigger stage.
Apparently the time was right (read: money) for Holm to step up and be the latest victim challenger. Whilst the headliner at the moment, it's always possible the UFC adds another high profile fight underneath. Cain vs Werdum is the rumor I will now make up.
Where this leaves Boobs McGee is unknown but one suspects there's a tanning bed nearby so she'll be ok.
While Ronda has a heck of an armbar, for true grappling excellence, check out our ADCC 2015 Results!