@mattfgrady
Originally published in August, when the fight was announced for January, it is republished today as it was originally written.  Ignore the weirdness of "UFC 195" and focus on the actual content. – The Editor
Last week, Ronda Rousey announced that she would defend her Women's Bantamweight Championship against former boxing champ and top UFC contender Holly Holm.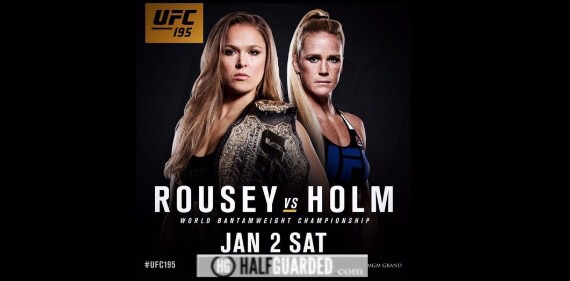 This announcement came as a surprise to many. It had been strongly hinted by UFC President, Dana White that Rousey would square off with perennial contender and fan favorite Miesha Tate in her next fight. Plans change though, and the less known, less experienced Holm
was given the nod, in favor of Tate, because it was a fresher matchup.
Make no mistake, until she loses, Ronda will rightly be the betting favorite in all of her fights. The fight with Holm, however, seems like a major mismatch. While being undefeated, and an effective striker in MMA, Holm has not been particularly exciting or dominant in her two UFC fights. In addition, she has not fought the crème de la crème of the division, making it difficult to ascertain how good she really is.
We know how good Rousey is though. She is a monster who walks through everyone she faces. Her last three fights have lasted a total of 64 seconds. No doubt, Holm's chances look grim. Rousey should be able to work her way inside throw Holm down and submit her with relative ease. Holm is jumping into shark infested waters while wearing a dress made of raw meat.
A win by Holm would be the greatest upset in MMA history. And make one MAN a legend.
Greg Jackson.
Who the hell is Greg Jackson, you say? Well, to the chagrin of many, Jackson is already the most successful coach in MMA history. Jackson has led many champions and top contenders over the last decade, including; Georges St. Pierre, Jon Jones, Rashad Evans, Donald Cerrone, Carlos Condit, Nate Marquardt, Andre Arlovski, Shane Carwin, Frank Mir, John Dodson, and Diego Sanchez. No other MMA coach has worked with so many elite fighters, in so many different weight classes, and been so good. Jackson's track record is damn impressive and easily trumps that of his contemporaries.
This is not to say that Jackson is a beloved figure in MMA circles. He has been a controversial character for years. Fans have claimed his fighters often fight cautiously and, as a result, end up having boring fights. They fight to win points and decisions, not to garner knockouts and submissions. Gradually, in the eyes of many, the Jackson camp encouraged it's fighters to adopt a passive, duller style of fighting as its standard operating procedure. His detractors and Dana White, in particular, have called Jackson, "a f-cking sport killer," and "a f-cking weirdo," due to his coaching style and the career advice he has given Jon Jones. In 2012, Jackson advised Jones to not take a last minute fight with Chael Sonnen. Jones' refusal to fight Sonnen led to the cancellation of UFC 151 and losses of millions in revenue. Suddenly, Jackson was one of the most vilified people in MMA.
While disliked for his fighters' game plans and their fighting styles, one cannot debate Jackson's success though. He truly coaches the best guys in the world and they win a lot. Clearly, GSP and Jon Jones are not going to work with Jackson for years, unless he brings something to the table. He coached both to the pinnacle of their divisions and helped keep them at the top of the mountain for years.
On January 2, 2016, Jackson can truly cement his legacy as the greatest coach in MMA history. His fighter and next top contender, Holly Holm, will step into the cage with the most dominant fighter in the history of combat sports; Ronda Rousey. Literally everyone expects Rousey to destroy Holm. Some online sportsbooks have Rousey as 12-1 favorite over Holm. Those are some loooooong odds.
If Jackson can coach Holm to victory, he will become the first coach to have trained a male and female world champion in the UFC. He will have led Holm to the biggest upset in MMA history.
He will be the greatest coach ever, even if he is "f-cking weirdo."