Of all the potential bouts that could've headlined UFC 200, Jon Jones vs. Daniel Cormier may seem like an unusual selection. The two most marketable names on the UFC roster, Ronda Rousey and Conor McGregor, seemed like perfect candidates for the top slot. Even the surprising return of Brock Lesnar seemed like the sort of crossover appeal PPV bait that a multi-billionaire company like the UFC would be quick to pencil in for the main event. It really wouldn't have been all that shocking to see Georges St-Pierre or Anderson Silva somehow sneaking their way to main event status, either.
But a rematch of a fight we just saw a year and a half ago? What sort of sense is that supposed to make?
While Jones vs. Cormier 2 may not have the marketers and advertisers foaming at the mouth with dollar signs in their eyes, it's definitely the best choice the UFC could've made for the marquee matchup in what is almost guaranteed to be the biggest money MMA card to date.
Simply put, this is exactly the fight you want headlining the biggest show in the sport's history. Without question, Cormier and Jones are the two best fighters on the planet right now, bar none; Cormier is far and away the planet's top heavyweight fighter and not only is Jones the best light heavyweight in MMA, there is a strong argument to be made that at the ripe age of 28, he's already the greatest fighter in the sport's history.
These two men embody the concept of the "ultimate fighter." Not only are the extensively accomplished wrestlers (Jones is an NJCCA All-American and champion, while Cormier is an NCAA champion who has competed for world wrestling championships at the Olympics and Pan-American Games), they are ferocious strikers who, in another life, could have been world championship boxers. Factor into that their world class jiu-jitsu skills and kickboxing technique, and you have arguably the two most dynamic competitors in any form of combat sport. You give either of these guys Tyson Fury or Deontay Wilder, and the world champion pugilists would be slobbering on the floor in less than a minute.
Yes, this bout is for the UFC Light Heavyweight title. But it's also about something much, much more: the right to legitimately call one's self the baddest man on the planet.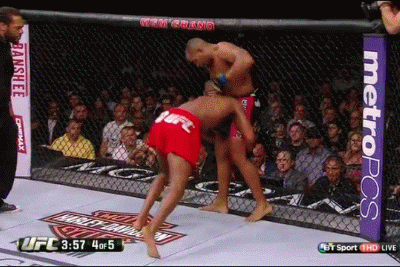 Cormier and Jones have fought before. In their first bout, held in Jan. 2015, Jones won a unanimous decision from the judges, but it was most certainly anything but a one-sided drubbing. Indeed, the first two rounds were slugfest city, with both men absolutely battering each other with everything they had. Rounds three and four were a bit more methodical, with both adversaries looking for takedowns, with round five a defensive clinic from Jones, who used his exquisite striking to fend off a last-second surge from DC (who, although he lost the bout, did manage to rattle off one of the most hellacious slams in UFC history.) So what's changed in the year and a half since that fight?
For starters, Jones – who is no stranger to boneheaded behavior outside the Octagon – was stripped of the title he's held since 2011 after the double whammy of testing positive for cocaine and fleeing the scene of an automobile accident involving a pregnant woman (while quite possibly high on drugs at the time.) This led to a year away from the sport; Jones, despite noticeable cage rust, nonetheless dominated feared slugger Ovince St-Preux in his big comeback match, held earlier this year at UFC 197. Cormier, on the other hand, has gone on to easily dispatch brutal striker Anthony Johnson and survive a close call against lanky Swede Alexander Gustafsson, whose ranged, technical jabs – very reminiscent of Jones' striking – gave DC all he could handle and then some at UFC 192.
Should we anticipate Jones and Cormier's second tilt playing out any differently from their first one? In my heart of hearts, I can't imagine such to be the case. Cormier is a hard, hard hitter, but Jones is just so evasive. While DC's grappling is world class, Jones' takedown defense has already proven itself to nullify the 205-pound champ's attack. The storyline here is pretty much identical to the first fight: both men are going to swing for the fences early, and then, it's a battle to see who can control the fight on the canvas. It's ridiculously simple – whoever lands the first takedown of this fight is almost certain to land the most throughout the remainder of the championship contest, and that ought to be enough to win it on the scorecards.
But then again, all it takes is one right hand or left head kick out of nowhere to totally rewrite the script. Is there a chance DC could land a hard shot on Jones' chin and send him crashing to the mat in the first round, or a strong possibility that Jones could drop Cormier with a lightning-fast knee or elbow strike? Of course, but as well as these men know each other, they are definitely going to play it smart and conservatively. What may appear to be Rock 'Em Sock 'Em Robots to the filthy casuals is really just their "feeling out" phase, a hyper-violent "mind game," so to speak. This fight is destined to be a grueling, hard-hitting chess match, with that first single-leg or double-reap representing the MMA equivalent of the load-bearing Jenga piece being yanked out at 100 miles per hour.
That's the thing that makes Jones vs. Cormier II such an interesting matchup. Whereas other fights on the UFC 200 main card are pretty much engineered to be either "the first guy who gets hit lapses into a temporary coma" slug fests (Hunt vs. Lesnar and Velasquez vs. Brown) or "wait until one of 'em slips up and the other capitalizes" technical showcases (Tate vs. Nunes and Aldo vs. Edgar), the headliner is guaranteed to be an old-school, tit-for-tat war of attrition. Both men are going to knock each other silly, and both men are going to at least attempt to slam the other one through the Bud Light product placement placard at mid-cage. And as good as both men are – as skilled and versatile and defensively-minded – it's hard to imagine either Jones or Cormier going in there and absolutely throwing caution to the wind. You don't become a world champion by fighting frantically and hoping for the best, you become one by learning how to fight intelligently and adapting to the tempo and skillset of your adversary. To make it to the pinnacle of the sport, having "fun" bouts and always attempting to finish off your opponent isn't enough; you've also got to strategize, to outthink and outmaneuver your foe. Defeating them physically is really just half the battle – when top-ranked adversaries go toe-to-toe, the winner is almost always the one who manages to mentally defeat their challenger first.
That's why Daniel Cormier and Jon Jones are main eventing at the biggest MMA show ever. They've gotten to where they are by not just outwrestling and outstriking their opponents, but by dismantling them strategically. That's how Cormier defeated Dan Henderson, Roy Nelson, Frank Mir and Josh Barnett, and that's how Jones defeated – deep breath now – Glover Teixiera, Chael Sonnen, Rashad Evans, Lyoto Machida, Vitor Belfort, Mauricio Rua, Quinton Jackson and Ryan Bader.
Muhammad Ali didn't become a champion because he wailed on people with reckless abandon. The Patriots didn't become a dynasty by blitzing and throwing Hail Mary passes on every down. And the Golden State Warriors literally didn't win NBA gold by aiming for threes all day and night while completely eschewing the fundamentals of defensive basketball. And frankly, that's why we're seeing Jon Jones and Daniel Cormier at the top of the card and not crossover mega-stars like Ronda Rousey or Conor McGregor (or, for that matter, Brock Lesnar.) Oh, they may sell tickets a plenty, but they don't represent the holistic best of mixed martial arts – the offense, the defense, the aggression AND the intellect.
But Bones and D.C. do. Maybe their rematch will have a completely unexpected flash-bang-boom out of nowhere knockout finish, but considering their respective pedigrees, I wouldn't count on it. Instead, we are (likely) going to see two men go out there and throw beautiful straight jabs and expertly timed kicks, the bulk of which are guaranteed to be whiffed on masterful blocks and rapid evasions. We're going to see dirty boxing in the clinch, and plenty of short range strikes up against the cage. We're going to see a slow build towards the first single-leg takedown, the first submission attempt, the first efforts to lay down some serious ground and pound. While other fighters take their chances, these two will take their time; like two symphony violinists, there isn't a wasted note in their concerto of violence. Every strike is premeditated, each takedown attempt carefully considered. There will be no attempts to win "performance of the night" honors from either man, no spectacular, highlight reel spinning kicks or attempts at a real-life Falcon Punch (although the sport being as unpredictable as it is, there is still at least a glimmer of a ray of hope that something that wonderfully fluky would cap off the card.)
Jon Jones and Daniel Cormier – despite their bad blood – are just going to go out there and fight as intelligent a fight as they can muster. They are both heading into the bout expecting a draining, exhausting, 25-minute war, with the victor quite possibly declared in the waning moments of combat. They are preparing for a half-hour of intense, nonstop action – trading brutal blows standing, defending against a shower of elbows on the mat, securing hard-fought takedowns against the cage, clipping their foe's chin from a distance and safeguarding their skulls in heated exchanges in the clinch. Theirs is destined to be a fight demonstrating the pinnacle of technique in all areas of MMA – the striking, the wrestling, the subs, the defense, the cardio. In short? They're training for a showcase of the absolute best the sport has to offer, knowing full well that man on the other side of the cage represents the highest form of pure MMA skill, knowledge and ability on the planet.
Whoever has his hand raised at the end of the contest will not just walk away the undisputed Light Heavyweight Champion of the world's premier combat sports organization. He will walk out knowing he's pound-for-pound the toughest, strongest, smartest and most complete fighter on Earth, the one man whose physical, technical, and cognitive toolkit makes him humanity's superior hand-to-hand warrior.
And with that in mind, how could anything else possibly be considered for top billing at UFC 200?