Ladies and gentleman, we are excited to give you the latest and greatest news on The Martian 2 (2017). The sequel to the surprise sci-fi hit, The Martian, The Martian 2 starring Matt Damon will be coming sooner rather than later. Please, allow us to tell you just a little bit about what we know. Because we know movies. We know movies like Grown Ups 3, Looper 2, X-Men National Treasure 3, Jumper 2, Hancock 2. Yeah, so we know movies!  BOOM!
The Martian 2 Director is…
Ridley Scott will direct The Martian 2. This hasn't been publicly made official but look at the man's career: he directs Alien then comes back and directs Prometheus, an Alien prequel, and is now going to be doing another Alien film, that will be a sequel to Prometheus but still a prequel – a sequel to a prequel. If that wasn't enough, Scott is going back to the well of Blade Runner as well. The man has reached the stage of his career where he's just going to recycle his ideas and coast on past success. If it worked once, he'll make it work again. It's a lock that Ridley Scott directs the sequel to The Martian.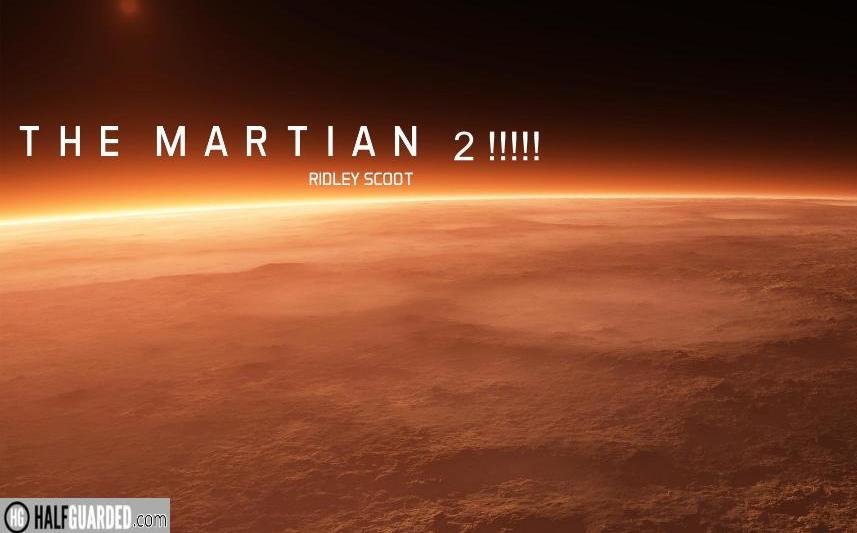 The cast of The Martian 2 (2017)
Matt Damon is coming back (after doing Jason Bourne). The Martian ended with Damon having returned from Mars and thus no longer a martian. When he returns, he'll be rejoined by Kristin Wiig because what else does she have to do? Rumors have it that Ben Affleck will make an appearance in The Martian 2 as he continues to prove to everyone that he's actually talented. There's talk of a holographic appearance from the late Steve Buscemi but we're still waiting on him to actually die before using him as a ghost. No word on if he's sick.
The Martian 2 Trailer
The trailer for the Martian 2 will look something like this:
Yes, that appears to be the trailer for the first The Martian but if you watch it backwards you'll get an idea of where they're going with things because…
The plot of The Martian Sequel
The plot for the sequel to The Martian is as follows: Having returned home, Matt Damon finds he misses Mars. He watched another brave soul go off and become a martian. Inevitably, this will have repercussions. Damon will not be able to cope without his Mars – it's his! He will hijack a space shuttle and fly to Mars because he knows, deep down, something isn't right. He has a connection to Mars now. While there – and these are rumors but we feel confident in them – he will discover that all the plants and stuff he grew have developed at a rapid rate and Mars now looks like a jungle. The red planet is now green! No one ever understood that "life will find a way." Now sentient, Damon will fight off newly evolved martians – all while struggling with the fact that deep down he wishes to join them.
The Martian 2 (2017) Poster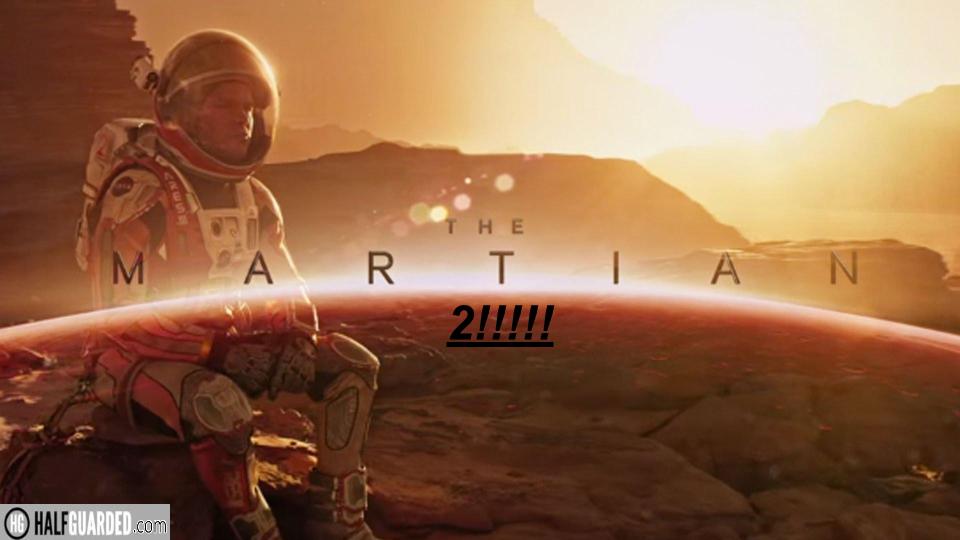 Simple enough!
The Martian 2 Release Date
The Martian 2 is scheduled to come out in June of 2017, with a release date for the sequel to The Martian tentatively June 14, 2017. Scott will burn through the Alien and Blade Runner stuff like it's no one's business next year and Damon's career is kind of in a lull except for his begging to become Jason Bourne again so they're going to try for a quick turn around. After the success of the first film, the studios are going to aim for a big summer blockbuster this time.
The sequel to The Martian will be written by
The Martian 2 will be written by Ridley Scott, Matt Damon, and Ben Affleck (who will just throw his name on it at the end and collect an Oscar). They might bring in Andy Weir who wrote the book that the first movie was based on. Apparently though, Drew Goddard, who drafted the first screenplay based on Weir's book won't be returning as he hates Damon. Goddard was disgusted that he wasn't allowed to play the lead and resents Damon to this day. What a jerk.
Projected The Martian 2 Box Office
The Martian was a smash at the box office and studio executives who spoke off the record have told me that they expect The Martian 2 box office to be huge: somewhere in the neighborhood of $500-$700 million, at least.
The Martian 2 Photos
These are maybe from the first film but one source said they already did some pre-production shooting of Damon because they want him to look scraggly for the second film which is part of the reason for the 18 month delay.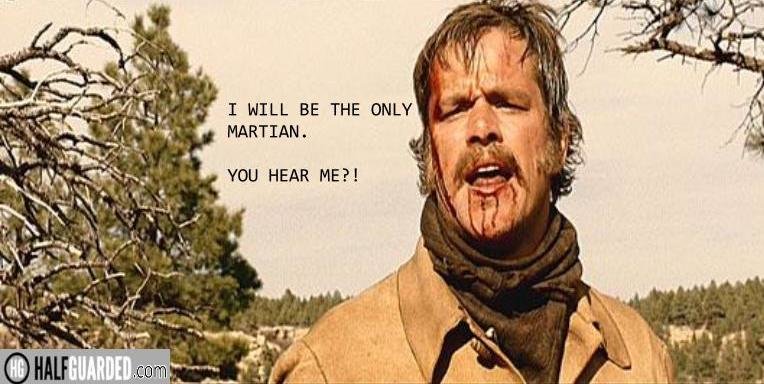 Enjoy this The Martian 2 Preview? Read on:
The Martian Sequel Products