Stipe Miocic is the most dangerous man on the planet.  You get to call yourself that when you win the UFC Heavyweight Championship.  Saturday, he'll headline a PPV, against one of the most credentialed heavyweights in MMA history, in his home town, and he's relegated to an after thought.  Again.  Twice now, the fates have conspired to deny him his day in the sun.  This is the story of Miocic's title reign.
It begins with winning the title.  Fabricio Werdum was – and is – an all-time great heavyweight.  He'd reinvented himself, tapping out everyone from Fedor to Nogueira to Cain, all en route to becoming UFC Heavyweight Champion.  Hell, he even knocked out Mark Freaking Hunt along the way.  So the UFC gives him a dream: his first title defense will be in Curitiba, Brazil, right near his hometown of Porto Alegre.
Two and a half minutes later, he was unconscious as Stipe Miocic had flattened him right hand.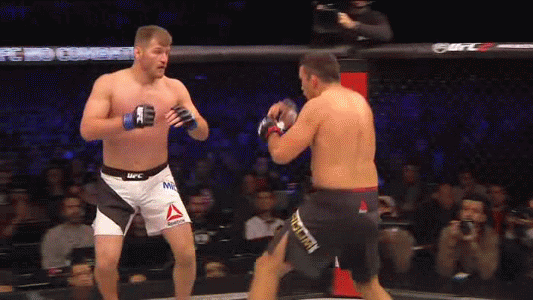 Miocic was known but hardly a big name and the show had mostly been built around Werdum defending his belt than Miocic challenging.  Fair enough.  Werdum was the champ and had been a longtime star in the industry, no shame in granting him a potential moment in the sun.
Still, if you're Miocic, the greatest moment of your athletic career happened 8485 miles from home.  That's twice as far as the distance from Cleveland to London.  Tokyo and Beijing are closer to Cleveland than is Curitiba. Everyone you knew and loved had to watch on TV.  Nonetheless, you were still champion of the world.  More than that, you were Local Boy Made Good as you brought Cleveland it's first title in 52 years.
Except… Just a few weeks later, the Cleveland Cavaliers win the NBA Championship as fellow Local Boy Made Good, LeBron James fulfilled his promise to win a title for his hometown.  For a brief period, Miocic's victory was heralded locally as breaking the "Cleveland Curse" but after the Cavs win?  The narrative had to change.  Miocic was cast to the side, no longer important, as to acknowledge that he'd been first would ever so slightly take away from James's accomplishment.  From hero to afterthought in the blink of an eye.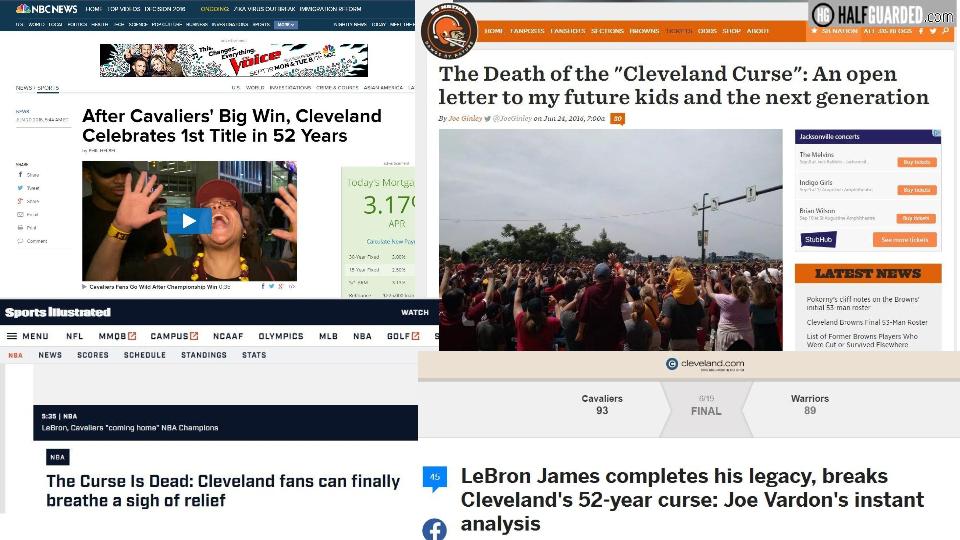 James and friends visited the President of the United States.  Miocic went back to his day job as a fireman.
Stipe Miocic Overshadowed by CM Punk
It's happening again to the champion.  It isn't intentional.  The UFC has a vested interest in people liking Miocic; hell, in following a pattern, they booked his first ever title defense in his hometown.  Major title fights don't happen in Cleveland because … it's Cleveland.  (Though perhaps that is an indictment of Miocic on the UFC's part: would Conor McGregor ever be fighting in Cleveland?)  Timing being what it is, CM Punk's debut is scheduled for the same show.  A press conference call for the PPV didn't even feature Miocic, it was 2-0 Mickey Gall and 0-0 CM Punk.  The heavyweight champion of the world, the man who is an in his prime wrecking machine, coming off a series of brutally quick knockouts, fighting in his home freaking town, and he isn't even on the conference call.
For Miocic's bank account, this is a good thing.  Presumably, he gets points on the PPV, and Punk's name will certainly attract more eyeballs than if he wasn't fighting.  Money is all well and good, and money is what matters when your career is over and you realize that you have to live on what you've made for the rest of your life, but just as an athlete, to finally reach the mountain top after decades of crawling through gravel, only to find that someone else is in a hot-air balloon just above your head, that has to sting.
The adage is that defending a title is tougher than winning one.  There's no more evidence of that than the UFC Heavyweight Championship, the first title the company ever created never been successfully defended more than twice in a row; that's 1/5 the defenses Anderson Silva managed during his reign as UFC Middleweight Champion.
Standing in Miocic's way is none other than Alistair Overeem: the only man to ever hold a major MMA and kickboxing heavyweight world title at the same time; the man who knocked out Brock Lesnar in minutes; the man who became the first ever to knock out Junior dos Santos; the man who just knocked out Andrei Arlovski with a jumping front kick; the man who knocked out legends K-1 greats like Peter Aerts, Badr Hari, and Gokhan Saki; and a man who before all that, once advanced to the finals of the most prestigious grappling tournament on earth by winning the ADCC European Trials.
But the dye has already been cast.  Even with a win over Overeem, the focus will still be on CM Punk: how did Punk do; did he win?; did he lose; will he fight again?; and so on.  Rodney Dangerfield got more respect than Miocic.
Miocic steps into the Octagon to remind everyone that he broke the Cleveland Curse, that he's the main-event and not CM Punk, and that with a win he'll be that much closer to creating history.  Again.  Hopefully, should that happen, people will finally give him the credit he's due.