Due to the rousing success of TUF season one, specifically the TV ratings for the finale, which featured the famous Forrest Griffin vs. Stephan Bonnar match, TUF season two was produced quickly and came on the air only a few months after season one. The finale for season two would set a ratings record doing a 2.0.
Season two was basically the exact same as season one, but with a different cast, obviously. Season two was also the only season (until recently) where all the house fights were considered professional bouts by the NSAC. Usually, the "in-house" fights are only considered "practice" and don't effect a fighter's record. These fights counted.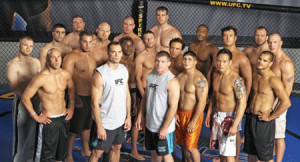 The Ultimate Fighter – Season TWO
Airdate: Spike TV, August 22, 2005 – November 5, 2005
Weight Classes: Heavyweight and Welterweight
Coaches: Matt Hughes (blue), Rich Franklin (green)
Team Hughes: Joe Stevenson (w), Josh Burkman* (w), Sammy Morgan (w), Luke Cummo (w), Mike Whitehead (h) Dan Christison (h), Rob MacDonald (h), Tom Murphy (h) *Burkman was replaced by Jason Von Flue due to injury on episode 2
Team Franklin: Jorge Gurgel (w), Marcus Davis (w), Anthony Torres (w), Melvin Guillard (w), Keith Jardine (h), Seth Petruzelli (h), Rashad Evans (h), Brad Imes (h)
The Finale: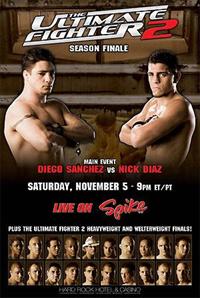 Joe Stevenson beat Luke Cummo by unanimous decision in three rounds to become the TUF welterweight winner
Rashad Evans beat Brad Imes by split decision to become the TUF heavyweight winner
In the main event, Diego Sanchez beat Nick Diaz by unanimous decision
This season was pretty uneventful. It really became clear about half way through that Chris Leben should have been hired to be on every season, just to hang out, get drunk, and cause problems. These fighters seemed to get along much better. However, there were some interesting things that happened this season:
Heavyweight Kerry Schall was eliminated due to a knee injury.
Eli Joslin chose to leave the show, citing his reasons as not being able to handle the camera environment at the house (as an aspiring fighter, this made me so mad)
Dan Christison joined the show to replace the injured Schall.
Josh Burkman was forced to leave the competition after breaking his arm in his match with Melvin Guillard.
Jason Von Flue joined the show to replace Burkman.
Evans caused controversy by "showboating" in his fight against Tom Murphy.
Coach Hughes sent Von Flue over to Team Franklin for reshuffling, which made Von Flue mad
Even though Cummo and Imes were both the last picked for their respective divisions, they both made it to the finale.
There wasn't much memorable that happened, but I do remember when Rashad won the heavyweight finals. It made me fall in love with him as a fighter. Here was this smooth talking undersized athlete taking on this monstrous rugged cowboy. Rashad was clearly too small to be a heavyweight, but he won anyway. I'm not sure when he took the nickname "Suga" but I gave that name (Sugar) to my third dog in his honor.
Where are the champions now?
Joe "Daddy" Stevenson: Stevenson's last fight in the UFC was a loss to Javier Vazquez on June 26, 2011. It was his fourth loss in a row. He was cut by UFC and has since lost two more times putting his losing streak at six. He most recently fought one year ago on January 30, 2015, for Swarm Entertainment at Super Brawl 1 losing by split decision to Dominique Robinson. My guess is that there was never a Super Brawl 2. His current record is 31-16
"Suga" Rashad Evans: Evans' is still in the UFC. He is 36 and was most recently seen being defeated by Ryan Bader at UFC 192 on October 3, 2015. Rumor has it that he will be facing Mauricio "Shogun" Rua at UFC on FOX 19 on April 16, 2016. His record is 19-4, and he actually had a brief light-heavyweight title reign taking the strap from season-one alum Forrest Griffin, only to have the title taken from him in his first defense against Lyoto Machida.
To read part one of this series, click here