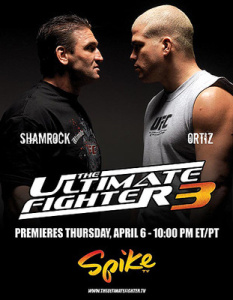 Changes to this season were as follows: No more team challenges. All fighters would have to win a prelim match before making it to the semifinals, and the team that won the previous match made the next match. This marks the first season where fighters outside of North America were allowed to participate.
Team Ortiz
Middleweights: Mike Stine, Kendall Grove, Rory Singer, Danny Abbadi
Light Heavyweights: Matt Hamill, Michael Bisping, Noah Inhofer, Josh Haynes
Team Shamrock
Middleweights: Kalib Starnes, Solomon Hutcherson, Ed Herman, Ross Pointon
Light Heavyweights: Jesse Forbes, Kristian Rothaermel, Tait Fletcher, Mike Nickels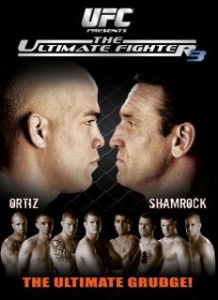 Season Highlights
Kendall Grove and Solomon Hutcherson form an alliance called Team Dagger, even though they are on opposing teams.
Noah Inhofer quits the show because he got a letter that that informed him that his girlfriend was cheating. Seems like a better plan would have been to stay. It was never explained how he got the letter.
The eliminated Jesse Forbes returns to take Inhofer's place. Even in season three Dana was bringing losers back. Dana should have J. Timberlake rewrite that song with new lyric, "I'm bringing losers back…"
Hamill won his match but had to go to the hospital anyway.
Most of the losers are brought back to help the remaining fellas train.
Tito Ortiz plays Ken Shamrock in billiards in the first ever coaches' challenge. Shamrock won two games to zero and won the 10,000 dollars. I believe he kept it all, but later seasons would have the coach AND the team, win money.
Ross Pointon moves up a weight class and replaces Hamill in the semifinals.
Starnes reveals that he had his ribs dislocated during his fight.
They have a big party and trash the house.
The Finale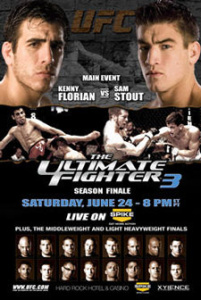 Kendall Grove beat Ed Herman by unanimous decision to become the middleweight winner.
Michaels Bisping beat Josh Haynes by TKO in the second round to become the light heavyweight winner.
Main Event: Kenny Florian defeated Sam Stout by submission (rear naked choke) in round one.
Where are the champions now?
Kendall "Da Spyder" Grove: Age 33, currently with a 22-15 record, Grove last fought for Bellator on September 25, 2015 defeating Joey Beltran by TKO in the third round. His last UFC fight was on UFC 130, May 28, 2011 on the undercard of Rampage vs. Hamill. He lost to Tim Boetsch on that night by decision.
Michael "The Count" Bisping: Age 36, currently with a 27-7 record, Bisping is still with the UFC, last seen beating Thales Leites by split decision on July 18, 2015. His next match up will be in the main event against Anderson Silva on an all Fight Pass card from London's O2 arena, on February 27, 2016. Bisping is a perennial top guy at middleweight, but has become more of a gatekeeper.
Summary: This season sucked. There were hardly any antics, and a lot of guys that lost came back. The drama was weird in that the teams didn't really seem to care which side they were on. Shamrock and Ortiz provided all the hijinks, and they didn't even end up fighting on the finale'.