Airdate: Spike TV, Virgin 1; April 1, 2009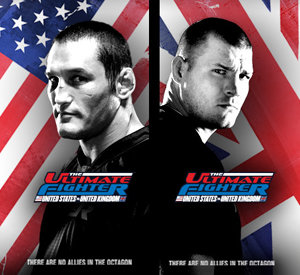 The ninth installment of TUF featured two weight classes, lightweight and welterweight. The change here was that in order to be considered for the show, a fighter had to have three pro bouts.
The coaches were TUF season 3 alum Michael Bisping leading the UK and Dan "Hendo" Henderson pioneering the good 'ol U.S. of A. These two made the show AWESOME, specifically Bisping being an out and out asshole to Hendo. Hendo ignored him for the most part and declared he would let his fists do the talking at UFC 100, and boy would they talk. Hendo put Bisping on the short end of an H-Bomb right hand in round 2 of their bout, and stiffened up the "Count". If that monsterous shot wasn't enough, Hendo got off one last ungodly hammer fist from hell on the truly unconscious Bisping before the ref could call him off. It was the single greatest KO and follow up shot of ground and pound ever! Two insanely devastating blows. I'm not using any hyperbole either.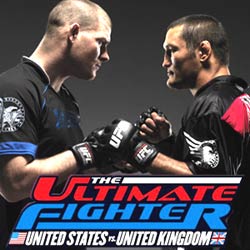 Team USA
Lightweights: Santino DeFranco, Jason Dent, Cameron Dollar, Richie Whitson
Welterweights: DaMarques Johnson, Frank Lester, Mark Miller, Jason Pierce
Team UK
Lightweights: Jeff Lawson, Ross Pearson, Martin Stapleton, Andre Winner
Welterweights: Dean Amasinger, David Faulkner, Nick Osipczak, James Wilks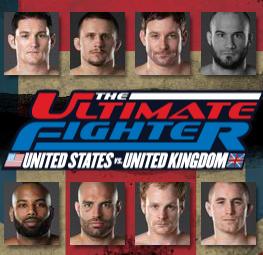 Highlights
In episode one, 16 UK fighter fought to enter the house.
Ditto for USA in episode 2
Robert Browning, who never even made the show, caused a bunch of problems trying to get himself over with pranks
USA had a bunch of problems and UK was all about camaraderie
Johnson put a 100 dollar hit on Wilks' tooth if Lester could knock one out
Lester actually had four teeth knocked out in this match
The coaches' challenge was tennis. Hendo beat Bisping 6 games to 2 and earned each fighter $1500, and himself 10k.
Three boners had a falls count anywhere wrestling match in the house
Bisping and Hendo argued about fighters switching teams
The Finale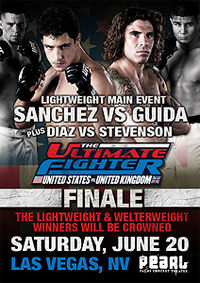 Ross Pearson defeated Andre Winner by unanimous decision to win the UFC contract at lightweight, and James Wilks beat DaMarques Johnson by submission in round 1. In the main event, Diego Sanchez defeated Clay Guida via split decision.
Where are they now?
Ross Pearson: Age 31, 18-10 record, he most recently beat Chad LaPrise by split decision in an unimpressive fashion at UFC Fight Night 85. Pearson has been a perennial contender at 155 but has yet to make it to the upper echelon of the division
James Wilks: At age 37, and with a 7-4 record, Wilks has been retired since 2010, last losing to Claude Patrick at UFC 120.
Summary: I look back on this season fondly but mostly because Hendo is my favorite fighter, all time, all my life. The antics between Hendo and Bisping were great, and Bisping really did a great job in the heel role, especially taking his whipping at UFC 100.