Airdate: September 14, 2012, on FX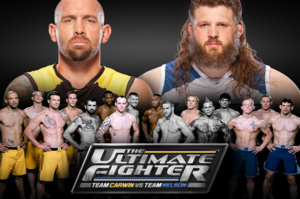 This season was back to the usual taped version of the show. The live aspect of the previous show was good, but was just an ungodly amount of time to ask these guys to live together. This time the guys didn't even tryout, they just did an interview. They still had to win a fight to get into the house, but there was no open tryout.
The Teams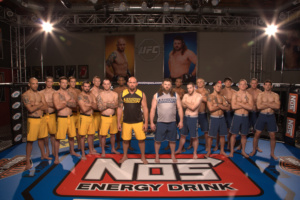 Team Carwin: Sam Alvey, Bristol Marunde, Mike Ricci, Neil Magny, James Chaney, Eddy Ellis, Igor Araujo, Matt Secor
Team Nelson: Dom Waters, Michael Hill, Cameron Diffley, Colton Smith, Jon Manley, Nic Herron-Webb, Joey Rivera, Julian Lane
Highlights
The sixteen victorious fighters moved into the house. Rifts immediately began to form, with Matt Secor and Julian Lane frequently arguing. Later, Lane and Colton Smith pulled a prank on members of Team Carwin.
Julian Lane, Colton Smith and Herron-Webb take Alvey's mattress from his bedroom and float it on the pool outside. After seeing what happened, Alvey just laughed it off.
Nelson had his team draw straws to determine who would fight next. Whoever drew the short straw would fight next and pick his opponent or pass the straw to a teammate.
TUF 1 winner Forrest Griffin came in as a guest coach to show Team Nelson some striking skills.The Coaches' Challenge took place with Nelson and Carwin competing in Olympic sports such as javelin, discus and shotput. The winners of each of the 5 sports they took place in gained a 3m advantage in the decisive 400m race. Carwin easily got all of the mile advantages, before winning the race and the $20,000 reward.
Michael Hill gets mad at Mike Ricci, as they are the two Canadians on the show, for betraying their friendship by requesting to fight him which they had previously agreed to in the finals only, and a rift forms between the two.
The Finale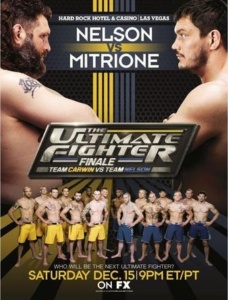 Shane Carwin was expected to face Roy Nelson in the event's headliner. However, Carwin suffered a knee injury and was replaced by Matt Mitrione. We can assume Roy would have beaten Carwin. At least I did.
Colton Smith def. Mike Ricci Decision (unanimous) (30–27, 30–27, 30–26) – I hate Colton Smith.
Roy Nelson def. Matt Mitrione TKO (punches) at 2:58 of round 1. – I hate Matt Mitrione.
Where are they now?
Shane Carwin: The 41 year old retired after a loss to Junior Dos Santo in June of 2011. He retires with a 12-2 record.
Colton Smith: The 28 year old appears to still be fighting albeit a 6-4 record. Smith went on a tremendous 3 fight losing streak and was immediately cut by the UFC after winning the finale. His last three fights have been with other organizations, most recently winning a decision over a fighter with the most confusing name ever, Washington Nunes da Silva… Trying to do it all with one name. Weird.
Roy Nelson: The 39 year old heavyweight is 21-12, and still swinging for the fences and most recently beat Jared Rosholt by DECISION in February. He's slated to take on Derrick Lewis in July.
Summary: Skip. This season was lame duck. You can go back and watch Colton Smith wrestlefuck everyone and squeak out decisions if you'd like, but don't say I didn't warn you.