The Ultimate Fighter: Team Liddell vs. Team Ortiz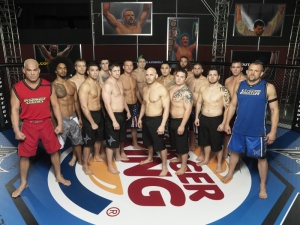 Season 11 of The Ultimate Fighter aired on Spike TV starting on March 31, 2010. This season featured 28 middleweight fighters instead of the usual 16 or 32. This was the debut of the "wild card" concept in which the two coaches would pick two fighters who lost their preliminary bouts to face each other for the eighth spot in the quarter-finals.
Team Ortiz – Nick Ring, Kyacey Uscola, Kris McCray,Jamie Yager, James Hammortree, Clayton McKinney, Chris Camozzi (Seth Baczynski)*
Team Liddell – Kyle Noke, Rich Attonito, Charles Blanchard, Josh Bryant, Brad Tavares, Court McGee, Joseph Henle
Fighters eliminated before entry round – Brent Cooper, Jacen Flynn, Charley Lynch, Victor O'Donnell, Norman Paraisy, Costas Philippou, Greg Rebello, Jordan Smith, Ben Stark, Lyle Steffens, Warren Thompson, Cleburn Walker, Woody Weatherby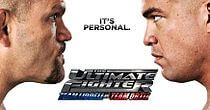 Highlights
Brad Tavares and Kris McCray used blowhorns at 3:00 a.m. and woke the other fighters.
White called out Chris Camozzi telling him that what he thought was just a minor tooth ache, was actually a broken jaw. Because of this injury, Camozzi was sent home and Seth Baczynski replaced him.
Nick Ring confronted Yager for cheering for his friend Brad Tavares during his fight with James Hammortree, despite Tavares being a member of the opposing team.
Ortiz made an apology to McKinney for making remarks about him not giving 100% during the earlier team training. McKinney accepted his apology but, as Ortiz walks away, gave him the middle finger.
Ring discovers that he required his third ACL reconstruction surgery and faced the choice between fighting on and risking tearing his meniscus, or withdrawing from the competition.
Liddell was pulled aside by White who informed him that Ortiz had pulled out of their intended fight at UFC 115. The episode ends with Liddell walking out of the room saying "I'm going to punch him."
Ortiz is informed that he is being replaced as a coach. He at first leaves without explaining to the red team, leading White to have to inform them of his withdrawal. Ortiz then explains to his team a couple of hours later at the house.
McGee and McCray are announced as the season's finalists. Special mention was made of McCray setting the new record for fights per season, having fought five times ("literally every Tuesday" according to White).
I don't think they did a coaches challenge this year.
The Finale – June 19, 2010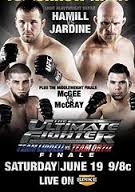 Bonus awards – Fighters were awarded $25,000 bonuses
Fight of the Night: Matt Hamill vs. Keith Jardine
Knockout of the Night: Chris Leben
Submission of the Night: Court McGee
The following is the reported payout to the fighters as reported to the Nevada State Athletic Commission. It does not include sponsor money or "locker room" bonuses often given by the UFC and also do not include the UFC's traditional "fight night" bonuses.
Court McGee: $16,000 ($8,000 win bonus) def. Kris McCray ($8,000)
Matt Hamill: $52,000 ($26,000 win bonus) def. Keith Jardine ($55,000)
Chris Leben: $70,000 ($35,000 win bonus) def. Aaron Simpson ($13,000)
Dennis Siver: $34,000 ($17,000 win bonus) def. Spencer Fisher ($26,000)
Rich Attonito: $16,000 ($8,000 win bonus) def. Jamie Yager ($8,000)
John Gunderson: $16,000 ($8,000 win bonus) def. Mark Holst ($6,000)
Brad Tavares: $16,000 ($8,000 win bonus) def. Seth Baczynski ($8,000)
Kyle Noke: $16,000 ($8,000 win bonus) def. Josh Bryant ($8,000)
Chris Camozzi: $16,000 ($8,000 win bonus) def. James Hammortree ($8,000)
Travis Browne: $12,000 ($6,000 win bonus) def. James McSweeney ($8,000)
Where are they now?
Court McGee – The 31 year old McGee just beat Marcio Alexandre Jr and is scheduled to fight Santiago Ponzinibbio April 16. He's really quite underrated in terms of ability, but he's boring as shit.
Summary: This season was pretty good. There was some quality drama between Ortiz and Liddell, especially when Ortiz pulled out of the fight. Too bad this was the last time Chuck Liddell was really relevant, especially since he then got KO'd by Rich Franklin.