You didn't think the UFC would only spend time doing those fly by night embedded deals?  COME ON, PEOPLE!  THINK!  We already have the 9 minute mini-countdown special thing on the site here, so logically it therefore follows that there is also a much longer version. (Longer.)(Penis joke for erection, because a woman is fighting and thus one must devolve in order to talk about her.) And then they threw a curveball and broke it into three easy to watch pieces for us. How nice.
Watch Das UFC 190 Countdown and learn, people who like to watch and learn, and decide if Ronda is too big.  Right now, we have this photo: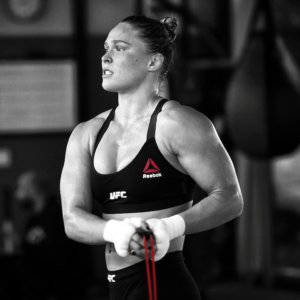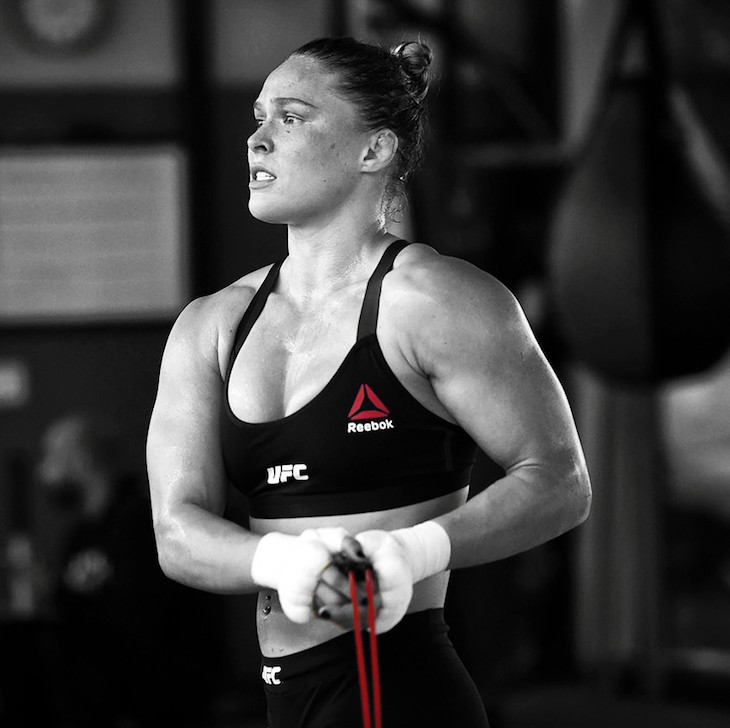 So, she's huge.  Her's is now bigger than mine and yours.  Sucks to be us.  I guess.  I had a dream where I made that joke to her and she started laughing.  Like, doubled over laughing, tears streaming down her face, and then she tried to throw me – AND I BLOCKED IT!  I always win in my dreams.  A dog then woke me up, so … yeah.
Hey, look, it's the full card just in case you were wondering, with mini mini (I.e., NOT RONDA) sized previews:
Ronda Rousey vs. Bethe Correia – UFC Women's Bantamweight Championship – a 14 year old's first sexual experience: brutal and short
Antonio Rogerio Nogueira vs. Mauricio Rua – sad and pathetic to see
Fernando Bruno vs. Glaico Franca "TUF: Brazil 4" Lightweigh Final – zero people care
Dileno Lopes vs. Reginaldo Vieira"TUF: Brazil 4″ Bantamweight Final – probably less than zero
Antonio Rodrigo Nogueira vs. Stefan Struve – just retire already, Old Man Nog
Soa Palelei vs. Antonio Silva – no, you don't care about this either
Jessica Aguilar vs. Claudia Gadelha – don't pretend you know
Neil Magny vs. Demian Maia – Hey, I know these two.  At least one of them well.
Rafael Cavalcante vs. Patrick Cummins – maybe the legit most evenly matched and contested fight of the night that could mean something, so it's on early
Warlley Alves vs. Nordine Taleb – just come up with a drinking game for this
Iuri Alcantara vs. Leandro Issa – take that drinking game, add in something involving fire
Clint Hester vs. Vitor Miranda – and then icecubes
Guido Cannetti vs. Hugo Viana – finally, love each other