Life is often full of surprises – tonight was not one of them. Ronda Rousey successfully defended her UFC Women's Bantamweight Championship. Rousey defeated Brazilian borne and thus semi-hometown girl, Bethe Correia in the main-event of UFC 190. Rousey knocked out Bethe with punches in 30 seconds. She's never going to lose.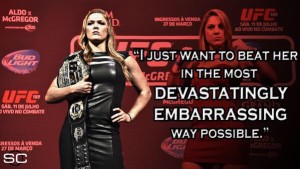 With the UFC 190 main event result being what it was, Rousey moves her career record to a perfect 110-0, with 110 finishes. The woman voted Fighter of the Year by ESPN in their prestigious and not at all a complete and total joke, ESPY awards, now has a rematch with Boobs McGee Tate on the horizon.
No word officially when that fight would take place, but given Rousey's track record of fighting as often as possible, unless there's another "Stallone and friends get together and drink a 12 pack while making a movie" movie offer on the table it'll probably be soon. Especially if the UFC books a mega stadium for Aldo vs McGregor, having a Rousey fight on the same card would certainly help create a memorable event.
Whether Rousey faces Lady Cyborg is still – as always – simply a pipe ream. Still, with dwindling competitors remaining, a very real question of what is left for Rousey lingers. The win over Bethe meant she has now defeated 7 of the current top 10 women in the UFC's women's bantamweight class.
While simply beating everyone in your weight class is not an automatic move up in weight, historically that has been the case. Of course, historically means boxing, which means like five pounds.  It also means you'd have an entire division of new fights – not basically a one and done.
The loss was the first in the career of Correia. She got paid a lot of money to be the definition of a foregone conclusion. We still Heart her.
For the results of the entire show, including fight by fight thoughts, click HERE.