Hey, it's our legendary series where we show you UFC 193 video preview clips of the peeps who'll be fighting on Saturday's UFC and then talk a bit about them.  Sometimes we don't talk much though because I get bored/have a tummy ache at the moment.  Yes: tummy. ache.  What we do is just cull all the free fights available and then you can watch them.  I will admit that some of this is *maybe* done for my own ease because I like having them all in one place where I can easily watch them.  But am I better than you?  If you prick me, do I not laugh at the word prick?  We are the same.  All of us.
Ronda Rousey.  You may have heard of her.  There isn't a lot of footage to show, for obvious reasons.  This, for example, is an entire fight of hers: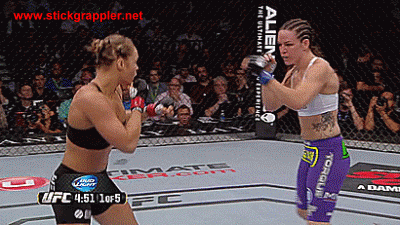 But this – while in Spanish – is the longest display of her skills ever seen in MMA.  It's a little over two rounds of a bear mauling someone but it shows it can be done: you CAN delay losing to her!
And this?  This is what happens when you supposedly insult Rousey's family and give her fake motivation.  GRR!
She even liked Cat Zingano and yet it was one of the quickest finishes in UFC history.  It was poetry in motion as she cartwheeled herself into an unconventional armbar.
However, there are cracks in Rousey's armor.  Her Judo style is nice for throws but often leaves her in danger for conventional BJJ attacks.  While she obviously – as always – won against Liz Carmouche, the way Carmouche was able to take her back was no accident.  A higher skilled submission artist (which Holm is not) may exploit this one day.
Holly Holm.  World Champion boxer.  And while basically anyone who ever boxed in their life is a world champion of some organization, she was also voted female fighter of the year on multiple occasions by Ring Magazine.  In short: she's legit.  But her style is a passive one.  She frequently uses her reach and only her reach.  She doesn't have true punching power, and so she rarely sits down and lets loose.  Instead, she's content to jab and front kick her way to victory. Note: it leads to victory.  She's never lost in MMA and has less than a handful of losses in boxing.  She is an interesting test for Rousey.  Rousey is good but she thrives – obviously – in the clinch.  Holm is someone who purposely keeps herself out of even regular punching distance, let alone allows herself to get clinched up.  Mind you, this isn't to say that she's guaranteed to win but she has physical skills and a style that Rousey has yet to face.
And in her fight against Rocky Pennington, it was more of the same from The Preacher's Daughter: distance, distance, distance.
Joanna Jedrzejczyk is a machine.  She's one of the sharpest strikers regardless of genitals in the UFC and looks as unbeatable as any champion at the moment.  Now, that may change.  She may have been given favorable match ups.  But: what she does here to Jessica Penne kinda makes me lean towards her being a killer:
Valerie Letourneau is special for a number of reasons but in particular is that she's just flat out tough as nails.  We don't always associate female fighters with that "bite down on the mouthpiece" style but she has it and then some.  Relentless pressure and an unwillingness to break:
For so many reasons, from his laid back approach to life to the fact that he can take unreal punishment while simultaneously retaining the ability to KO anyone at anytime with one punch, Mark Hunt is awesome.  BEHOLD!
This one is special only because I shall always get a kick out of seen The Reem lose.  Just the ultimate juicer getting exposed:
It could be one helluva night.  I hope it is.  I hate boring nights.  I can have a boring night any day of the week.
UFC 193 MAIN CARD PPV featuring the most important fights 10et/9/8/7
Ronda Rousey vs. Holly Holm for the UFC Women's Bantamweight Championship
Joanna Jedrzejczyk vs. Valerie Letourneau for the UFC Strawweight Championship
Mark Hunt vs. Antonio Silva
Uriah Hall vs. Robert Whittaker
Jared Rosholt vs. Stefan Struve
UFC 193 PRELIM CARD on FS1 and so not as important 8et/7/6/5
Akbarh Arreola vs. Jake Matthews
Kyle Noke vs. Peter Sobotta
Anthony Perosh vs. Gian Villante
Danny Martinez vs. Richie Vaculik
UFC 193 PRELIM CARD on FIGHT PASS and therefore the least important 6:15 p.m. et/515/415/315
Steven Kennedy vs. Richard Walsh
Daniel Kelly vs. Steve Montgomery
James Moontasri vs. Anton Zafir
Ryan Benoit vs. Ben Nguyen