Cláudia Gadelha was supposed to challenge Joanna Jędrzejczyk for the UFC Strawweight Championship at UFC 195. She hurt her thumb and it was thought that might put the fight in jeopardy. Gadelha claimed she would be fine, that she'd be ready in plenty of time, and that any report of an injury was overblown. It would have been a rematch of a fight that was close and with Jędrzejczyk recently looking like a monster in the making as a champion, and Gadelha being a top level strawweight anyways, it was a logical and fine bout to make.
And to make things better, the fight would serve as the semi-main event to the Ronda Rousey show! The UFC was gearing up for a nice little marketing tag: four women headlining a PPV that will do giant business. For a company – sport – built around hyper masculinity, this foray into feminism was unique and surely would have attracted a ton of mainstream attention.
Mind you, it was all smoke and mirrors. Yes, four women would be in the top spots but it's really Ronda Rousey and three other people whose genitalia doesn't matter. They could market a Rousey PPV with a dog fighting a cat as the semi-main event and bring in big PPV buys.
Still, being able to tell the world that your company, unlike boxing or any other major sport or earth to be honest, could draw as much, if not more, with women on top was a feather in the cap for the UFC. The little white lie of pretending like the strawweight fight mattered was OK so long as the larger narrative was served.
Then Robbie Lawler got hurt and UFC 193 was in trouble. The company had a 55,000 seat stadium in a red hot Melbourne, Australia market to satisfy. So, they did what they do when they need something: asked Ronda to fight in November instead of January. She said yes and the show was saved. (And the January show isn't hurt either as the Lawler vs Condit Welterweight Championship was simply moved to UFC 195. The UFC just flipped the dates of two fights.)
But this new development put a wrinkle in the UFC's plans to market the all-female headliners show. Gadelha would have been ready for January but November? Magic 8 Ball signs pointed to "Unlikely." You wouldn't know this if you listened to the Brazilian. Sensing that she was about to be passed over, she practically screamed from the mountaintop that she would be OK, her hand was fine, no big injury, that she'd be ready, she could fight Jędrzejczyk no problem.
When you get the feeling you're not only going to lose a shot at a title, but a chance to be on the same PPV as the biggest draw in the company, yeah, you freak out a bit. And those fears were justified.
The UFC recently announced Joanna Jędrzejczyk and Valérie Létourneau will now fight as the semi-main event for UFC 193, keeping alive the all women main-event spectacular. Gadelha or Létourneau makes no difference of course. They're both invisible names to all but fans so hardcore they don't see sunlight often (I'm very pale). Jędrzejczyk is only marginally better known. Again: it's the Ronda Rousey show.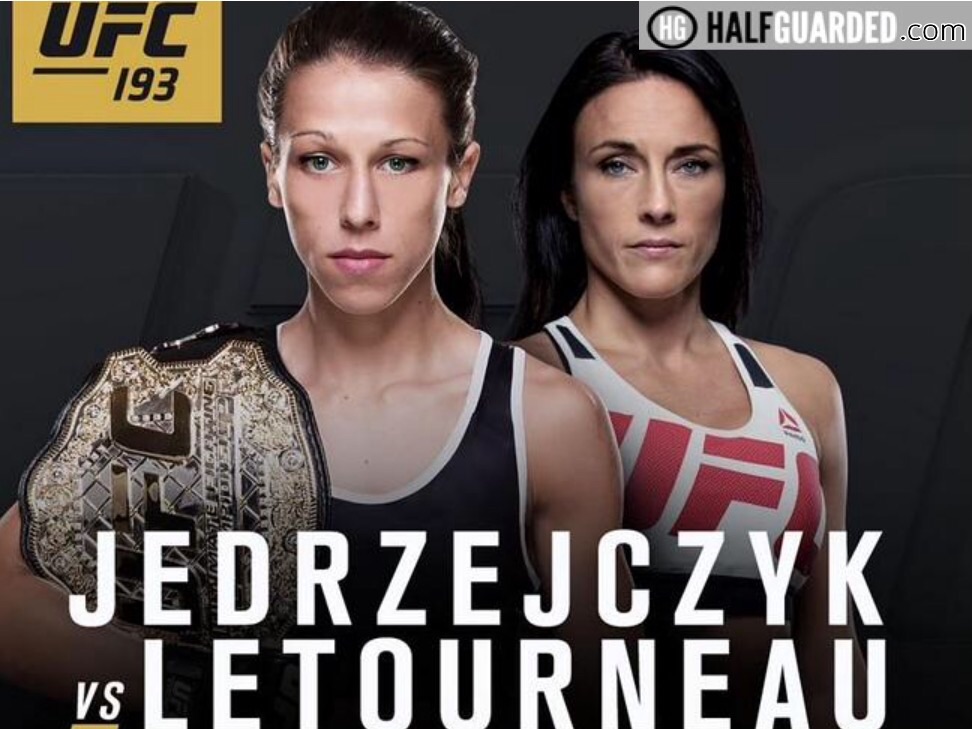 I feel for Gadelha. Even if the UFC simply grants her a shot at the winner of Jędrzejczyk vs Létourneau, the odds of it being the semi-main event of a show that does a million PPV buys are slim. There's only going to be so many shows where Ronda Rousey or Conor McGregor headline. And there's definitely only going to be one First Ever All Women Main-Event PPV! She's lost a chance to be part of history.
She was obviously disappointed by the news, telling MMAFighting:
Joanna said she would be ready to fight me by December or January because of her injury, but she's ready to fight someone else earlier. I said I'd be ready by December or January because she was also injured, but if Dana White wants to give her another fight, do it. Put another one in front of me and I will run through her. This fight will happen, but this is really disrespectful.
Usually losing a chance for a title shot isn't the end of the world. Even if you need to fight one or two more times to regain that shot, the fact is that if you're good enough to be champion you'd have to fight those people anyways. And most title fights are promoted as main-events on shows, so all a lost shot does is momentarily delay an inevitability. But not this time. This time is costs Gedelha a space in the history books. Even if she'd have only been a footnote, a footnote is still better than never being on the page.
And there's no fault to the UFC. Létourneau is a worthy enough challenger and even if the reasons are cynical and only money driven, promoting the First Ever All Women Main-Event PPV is a good thing. It's progressive and furthers a narrative the company sells: MMA is the sport of the future. And, even if it's 99% The Ronda Rousey Show starring Ronda Rousey and Friends, there is likely a bit more coverage to be gained from promoting something so unique. Four women, no men, all fighting at the highest levels on earth is cool. That sort of thing seeps into the subconscious of the public and maybe brings a few more women to the sport. And even cooler: it isn't a pure gimmick. Rousey absolutely deserves to headline every show she's on. Holly Holm is as worthy a challenger as you'll find these days. And Jędrzejczyk vs Létourneau is legitimate strawweight title fight.
This has to be one of the end goals of feminism. It isn't about passing laws and forcing change on the world. That may be a necessity at times but real equality is UFC 193. Real equality is when a company targeted towards almost only men for decades markets four women headlining a PPV and it isn't a cheap one-off freak show. It's newsworthy but much of that is in how organic everything is. No one will look at UFC 193 and think it's a joke; they'll look and think, "Wow. I want to see that show!" without thinking twice that it isn't a guy with a Mohawk fighting someone with flames on his shorts.
Added bonus: there's a good chance the show will set the UFC attendance record. The company can claim that four women sold more tickets to a show than any man ever has – breaking a record held by Georges St. Pierre of all people. Passing of the guard and all that. The UFC wins. The public wins. The fans buying tickets win.
Only poor Cláudia Gadelha loses.
While Ronda has a heck of an armbar, for true grappling excellence, check out our ADCC 2015 Results!