UFC 193 is in the books. Shows come and go, but this one will be remembered for the biggest upset in MMA history. No one will talk about Mark Hunt knocking out Antonio Silva or Joanna Jedrzejczyk successfully defending her straw weight title again.
This will forever be the show where Holly Holm beat Ronda Rousey. Holm, who was a 20-1 underdog, decisively beat the most dominant champion in MMA history. To Holm's credit she fought brilliantly and made it look easy. She kept Rousey at distance, thwarted takedowns, landed punches at will, and eventually connected with a brutal head kick that knocked Rousey out cold.
So, where does the biggest upset in UFC history leave the participants? Let's take a closer look at the winners and losers involved.
Winners
Holly Holm
Clearly, Holm is sitting pretty after the biggest win of her career. She still appears nervous with the media, but she came off as gracious, charming, and thankful during post-fight interviews. She did well in the cage and outside of it too. A big money rematch with Rousey and potential fights with Miesha Tate or Cyborg loom on the horizon. No matter what, Holm is going to get paid. After competing in combat sports for 16 years, she has earned her stripes and will legitimately bring home a few gigantic paydays. Good for her.
Greg Jackson & Mike Winkeljohn
The Albuquerque based MMA coaches and trainers have long been credited with coaching some of the best fighters in the world. Elite fighters like Jon Jones, Carlos Condit, Donald Cerrone, and Georges St. Pierre have all trained under the tutelage of Jackson and Winkeljohn. It has not always been smooth sailing though. Jackson, in particular, has been criticized by fans, media, and UFC executives for his coaching and management style. Dana White has called Jackson, "a fucking weirdo" and "a fucking sport killer." Today, he is the only coach to ever train a male and female UFC world champion. The Jackson and Winkeljohn coaching team cemented itself as the best fight camp in the history of MMA. Moving forward, they will be able to attract elite fighters to New Mexico; continuing their domination of the world of MMA.
Ronda's Mom
AnnMaria De Mars, is a Math Professor, Author, Judo Champion, and Ronda's mother. She is more accomplished and athletic than all of us. About a month ago, she bashed Ronda's coach Edmund Tarverdyan; calling him a "terrible coach" and "bad person." She also said, "I hate him (Tarverdyan). I would run him over with my car if there wasn't a law against it." In other words, De Mars thinks Tarverdyan is a lousy coach and a deplorable person. She probably blames Ronda's loss on Tarverdyan's coaching and she may be right. Today, after Rousey's defeat, De Mars seems more justified in her complaints about Tarverdyan. Maybe he really is a jerk and crappy coach.
The UFC
Some have argued that the UFC was hurt with Rousey's shocking loss. They claim UFC's biggest star just lost her first fight. As a result, fans and media will pay less attention to her. Part of Rousey's appeal was her perceived invincibility. Now that she seems vulnerable, fans will be less likely to buy her pay-per-views and the media will be less likely to cover her fights. This logic is flawed. In actuality, UFC now has a gigantic rematch to book between Rousey and Holm. If Rousey had won quickly, in typical fashion, the title contenders (Tate, Cyborg, and possibly Juliana Pena) are very limited. Tate has already lost to Rousey twice, Cyborg may not even be able to make weight for a Bantamweight fight, and no one even knows who Juliana Pena is. With a Rousey vs. Holm rematch possibly taking place at UFC 200 in July, the UFC now has time to build up contenders for the winner.
In addition, one loss never kills the drawing power of a top star and people always love a comeback story. Can Ronda recover from her only MMA loss? Was Holm's winning a fluke? Has Rousey's confidence been shaken? Can Holm do it again? A rematch will answer a lot of questions. Fans and media will eat it up. Win for the UFC.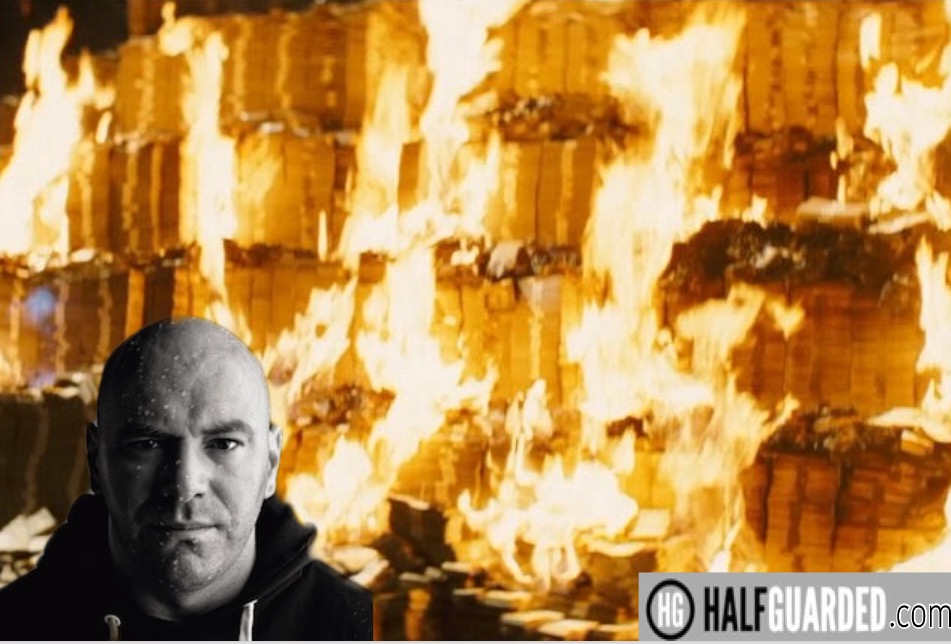 Losers
Edmund Tarverdyan
Easily, the biggest loser of them all. Prior to UFC 193, Ronda's Mom claimed she "hated" him and he declared for bankruptcy. The bankruptcy claim was dubious and Tarverdyan was already being painted as a "bad guy." At the very least, with his business life crumbling, Tarverdyan still knew he coached the greatest fighter on Earth. Today, he does not even have that. Many insiders think his job as Rousey's coach is in jeopardy and his entire gym is in turmoil due to the financial issues. Things look grim.
Every Other Fighter on the Card
No one is talking about Joanna Jedrzejczyk, Mark Hunt or Robert Whittaker. They all won their fights, but no one cared at the end of UFC 193. Jedrzejczyk won her fight over Valerie Letourneau by unanimous decision, but she hardly made an impact on casual fans. Hunt knocked out Silva, but Silva looked old, slow, and unable to compete with top level UFC heavyweights. Robert Whittaker won a decision over the flashy, yet inconsistent Uriah Hall, but again it did not matter. Holm's upset victory stole all the headlines and rightly so.
Travis Browne
News broke over a month ago that UFC heavyweight contender, Travis Browne was dating Rousey. In 2015, sadly, this became a big internet story. Everything involving Rousey has been getting press over the last few months and this was no exception. The Browne story grabbed a great deal of press because Browne's ex-wife made claims of domestic violence against him. The UFC suspended Browne, then investigated the claims, and found no real evidence of abuse. Browne was reinstated, but his reputation took a hit. Consequently, Rousey's did as well. Detractors claimed she was dating a guy who abused women. Now, Browne is being blamed as a distraction for Rousey and a factor in her losing the fight to Holm. I'd argue that Browne had nothing to do with Rousey's loss and Rousey's personal life is her business. Unfortunately, perception is often reality and Browne's portrayal has been unflattering. Rousey's loss was also Browne's.
To Be Determined
Ronda Rousey
It's hard to predict how Rousey will respond to her first and only loss. She could completely unravel and even retire, or she could make a triumphant comeback. Only time will tell.
Rousey may have lost the battle against Holm, but she can still win the war. After taking a much needed break, Rousey could come back reinvigorated, focused, and determined to avenge her loss. UFC champions, like Georges St. Pierre and Cain Velasquez, have lost their titles, but then made comebacks and were subsequently better than ever; as fighters and draws. Individual losses do not always ruin careers. A rematch with Holm will mean huge business for the coffers of the UFC and Ronda Rousey. In addition, a win over Holm would put Rousey back on the map as the best women's fighter of all time. After that, Tate, Cyborg, and other new contenders will still be lining up to fight Rousey. She will still be a big deal. Her MMA career was not destroyed with that head kick on Saturday night.
Or Rousey could never recover from the knockout loss. Leading into the fight with Holm, her personal life seemed like it was spinning out of control. Her mom wants to run her coach over with a car, her boyfriend was accused of domestic violence, her coach is bankrupt, she has talked about retirement, she has multiple injuries, arthritis, and several movie roles lined up. This does not sound like a recipe for future success in MMA. Her desire to fight may be diminishing and her confidence could be shook forever. The movie business is calling. Simply put, Rousey already has a lot of money and a lot options, cagefighting does not have to be one of them.
Ultimately, it's too early to tell what UFC 193 will mean to Rousey's MMA career. It may just be the beginning or it could be the beginning of the end.