I was listening to a podcast this morning and one of the hosts did a fake Scottish accent.  I now can't get the accent out of me head, so all of this sounds like a Scotsman to me.
Robbie Lawler, former UFC Best Dude at Welterweight, is fighting Donald Cerrone at UFC 213.  That's the big July PPV.  That's a great fight.
Both men are coming off loses, with Lawler having been KOd by current Best Dude at Welterweight, Tyron Woodley, back at UFC 20-whatever it was.  Cerrone was on a mad streak of success, winning a bunch of fights at welterweight last year, before he was felled by Guy Set to Lose to Damien Maia, Jorge Masvidal, back in January, at UFC Denver.
This is some bad-ass shit.  These two were linked together before, as the first fight ever talked about for UFC 205 was Lawler vs Cerrone.  Unfortunately for Cerrone, Lawler wasn't ready, Kelvin Gastelum was instead giving the fight, but then Kelvin was too fat and Cerrone didn't get to fight on one of the biggest shows of all time.  That sucks.
Buuuuuut, UFC 213 is a pretty damn sweet spot for Cowboy.  And for Lawler.  And for us, the viewing public.  The public who views.  Fight fans.  God's Chosen People. (The Jews?!)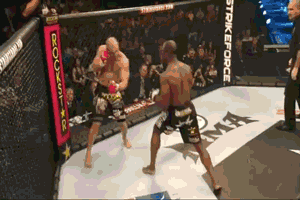 You can't really say the winner gets a title shot, because it's 170 lbs and there are roughly 5 dudes who all have viable claims to fight for the belt, and that doesn't even take into consideration the possibility of GSP going after the strap.  Though, it's likely GSP vs Michael Bisping for the middleweight gold takes place on this show.
My guess is that Woodley fights the winner of Maia/Masvidal (read: Maia) and the winner of this gets the next crack.  Probably.  If Cerrone wins, you know he'll want to fight in August, so who knows.
The sorta card for UFC 213 looks like this:
Georges St. Pierre vs Michael Bisping – UFC Middleweight Championship
Alistair Overeem vs Fabricio Werdum – heavyweight
Donald Cerrone vs Robbie Lawler – welterweight
Already, that's a pretty good PPV and you know they'll probably add at least one other title fight.  My call: Mighty Mouse defending his midgetweight belt for what would be a record setting 11th consecutive title defense. (Presuming he gets past Wilson Reis in a couple of weeks.)(He will.)