Original Publication Date: January 2, 2016
(Author's Disclaimer: Punk trains at RoufuSport, where the lead jiu-jitsu instructor is Daniel Wanderley. I've been close friends with Daniel for many years now. Nothing in this article is "insider information" nor have I been asked to write this as a leak or whatever it is you see in journalism these days.)
CM Punk has to fight sooner rather than later and the headline CM Punk UFC Debut Fight at UFC 200 is too perfect to pass up. And not just for the UFC's benefit – but for his own.
It was a little over a year ago that rumblings started that Punk would fight, and then the announcement was made that the now 37 year old had officially signed with the UFC. Then: nothing. No word on who he'd fight or when, just a vague, "When he's ready, he'll fight" from all parties involved.
What we do know is that he's been training at RoufuSport in Milwaukee. This always made sense as Punk lives in Chicago and Duke Roufus's school was the closest major-league MMA school. Why travel to Florida if you can drive an hour north for the same level of training?
And he has been training his ass off. And improving. For the past year, Punk has regularly been at the gym, with the only real break being when he suffered a minor injury that sidelined him for a few weeks. Other than that, Punk has moved into a Milwaukee apartment and is dutifully at practice multiple times per day. To whatever degree skeptics thought it was a pure publicity stunt, it sure seems to have played out like the worst stunt ever: major announcement and then work your ass off in anonymity.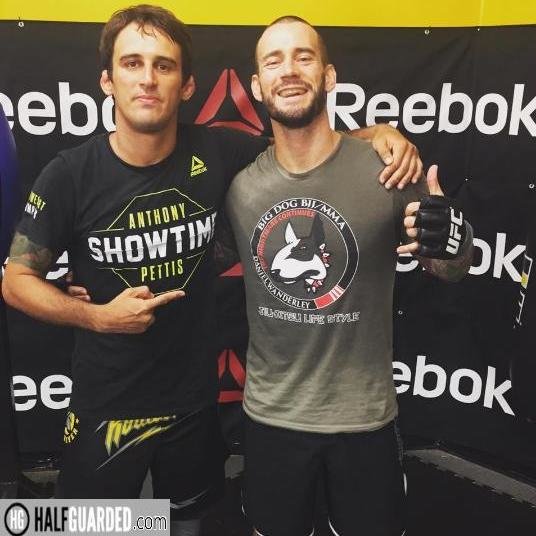 Prior to the announcement, it was known that Punk had trained jiu-jitsu – off and on, as his busy pro wrestling schedule would allow. Still, the life of a pro wrestler is pretty much: wake up, spend an hour laying in bed, sore all over, go to the arena, perform, shower, fly to the next city, and repeat all year long. It's not fair to say that Punk had no training when he began this quest but it's fair to say that he wasn't Brock Lesnar: a former highly accomplished, world-class athlete from a combat sports background. Obviously, Punk's transition would always take time.
But time isn't on his side. 37 is old to be fighting in the UFC. Most fighters see themselves unable to compete at 37 with the younger crop of fighters – and those are guys with years and years of fighting under their belt. To debut in the UFC at 37 isn't impossible, but many fighters who make the transition to MMA in their mid-30s are guys like Yoel Romero, Daniel Cormier, etc… People who could easily compete in MMA with nothing but their base, and who've not had years spent living one of the more insane schedules a person can endure.
Even some of the phenoms in the sport's history have had more than a year of regular training: Vitor Belfort wasn't yet 20 but he'd been learning under Carlson Gracie Sr. for years; BJ Penn famously won the black belt world championships in jiu-jitsu in three years but it still took him 3 years. And only then did he begin MMA. And those are two of the greatest outliers in MMA history. Who were both young, healthy, and are inarguable legends.
Now, if Punk were simply going to fight as any normal amateur, he'd probably be within striking distance (no pun intended) of a debut. But he's not. Sure, it's not like he's going to get in with Robbie Lawler for a debut, but even many of the opening card fighters in the UFC are ridiculously talented (excepting out heavyweight).
Look at someone like Kron Gracie. The son of Rickson Gracie is one of the elite grapplers on the planet, but even his transition into MMA has been slow and careful, with him facing what are more or less hand-picked gimmie opponents that Japanese fans tolerate. The UFC doesn't have those guys, not unless they want to make it look like they're gifting Punk a win but what's the point of that? Punk wouldn't want it and the fans would see right through it.
More than anything, Punk has to fight before time runs out. Ideally, he'd need more time to train – all fighters do. I wouldn't worry about whether it affects his drawing power as on a recent episode of WWE Raw fans were still chanting his name. But another two years places Punk near 40 and there's much bigger difference in physical skill between 37 and 40 than there is 27 and 30. Simply: Punk cannot afford to wait much longer. Whatever gains he'll make in technique will be at the sacrifice of his physical skills.
CM Punk UFC Debut Fight AT UFC 200
Which leads us to UFC 200. With UFC 100 still standing as the biggest PPV in the sport's history, odds are UFC 200 is being looked at with similar expectations. Rumors of Ronda Rousey vs Holly Holm 2, a Conor McGregor fight, Jon Jones, GSP returning, you name it and if it's possible, the UFC will probably try to line it up for that July. If you thought UFC 194 was big, UFC 200 should make it look like a Fight Pass card.
And, yes, Punk makes UFC 200 all that much bigger. It draws in eyeballs from a different source. If Rousey fights, attracting more women than normal, a major male star (Jones, McGregor) fights, bringing in the regular UFC fans, and Punk fights, adding the casual pro wrestling fan who will no doubt be curious as hell, UFC 200 quickly becomes a cultural moment.
It would give Punk an additional 6 months of training, which is good, but more than that: it makes it happen. 2 years of training, a year and a half of it specialized at one of the best gyms on earth, with some of the top trainers today, and Punk will be "ready." As he's trading age for experience, there is a sweet spot where Punk's time will be maximized and this July just might be it.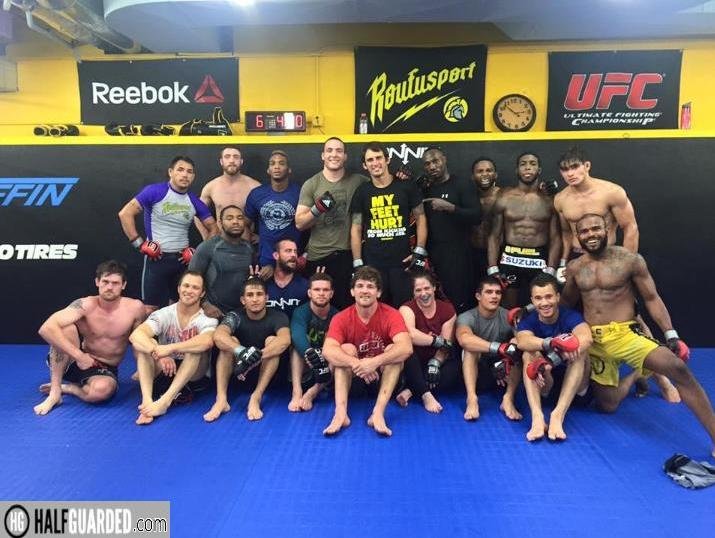 Taking Punk at his word, this isn't for publicity, he's truly dedicated to training, and I'd guess would be content to fight on a small show, so long as he gets to prove to himself that he's truly given it his all. UFC 200 would intimidate a lot of people for an MMA debut, but Punk is someone whose been there and done that. A guy who regularly wrestled at Wrestlemania in front of 50,000+ people won't be overwhelmed by "the moment." He might get first fight jitters, but those would happen at UFC 200 or "Bob's Barn Fights 56."
Besides, the worst case scenario is he loses. Oh well. If you're the UFC, you know the odds are he'll never be a championship level contender (and you're not even sure he's going to fight more than once), so you'll have maximized his value, and if you're Punk: that's life. If he's beaten, he can just keep on training and fight again. The UFC will probably have him back for another go, and if they won't, Bellator will, and if Bellator won't, then I assure you there are any number of regional promotions that'll give him a fight.
And anyways, losing would be the ultimate proof he is a fighter because everyone eventually loses in MMA. Why should Punk be any different?
UPDATE!  Punk had been scheduled, tentatively, for UFC 199 but injury put that on hold.  The injury was minor and thus CM Punk fighting at UFC 200 should be a go.  With Mickey Gall having been named the opponent, Punk vs. Gall is all the more likely to transpire at one of the biggest UFC events of all time.