Have you ever been watching UFC alone and thought to yourself, "I'm a huge nerd and have no friends, which is why I'm at home on a Saturday night getting drunk on Sam Adams winter lager all by myself. I could really use a wise cracking buddy sitting next to me to lighten the mood and cheer me up." Fear not my dorky pal, your wish has been granted. This read-along article will go nicely with your loneliness.
I know what you're thinking, "PeachMachine, this only works if I DVR it and watch it later. How will I be able to read-along and enjoy your zany commentary if you're writing it live and it gets posted later?" To that I say, invent a time machine you dork. I can't solve all your problems. I'm not a physicist. Figure it out yourself.
If you've read this far, you're without a doubt a person who enjoys abuse, so get ready for some hot fight action, and some well placed zingers.
Women's Strawweights: (#7) Randa Markos vs. Karolina Kowalkiewicz
Betting Odds: Markos (-185), Kowalkiewicz (+160)
My pick:  KK by Split Decision
Babelicious fight for sure.
Why would you stand up with Kowalkeiwicz? I'd prefer to lay down.
Markos made a crucial error not going with the bra top.
I screwed up not watching in HD. I feel like one should occasionally NOT watch stuff in HD to see how good we've got it in 2015.
This fight has been all Markos. Double K can't keep her at distance and is rising up on her strikes, with is amateur. Gotta sit down on those punches.
KK hit a nice spinning back fist but didn't have enough behind it.
KK fell on top and passed to mount but just couldn't do enough damage. She won the third, but lost on my card 29-28.
This girl would get owned by JJ right now but I'd love to see JJ vs. KK. They'd have to make the poster a two-piecer to get all the letters on there.
I guess I spoke too soon as KK turned it on in the third.
Kowalkiewicz ended up winning by unanimous decision on scores of 29-28, 29-28, and 30-27!  30-27 is a crying shame.  I picked KK but scored it for Randos. Just another reason why the current scoring system sucks a bag of fifty monkey anuses. Read my take on a new system I created here.
Lightweights: (#6) Michael Johnson vs. (#15) Nate Diaz
Betting Odds: Johnson (-500), Diaz (+400)
My Pick:  MJ by Unanimous Decision
No walk outs for Diaz or Johnson.  That's a terrible business decision.
Note to referees, don't try to get yourself over with a hand gesture.  You look like a tool.  I'm talking to you Yamasaki.
Diaz is yakking. Good, because I wasn't sure if he was fighting a bitch.
Watch this interview Ariel Helwani does with Diaz from this past week.  Mid talking, he just plays some rap song on his phone and totally ignores him, until Ariel actually starts singing the lyrics WITH him. It's classic.
Immediately AFTER the first round horn, Diaz gets in his face, like he's trying to start a fight. That always makes me LOL.
Nate looks like a bean pole at 155. He'd fare much better at the new 165lb class, but he'll probably just cut to 145 because that's the insane thing to do.
Diaz really peppered MJ and talked some awesome shit.  He's pointing at him. Diaz won round two. I have it even.
Diaz's reach is winning this for him.
I forgot MJ is from the STL! Me too! That makes us best friends.
"Don't give up!" from MJ's corner. Coaching 101: Never tell your athlete what NOT to do.  Instruct and inspire, you dopes.
Diaz attempts a post fight knee bar, and MJ kicked him, deservedly so.
I guess Diaz was fighting a bitch.
Diaz by Unanimous Decision on scores of 29-28.
Heavyweights: (#2) Junior Dos Santos vs. (#9) Alistair Overeem
Betting Odds: Dos Santos (-350), Overeem (+290)
My pick: JDS by KO in 1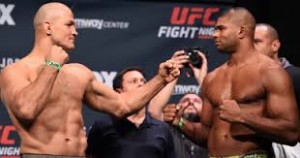 We will see if Reem's "Ice Man" coach knows MMA.  No, not Lidell.
Counting the ref, Dan Miragliotta, this cage contains about 750lbs of man, and not much hair.
Is horse meat USADA approved?
Reem landed the only shot of round one that counted. 10-9 Reem.
Dinger shot by JDS to open round 2. Rogan is giving Dan grief for not seeing the shot to the balls. It's a damn near impossible task to ask of a ref.
Reem's patience is paying off, but I hate his constant smirk.
OOOHHH! REEM BY KO in 2! A fully extended left hook on the button, and JDS gets FROZEN by the new ICE MAN! Move over Chuck Liddell.
UFC Lightweight Championship: (C) Rafael Dos Anjos vs. (#2) Donald Cerrone
Betting Odds: Dos Anjos (-200), Cerrone (+170)
My pick: Cerrone by KO in 4.  I know it's happening because I went to make a prop bet on it, but it was already off the board.
NSFW: The Usual Suspects line-up scene (at 48 seconds)
That's what I think of when Cerrone fights. Sure, he's down to bang, but doesn't really care… If you're offended, you're reading the wrong site.
It's over in 66 seconds. RDA poured it on. Holy hell, he's fast. Herb Dean stopped it at the right time. Cerrone didn't protest. He was rocked but not out, but it was just a matter of time. That's how you referee. Herb's the best.
I hope Cerrone enjoyed his wake boarding sessions.
Final Thoughts: Eight underdogs won tonight, which is great because I love when Vegas loses money… RDA is for real, Reem is still alive, Diaz is back, and we've got another Polish woman to keep an eye on in 2016… RDA called out McGregor, but Diaz did a much better job of it earlier in a completely censored tirade. Try and find it online. I couldn't… Ugh, then RDA's team had a group prayer in the ring. Now I hate him. It's so sanctimonious to pray or thank Jesus. "Dear pie-in-the-sky wizard, thanks for letting me batter another human's brain to a pulp, because what I do on this infinitesimally small blue dot is important to you for some reason." What ego. I'll be doing a whole article on that topic down the line, so if you like blasphemy, stay tuned.
Love ya,
PeachMachine
And don't forget, all month long we'll be featuring our 27 UFC Gifts for the Fight Fan in your life post just for you so you can make Christmas easier on yourself while also being a hero!