UFC To Debut "Money In The Bank" Style Match at UFC 200 – @ComedySuplex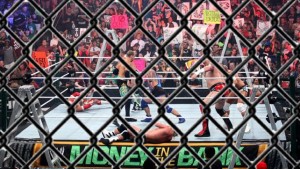 In an attempt to stay relevant and exciting, UFC will debut a "Money In The Bank" style match at UFC 200 in the summer of 2016.  This bout will feature multiple fighters in the cage at one time to determine one winner. Fighters of the same weight class will compete in a fight where KO, TKO, and submissions do not matter. A golden briefcase will be suspended above the octagon and the winner of the fight will have to climb a ladder to retrieve the briefcase, which holds an open contract for a title fight whenever the winner chooses to "cash in."
The "Money in the Bank" is a concept match created by WWE to utilize multiple mid card wrestlers at once. It is rumored that former WWE wrestler turned potential UFC fighter, CM Punk, is behind the idea. When we caught up with CM, he had little to say about the whole ordeal but did have a few words. "I'm too busy fucking AJ Lee and training to not fight in the UFC to answer these questions… Ouch, my shoulder!" said Punk.
WWE is said to be indifferent to the decision of UFC blatantly ripping off the MITB concept. WWE CEO Vince McMahon said, "Hey, we already stole TapOut from UFC. Let them have MITB. After my next business venture is unveiled, UFC will have no chance in hell in the marketplace."
Vince plans to debut his new venture, the XFC (Xtreme Fighting Championship) in Q3 of 2016 to help turn things around during the traditional post mania lull.
For more mediocre comedy stylings, follow @ComedySuplex on Tweetybird