@MichaelCoughlin
Conor McGregor money may become the new saying. We hear "fuck you" money thrown around. Or "Oprah money." And so on. With a win on Saturday, "Conor McGregor money" may be the latest phrase.
Has there ever been more money at stake with a single win?  If Conor wins, he'll cement his status and his star will be truly mainstream in a way that very few in MMA ever have been. If he loses?  He'll still be a star but he won't be as likely to reach super-duper-impossible-to-believe levels of money.  Honestly, for the UFC, I wonder if a win or loss at UFC 189 is worth $50 million over just the next year or two.  They could lose Conor McGregor Money.  Ouch.
Most big draws are loss-proof but part of McGregor's appeal does lie in his winning.  To you and I, this doesn't matter.  Is your name Conor McGregor?  Or Dana White?  Yes??  HI!  No?  Then all we really should care about is whether fights are entertaining and maybe who is also the best.  If McGregor is the best, good for him.  Maybe you like him as a fighter, and we all have our rooting interests, but there will be fun fights no matter what happens.
I'm writing this while ESPNews is on in the background and they're airing a very extensive background piece on him.  Which makes sense.  He's a lazy journalist's DREAM.  He never stops talking.  Doesn't want to stop talking.  Charisma.  Yada.  You know the story.  Thus, he's going to get attention.  That IS important ultimately.  Not for us, because we're hardcore fans, but the "mainstream media" – even though it is in its deaththrows – still matters.  THE MEDIA is what gets you from big by UFC standards to Conor McGregor Money status.  And many of them don't understand MMA.  They treat it like boxing, where you are expected to never lose.  Where a single loss writes off a man forever.
Of course that is stupid but that's the boxing tradition.  Take a guy, have him fight literally 20 bums in a row and have some big impressive undefeated record.  MMA – UFC in particular – is different.  They may give guys a SLIGHTY favorable matchup but for the most part guys are expected to fight.
There are no gimmies.  Half the time guys fight future world champions, or at least future contenders, early on in their UFC career. Think about current Lightweight Champion Rafael dos Anjos.  BEFORE he became champion he'd already fought Donald Cerrone, Khabib Nurmagomedov, Ben Henderson, and Nate Diaz.  Only then did he fight Anthony Pettis for the title.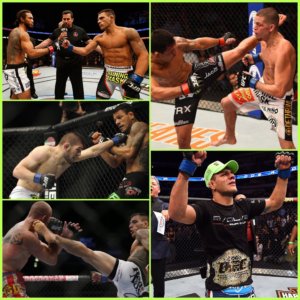 Heck, if he somehow became champion, I think Donald Cerrone will have fought not just every major contender, but every single lightweight period before he reaches the top.  But he's a bit nuts.  "Cerrone Money" is when someone gives you a million dollars and you put it in your swimsuit while riding a jetski, lose it, say, "Fuck it" and drink a beer.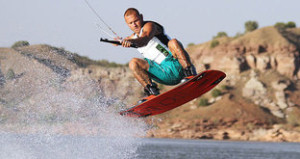 But, again, that's mostly irrelevant.  For now, THE MEDIA controls the narrative so we have to play by its rules.  So, an undefeated McGregor means a lot more than one who lost the biggest, most high profile fight of his career. (Shit, poor Peyton Manning has like every NFL QB record known to man and has won a Super Bowl and people still give him crap.)
MATH TIME
To figure out what is kind of money is actually at stake at UFC 189, we need to do quick and dirty math.  These numbers of ILLUSTRATIVE.  They aren't hard and fast.  They shouldn't be taken as gospel.  Trust me, if I could do proper math and statistical regression analysis I'd have a real job.
If a PPV does 1 millon buys, it generates around $55m.  UFC gets half of that, so $27.5/$28m.  I'll just guess that Conor is worth 500,000 buys right now, as is.  It's an asumption but again, I'm ball parking these things.  Thus, he generates $14m in PPV money for the UFC (plus gates and sponsorship stuff but let's stay simple)(sort of, a low level, non-Mighty Mouse PPV does 200k but whatever – illustrative. If anything, that means he's already generating an extra 300,000 PPV buys, or $8m).
If he wins, it is fair to say that his next fight with Aldo could easily do 1 million buys.  Again, that's $14m for the UFC above what they'll get on Saturday (and like $22m above what Mighty Mouse PPVs do).  A loss for McGregor and maybe his next PPV stays the same at is at 500,000 buys.  That's still impressive but, hey!, it's $14m less impressive.
And if he beats Aldo, or even loses but they do a rematch, that next fight could also easily be 1 million buys.  So, again, figure another $14m (or $22m) at stake.  And I suspect some of these numbers are low.  McGregor is loved by media people, remember, so if he keeps backing up his words, walking the walk and all that, then he'll start getting the "Mainstream Star" treatment that is reserved for guys like Mayweather Jr. or the Williams Sisters in tennis.
No, he shouldn't be expected to become Mayweather Jr. and do 5000000000 bajillion buys.  But: He will get the SportsCenter treatment and the free hype machine treatment and that's invaluable.  With a win on Saturday, if he "only" generates an extra 1 million buys total over his next two fights, he's worth nearly $30m (or more, if you use the 200k base and not 500k base). 1.5m-2.0m? Yeah. "Conor McGregor money" becomes a saying.
If Conor McGregor wins on Saturday, the UFC might make an extra $50 million.