Hey, look, it's that time of the day – again, for the fifteenth day in a row – where the UFC has a show.  And halfguarded.com covers it.  This time we bring you the UFC Ultimate Fighter Finale Results and Play by Play live and as they happen.  You watched UFC Ultimate Fighter TV show marathon edition where American Top Team fought the Blackzillians every week, right?  Well, even if you didn't, you might watch the finale.  Or you just might want to know UFC Ultimate Fighter Finale Results so you don't have to watch and want me to do it for you.  My pleasure.
Our coverage starts at approximately 6:30 ET/5:30CT/4:30 Mountain Man Time/3:30 It's Sunday at Three in the afternoon and you're watching UFC because that's how the Pacific Coast Rolls Time.
As always, the second by second, round by round, fight by fight results are first and then the quick and dirty results are at the bottom, if you just want to quickly find out who won, when, and all those basics.  The weigh-ins/preview for the show are here.  I'm so nice. FIGHTS!!!!!!!!!!!
Preliminary Card (UFC Fight Pass, 6:30 PM ET)
1. Willie Gates vs. Darrell Montague
ROUND ONE
Gates quicker earlier.  A minute in and Gates drops Montague with a right hand.  He's swarming.  Knees to the body.  Ref steps in.  It's over.  Well, that was impressive.
OFFICIAL RESULT: Willie Gates d. Darrell Montague, R1, TKO
I guess I'll see y'all in 20 minutes or so.
Preliminary Card (Fox Sports 1, 7 PM ET)
2. George Sullivan vs. Dominic Waters
ROUND ONE
Waters takes the center as we kick off this … fight between guys you don't care about.  Waters is on short notice but he's also athletic.  Waters landing his left hook regularly here, but now he seems a bit in love with it.  Leg kicks from Waters now.  Sullivan can't do anything really.  Waters with a good series of punches but then he decides to take Sullivan down.  Sullivan with the underhook and stands.  Maybe a  mistake from Waters as that probably let Sullivan clear his head.  Sullivan with two good shots.  Sullivan lands an uppercut that hurts Waters, forcing the short-noticed-athlet to shoot.  Sullivan stands up and is doing some good work in the Thai clinch.  BIG front kick lands and is followed by a big, but not BIG, punch.  Waters is hurt.  He tries a takedown but Sullivan does a switch.  He's on top with 30 seconds to go.  Sullivan dropping elbows – not just the forearm but the point of the elbow.
HG SCORE: Sullivan 10-9
ROUND TWO
Waters doesn't look good.  Tired.  Hurt.  A lazy kick by Sullivan is caught by Waters though and now he's on top.  Sullivan posting and is up.  Sullivan in the clinch with knees.  Waters pulls guard.  He's done.  If your name isn't Werdum, well, you shouldn't pull guard.  Sullivan passes easily.  Side control with Waters trapped against the cage.  This could be academic.  Sullivan cranking a keylock.  Looked like Waters would use that as a way out but he fought through it.  Sullivan mounts now.  Elbowing patiently.  Picking his shots but he's a flurry away from this being over.  Waters just mans up and stands but Sullivan with an easy double leg takedown with 90 seconds to go.  Waters is in pure defensive mode.  Sullivan again looking for the keylock – which is like day one BJJ.  Honestly, Sullivan should be doing better.  Waters is gassed as hell but Sullivan just isn't turning it on like he needs to.
HG SCORE: Sullivan 10-9
ROUND THREE
Sullivan has been warned to not hit behind the head or he'll be docked a point.  Waters explodes with a takedown and has Sullivan's back.  Threatening with a choke.  PLEASE DO IT!  Body triangle by Waters and this could be a long four minutes for Sullivan.  Sullivan is leaning the wrong way and isn't even tying up the hands.  Waters throwing shots to the body to soften up Sullivan.  Sullivan is trying to bring Waters's arm over Sullivan's head, which works as an escape – unless the guy has a body lock.  Fail.  Sullivan is squirming his way around and somehow slips into Waters's guard.  Sullivan pounding now.  Waters has controlled the round but didn't do much damage.  It likely doesn't matter as we have 30 seconds to go and Sullivan hasn't shown any indication he can finish a man who is on like a week notice and who can barely breath.
OFFICIAL RESULT: Sullivan d. Waters, dec
An OK fight.  If you saw it, you don't hate yourself.  If you didn't, you shouldn't hate yourself.
And now I'm watching a video package of Jake Ellenberger riding a motorbike.  Um, ok.  Yay, fighting now.  Remember when Dan Miller fought Palhares and Palhares thought he'd won, ran, and almost jumped out of the cage, all the while Herb Dean stands there like, "Where are you going?  The fight isn't over."  I miss that little simpleton.
Oh, the creepy commercial where they've "brought back" Col. Sanders for KFC.  Col. Sanders WAS A REAL DUDE.  He legit dressed that way all the time.  Now they've hired essentially a caricature to play him on TV.  Like, Ford doesn't have some anti-semite cartoon running around selling cars.
3. Dan Miller vs. Trevor Smith
Miller has a tattoo of a labrynth on his shoulder.  That's new.  Smith went to Iowa State.  As a Hawkeye: fuck you, Trevor Smith.  YAY UNDERGRAD PRIDE EVEN THOUGH I DON'T ACTUALLY CARE.
ROUND ONE
Miller, in the tradition of the Fighting Miller Brothers, pressing early.  His left hook at the end of combinations is working early.  Smith has had enough and clinching up looking for a takedown.  They continue grinding away in the over-under clinch position.  Miller pushes away at the two minute mark.  Big leg kick by Miller.  Smith tried to use it for a takedown but now Miller is dropping on a tight guillotine.  Doesn't have it.  Scramble with Smith ending up on top.  30 seconds to go and Miller threatens with a loose and lazy armbar.  Smith fnishes the round on top with ground and pound.  Close round.
HG SCORE: Miller 10-9
ROUND TWO
Good combo by Miller that finished with a hard leg kick.  At any kind of distance, Miller is more comfortable and technical and Smith seems to know it as he's clinching now.  Miller almost accepted a takedown and is against the cage now.  Miller is throwing up his legs and hips for submissions by they just aren't there.  Smith recognizing everything early and is pounding away.  Two minutes to go and Miller just can't get anything going off the bottom.  Meanwhile, Smith is slowly but steadily landing elbows.  Miller attempts a leg lock but, again, nothing there.  Smith controlling more and more here as the fight progresses.
HG SCORE: Smith 10-9
ROUND THREE
Miller is tired.  One Smith takedown and this will be over.  And there it is.  Miller attempted a guillotine but I'mgonna guess he now recognizes all of Miller's submissions attempts and just drops elbows steadily, like the Chinese Water Torture.  But with an American.  And not Water.  And more annoying pain than torture.
OFFICIAL RESULT: Smith d. Miller, dec.
Second fight in a row where we're seeing multiple 10-8 rounds given out.  I mean, it's appropriate but it'd be nice if there was consistency in scoring.  Some of those judges last night probably can't fathom a 10-8 round.  Hell, some of them probably would've given the fight to Miller.
4. Russell Doane vs. Jerrod Sanders
Sanders is a bantamweight but I'm 100% confident he walks around bigger than me and I'm an in shape 180 lbs.  The dude is just HUGE.  Very athletic is Sanders.
ROUND ONE
Sanders with an early takedown attempt.  Doane is sprawling.  Sanders rolling now.  They scramble and Sanders takes Doane's back who is trying a neck crank.  He doesn't have both hooks in though and Doane is taking advantage of that to stay out of trouble.  Doane stands and is looking for a takedown of his own.  Sanders locking up a Kimura just to keep Doane honest.  Doane on top, riding Sanders's back.  Doane getting both hooks in but they're in an odd spot against the cage and the dead quiet crowd knows as we all do: nothing is going to happen.
HG SCORE: Sanders 10-9
ROUND TWO
Sanders with a takedown attempt that leads to him taking the back of Doane.  For a guy that was a big, big underdog, Sanders is doing very well.  Doane slips out and is on top now, easily passing the guard and taking the back as Sanders immediately tries to stand.  Sanders has stood up whil Doane rides him like a back-pack.  Doane lets go and lands some good strikes.  Sanders might be hurt here.  Sanders is shooting wildly.  Doane tried a guillotine but to no avail.  Doane scrambles but Sanders takes the back with 90 seconds to go.  Sanders is neck cranking him here.  Now another crank with ten seconds but nothing there.
HG SCORE: Sanders 10-9, but close round 
ROUND THREE
Sanders running forwar with punches, Doane steps back and lands a nice fadeaway punch that hurt Sanders.  Sanders on his back now with Doane pounding.  Doane passes the guard and is looking for a far side arm triangle or maybe a Von Flue choke.  Nope.  Sanders finally lets go of the head.  First two rounds were close so Doane may need the finish.  He has a very clear advantage on the feet but isn't expoloiting it.  Doane tried a rear naked choke but Sanders slips out and now has Doane mounted with 2:30 to go.  But now Doane scrambles out and they're standing.  Doane with a crap flying knee, then a guillotine, now they're standing again.  Sanders takedown, has the back, another close round where both guys basically exchanged taking the back and failing at chokes.
OFFICIAL RESULT: Sanders d. Doane, dec
"CoolCrazyCougar" is following me on Twitter now.  OK.
5. Caio Magalhaes vs. Josh Samman
ROUND ONE
Samman staying waaaaay outside, leaping in to kick, then getting way out again.  Left hook from Caio looked like it carried power.  Samman is all kicking here, and to effect as he's avoiding the huge haymakers of Caio.  Caio slips on a kick and Samman is on top.  Caio has a gusher of a cut.  He turns to stand and Samman takes his back.  Samman has the standing rear naked choke submission!
OFFICIAL RESULT: Samman d. Magalhaes, R1, submission
Caio showed a ton of class by spitting blood at Samman after the loss.  Quality human being there
Main Card (Fox Sports 1, 9 PM ET)
SOUTH FLORIDA bragging rights are at stake tonight, says someone on TV.  One night after ATT's Robbie Lawler retained his World Title, the very small regional bragging rights are on the line between guys who are basically UFC Fight Pass level.
Wanderlei Silva just tweeted this.  I know English isn't his first langage but I don't think this is all the result of a language barrier…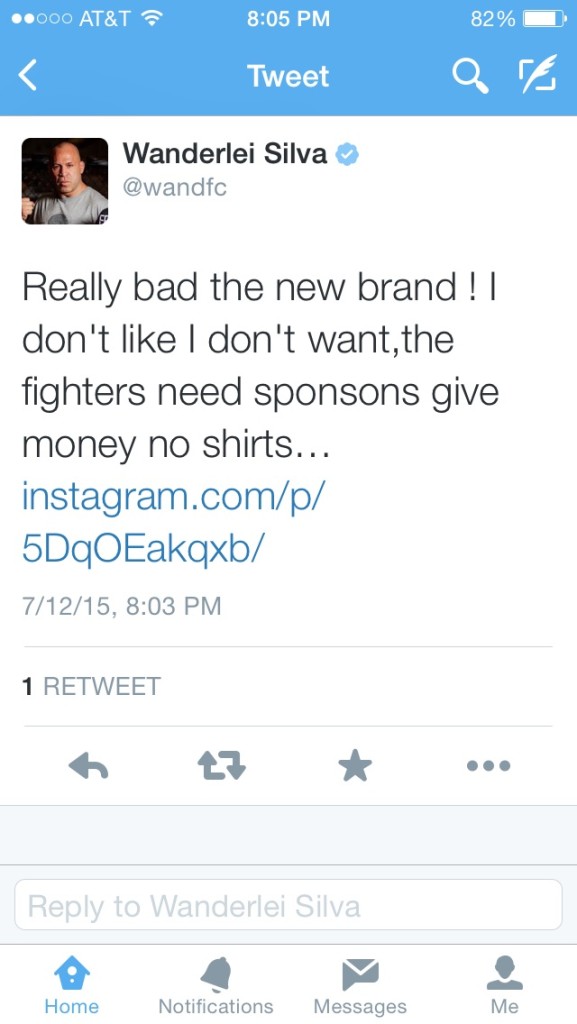 6. Maximo Blanco vs. Mike De La Torre
I don't speak Spanish but I presume that translates to MAXIMUM WHITE.
ROUND ONE
Blanco landed a shot and Yves Lavignes stops it super quick.  At least, it looks super quick.  Replay should give a better view.  It's a close call but I like Yves and trust his judgment.  I think he was a bit out of position but once a ref makes a call he has to just go with it.  Can't be out there second guessing yourself.
OFFICIAL RESULT: Blanco d. De La Torre, R1, TKO
7. Angela Magana vs. Michelle Waterson
THE ONLY FIGHT THAT MATTERS AS MAYBE MY FUTURE 2ND EX-WIFE FIGHTS!!!!!!
ROUND ONE
Magana bigger, easily, as would be expected.  Magana immediately looking to use that size as she's bullying Waterson against the cage.  Magana jacking up an underhook as she looks formaybe an ankle pick. Brief Thai Clinch from Magana didn't pay dividends and we're back to a Grego style and Waterson immedately dumps Magana with a nice throw.    Magana threatening off her back but not too much.  Waterson not opening up and now she's caught in an armbar.  She stayed in the "Goldilocks zone" (We can use science terms in MMA coverage…) for too long.  This could be it.  It's close.  Magana is popping her hips. But it looks like Waterson is going to get out.  Scrable and Waterson lands a knee as they stand.  Hip toss by Waterson and she mounts Magana with ease.  They roll and Waterson has an armbar now but Magana has the elbow low.  Good, action round, back and forth.  Tough to call.
HG SCORE: Magana 10-9, because that armbar looked just sooooo tight.
ROUND TWO
Despite the size advantage, Waterson is showing more exposion and raw power.  Her striking is more versatile as compared to Magana who is wading in, looking to set up a specific combo.  Waterson is flowing more.  Magana catches a kick and gets an easy takedown.  Waterson immediately locks in a tight armbar of her own.  Armbar: Word of the Match.  Waterson uses it to get to mount.  Magana isn't moving or forcing Waterson off balance, so Waterson can pick and choose her moments.  Magana gets to half-guard, no doubt inspired by this very website.  Magana digging around for a heel. (Insert sexist joke about women and looking for heels.)(You pig.)  Waterson spins and gets to mount.  Waterson dives on a useless armbar at the end of the round.
HG SCORE: Waterson 10-9
ROUND THREE
Gonna guess the ground game will determine this round.  Magana hit with a kick and she looks stunned. She's trying to regain her BEARings but Waterson could do work here and take this fight for sure.  Waterson easily gets behind, slams her down, and is pounding out Magana.  Has Magana flattened out, stomach down, and that sucks.  Magana gives a THUMBS UP!  I did that in a fight once.  Lost about five seconds later.  Waterson locks in the rear naked choke and there's the tap.  MAGANA AND I ARE SOUL MATES!
OFFICIAL RESULT: Waterson d. Magana, R3, submission
This show is zipping along.  Bravo to all the fighters.  Also: JOSH THOMSON FIGHTS ON WEDNESDAY!!!!!!!  Swoon.
Dear Planet Fitness.  I know how Intellectual Property Law works, so I know what you're doing (I hope) when you have your JUDGEMENT FREE ZONE but … OMFG NOOOOOOO!!  You do NOT purposely misspell judgment just so you can trademark it.  Ever.  You figure out a different way.  Something fun and clever.  What you've done is made everyone say, "Wait, are they morons?"
8. Cezar Ferreira vs. Jorge Masvidal
ROUND ONE
So far, Cezar landing effective kicks that have kept Masvidal out of boxing range, where Masvidal thrives.  Cezar with a big strong guy takedown and he's puting a lot of pressure on the jaw of Masvidal.  Masvidal gets up and is pressing now.  He wants punching exchanges.  Cezar back to the kicking game and now the power takedown attempt but Gamebread stuffs it.  Cezar pushing him to the cage.  Clinch and a HUGE right elbow from Masvidal sees him earn the KO.  Et tu, Jorge?
OFFICIAL RESULT: Masvidal d. Ferreira, R1, KO
Dana announced McGregor and Faber will coach the next Ultimate Fighter: UFC v Europe.
9. Michael Graves vs. Vicente Luque
ROUND ONE
Graves starts off with a beautiful takedown, peppering in shots.  They're grinding near the cage which favors Graves.  Luque with a lovely combo of hands and kicks (that's how combinations work).  Graves had enough, changes levels, and gets a relatively easy takedown.  Luque sliding to the cage looking to wall walk.  He does.  Luque showing some very smooth standing.  Timed a knee as Graves came in but Graves allowed his gut to eat it and he drives Luque to the ground.  Good round, in some ways, for both guys.
HG SCORE: Graves 10-9
ROUND TWO
Luque uses a guillotine to stop a Graves takedown, they scramble, up, and Graves accidentally hits the "illegal" knee that resulted from Luque playing the game and raising and lowering the hand.  Luque with a series of punches as they restart.  Graves with another takedown.  Graves is controlling things and while Luque is clearly better on the feet, Graves has held his own well enough to not be blow out.
HG SCORE: Graves 10-9
ROUND THREE
Luque needs a finish, but at least he has the style to do so.  Graves shoots from faaaaaaaaaaar outside and now Luque is threatening a choke.  Luque switched off to a d'Arce Choke.  Graves holding tight.  Luque better get this because if not he's just wasting time that he could spend trying to KO Graves.  Luque thinking Anacanda choke (but Graves don't want none, hun).  This is a grapplers nerd battle.  It's not a position often seen but there's a lot happening.  Graves felt the weight shift the way he wanted it, sat out, and took down Luque.  Graves on top with sixty seconds to go.
OFFICIAL RESULT: Graves d. Luque, dec
Remember, this next fight is for SOUTH FLORIDA bragging rights.  Those last two fights that took place?  Didn't count.  This is it.  Loser has to hang their head in shame. Maybe get their gym blown up.  I'm far more concerned we're gonna see a wrestle-humping.
10. Hayder Hassan vs. Kamaru Usman – TUF 21 Welterweight Final
I wonder if the Blackzillians have any non black or non Brazilian fighters…
ROUND ONE
Usman pressing Hassan against the cage right away, negating Hassan's one weapon: big power.  Usaman turns and takes him down but they scramble and are back striking.  "Striking."  Two minutes in and Usman gets a takedown off the clinch.  As so many do these days, Hassan gives up his back so he can stand up but Usman riding him good and hard.  Gives up the ride, keeps the body lock, and trips Hassan down.  Throws a few arm punches.  Very clear now that Hassan is going to have trouble with the wrestling for this fight.  These aren't power double leg takedowns, they're very low risk trips from the clinch.  Hassan's mental toughness is going to be tested.
HG SCORE: Usman 10-9
ROUND TWO
Hassan landed a big punch and has Usman hurt.  But Usman immediately gets the takedown and now has the American Top Team product mounted.  Usman is threatening an arm-triangle choke.  This is one choke where big bulky muscles can really hurt you and, sure as I write that, Hassan taps.
OFFICIAL RESULT: Usman d. Hassan, R2, sub
Bragging rights, $300,000.00, a motorcyle, and a pair of Reeboks!  What?  No Reeboks?  DAFUQ?!?
11. Jake "JUGGERNAUT, bitch!" Ellenberger vs. Stephen "WONDERBOY" Thompson
ROUND ONE
Wonderboy feeling out the distance, as one would expect with someone of his style, early on.  Just popped Jake in the nose.  Ellenberger then says, Screw This. And punches Wonderboy right in the head, dropping him hard.  Wonderboy is in survival mode, as he's tying Jake up, to let him clear the cob webs.  They separate and half way through round one Wonderboy lands a front kick that clipped the nose of Jake.  Jake with a takedown attempt but Wonderboy reverses, and is behind Jake now.  90 seconds to and they're back on their feet.  Wonderboy taking the center of the Octagon, which isn't good for Jake.  Wonderboy lands a GIANT spinning kick to the face and Jake goes down.  How he's not out is a mystery.  Wonderboy taking his time and measuring his shots and … DOES ANOTHER SPINNING KICK THAT KOs JAKE ELLENBERGER!
OFFICIAL RESULT: Thompson d. Ellenberger, R1, KO
SHE WON!
UFC Ultimate Fighter Finale Results QUICK AND DIRTY
Preliminary Card (UFC Fight Pass, 6:30 PM ET)
Willie Gates d. Darrell Montague, R1, TKO
Preliminary Card (Fox Sports 1, 7 PM ET)
George Sullivan d. Dominic Waters, dec
Trevor Smith d. Dan Miller, dec
Jerrod Sanders d. Russell Doane, dec
Josh Samman d. Caio Magalhaes, R1, submission
Main Card (Fox Sports 1, 9 PM ET)
Maximo Blanco d. Mike De La Torre, R1, TKO
Michelle Waterson d. Angela Magana, R3, submission
Jorge Masvidal d. Cezar Ferreira, R1, KO
Michael Graves d. Vicente Luque, dec
Kamaru Usman d. Hayder Hassan, R2, submission – TUF 21 Welterweight Final
Stephen Thompson d. Jake Ellenberger, R1, KO via spinning kick to the face.  Twice.